See Also: Arik Airline Resumes Operations 24-Hours After Suspension
On Monday 14th November 2016, Ben Murray-Bruce, the senator representing Bayelsa East Senatorial District, said that airlines are no longer servicing their aircraft due to lack of access to FOREX. He made this known in a series of Tweets. Murray-Bruce said he has facts as he gathered his information from 'the head of an airline'.
In the words of Ben Murray Bruce:
"Just spoke with the head of an airline and Nigerian airlines are not servicing planes because they can't get forex. Pilgrims get forex at special rates while airlines can't get it to buy parts and are flying planes that could drop.

"Right now in Nigeria, even aviation fuel isn't available. Airlines are forced to cut corners and put lives at risk. Regulators license airlines with one plane. The plane is overworked without access to necessary service and parts.

"Airlines are forced to source for forex on the parallel market. They are forced to cut corners and risk lives. What is happening in our aviation sector is an emergency. We mustn't wait for the next accident to take storm.

"In ALL airports in Nigeria, there are delays. No aviation fuel. No parts. Desperate travelers, weak regulator. We must show concern for those who don't have access to Presidential Jets and Private Jets. Human lives are at risk."
See Also: Arik Air Narrowly Escapes Crash, Loses Engine Mid-Air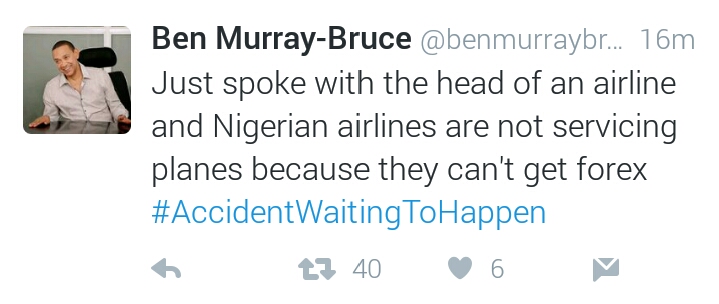 This statement of Ben Murray-Bruce, which is not far from the truth if not the whole truth, must have been triggered following the 'near crash' which occurred on Friday, 11th November.
An Arik Air plane, Boeing 737 with the registration number 5N-MJD narrowly escaped crashing when the aircraft lost one of its two engines mid-air with over 100 passengers on board.