Asa Asika is a Nigerian talent manager and co-founder of the company, The Plug Entertainment. The 33 year-old has become a household name in the Nigerian entertainment industry because of his role as the manager of Nigerian American singer, songwriter, and record producer, Davido. The talent manager has been active since 2012 and has continued to set the pace in the music business.
Asa Asika's Biography Summary 
Full Name: Asa Asika
Gender: Male
Date of Birth: August 20, 1990
Place of Birth: Lagos State, Nigeria
Asa Asika's Age: 33 Years old
State of Origin: Anambra State
Ethnicity: Igbo
Nationality: Nigerian
Zodiac Sign: Leo
Sexual Orientation: Straight
Religion: Christianity
Marital Status: Single
Asa Asika's Parents: Anthony Ukpabi Asika
Education: White Sands School
Occupation: Talent Manager
Company: The Plug Entertainment
Asa Asika's Net Worth: $1.5 million
Famous for: Being Davido's manager
Asa Asika's Instagram: asaasika
Twitter: Asa Asika
Asa Asika is of the Igbo Ethnicity 
Born on the 20th of August, 1990, in Lagos State, Nigeria, the 33 year-old talent manager is from the Igbo ethnic group. Asa Asika is from Anambra State which is in the South Eastern region of Nigeria. He is the first child born in a family of three. Information about who his siblings are and what they do for a living is unknown.
Asa Asika's father, Anthony Ukpabi Asika, worked as the admin operative at the East Central State Nigeria during the regime of Yakubu Gowon. His mother died when he was still seven, which made him grow and adapt to life quickly.
The Talent Manager Attended White Sands School, Lekki
Though Asa Asika is from Anambra State, he grew up alongside his siblings in Lagos State. It was in there that he acquired his primary education. For his secondary education, he attended White Sands College, Lekki, graduating in 2008. After his secondary education, he decided not to further his education at a higher institution. He stopped after his secondary education because he did not see higher education to be a prerequisite for success.
In addition to his reasons for dropping out, he pointed out that some Master's degree holders are facing the challenges of finding a well-paying job. He further stated that some who did not receive much education are excelling in their various businesses. Despite the fact that Asa Asika dropped out of college, he still believes that everyone should have some degree of knowledge.
He Got Involved in Show Business at a Very Young Age
Asa Asika came from quite a well-connected family which aided his rise in the show business. His uncle, Obi Asika, is the CEO of Storm 360, one of Nigeria's most well-known and focused labels. His cousin, Naeto C, is a Nigerian rapper, Afrobeats artist, and record producer. With this, Asa was buoyed to follow a career in the music business. His career began when he was 16 years old as he joined Storm 360 and began working on concerts.
Through his role with Storm 360, Asa Asika collaborated with famous Nigerian singers, including Naeto C, Sasha, Ikechukwu, and ELDee. He was heavily involved in the development of high-profile concerts such as MTN's Homecoming and Samsung's The Love of Music concert. After gaining experience in the sector, he made a significant contribution to the promotion and development of Rehab Club, one of Lagos' most popular nightclubs.
Asa worked with Storm 360 till 2012 when Obi Asika and Olisa Adibua, the company directors, ended their partnership. He has since then been thriving on his own.
Asa Asika Became Davido's Manager At The Age of 20
Before Asa Askia became Davido's manager, the duo had met many years ago. They forged a relationship that led to him becoming the singer's first manager. Asa made a substantial contribution to Davido's early success in the music industry. At the time when he started working with the musician, the talent manager was only 20 years old.
In January 2013, Asa and Davido split due to unresolved difficulties. According to the musician, his talent manager was too young and inexperienced to handle the job. He further stated that there were also some financial issues. Despite their differences, they still remained friends.
After experiencing disagreements with Kamal Ajiboye in 2017, Davido reappointed Asa Asika as his manager after four years apart. The musician announced Asa's return to management via his Twitter account. He revealed that he dismissed Kamal Ajiboye because he was unable to promote him globally. Asa is still the musician's manager to date, and they've accomplished a lot together.
He Expanded His Show Business Empire 
Asa Asika founded Stargaze, a talent management firm in 2013 after his contract with Davido was terminated due to a misunderstanding. The firm was founded to represent and manage musicians, producers, actors, DJs, and others. He was able to collaborate with renowned Nigerian musicians after establishing the management firm. The musicians with whom he collaborated with under Stargaze are listed below:
D'Banj
Ayo Jay
Boj
YQ
R2Bees
Ikechukwu
ELDee
Sasha P
Naeto C
In 2016, Asa extended his show business and co-founded The Plug Entertainment with Bizzle Osikoya. The entertainment firm, also known as The Plug NG, is a management, music licensing, music publishing, and music distribution company. The company represents top brands like Mayorkun, Davido, Peruzzi, DJ Wayne, DJ Obi, Jinmi Abdul, and many more.
The Plug NG operates as a holding company for subsidiaries. It partnered with Pro Kicks UK Limited to create Plug NG Sports, one of its subsidiaries, on December 26, 2019. Lanre Vigo is the CEO of Plug NG Sports, which was formed to handle sports talent. Some Nigerian football players like Asisat Oshoala and Henry Onyekuru are being managed by the company.
K.S. Management, a consultancy business, also struck a collaboration arrangement with Plug NG Sports. The firm launched Plug Sports Elite Under20 Champions in July 2021. Until now, the firm has organized contests to uncover young athletic potential.
The Talent Manager Has Bagged Several Awards For His Excellence In The Field
Asa Asika has demonstrated his skill in the entertainment industry since 2012, assisting various musicians in achieving popularity for which he has been acknowledged and honored. Here are some of the honors and nominations he has received thus far:
Nominated Music Manager of the Year at the City People's Award (2017)
Awarded Artiste Manager of the Year at the City People's Award (2017)
Nominated for Entertainment Personality at the 2018 Maya Awards Africa
At The Beatz Awards (2019), he was named Artiste Manager of the Year.
At the African Entertainment Awards USA (2019), she was nominated for Best African Talent/Artist Manager.
In addition, on March 22nd, 2021, he bagged several plaques from the Recording Industry Association of America (RIAA) for Davido and Ayo Jay.
Asa Asika Has Been Linked to Two Ladies in the Past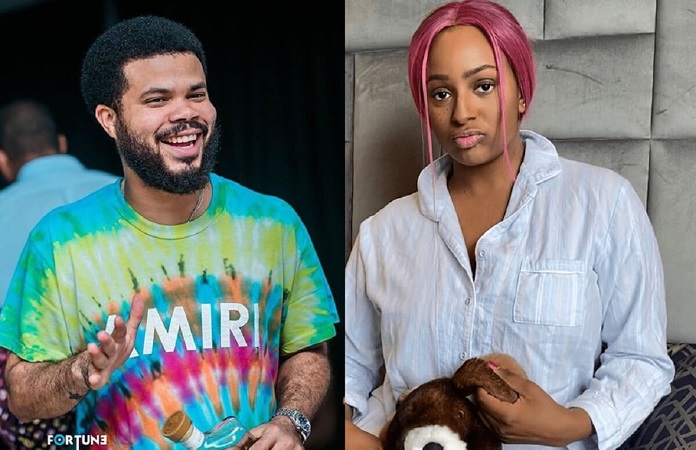 Asa Asika is a gifted talent manager and the success he has enjoyed has made him every woman's dream guy. Despite this, he has previously been linked to two women. His first relationship ended before he started working with Davido, and his girlfriend's name is unknown. He opted to devote his entire attention to his career after the separation.
After his first relationship, he was linked to DJ Cuppy, the second daughter of Nigerian billionaire businessman Femi Otedola. The billionaire heiress is also a disc jockey and a musician. The duo had met and known each other for a long time before they kicked off their relationship.
Asa and DJ Cuppy first denied being in a relationship. In response to questions about the relationship, DJ Cuppy stated that she and Asa had things in common and she was really inspired by him. After some time, the duo accepted being in a relationship, sharing tweets on social media and flaunting each other on their pages. The couple, however, parted ways in 2020 for undisclosed reasons.
Later, during an online interactive session, DJ Cuppy stated on Twitter that she was the reason for the separation, claiming that she messed things up. At this time, there is no information on the talent manager's personal life. He is shown embracing life to the fullest and pushing the boundaries of his profession.