Yusuf Buhari is the only surviving son of President Muhammadu Buhari and his wife Aisha. Even though he has gained public recognition as the son of the sitting Nigerian president, Yusuf still lives a secluded lifestyle.
Besides being the president's son, Yusuf became a topic of discussion after he married Zahra Ado Bayero, a royal princess from the Bichi Emirate and the daughter of the current Emir of Bichi, Nasir Ado Bayero. However, due to his private lifestyle, many do not have much information about Yusuf. We have in this article revealed his full biography and career.
Summary of Yusuf Buhari's Bio
Full name: Yusuf Buhari
Gender: Male
Date of birth: 23rd April 1990s
Ethnicity: Hausa
State of origin: Katsina State
Nationality: Nigerian
Zodiac Sign: Aries
Sexual Orientation: Straight
Religion: Islam
Marital Status: Married (2021)
Yusuf Buhari's Wife: Zahra Bayero
Yusuf Buhari's Parents: President Muhammadu and Aisha Buhari
Siblings: 4
Yusuf Buhari's Height in Inches: 5 feet 6 inches
Yusuf Buhari's Net worth: $1 Million
Famous for: Being the son of President Muhammadu Buhari
Twitter: @YusufBuhari
What is Yusuf Buhari's Age?
Yusuf was born to Muhammadu Buhari and his second wife, the First Lady, Aisha Buhari. His exact year of birth is unknown but it is believed that he was born no earlier than in the 90s. However, he celebrates his birthday every 23rd of April.
Yusuf originally hails from Katsina State, Nigeria, and is a Muslim of Fulani descent. Out of the total of 8 children of Muhammadu Buhari, he is the only son. He has four direct siblings and three half-siblings from his father's first marriage – all female.
He Shares a Close Bond with His Father
Yusuf Buhari keeps a very low profile and is not active on any social media platform. He largely avoids public attention, you can only get a sight of him from their occasional family photos or when he attends a public function with his father, the president. Yusuf shares a close bond with his father and is mostly seen around him.
In 2015, after his father's inauguration into office, the young man went along with the president on his first official visit to the United States of America. He is also known to largely support his father's political views.
He Had His Education Both in Nigeria and the UK
Yusuf Buhari attended Kaduna International School and the British School of Lome where he acquired his early education. Then, he relocated to the United Kingdom and joined Bellerby's College, and there, he completed his secondary education. He went on to enroll at the University of Surrey in Guildford, UK, where he graduated with a Bachelor's degree in 2016.
In the following year, after his graduation, Yusuf furthered his education by acquiring a Master's degree from an undisclosed university in the UK. Following the completion of his postgraduate degree, the youngster returned to Nigeria to go for the compulsory one-year National Youth Service (NYSC). Yusuf Buhari reportedly served at the Abuja orientation camp, Kubwa.
Against some speculations, Yusuf never attended any military school or training. He, however, had a wish to do so, but his father, based on personal reasons put a stop to his move towards that.
Yusuf Buhari Reportedly Owns Private Businesses
Known for his reclusive lifestyle, it is really a herculean task to know exactly what the president's only son does for a living. No one really knows if he forged any career path as he has never announced any company or a business he owns. It would perhaps be only his family members and very close friends that would be versed with the things he has his hands in, as he is not ready to speak about it.
Meanwhile, in December 2021, Yusuf was headdressed as Taliban Daura and district head of the Kwasarawa community by the Emir of Daura, Alhaji  Farouk Umar. During the event, the Emir stated that Yusuf wholly deserved to be appointed as district head, given the many contributions and development strides brought to the emirate by his father, Muhammadu Buhari.
Alhaji Umar added that in his new role, Yusuf would be visiting Daura regularly, as well as participating in the daily routines of the emirate council, contributing his own quota towards its growth and development. He concluded by commending the president for all the positive impacts his administration has made in rejuvenating the emirate's infrastructure.
Does Yusuf Buhari Own A Hotel?
In recent times, rumors went rife that President Muhammadu Buhari's only son, Yusuf owns Two five-star hotels in Abuja and that the construction of a third one located in UAE Dubai is ongoing. The word on the street also had it that an unidentified wealthy American businessman confirmed that Yusuf was contemplating investing in his high-profile businesses in Nigeria. Another version of the rumor claimed that Yusuf took the same American man to one of his 5-star hotels in a bid to bespeak his financial capability to him.
When this news about Yusuf owning five-star hotels hit the airwaves, it didn't take time to go viral and the internet space really caught fire over that. But, in all the drama, Yusuf Buhari kept mute and did not say a word about it. His reaction was rather not surprising to many because of his already known reclusive lifestyle. The rumors later turned out to be untrue and Nigerians had since written off the story as sheer humbug.
Who Is Yusuf Buhari's Wife?
On 20th August 2021, Yusuf Buhari married Zahra Nasir Bayero, a royal princess and the daughter of Emir of Bichi, Nasir Ado Bayero. According to reports, the duo met in the UK during their undergraduate studies. While Yusuf graduated from the University of Surrey, Guildford, Zahra was also studying architecture at a university in the UK. There are not many details about their relationship prior to the engagement and wedding ceremony.
Yusuf Buhari and Zahra Bayero Had a Lavish Wedding Ceremony
After dating for a few years, the two lovebirds had their engagement ceremony in June 2012 at the Palace of the Emir of Kano and the older brother of Yusuf's father-in-law-to-be, Dr. Aminu Ado Bayero. Two months after the engagements, Yusuf and Zahra walked down the aisle.
The wedding ceremony was officiated by the Minister of Communications and Digital Economy, Dr. Isa Ali Pantami. The wedding which was held in the bride's home in Kano was simply a no-expense-spared occasion. It was well attended by many dignitaries and distinguished guests, politicians, traditional rulers, ministers, governors, and friends of both families. All hotels and guestrooms in Kano state, Jigawa, and the neighboring states were fully booked and filled to the brim.
Some of the distinguished guests in attendance are former Nigerian president Goodluck Jonathan, former Chief of Army Staff Tukur Buratai, the wife of the Gambian president, Mrs. Fatoumata Ban Barrow, the Gambian Ambassador to Nigeria, Mrs. Bintou Njie, governors of Enugu State, Borno State, Nasarawa, Kogi, and a host of others.
Their Lavish Wedding Ceremony Sparked a Lot of Criticism
Nigerians made a lot of derogatory comments over the lavish wedding ceremony of the president's son, Yusuf Buhari. Some sarcastically tagged the occasion a private jet competition". Other angry Nigerians while speaking about the flamboyant ceremony described it as insensitive and obscene.
Their argument was based on the fact that the display of wealth is on the high side, considering that there are millions who are poverty-stricken and are tussling with hunger, deprivation, and insecurity in the country.
Speaking on the lavish wedding, famous Islamic cleric, Sheikh Ahmad Gumi, categorically condemned the lavish spending of the politicians who hired several private jets just to grace the occasion. According to the cleric, the spending was simply not necessary since many children are wallowing in abject poverty in the same country the groom's father is her president.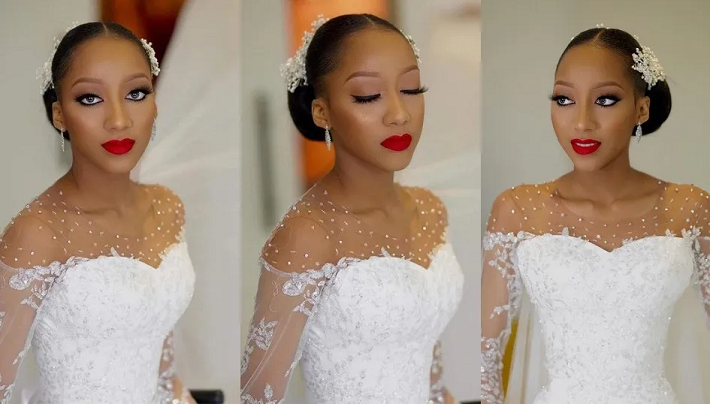 Another thing that generated criticism about the wedding was Zahra's bridal gown. After her photos were released online, some tagged the dress "immoral" given that her shoulders were exposed. Many Nigerians commented on the unusual silence of the Hisbah police which is the body inaugurated to enforce all the tenets of Sharia in Kano (on indecent dressing, prostitution, alcohol intake, etc). Hisbah police however later commented on the dress, as well as condemned it.