Agbani Darego is a Nigerian model and beauty queen best known for winning the 2001 edition of Miss World and for being the first black African to win the title. She has an estimated net worth of $3.7 million.
Nigeria has never been in short supply of talented beauty queens. We have had a series of beautiful ladies who have represented the country in different categories. But the emergence of Agbani Darego as the winner of Miss World in 2001 marked a new dawn for Nigeria and probably the African continent.
The beautiful model, beauty queen, and brand ambassador has her net worth estimated at $3.7 million, making her one of Africa's most influential women of all time. Get to know more about Nigeria's first and only miss world.

Profile Summary of Agbani Darego
Full Name: Ibiagbanidokibubo Asenite Darego
Nick Name: Agbani Darego
Birth Date: December 22, 1982
Age: 40 years old
Birth Place: Lagos State
Religion: Christian
Nationality: Nigerian
Father's Name: Asenite Sikibo Darego
Mother's Name: Inaewo Darego
Marital Status: Married
Spouse: Ishaya Danjuma
Children: 2 Children
Profession: Model, Entrepreneur
Net Worth: $3.7 million
Agbani Darego Hails from Abonnema in Rivers State 
Chief Agbani Darego, MFR,  was born on December 22, 1982, in Lagos and to a large family with eight children, of which she is the sixth. The now 53-year-old beauty queen whose full name is Ibiagbanidokibubo Asenite Darego, is a native of Abonnema, an ancient town in the Kalabari Kingdom, in the modern-day Akuku Toru local government area of Rivers state in southern Nigeria.
Agbani was born into a well-to-do family with her father, Asenite Sikibo Darego, being a well-known customs official, and her mother, Inaewo, a businesswoman who was into rice-trading business but also owned a boutique where she sold clothes. Further details about Agbani's siblings cannot be found, but we know of Nengi Darego, who is apparently one of her sisters. A recent picture on the internet shows Agabani and her siblings. As seen in the image below, it appears like her parents were blessed with six girls and two boys who have now grown adults.
She Holds a Degree in Psychology
Agbani may have been born in Lagos, but she didn't spend her prime years there, as her parents later relocated the entire family to Rivers, Port Harcourt, where she began her educational journey at Bereton Montessori Nursery and Primary School.
The beauty queen was just ten years old when she was sent to a boarding school, and although she disliked the idea, she later realized that her parents did so to shield her from her mother's cancer pains that later killed her. Inaewo passed away two years after Agbani was sent to school. Although her mother's death greatly affected her, it also helped shape her into the strong and independent woman she is today.
After completing her secondary education at Federal Government Girls' College, Abuloma, Agbani gained admission into the University of Port Harcourt, where she studied Computer Science and Mathematics. She, however, deferred her education at the university to pursue her modeling career. A few years after, she relocated to New York, where she enrolled herself at New York University to study Psychology. She eventually finished her education at the University and graduated in May 2012.
How Her Journey into Show Business Began
Agbani's love for modeling can be traced back to her early years when as a child, she would sit in her mother's boutique and get herself busy paging through fashion magazines. As a teenager, Darego, who was unusually tall at six feet, would talk about her dreams of becoming a model, but her father would dismiss it.
When she deferred her education at the University of Port Harcourt, she moved to Lagos State, where she began making the rounds of modeling agencies. She contested in M-Net's Face of Africa modeling competition but failed to make it to the finals. She was later featured in print commercials for boutique chain Collectables among many others.
In January 2001, Agbani won the "Most Beautiful Girl in Nigeria" contest. The beauty pageant, which is also known as Miss Universe Nigeria, is organized by Silverbird Group with the main purpose of sending representatives to international competitions. Agbani's emergence as the winner of the competition qualified her for the Miss World pageant later the same year.
Agbani Darego was Crowned Miss World 2001 at the Age of 18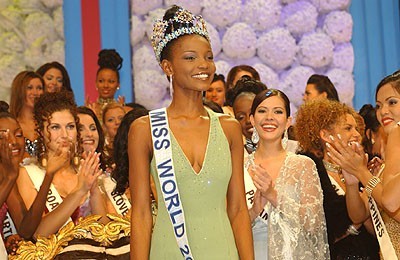 In November 2001, Agbani represented her beloved country Nigeria at the 51st edition of the Miss World pageant, held in Sun City, South Africa, and hosted by American television personality Jerry Springer. That year, she became the first Nigerian to be placed among the top 10 semi-finalists after finishing seventh overall. She also drew people's attention when she wore a modest maillot during a Swimsuit competition instead of the revealing bikini every other contestant wore.
On November 16, 2001, Agbani was crowned Miss World after beating off competition from 92 other beauty queens from various nations of the world. She became the first indigenous African to win the title. Agbani's victory was celebrated across African nations, especially in Nigeria, her home country. Not only was Darego the first Nigerian to wear the Miss World crown, but more importantly, she was the first black woman from an African country to do so. Following her success at the Miss World competition, Darego was honored with a chieftaincy title by the council of chiefs of Lagos — making her one of the youngest chiefs in Nigeria at the time.
Shortly after the big win, Agbani was invited by Naomi Campbell to participate in Frock' n' Roll, a fashion event for the Nelson Mandela's Children fund in Barcelona, on May 15. Sooner after that, she was able to negotiate a modeling deal with Trump Model Management in America. The beauty queen was later signed to London and Paris branches of Next Model Management and Ford models. Through the Next Model Management, she landed a three-year contract deal with L' Oreal, which made her the only second Black model to grab such a deal after Venessa Williams.
She also got photographed by Annie Leibovitz, a big name in the American portrait photography sphere. Decades after her big win, Agbani continued to stay relevant in the modeling, fashion, and entertainment world. She is a great icon and an inspiration to most upcoming and established models in and out of the continent.
Awards Agbani Darego has Received 
Agbani has won for herself a couple of awards, mostly from her modeling career. Her first notable award was in 1998, as a runner-up in The Face of Africa" modeling contest. Her latest so far is the honourary award she receives from her secondary school, Federal Government Girls' College (FGGC). She also gained the title Member of the Federal Republic of Nigeria (MFR).
List of Awards and accolades Agbani has received:
"Most Distinguished Alumni Award," 2010.
"The Face of Africa" modeling contest, runner-up, c. 1998;
"Most Beautiful Girl in Nigeria" beauty pageant winner, 2001;
Crowned Miss World, 2001;
Made honorary member of Nigeria's Council of Chiefs, 2001.
Title of Member of the Federal Republic of Nigeria (MFR).
How Agbani Darego Garnered Her $3.7 Million Net Worth
Agbani is among the highest-paid supermodels in Nigeria. As well, she is known as one of the richest and most influential models in Nigeria. Her rise in the modeling industry has helped her garner much more financial balance than her peers in the industry. Obviously, her most memorable moment would be the ay she won the Miss Worl competition, which in addition to the honor and fame, it fetched her massive financial income.
For her big win, she won a total cash prize of $100,000, plus gifts valued at $150,000 at the Miss world 2001. The value of her prize money at that time was approximately N15 million. Aside from the whopping sum she made from the beauty contest, Agbani Darego has earned huge income from various source that makes up her career:
She Made Huge Wealth as an A-list Model
After winning the beauty contest, Agbani Darego did not rest on her oars. Instead, she pursued her dreams, modeling for more brands, including Avon, Christian Dior, Sephora, Target, and Macy's. Her works have also appeared in fashion and lifestyle magazines like Elle, Allure, Marie Claire, Cosmopolitan,  Trace, Stitch, and Essence magazines. She has worked with top designers, including Oscar de la Renta, Marc Bouwer, Tommy Hilfiger, Ralph.
In Nigeria, Agbani Darego appeared in advertising campaigns for haircare brand Gentle Touch and served as the face of Arik Air. She also graced the covers of Complete Fashion, Mania, ThisDay Style, Genevieve, True Love, and TW Magazine. In addition to the wild publicity they gain for appearing in front covers of top relevant magazines, models are also paid handsomely for such appearance. A-list models like Agbani receive as much as $104,500 annually, which is quite a huge income when converted to Naira.
She Owns a Fashion Line
AD by Agbani Darego was launched on Wednesday, September 18, 2013. The denim was established some years after the 2001 Miss World winner launched a style and fashion reality show, Stylogenic, on Nigerian television. AD sells female luxurious and chic aesthetic clothing online with collections of fitted dresses, skirts, tops, denim, shoes, bags, and fashion accessories. The ex-beauty queen created the AD line of Denim for all body types.
Other works that earned her money
Darego judged numerous pageant, fashion, and modeling competitions, including Miss World 2014, Miss England 2002, Mr. Scotland 2002, and Elite Model Look Nigeria 2012 and 2014. These and other endorsements have made her one of the wealthiest models in the country, with a net worth estimated at $3.7 million.
Where is Agbani Darego Now and What is She Up to?
Agbani is very much alive and still active in the modeling industry. But like many other successful personalities out there, she has gotten herself involved in many things outside her career. More interested in doing business, the beauty queen has established several businesses for herself. While at that, she also pays attention to her young family.
Agbani is married to Ishaya Danjuma, son of former Defense Minister and businessman Theophilus (TY) Danjuma. Although being a very private person, Agbni did not give details of her marriage, from a wedding picture she posted on her Instagram page with the caption, "08-04-2017, #Mrs. Danjuma, it is confirmed that her marriage took place in April 2017.
The wedding took place in Marrakesh, Morocco, and she shared some pictures of their honeymoon on Instagram. In September 2018, the couple welcomed their first child, a baby boy whose name is unknown. The pair also had their second baby in December 2020.
Controversies Involving Agbani Darego
Earlier, Agabani was rumored to be dating politician and businessman Timi Alaibe. Timi, who hails from Bayelsa State, made it publicly clear that he had no plans of marrying the beauty queen. The politician, whose wife died and left him with two children, also firmly stated that he had nothing but family closeness with Agbani Darego. The rumor died off quickly after he made that statement.
As time passed, the well-known rapper, Jude Abaga, who goes by the stage name MI wrote a public letter to Darego, stating his desire to marry her if she permits. Anyway, the beauty queen joined the marital journey on April  8, 2017, when she married her longtime sweetheart, Ishaya Danjuma.
Google Search Lists her as Ugliest Miss World
The news about Agbani's name being mentioned as the ugliest Miss world by google search made rounds in 2020. Google search had Agbani's name popped out as the ugliest miss world, and the misjudgment caused an uproar with Nigerians attacking the American company for what they termed a peak of racism.
A Twitter user, who first noticed the identity error, notified her followers while expressing her sadness over the search result: "I find it interesting that the results to "Who is the most beautiful Miss World" on Google shows links to various rankings. But "Who is the ugliest Miss world" gives you Agbani Darego's profile, full stop," she said.
The Twitter post, dated October 2, 2020, received many reactions from various other social media platforms. Many tweeted their disapproval of the Google result and showed their support for the ex-beauty queen. Others questioned the basis google tagged Agbani ugly while it presents ten options for prettiest Miss World winners.
Meanwhile, reacting to the situation, former Minister of Aviation Femi Fani-Kayode, described the assertion by google as a deep insult on Nigeria, Africa, and people of color. He also noted that Africa as a continent is always leading when it comes to pageantry be it, Miss World, Miss United Nations, or Miss Universe.