Fewa Otedola is the only son and last child of Nigeria's business tycoon, oil expert, and billionaire Femi Otedola. He is also the younger brother of disk jockey Florence 'DJ Cuppy' Otedola, style blogger and actress Temi Otedola and singer, Tolani Otedola. In one way or the other, all of these have contributed to Fewa becoming known to the world. Fewa maintains a more private life among other family members, possibly because of his being autistic. However, this has not stopped him from being loved by his family, and neither has it stopped him from being the most caring and genuine, as described by his sister Temi.
Fewa Otedola is Currently 23 Years Old
Fewa Otedola was born on June 2, 2000, and is currently 23 years old. While in his earliest years, Fewa's parents noticed the not-so-common traits in him, which were later discovered to be the symptoms of autism. However, his being autistic did not stop him from obtaining an education.
His siblings, on the other hand, have attended schools both in Nigeria and the Uk. DJ Cuppy attended Grange School, Ikeja, before proceeding to London, where she graduated with a degree in business and economics. His immediate older sister Temi also graduated from University College, London. Tolani Otedola, on the other hand, attended the University of St. Andrews in Scotland as well as Tech Music Schools, London.
The Career Path of Fewa
Being the most private in his family, it is not known whether Fewa has any career path. Notwithstanding, the only son of the billionaire was born into both fame and wealth. His family's wealth can be traced to his grandfather, Sir Michael Otedola, who was the governor of Lagos State from 1992 until he died in 1993.
His father, Femi Otedola, has also risen to become one of Africa's most renowned business people. The billionaire in 2009 became the second man behind Aliko Dangote to be mentioned by Forbes as a Nigerian dollar-dominated billionaire. Otedola's journey as an entrepreneur started in the 1990s. In 1994, he founded CentreForce Ltd with its specialty in finance, investment, and trade. Subsequently, he started another financial institution called Swift Insurance.
The billionaire businessman Femi Otedola additionally created a niche for himself in the petroleum, gas, and real estate sectors through his Zenon Petroleum and Gas company and Zenon of Stallion House in Victoria Island, Lagos. Other investments of Otedola include African Petroleum, which was later rebranded as Forte Oil. He is currently involved in the power business through his Geregu Power Plc and has stakes in many banks, among other institutions.
Fewa Otedola Suffers from Autism Spectrum Disorder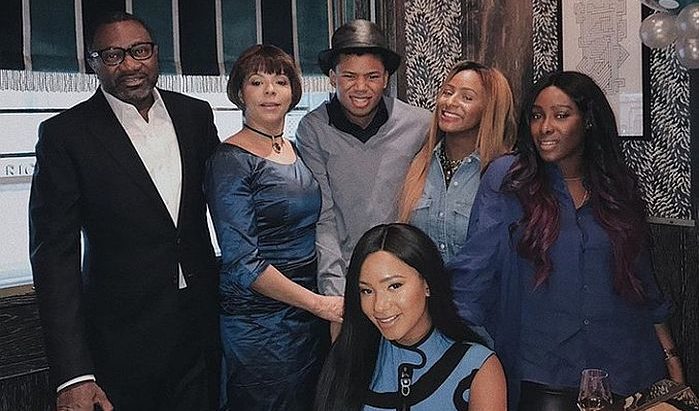 There is a popular opinion that Fewa is mentally unstable. However, he has a neurodevelopmental disorder called autism. The condition, which manifests in infancy or childhood, affects the development of people suffering from it. Its characteristics include having trouble interacting with others, having difficulty communicating properly, restricted interests, and repetitive behavior.
For Fewa Otedola, who suffers from autism, his sister Temi disclosed through her JTO Fashion blog revealed that it was about 4 years after his birth that their mother, Nana Otedola, told them about the condition. However, it is not known the exact time it was noticed or diagnosed. Since then, Fewa, like many others living with autism, has always needed help of different sorts.
His family and other caregivers have made their contributions towards helping the last child of Otedola. Still, according to Temi, their mother, through resilience amidst other things, has raised Fewa. Although he will always need one help or the other, Fewa is becoming more independent as time progresses. But in the meantime, he gets a lot of support from his family, who won't relent on sharing beautiful moments with him on social media.
Like many other family members, Femi Otedola talks openly and creates awareness about autism spectrum disorder. In addition, Fewa's siblings have become his protectors, even on social media, when people shame him. In one of the incidents, his eldest sister, Tolani, had to take to social media to correct the notion that her brother has autism and not mentally imbalanced or an imbecile, as other sources claim.
The Billionaire's Son is Not The Only Famous Person Living With Autism
Although there is no complete cure for autism, symptoms may decrease through therapy and the help of others in society. However, since autism is a spectrum condition, it varies from person to person. While it allows others to become geniuses, others may be the opposite. In Fewa Otedola's case, his type of autism has not been revealed to the public. In the history of autism and autistic people, many have become famous. They include the following:
Charles Darwin: Greatly known for his contribution towards education, especially in the evolution theory, Charles Darwin is believed to have suffered from autism called Asperger's. The popular opinion is that Darwin's autism let him become more creative than many other people.
Albert Einstein: He was one of the greatest physicists and geniuses of all time. As a child, he couldn't talk, had poor social skills and other symptoms, which later led to the discovery that he was suffering from Asperger syndrome, autism.
Elon Musk: He one of the richest people in the world, with a current net worth of $156 billion. He is a businessman, CEO of Tesla Motors, and founder of The Boring Company. Recently, he opened up about having Asperger's syndrome.
Chris Imafidon: his family is the smartest in the UK. He is a Nigerian who was born autistic. However, he managed his spectrum quite well and is currently a professor. He is the founder of the Excellence in Education Programme, where he mentors people towards greatness. As part of his program, he raised his 5 children to become the smartest and highest achievers in the UK. He also won $25 million from David Cameron after turning the worst-performing schools in the UK into the most excellent.
Bill Gates: Even though there is no confirmation that Bill Gates is autistic, many reports have suffered from mild autism. The billionaire businessman and founder of Microsoft reportedly have many symptoms associated with autism, including social awkwardness, among others. However, as a child, his mother helped push him to do things even if they seemed uncomfortable to him.