Emmanuella (Real Name: Mark Angel, born July 22, 2010) is a Nigerian comedian, actress, scriptwriter, and video producer best known for the Mark Angel Comedy series of shorts on YouTube
Famous child comedy celebrity, Emmanuella of the Mark Angel YouTube comedy channel has a net worth of $150,000. With this, she has surely made a name for herself in the Nigerian comedy industry.
Emmanuella is best known as a YouTube comedienne, who has been putting smiles on the faces of many fans since the tender age of 10. Her hilarious comedy skit has made her gained as many as 5 million subscribers on YouTube, while her views surpass the 1 billion mark.
She came into the spotlight when her debut comedy skit this is not my real face oh, dropped on the Mark Angel YouTube channel; after which she became very popular in the Nigerian comedy scene. This is in addition to her interview with CNN, which landed her a role in an undisclosed Disney World studio's production. With this, Emmanuella has made history as the first-ever  Nigerian kid to have achieved such international recognition. 
What State is Emmanuella From?
Emmanuella Samuel who goes by the stage name Emmanuella is originally from Imo State but was born in Port Harcourt, Rivers State on July 22, 2010.  The young comedienne was raised by her parents, James Samuel and Cynthia Samuel. Although she never knew that she would become famous one day, Emmanuella was a lively child from her very young age and was quite sociable. This must be why her parents permitted her uncle Mark Angel help build her career by taking her under his wings. 
It happened that Mark Angel, the originator of the Mark Angel YouTube comedy channel, organized a comedy audition and reluctantly invited Emmanuella who was only five at the time. Emmanuella effortlessly rendered a great performance at the auditions, making Mark develop a keen interest in her- thus, the meeting with her parents. Following her family's approval, the young comedienne joined the Mark Angel team and made her debut in 2016 with the popular Mark Angel Comedy episode titled "This is not my real face Oh." This became her breakthrough in the comedy industry; her popularity now knows no bounds both nationally and internationally.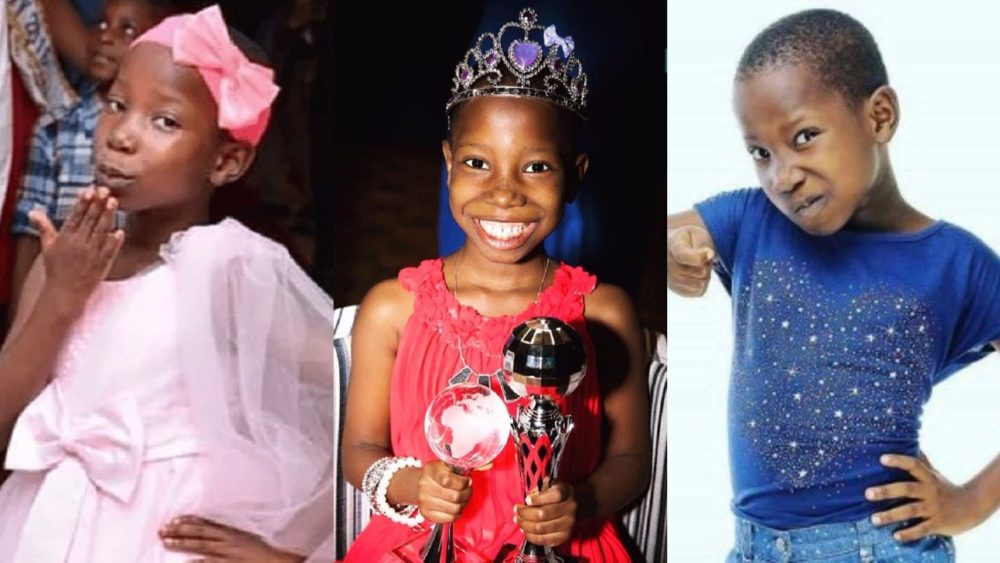 Growth of Her Comedy Career
After her debut comedy skit, Emmanuella has also featured in several other hilarious skits as well as collaborations. One of her recent collaborations was the comedy skit titled "Lockdown" On 2 April 2020, by Ofego following the outbreak of the novel COVID-19 pandemic.
She appeared alongside Aunty Success and Regina Daniels. Some of her other popular appearances include; My Uncle has HIV, April fool, Witch birth, Valentine part 2, Change part2, School protest, and many more. It could be said that one of the high points of her career came after she was featured on CNN as Africa's youngest comedienne after securing a role in a Disney world's production. This indeed is a feat that most veteran Nigeria comedians have not achieved. 
In as much as she has become very famous, Emmanuella is still keen on her education.  She attends Brighten School in Port Harcourt. The lass combines her career and education in the most seamless way as she never allows her fame to interrupt the pursuit of her education. 
Major Sources of Emmanuella's $150,000 Wealth
The young Nigerian comedienne has a net worth estimated at $150,000. Predominantly, comedy may have been the major source of  Emmanuella's wealth, even so, she still has other sources of income. Her main source of income is through the Mark Angel YouTube channel; Emmanuella earns thousands of dollars monthly only from YouTube which translates into millions if changed to Naira.
With the Mark Angel YouTube channel accruing over 5 million subscribers and becoming a comedy channel with one of the highest number of subscribers, Emmanuella's earning continues to rise. 
There is no gainsaying that the signing of the talented young comedienne into the Mark Angel YouTube channel has brought huge traffic to the channel. She could be said to have contributed hugely to the popularity and growth of the Mark Angel YouTube channel.
Aside from YouTube, Emmanuella is also making a fortune from being a social media influencer. She has garnered over 3.6 million followers on Facebook, and over 500 thousand followers on Instagram. This means that she may have been earning up to $670.00 per post if the $10 per Instagram post rule is anything to go by. This amount will run into millions of naira when converted to the Nigerian currency.
The Child Comedienne has Endorsement Deals with Several Notable Brands
It is not uncommon that popular brands and companies are in the business of using celebrities as their brand ambassadors to promote their businesses. In this regard, most celebrities and social media influencers stand the chance of being contracted to promote popular brands. Emmanuella is not left out as she has had her fair share of endorsement deals with some big Nigerian brands and companies.
Some of the brands she endorses include; Fresh Yo Yogurt, Dabo toothpaste, Indomie noodles, Loya milk, MTN, Slim Tea as well as Mouka foam. All of these brand endorsements equally contribute to her net worth.
Is Emmanuella the Richest Child Comedienne in Nigeria?
Emmanuella is certainly not the only child celebrity making the rounds in the Nigerian entertainment industry. There are others in the likes of Destiny Boy, Ozzy Bosco, Ahmed Star boy, Amarachi, and Success. Without mincing words, Emmanuella is considered to be one of the richest child comedienne in the Nigerian entertainment industry with a whopping net worth of over $150,000. The young comedienne is followed by her counterpart named Aunty Success whose net worth is approximated to be about $84,000.
Being one of the richest child comediennes and coupled with her far-reaching popularity, it is obvious that anyone who wishes to invite Emmanuella to a show should have hundreds of thousands or even millions in the purse. Although the child comedy queen and her team have decided to remain mute with regards to what she charges for a show, this is what is always assumed. Since she is still a child, it may be left at the discretion of her manager to determine the charges to be paid by anyone who wishes to invite her for any show.