Ramon Abbas, popularly known as Hushpuppi, Hush, or Ray Hushpuppi (born October 11, 1982, Aged: 41 years old) is a Nigerian influencer and socialite, born and brought up in Lagos state, who is facing criminal charges in the US for conspiracy to launder money obtained from business email compromise frauds and other scams
When you hear of the term "yahoo boy," the first name that pops up in your mind would be the infamous Nigerian internet fraudster Hushpuppi who is currently cooling off behind bars in the United States, after the Federal Bureau of Investigation charged him for multiple internet fraud cases. The Nigerian internet celebrity came into the spotlight for his luxurious lifestyle, which he cheerfully displays on social media. As expected, his luxurious lifestyle and controversial opinions have earned him many friends and foes. He is regarded as the richest yahoo boy as of 2020, but even as popular as he is, not many know about Hushpuppi's real name and where he is originally from.
Quick Profile of Ray Hushpuppi
Name: Ramon Olorunwa Abbas
Date of birth: 11th October 1982
Age: 41 years old
Place of birth: Lagos 
State of origin: Unknown
Nationality: Nigerian 
Religion: Islam
Occupation: Internet celebrity
Best Known for: Business email compromise and money laundering
Zodiac sign: Libra
Net Worth: $4 billion (N1.53 trillion)
Hushpuppi Hails from Western Nigeria
Although the Instagram celebrity was popularly known as Hushpuppi, his real name is Ramon Olorunwa Abbas. Only a few know this name because he prefers to go by – Ray Hushpuppi, Hush, Gucci master, and Aja Puppi. He got these aliases due to his love for designer products, gambling, and his illegal lifestyle as a yahoo boy. 
Hushpuppi was born and brought up in Lagos State, the Western region of Nigeria, on the 11th of October 1982. Although his state of origin is unknown, he is known to come from the Yoruba tribe of the Southwestern part of Nigeria and grew up in the streets of Oworonshoki in Lagos. 
Details of Ray Hushpuppi's education are unavailable. However, following his poor family background, it is assumed he attended a public primary and possibly a secondary school before leaving to fend for himself. There are claims he had his secondary education at government college, Ikorodu, Lagos. As per his religion, Ray's activities and comments of thanksgiving to God on his Instagram page make people assume he came from a Christian background. On the contrary, the Instagram star follows the Islamic religion. His name Abbas proves that he is a Muslim and was raised by Muslim parents.
What we Know About Hushpuppi's Parents and Siblings
Hushpuppi may be best at flaunting his luxuries and social lifestyle, but it is not so with his private life. Until his recent arrest by the Dubai police, Hushpuppi hardly speaks or shows anything related to his private life, which is why there is only a little information about his parents and siblings. In one of his posts on Instagram, the celebrity said he refrains from displaying any member of his family on social media for security reasons. However, it is said that the social media influencer's parents are alive. It is also assumed that they are enjoying portions of the wealth amassed by their now illustrious son. 
According to Ismaila Mustapha, popularly known as Mompha, a Nigerian billionaire and a close friend of Hushpuppi, he revealed that Husspuppi's father is a taxi driver. Since Mompha's comments on his friend's father's occupation, Hushpuppi has not denied or confirmed such claims. However, the socialite once mentioned his father's second wife in one of his Instagram posts. It appears his father had a second wife who passed away. Ray never gave any explanation of what caused his stepmother's death.
Mompha also revealed information about Hushpuppi's mother, saying she is alive and sells bread on the streets of Lagos, Nigeria. Ray's mother is believed not to support her son's lavish lifestyle and had warned him severally to stop showing himself off on social media. There are also claims that she questions her son's source of wealth and has refused him to take his younger brother along with him.
Yes, Ray Hushpuppi does have siblings, and even though he seldom refers to them, they are undeniably a part of him. Ray has an elder sister and a younger brother. He once spoke about his immediate elder sister, saying she died in Gbagada hospital, Ikeja Lagos, after awaiting typhoid and malaria treatment. While he is unable to speak further on issues surrounding his sister's death, Hushpuppi claimed his sister died due to failure to pay the hospital's bill of N3500. He blamed the Nigerian government for the death of his sister and stepmother, saying it was out of their negligence.
Aside from his elder sister, Hushpuppi slightly talked about his other siblings, but unfortunately, he did not go further to mention how many they are. However, we know of his younger brother, who goes by the name Yusuf. He is believed to be a barber in Lagos.  
How Hushpuppi Grew His Wealth From Rags To Riches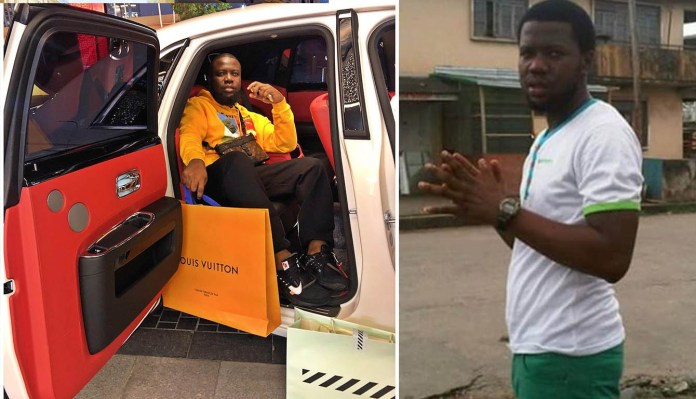 Life to Hushpuppi has not been that rosy from the beginning. In addition to his many talks about his flamboyant nature, Ray also speaks of his very humble beginning that includes his early life experience of struggle and hardship while growing up in the slumps of Lagos. Mompha also confirmed it when he revealed that Hushpuppi was so poor that he had debts to settle with him. Many sources reported that Ray once washed cars and was paid #100 at the time. Other sources also reported that he once sold secondhand clothes in Lagos. After some time, he left Lagos for Malaysia, where he lived until his arrest.
Also confirming his hard situation while growing up in Lagos are his old neighbors who claim that Ray hawked bread to support his family's financial needs and that he only became wealthy after he left Nigeria for Malaysia. However, before relocating to the foreign land, Hushpuppi revealed that he was a heavy gambler. He mentioned online casinos as his favorite betting platform back then.
Ray left his home country Nigeria in search of a better life for himself and his family. Although there are no exact details of what he did to get rich, the socialite revealed that he spent some time in Ethiopia before his journey to Malaysia, where he shared uncompleted buildings with donkeys. He also traveled to Ghana, where he sold phone accessories in the streets of Ashimota. His life began to take shape after landing in Malaysia and then Dubai, where he lived until his recent arrest. Hushpuppi is today one of the richest black African youths. Only a few young celebrities in the African continent could beat Ray Hushpuppi's financial status and flamboyant lifestyle.
Is Hushpuppi Really a Yahoo Boy?
Ray has always had a reputation as a yahoo boy, a local name given to cybercriminals. From his lavish lifestyle of buying expensive cars, bags, shoes, pieces of jewelry, and taking expensive vacations, it was evident that he was an internet fraudster and scammer. However, he claimed to be a real estate developer and has worked hard for his money.
Hushpuppi never opens up about his fortune. He once joked about his source of income, stating that he is a professional beggar. However, on his Instagram bio, he states that he is a real estate developer. The new addition came weeks after his friend Mompha was arrested in 2019. To further prove the source of his income, the socialite shared a video of a new real estate investment he started. It was gathered that the real estate investment is located in Cocody, Abidjan, in Ivory Coast.
Hushpuppi flaunts his wealth on social media, and his actions often attract comments from friends and foes alike. He is well-known for his fights with other Nigerian celebrities like Phyno, Timaya and others. They all called him a fake billionaire who would be caught one day.
In June 2020, Dubai police raided his residence in Dubai and arrested him alongside several of his friends who were with him. He is currently in jail, facing criminal charges in the United States for conspiracy to launder money gotten from email compromised frauds and other scams.
Facts about Hushpuppi's Relationships and Children
Hushpuppi has been involved with several women, some of whom he dated. His latest relationship was with a lady called Amiyah Dyme. She was Ray's girlfriend for a brief period, after which they went their separate ways. Dismayed by how the young fraudulent billionaire dumped her, Dyme called him a glorified thief. 
Hushpuppi was rumored to have married a 32 years old citizen of St Kitts and Nevis named Shawana Nakesia Chapman in October 2018, thereby earning him the right to be a citizen of St Kitts and Nevis. However, it is unknown if the rumor is true or false. 
Information about Ray's children only came public after his arrest in June 2020. During his Pretrial Services, Hushpuppi revealed he has three children from three different women. Two of the three children live in London, while the third lives in New York City. He further revealed that he had a five-year on-and-off relationship with the mother of his last child. However, further information regarding the children and their mothers cannot be found.