Stella Dimoko Korkus is arguably one of the most popular bloggers in Nigeria. She is the owner of Stella Dimoko Korkus (SDK) blog, which is notably acknowledged for its unique blogging style and features. She has earned some awards and received some listings from her blog.
The mother and wife to Stefan Korkus reside in Germany with her family and runs her blog from there. People may wonder how she gets first-hand information on the happenings in Nigeria. This is one of the things that gave her competition Linda Ikeji an edge over her. There is more to learn about this beautiful blogger. Here's more about her and her blog.
Profile Summary of Stella Dimoko Korkus
Full Name: Stella Dimoko Korkus
Date of Birth: 22nd August
Nationality: Nigerian
Education: University of Benin
Occupation: Blogger
Marital Status: Married (m. 2003)
Spouse: Stefan Korkus
Stella Dimoko Korkus Grew Up in Lagos State, Nigeria
Stella Dimoko Korkus was born in Lagos on August 22. She was born and raised in Lagos State, Nigeria, where she completed her early and secondary education. The blogger has always kept her age a secret, so we don't have any information about her birth year. Also, her state of origin, parents, and siblings are kept away from the media. She is a blogger who digs into the private lives of others but has successfully kept her private life away from the public.
She is an Alumnus of the University of Benin
As we have already mentioned, Stella attended her early education in Lagos State. She moved to Benin after secondary school to further her education. For her university education, she attended and graduated from the University of Benin with a 3rd class degree in Linguistics with English as a reference.
Her stay at the university was tough as she reported that she was a victim of sexual victimization. She couldn't do anything about this, and it affected her grades. She is happy to have graduated with a Third Class instead of a Pass. Her result did not prevent her from achieving her life goals.
Before Her Blogging Career, Stella Worked as a Journalist
Stella has always dreamt of becoming a banker. However, this dream didn't work out for her as life had other things in stock for her. Frustrated and sad after graduating with a third class, she had to accept the first thing that fell into her hands, news writing. She started her blogging career as a journalist, writing for Hints magazine and then Encomium.
She got her first job when she saw a copy of Hints magazine and saw an advert for writers, her friend dialed, and she got an appointment for an interview. That was the beginning of her writing journey. She groomed herself while working as a print journalist before opening her first blog years later. This blog didn't go far because she lost it. Later on, she started the one she currently has now. Stella gathered the required experience that made her decide to leave her day job as a print journalist to focus fully on her blog.
She Started Her Blogging Career in Nigeria Before Moving to Germany
Dimoko Korkus' passion for writing started when she was growing up, as she had a knack for writing stinkers to her friends every time they quarreled. She took up this innate ability and ventured into blogging fully. Stella started blogging in Nigeria when she left her news writing job, and in 2004, she moved to Germany after getting married to her husband, Stefan. There she continued her blogging career.
She is currently a big name in the business and runs her popular blog from Germany, which she does not find easy, but she loves what she does. Not only is she one of the biggest names in the business, but Stella has also, over the years, grown to become fearless and one of the most dreaded gossip journalists in Nigeria. Also, she has received the Nigeria Entrepreneurs Award For Online Blog of the Year.
A Look at What Her Blog is All About
The name of her blog is SDK, Stella Dimoko Korkus blog, and she blogs about news, celebrity news, entertainment, inspiration, lifestyle, fashion, and a host of other exciting topics. It has become a household name in Nigeria, with her blog visitors/community popularly referred to as SDKers.
The SDK blog, which can be described as the Jack of all trade on the internet, has some creative and unique columns like the In-House News (IHN), Chronicles of a Blog Visitor Narrative, Omugwo Chronicles, Educative, Entertaining and Inspirational, 'Wordless Post,' Spontaneous Post, Saturday Laughs, Tales of a Libyan Returnee, Labour Room Drama (LRD), Wedding Night Brouhaha, Stella's Singles Mingles, among others.
Stella Dimoko Korkus' Blog Brought Her Into the Limelight
Today, Stella Dimoko is an established blogger, but it was not easy for her on the way up. The battles she had with challenges as a print journalist helped prepare her for her online blogging, which she finds even tougher. Coping with reactions and backlash was not so easy for her to handle in the beginning, and because of her fightback personality, she got it all controversially messed up, but that has been sorted out now.
In the beginning, she made ruthless posts, not minding whose reputation is ruined, but later, she realized the damage she might be causing people and changed her approach. She made a name for herself through her posts, but some of these posts are controversial and have given her some bad reputation. All the same, she is not bothered about people's reactions anymore.
Stella is focused on her blogging, which she loves so much. She revealed in an interview that she tries to apologize if she is wrong in her approach towards a particular issue. She loves her career, enjoys the fame and name it brings, and does not give a damn about criticisms.
All the Controversies Stella Dimoko Korkus Has Courted
Her controversial nature comes from the fact that she is a confrontational person and never lets a bait walk on by. She likes challenges and always picks them up. She has had issues with many celebrities and public figures over her gossip posts. Some of these controversies are discussed below.
Controversy with Tonto Dikeh
Stella has had several feuds with Tonto Dikeh on many issues and occasions. Let's look at some of these feuds. In 2019, Stella Dimoko Korkus and Tonto Dikeh had some loggerheads with each other. They brought their fights to social media. Stella accused Tonto of sleeping around with pastors and Ini's man and eventually ruining Ini's relationship. While Tonto said Stella was full of jealousy, the two continued the war with words on their Instagram pages.
In an attempt to defend Tonto, Bobrisky was caught up in the fight. Stella blasted Bob, saying that he was rejected in the gay community for being stinky and dirty and that the failure of his manhood led him to pretend to be a woman. However, Tonto Dikeh denied those accusations, but Dimoko went on about her sleeping around with pastors and collecting offering money from them. She also said that Tonto owed her N200 thousand from a PR stunt she did for her years back. Their fight continued till 2020, and Stella has continued to carry news about Tonto and her relationships.
Her Feud with Linda Ikeji
Interestingly, Stella Dimoko Korkus and popular blogger Linda Ikeji (the brain behind the Linda Ikeji blog) have been perceived as being unhealthy rivalries and engaging in a silent feud over the years. This is common for bloggers in the same field. But Stella, who is a journalist by training, had once dismissed the notion, stating that there is no threat whatsoever but healthy competition between them. SDK insists there will always be a difference between both blogs because she is a journalist who blogs while Linda is only a blogger.
Stella Dimoko said, "I blog with my wealth of experience from Journalism which is different from what she does." Again, in 2018, Stella Dimoko and Linda had another quarrel. Linda lifted an interview from Stella's blog without acknowledging her as the source. In reaction to this, Stella took to her Instagram page to accuse Linda of so many things. She accused Linda Ikeji of stealing someone's sperm and taking what was not given to her from people's hotel rooms. She also says that she badmouths her celebrity friends on voice record and post it to laugh at them.
She also called her a liar and accused her of stealing her content from her blog without due acknowledgment. This happened when Linda was on maternity leave. Linda's workers also accused Stella of lifting content from their CEO's blog (Linda Ikeji) without also acknowledging her. Both bloggers warred seriously on Instagram. However, the outcome of this feud is not certain, as they bring up their issues once in a while. In 2020, Stella revealed that Linda Ikeji is not her enemy, but they are not friends either. She says that they quarrel; she learns her lessons from it and moves on with her life. Life continues for her.
Stella's Blog in Comparison to Linda Ikeji's Blog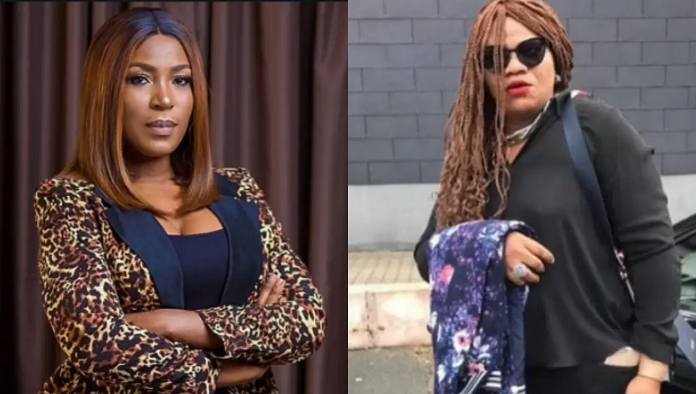 Both blogs have almost the same interest areas. SDK blog posts ruthless information and secret lifestyles of celebrities. But Linda Ikeji posts more detailed and interesting facts about celebrities. Stella Dimoko is just a blogger, and this has restricted her popularity and fame. However, the date she founded her blog is not started, but it came before 2003, the year she got married.
Linda Ikeji's Blog was founded in 2007, and her blog is interested in almost all the things SDK does. In addition, Linda Ikeji is an entrepreneur with several other businesses apart from blogging. She started an online TV network called Linda Ikeji TV, and she owns a radio station, a social networking platform, among several other businesses.
Linda Ikeji's blog is more popular than SDK blog because of some of the other businesses Linda Ikeji ventured into that have, in turn, turned up her popularity and fame. Although Stella Dimoko Korkus started her blog years before Linda Ikeji, Linda's blog is more famous to the public than hers. This may be as a result of her distance from the country where her contents come from.
In terms of Instagram followers, Linda Ikeji has way more followers than Stella Dimoko Korkus. Linda Ikeji has 6.6 million followers, Linda Ikeji's blog has over 1.3 million followers on Instagram, while Stella Dimoko Korkus has about 144 thousand followers.
The Blogger is Married to Stefan Korkus
Stella got married to Stefan Korkus in 2003, and their marriage is blessed with children. Her husband is okay with her work (which is her financial source), and he helps her out when he is free from his busy job. He also helps her source interesting stories online. However, there is not much information about their children, how many they have, and their genders. All there is about her children is that she has a son. She said that her typical day starts at 5:00 a.m., a routine she developed since the birth of her first son, who was a crying baby. That pattern helped her to learn how to stay awake with him, which now helps her with her blogging.
Where is Stella Dimoko Korkus Now?
Stella Dimoko Korkus has been on the low for some time now. Distance must have dealt her a blow, but she is still very much active. In 2020, she made a post about her decision to stop exposing celebrities. This came after she saw a blogger go to jail because he exposed a celebrity. She said that she is scared of exposing them because you cannot be too sure of the truth behind a story and the intention behind the source of a story, even if it is true.
However, she decided to resort to inspirational stories and other things apart from exposing people. Her blog still has news on celebrities and other exciting topics that keeps the blog visitors interested. Her blog has recent posts about celebrities like Tonto Dikeh and her break-up issues with her fiance Kpokpogri, among other celebrity news. She also writes posts on other themes in society. She still resides in Germany and continues to run her blog from there, which is her main source of income.