It is often surprising to see two Nigerian celebrities having the same facial outlook, body stature, and the same height. If not that they are known celebrities and observed to be from different identifiable family backgrounds, they can be argued to be from the same parents. In some cases, they go as far as sharing the same tone and talking manner. This made us believe that people could have a look-alike on earth.
Another exciting thing is that some people don't like seeing people who look like them, while others appreciate that they look like someone else. It gets interesting when people observe you have a remembrance with a celebrity, which can take to a firm decision of copying all of the celebrity's lifestyle. In Nigeria, a couple of celebrities have been spotted having strong look-alikes with others.
12 Nigeria Celebrities with a Striking Resemblance With Each Other
Below are the lists of Nigerian celebrities who have other celebrities that resemble them in the entertainment industry. These celebrities include:
1. Genevieve Nnaji and Ivie Okujaye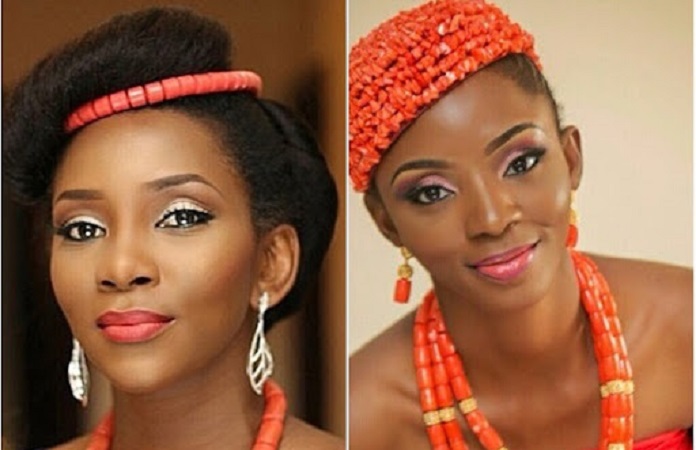 Genevieve Nnaji is a big name in the Nollywood movie industry and has contributed to the development of the sector in so many ways. The same thing goes for her look-alike Ivie Okujaye who was nicknamed "little Genevive because of her close resemblance.
Major Characteristics between Genevieve Nnaji and Ivie Okujaye
The two celebrities, aside from having other close physical characteristics, also share the same birth month. Genevieve was born on May 3, 1979, (44 years) while Ivie Okujaye was born on May 16, 1987 (36 years). The two celebrate their birthdays in May, 13 days apart.
The two celebrities merely looking at them share the same height. One can not determine Ivie Okujaye's height, and it is believed that she will be very close to Genevieve's 5 feet 6 inches height.
They both share the same eyes with virtually the same facial look coupled with the same smile.
They both attended missionary schools. Genevieve attended the Methodist Girls College Yaba, while Ivie attended Our Ladies of Apostle Private School.
They both gave birth to a daughter each.
Genevieve and Ivie share the same personality style as they are very private with information concerning them.
They both work in the same entertainment industry, Nollywood.
2. 2Baba and Joe El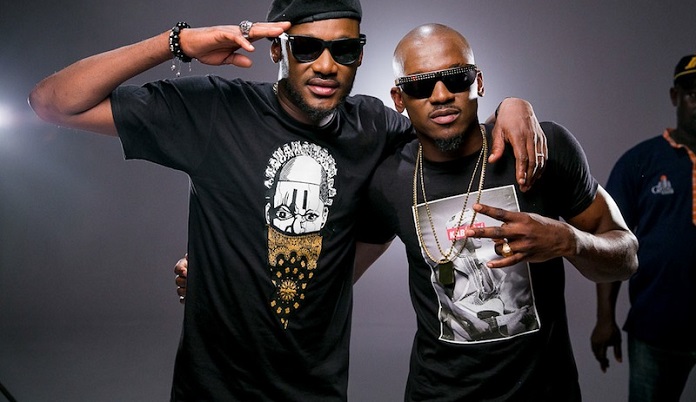 2Baba and Joel are two Nigerian celebrities that came to be a strong look-alike. For years, the two being very good friends got some fans to question if they are somehow related. However, they are not in any way related to each other, but the resemblance says otherwise. The two are known to be in the music industry.
Major Look-alike Characteristics between Tuface and Joe El
The two music stars share the same haircut. They both don't like having any hair on their head.
They don't share the same age or date of birth, but looking at Joe El, one would see the younger version of Tuface 5 years behind.
The two look-alikes once shared the same record label known as the Kennis Music until 2008
They have made some hits together, and one of them is Hold On by Joe El and Tuface.
3. Damilola Adegbite and Kehinde Bankole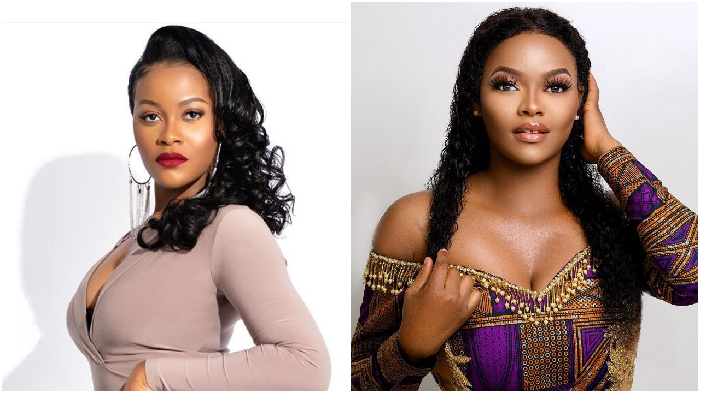 The two Nigerian Nollywood actresses have a striking resemblance that would make anyone agree that they are twins. Damilola Adegite started acting in 2008, four years after Kehinde Bankole began with the award-winning super story. Kehinde, who also has a twin sister Taiwo, is from the Yoruba ethnic group in Nigeria, likewise Damilola. Though the two strike a resemblance and have chosen the same career paths, they are not related to each other.
Damilola was born on May 18, 1985, while Kehinde was born on March 27, 1985. Kehinde is two months older than Damilola as they share the same year of birth but differ in months.
Damilola and Kehinde are seen to be very tall, and the difference in their height is not easily noticed.
The look-alike between the two actresses can be traced to the following:
Facial outlook: The two have the same shape of face, eyes, and lips.
Damilola has a lighter skin color than Kehinde, who is a complete definition of ebony.
Body stature: The two have slim body structures.
Ethnicity (the two share the same language).
The two work in the same field in the entertainment industry.
So far, there is no movie acted together by these two look-alikes Nigerian actresses.
4. Stephanie Okereke and Linda Ikeji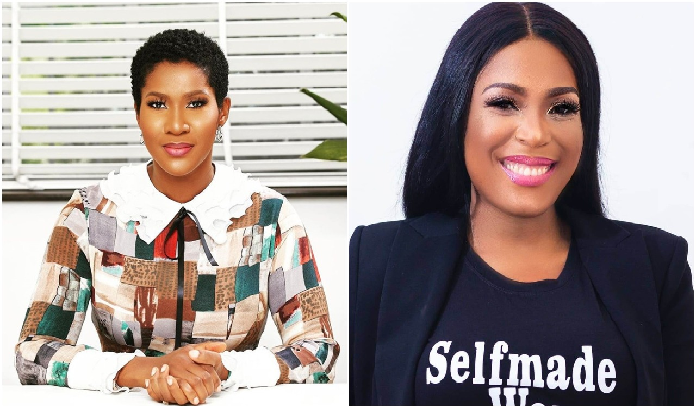 This is another beautiful pair of two female Nigerian celebrities with a strong look-alike that gets people too inquisitive. The two are not related to each other, and they have different career paths as Linda Ikeji is a well-known blogger. At the same time, Stephanie Okereke is an actor and movie director in the Nollywood movie industry.
Look-alike features of the Two celebrities
Facial outlook: Stephanie Okereke and Linda Ikeji share a lot about the structure of their face. Having the same eye color, same nose shape, and gives the same kind of smile.
Skin Color: The two have the same chocolate skin color.
Fashion Sense: They have the same style of dressing. Most times, on red carpets, they prefer wearing a classy gown with a tiny silver necklace.
Body Stature: The two celebrities share the same body stature but not the same height, as Stephanie Okereke is way taller than Linda Ikeji as she is titled the Tallest Nollywood Actress.
5. Di'ja and Nneka Egbuna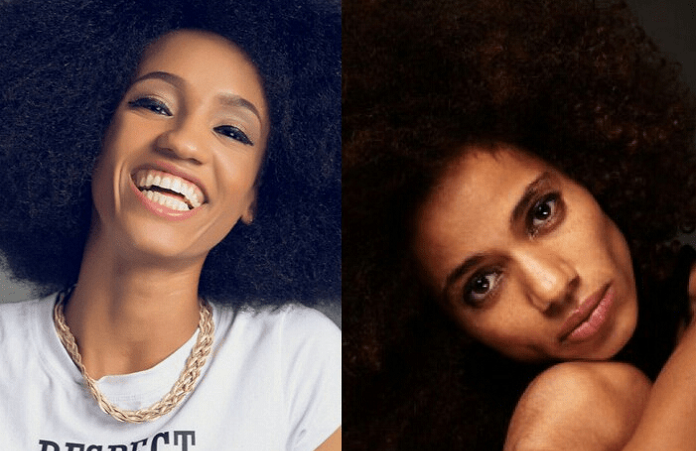 Hadiza Blell-Olo, known as Di'Ja and Nneka Egbuna, are Nigerian singers who have made a drastic impact in the music world in their different capacities. The two celebrities have been spotted to be each other's look-alike. In some cases, they are assumed to be sisters.
The Common Resemblance Between Di'Ja and Nneka
Facial Outlook: The two singers, to a large extent, have an undebatable facial resemblance. They have the same eye color, Skinny face, and same lips shape.
Hair Style: Di'Ja and Nneka share the same hairstyle as they are spotted in different shows with the same hair.
The two look-alike celebrities don't have any song together as they focus on two different musical lines.
6. Femi Kuti and Kalu Ikeagwu
These two are famous pair of celebrity look-alike. Femi Kuti is a popular entertainer and the son of music legend Fela Kuti while Kalu is a well-known Nollywood actor and scriptwriter. Despite the gap in age between the two celebrities, they have a very striking resemblance. A look-alike that is so evident as fans try to link the relationship between the two celebrities.
Features of the Look-alike Between the Two Celebrities
Facial Outlook: The two celebrities share the same facial remembrance. They have the same nose structure, the same face shape, and give a twin smile.
Height: merely looking at the two celebrities, they share the same height even though one can not ascertain their heights at the moment.
7. Hanks Anuku and Majek Fashek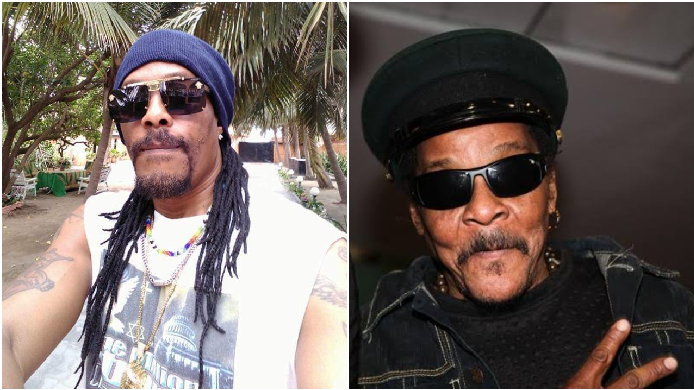 Looking at Hanks Anuku and Majek Fashek, one will conclude that they have the same family background. Hanks Anuku is a veteran Nollywood Actor, and Majek Fashek is a songwriter, both from Nigeria. Could it be that Hanks copied all the body structures of Majek except his music career? Because there is no difference.
Features of Hanks Anuku and Majek Fashek's Look-Alike
Fashion Sense: The two Nigerian celebrities share the same fashion sense as they both love wearing black tint glass, huge hair cover, and mean-looking faces.
Hair Style: they are both lovers of Bob Marley kind of hair known as dreadlock.
8. Adebantu and Bryan Okwara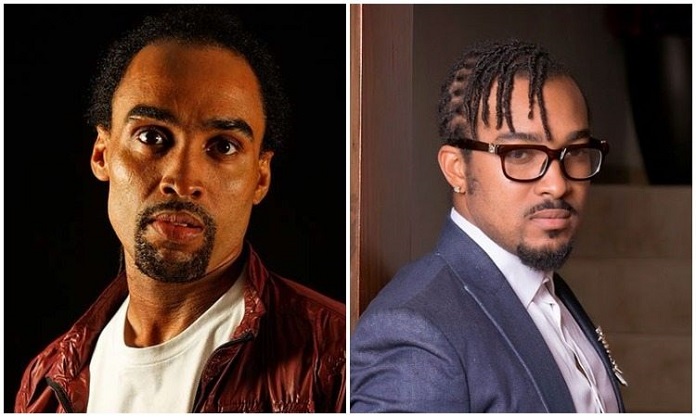 Adegoke Odukoya, widely known as Adebantu, is a Nigerian-German singer, music producer, and social activist. He is the leader of a 13 man band known as BANTU. His look-alike Ikenna Bryan Okwara found himself in the Nollywood movie industry. Despite the considerable age difference, the two guys have a strong look-alike that can not be disputed.
AdeBantu gave Bryan Okwara about 14 years age gap. They are related by birth date as AdeBantu was born on July 14, 1971, while Ikenna was born on November 9, 1985.
AdeBantu's height is not available at the moment, yet people can determine his height as he shares the same height with his look-alike Bryan Okwara who is 6 feet, 3 inches (1.9 meters) tall.
Complexion: The two Nigerian celebrities share the same body color. They are fair in complexion.
Beard Style: They both have the same style of shaving their beards, which also gives them the perfect strong resemblance.
9. Ini Edo and Queen Wokoma
The two celebrities have a striking resemblance that can lure one into thinking they are of the same family, either sisters or mother, and daughter. Both celebrities are known for their prowess in the Nigerian movie industry, Nollywood. Ini Edo has been in the field since 2000, over two decades, while Queen Wokoma started acting as a teenager in 2002 but did not frequently appear in movies like Ini Edo. Though the two have not featured together in any film, their resemblance can't be hidden. She took acting as a career in 2011 and made her debut in the movie Blood on Fire.
Presently, Ini Edo is 41 years old and doesn't frequently feature in movies like before, while Queen Wakoma, whose age is undisclosed, is younger than Ini Edo.
The two actresses have almost the same body structure, but with a bit of difference if one should give it a closer look. Queen Wokoma is seen to be a bit fatter than Ini Edo, and both are pretty endowed. Though the differences in their height are unknown, both are of an average height.
Complexion: Queen Wokoma has a skin color that is a bit lighter than that of her look alike. Ini Edo, on the other hand, is a typical definition of an ebony queen as she has a perfect dark skin shade.
Face Structure: They share the same oval face shape with the same nose structure and black African eyes.
10. Mercy Aigbe and Mary Remmy Njoku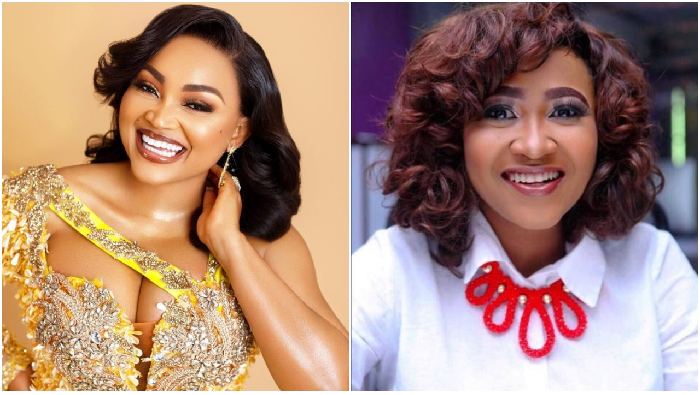 Mercy Aigbe is a Nigerian actress and Nollywood movie director from Edo State in Nigeria. Her look-alike, Mary Remmy Njoku, is also a Nollywood Actress and producer from Imo State. The two Nollywood celebrities have very close ties. They are good friends in the movie industry, and on so many occasions, the look-alike features bought an excellent role in their movies as they can comfortably act as sisters from the same family.
Mercy Aigbe gave Mary Njoku about seven years age gap. Mercy was born on January 1, 1978, while Mary was born on March 20, 1985.
Mary Njoku's height is unknown, but from her pictures with her look-alike, one will not be wrong to conclude that they share Mercy Aigbe's height of 5 feet, 7 inches. The two Nigerian Nollywood celebrities had featured in some TV series with the ROK Nigeria and have been in some Nollywood movies like 'Single Ladies'
Facial Resemblance: It is in these two celebrities that the saying that a sister from another mother came to play is evident. They have the same eye, with the same nose structure, same round face. In fact, the two celebrities can comfortably pass the twin test.
Skin color: Mercy has lighter skin than Mary Njoku. Mercy is fair in complexion, while  Mary has a light chocolate skin color and black hair.
11. Uti Nwachukwu and Gbenro Ajibade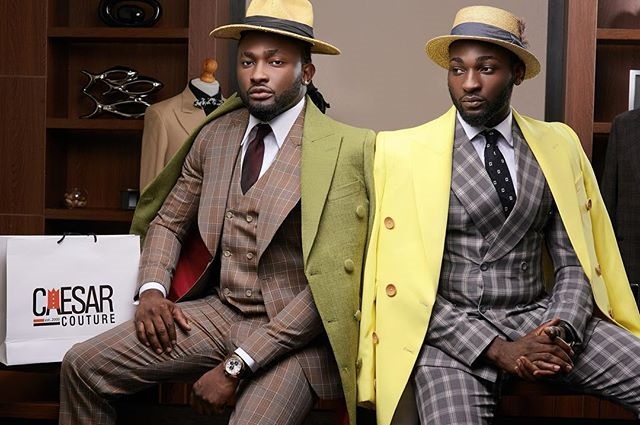 The two entertainment celebrities got the public thinking they were twins. Gbero Ajibade was born to a Royal family of an Engineer known as Patrick and his wife, Mrs. Ajibade. His look-alike, Uti Nwachukwu, came from the family of Mr. and Mrs. Nwachukwu from Ughelli in Delta State, Nigeria.
The resemblance existing between these two celebrities is one that touched almost all their aspects of life. They both showcased their deadlock until Gbenro's wedding in 2015, in which he had to shave his hair, leaving only Uti with the deadlock style.
Uti Nwachukwu was born on August 3, 1982, and is three years older than his look-alike Gbenro who was born December 8, 1985. They share no date, month, or year of birth.
The two young celebrities share almost the same height. Gbenro is known to have a height of  1.8 meters, and his look-alike, Uti, is noted to have a height of 6 feet, 1 inch, equivalent to 1.85 meters. Therefore, Uti has a height gap of 0.05 to Gbenro.
Skin Color: They share the same dark skin color.
Fashion Sense: They are known to have the same classy fashion sense. As friends, they have on different occasions spotted wearing the same style of outfits.
Beard Style: They shave the same beard style, which gives them a perfect look.
12. Odunlade Adekola and Lateef Adedimeji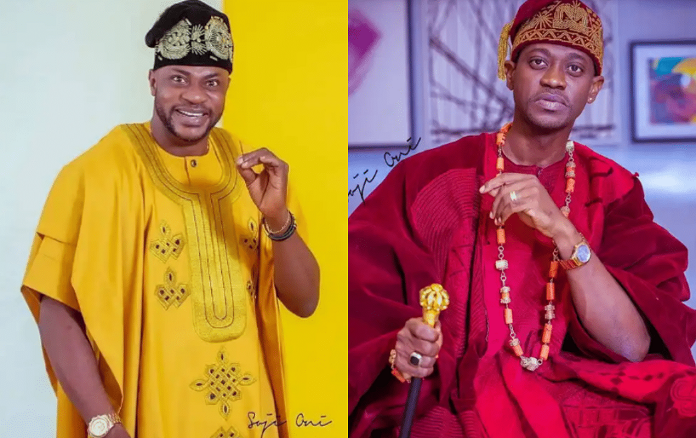 This is another Nollywood actor sharing the exact look-alike. Odunlade Adekola, born in Abeokuta and from Ekiti State, met his look-alike and friend Lateef Adedimeji in the Nollywood movie industry. They exhume the same smile from the same tribe in Nigeria.
Odunlade Adekola was born on December 31, 1978, giving about eight years age gap to Adedumeji, who was born on February 1, 1986.
Odunlade Adekola has a height at the moment that can't be determined. But it is easily detectable among the two Nigerian celebrities that Odunlade Adekola is taller than Lateef Adedimeji by some meters.
Facial look: This is the major reason for their look-alike. They have the same kind of eyes and eye color, with the same mouth shape.