Chief Imo whose real name is Longinus Anyaehiechukwu Anokwute (born May 19th, 1979: Aged 44 years old) is a popular Nigerian comedian, comic actor, filmmaker, and musician. He is known for his hilarious interpretation of dull-witted characters in the Igbo dialect. 
The distinctive comedian has made a name for himself through this unique craft which has also earned him lots of recognition in the industry. He won the City People Movie Award for Best Igbo Comedy Actor of the Year in 2019 and has been nominated several times for other awards. Here is everything you need to know about him.
Summary of Chief Imo's Biography 
Full Name: Longinus Anyaehiechukwu Anokwute
Nickname: Chief Imo
Gender: Male
Date of Birth: May 19th, 1979
Age: 44 years old
Ethnicity: Igbo
Nationality: Nigeria
Sexual Orientation: Straight
Religion: Christianity
Marital Status: Married
Wife: Mrs. Anokwute
Children: 3
Net Worth: 
Famous For: Comedy
Instagram: @chiefimo
44 Year-Old Chief Imo Hails From Imo State
Longinus Anokwute calls himself Chief and hails from Imo State of Nigeria, hence the stage name 'Chief Imo'. He was born on May 19, 1979, in Umuduru, Ekwe, Isu Local Government Area of Imo State. The unique comedian is the last child of six children of his mother who struggled so much to survive while she raised her kids.
There is no verifiable information about his father as sources say he was raised by his mother and older sister. Longinus had his primary education in his hometown. He however did not finish there, he later went to Gombe state in northern Nigeria where his older sister lived to complete his primary education.
He also had his secondary education in Gombe; at All Saints Secondary School to be precise. Growing up in the north, Chief Imo learned the Hausa language and was even more fluent in it than the Igbo language, his mother tongue, at the time. He later lost his older sister with whom he was living, causing him to return to his hometown again to finish secondary school.
He Began His Career in the Early 2000s
All the struggle that Chief Imo had to go through did not deter him from chasing his passion. Longinus started out as a member of his school drama group. They would act out bible passages in the school and everyone would cheer. He was really good at it and did not stop entertaining people even after school. From organizing dramas he went into making his own movies.
Joining the industry in the early 2000s came with its own challenges. Chief Imo would scout for marketers that would help him promote his movies but would not find any. In fact, he was often laughed at because of his style of comedy. Most of his movies were Igbo comedies and would feature him as a clueless, jovial, and naive character that always has people laughing. However, the challenge was getting people to know about him.
He Rose to Prominence in 2015 Thanks to Africa Magic Igbo
By 2008 Chief Imo started to gain relevance as more people started seeing his movies. He was indeed exceptional; his facial expression alone would leave the cast and crew laughing all the time.
His viewers have the same experience as well; Chief Imo's way of talking, negotiating, exclaiming, arguing, etc in the Igbo dialect would crack ribs and even loosen the strongest frown. Chief Imo's prominence skyrocketed following the launch of the Africa Magic Igbo channel on DStv in April 2015.
The Igbo entertainment channel features movies, music, and other entertainment programs in the Igbo Language. The channel started to feature his movies and it was indeed a breakthrough for the comedian. So far he has produced and appeared in over 100 movies in Nollywood.
Chief Imo is also a Musician, Mcee, and Skit Maker
Over the years, Chief Imo's craft transcended movie acting alone to skit making, music, and MCing too. His skits are one of the most viewed on YouTube with tons of shares and likes across different social media platforms. In most of his skits, he features alongside Uche Nwakuche Eduzor who always plays the character of his troublesome wife 'Sister Maggi'.
They always portray a couple in endless disagreements in their skits. Chief Imo and Sister Maggi and their rib-cracking skits are one of the most viewed on the internet. They would always get into a fight and verbally abuse each other in a hilarious way that makes it almost impossible for anyone not to laugh.
We're not forgetting songs sung and produced by the unique comic actor. They include Onye Ngozi, Aham Bu Chinenye, Gozie Nnem, and Chi Mere Anyi Ofu, to mention a few.
Chief Imo's Movies 
Akpoaza Doctors
Nwunye Ohurum
Ego Ego
Doctor Imo
The Herbalist
Imo Onyegwu
Pour Me Water
Ndi Uwe Ojii
Nku Ahuhu
Ojionu
Ewu Ukwu
Ndi Coppers
Nicolas
Ako Aku
He has Built a Handsome Net Worth from his Versatile Career
The distinctive comic actor has a net worth estimated between $500,000 to $2 million. Being very versatile in his craft, his financial status accrues from a number of sources. This includes his movies, TV series, songs, skits, gigs as Master of Ceremony (MC), etc.
People pay hundreds of thousands to have Chief Imo as an MC and the comedian never fails to deliver. A good portion of his earnings comes from his YouTube channel Chief Imo Comedy with over 100,000 subscribers.
Who Is Chief Imo's Wife?
Chief Imo's wife is Mrs. Anokwute. They have been together for many years and have three children, twin boys, and a girl. In the past years, the public would often think that Sista Maggi, with whom the actor features in all his skits is his real wife. There is also the fact that Chief Imo has never made any comments about his marital status nor refuted the claims.
But Chief is not married to Sista Maggi in real life. One certain time, the comic actor posted a photo of himself holding hands with his real wife and Sista Maggi with a message thanking them both for keeping him going. In the same post too, he asked his fans to appreciate his commercial wife, hence clearing the air. In fact, he often posts loved-up photos of himself with his wife on Instagram.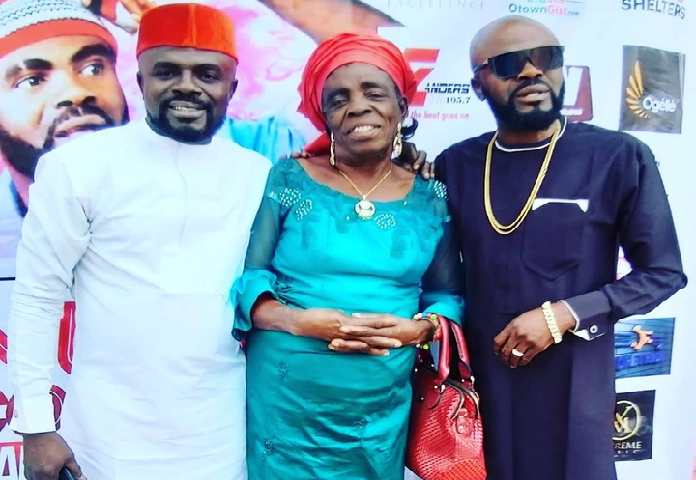 Does Chief Imo Have a Twin Brother?
Longinus Anokwute has a brother who looks exactly like him but it has not been verified if he is his twin. The confusion started when he posted photos of himself with his family on a day they went to appreciate the woman who paid his fees when he was out of school. In the photo was his brother who looked just like him.
The actor has also posted photos of himself with his look-alike brother and mother together thus, creating the notion among the minds of many. Many sources from then on reported that it is his twin brother in the photos. While we have not confirmed this, it is important to note that Chief Imo has a look-alike brother who may just be his twin.