Divorce in itself is pretty tough, and going through it while the whole world is watching makes it even tougher. There have been some really messy celebrity divorces over the years. While some get dramatic due to a long custody battle, others become messy due to abuse allegations. Sadly, their situations hit us nearly as hard as when our good friends split up because we feel like we know them. The marriage between a former minister of aviation, Femi Fani-Kayode, and his estranged wife, Precious Chikwendu, is one of those marriages we never wish to see the end, but they eventually did.
It appears to be that the hostility between Precious Chikwendu, an ex-beauty queen, and her alienated spouse, Femi Fani Kayode, has taken yet another dimension. The former aviation minister recently threw a luxurious birthday celebration for their triplets, and the most noticeable absence was that of the triplets' mother. Femi's decision not to invite Precious to her children's birthday party has further made Precious more driven in her quest to ensure she gets full custody of all four kids she has with Femi Fani-Kayode.
The ex-lovers who used to be wildly enamored with one another chose to head out in different directions following allegations of cheating and abusive behavior at home by both parties.
Precious and Femi Fani-Kayode Met in Imo State in 2014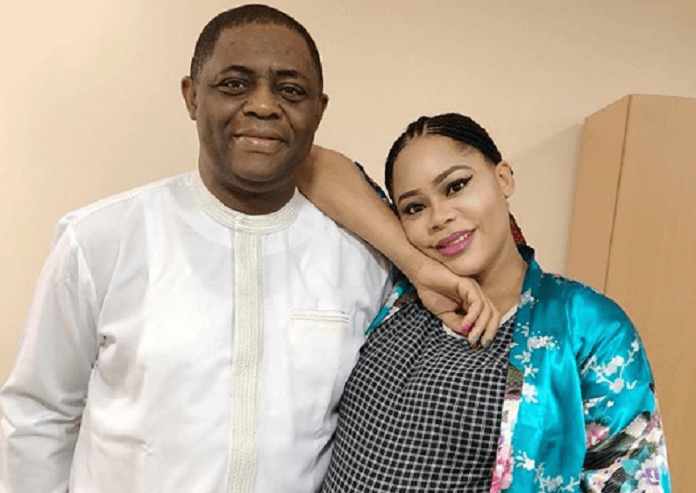 Precious and Fani-Kayode met in 2014 at the airport in Owerri, Imo State. According to the beauty queen, she met the former minister when he struggled to regain a financial balance after his bank accounts were frozen by the Economic and Financial Crimes Commission (EFCC). Her concern about his wellbeing during his prosecution apparently drew her closer to him until it metamorphosed into a supposed romantic relationship.
Shortly in the same year, they agreed to settle down as a couple. However, their wedding wasn't publicized as there are no wedding pictures from any of the parties to signify so. Precious was 25 years old when she married the former minister, who at that time was marking his 54th birthday. While the age gap became an issue with some who knew little about Precious referring to her as a gold digger, many were happy for them, especially as the former minister kept flooding his social media page with their lovely pictures.
It was the first marriage for Precious, fondly called "Snowwhite," but not so for Femi Fani-Kayode, who was into his fourth marriage. He married his first wife, Saratu "Baby" Atta, in 1987, and they were divorced by 1990. The second marriage was to Yemisi Olasunbo Adeniji in 1991. However, they divorced by 1995. Two years later, FFK got into his third marriage with Regina-Hanson Amonoo. They lived for seventeen years (1997-2014) before the politician decided to take a fourth wife, which happens to be Chikwendu, the beauty queen.
Precious Chikwendu is a Former Beauty Queen From Anambra State
Precious' name may not be so much loudly mentioned as it is with her ex-husband, who, in addition to his political career, is also famous for his unending marital controversies. She is a Nigerian model, actress, and Beauty pageant titleholder. Precious is Igbo, she hails from  Etti-Nanka, Anambra State, and she is the second out of seven children born to her parents. Her father's name is late Hilary Chinweike Chikwendu.
Although she was successful in her own right as a beauty queen, becoming the wife of a well-known Nigerian politician and former minister of aviation, Femi Fani-Kayode, made her even more famous. However, upon marrying the public figure, she became his fourth wife.
Her Marriage to FFK was Heavily Criticised Because of Their Age Difference
Femi Fani-Kayode and his fourth wife got married in 2014. Even though their wedding wasn't publicized, when the news hit the media, one of the discussion topics on the lips of many was the age gap between the couple. There is a 29 years age gap between Precious Chikwendu and Femi Fani-Kayode, as Femi was born on October 26, 1960, while precious was born on May 25, 1989.
Some found their massive age difference as a problem as they felt he was old enough to be her father. Precious was even called a gold digger by many who saw her union to the famous politician as her intentional plan to milk him. After six years of marriage, the couple finally called it quit and went their separate ways. Their divorce was finalized in 2020.
Their 6-Year-old Marriage Ended Due to Irreconcilable Differences
The marriage between Femi Fani-Kayode and Precious Chikwendu never left the media as the couple became popular for sharing pictures of all the happenings in their home. It was a reality check for everyone outside the marriage, especially given loads of love and affection the couple showered on each other. However, sometime in late 2020, just a few months after Precious underwent surgery, the news media went agog with stories of marital dispute leading to their divorce, which happened on the grounds of alleged irreconcilable differences.
Their relationship became sour during the time they were expecting their triplets. A leaked text emerged online, which was allegedly exchanged between Femi Fani-Kayode and a family member, where Femi was quoted to have denied being responsible for Precious Chikwendu's pregnancy, saying she was cheating on him with a DJ based in the United States.
On the other hand, Precious Chikwendu accused her husband of deceiving her into marriage by lying to her about divorcing his third wife. She also accused him of physically abusing her during the time they were married. She claimed that Femi kicked her in the stomach when she was pregnant with the triplets. However, the former aviation minister denied abusing Precious Chikwendu. He further stated that he caught her in bed with a naval officer.
Their Union Produced Four Children
Precious Chikwendu has four kids with the former aviation minister. Their first child, Joshua Oluwafemi Emmanuel Lotanna Aragorn Fani-Kayode, was born on February 1, 2016. On May 25, 2018, they announced the birth of their beautiful triplets. Their names are Ragnar Alexander Okunade Olusegun Ikenna Fani-Kayode, Aiden Daniel Olumide Jidenna Benaniah Fani-Kayode, and Liam Michael Oluwanifemi Tobenna Jehu Fani-Kayode.
Although FFK initially denied paternity of the triplets on the claim that they were products of their mother's union with another man, he later accepted them after a DNA test confirmed he is their biological father. Together, they raised their four boys until the emergence of the court cases.
A recent birthday party organized for the triplets had everyone but Precious Chikwendu in attendance. This further raised eyebrows as many faulted Femi's restrictions against his ex-wife, especially as the kids are still tender to live without their mother.
Is Precious Involved in the Kids Upbringing?
Presently, Precious isn't fully involved in the upbringing of her four children, as Femi has ensured he denied her access to them. While many assumed the birth of the four boys would strengthen the bond between the two, the opposite appears to be the case. Both parents are still currently battling over who gets full custody as neither one wants to share custody with the other.
Since the finalization of their divorce in 2020, Precious has not been involved in raising her four kids. Fani-Kayode has ensured he kept their kids away from their mother. More recently, he stated that Precious is not fit to be a mother. However, that's not where the story ends as Precious has dragged her former husband to court, filing for full custody of her kids.
According to the court filings, she's seeking full custody of her kids and a 3.5 million naira monthly child support. The case is still ongoing, and as of this writing, the final verdict hasn't been reached yet.
What Has She Been Up To Lately?
Ever since previous separated from Femi, she has not revealed much about her plans. However, it is largely believed that she is preparing to return to her acting career and other businesses she was earlier known for before her marriage. As aforementioned, she is a model and actress. Precious began her career as a model in 2006 when she modeled at the M Idols Fashion Show in Calabar. She was also known to participate in fashion shows such as the Nigeria Television Fashion Show, Galaxy Television Fashion Week, and Catwalk for Change.
Her acting career began in 2007, and although there are no known Nollywood films she has appeared in, except for the 2020 movie Bliss n' Bruises, we are hopeful that she would receive more noticeable film roles in the future. Aside from her roles in the Nigerian entertainment industry, Precious is also a successful businesswoman. She owns and manages her fashion house known as Glowria Snow Fashion House. Precious also runs a skill acquisition and recruitment academy known as Lady Leticia Skills Academy.
The academy focuses on providing highly qualified and reliable personnel for the smooth running of domestic services on a large or small scale. While she was still married to Femi Fani-Kayode, she brought most of her career to a halt as it was assumed and agreed by the former couple that there were things a married woman shouldn't do. It made her more reliable on her husband's wealth and knowing how wealthy the man she married was, she lived a lavish lifestyle.
Since their divorce, Precious Chikwendu might be single as she has not been linked to anyone. As for her ex-husband, he has found love again and hasn't kept quiet about it. Barely a year since his nasty divorce with Precious Chikwendu, Femi started dating Nigerian model Ezenwa Chika Nerita.