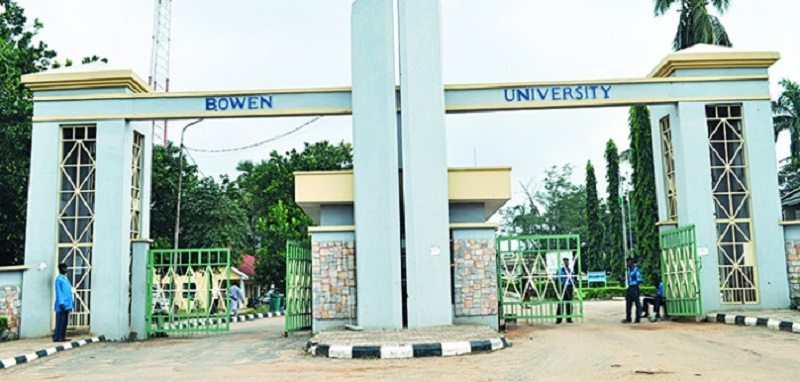 Bowen University, Iwo (BUI), Osun State is one of the most reputable Private Universities in Nigeria which boasts of being the first and largest Baptist University in Africa.
In 1854, the family of Late Reverend Thomas Jefferson Bowen laid the major foundation of the present day Bowen University when they began a school in Ijaiye Orile in the present Oyo State of Nigeria.
Founded in 2001, Bowen University boasts of a School of Medicine, Faculty of law, and a postgraduate school in addition to its already catalogue of undergraduate courses. It also boasts of some of the most qualified lecturers in the country.
Rankings
In Nigeria, private universities are ranked based on Academic standards, Facilities, Location, Cost, and Webometrics ranking. A recent private universities ranking placed BUI as the 4th best Private University in Nigeria while the 2017 NUC university's ranking placed BUI as the 50th best university in the country.
Courses/Departments
Administration
Industrial Relations And Personnel Management
Agriculture
Agriculture
Food Science And Technology
Forestry And Environmental Technology
Arts And Humanities
Christian Religious Knowledge/Studies
Communication
Arts
English Language
History And International Studies
Music
Philosophy
Theatre Arts
Law/Legal Studies
Med/Pharm/Health Sciences
Anatomy
Medicine And Surgery
Nursing Science
Nutrition And Dietetics
Physiology
Physiotherapy
Sciences
Biochemistry
Chemistry
Computer Science
Industrial Chemistry
Mathematics
Microbiology
Physics
Physics With Solar Energy
Plant Biology
Statistics
Zoology
Social Sciences
Accounting
Banking And Finance
Business Administration
Economics
Mass Communication
Political Science
Sociology
Admission/Entry Requirements
(i) UTME
(a) All applicants are required to sit for the 2017 Unified Tertiary Matriculation Examination (UTME)
(b) Applicants are to complete the on-line application form by visiting Bowen University website at http://www.bowenuniversity.edu.ng
(c) All applicants are required to have credits at SSCE, GCE, NECO, NABTEB or approved equivalent in at least five (5) subjects, which must include English Language and four other subjects as may be specified by each Faculty.
(d) The five credits should be obtained in not more than two sittings.
(e) For Medicine and Surgery (MB; BS), Nursing Science and Physiotherapy programmes, the five credits (including Mathematics and English) must be obtained at only one sitting.
(f) Candidates awaiting results may apply.
(g) All applicants will be required to go through Bowen University Screening Exercise.
(h) Interested candidates who will apply to JAMB for admission and wish to change their choice to Bowen University are required to:
1. Apply for change of institution through JAMB
2. Complete the Bowen University On-line Application Form
3. Participate in the Bowen screening exercise.
(ii) DIRECT ENTRY
All applicants for direct entry must satisfy any of the following:
(a) NCE at credit level, ND and approved equivalents with at least Lower Credit in relevant fields.
(b) At least two Advanced Level passes at acceptable grade level.
(c) The Interim Joint Matriculation Board (IJMB), Joint Universities Preliminary Examination Board (JUPEB) or Cambridge moderated School of Basic Studies at acceptable grade levels.
(d) In addition to NCE/ND/IJMB, JUPEB or two Advanced Level papers specified by each Faculty or programme, candidates must also satisfy the Ordinary Level requirements.
(e) HND holders may be admitted to 200 Level or 300 Level depending on the regulation guiding admission into each department/programme.
All direct entry candidates are required to apply through JAMB.
See Also: How To Register And Check Your JAMB Results Online
Department Of Medicine
BUI's Department of Medicine which runs only the M.B.B.S. Programme was established as an integral part of the College of Health Sciences.
Lecturers of the Department double as Honorary Consultant Physicians/Psychiatrist to the Bowen University Teaching Hospital where they run Consultant Outpatient clinics, conduct ward rounds and research activities.
The Department receives 400 level Medical Students, who have just completed their First Professional or Part I M.B.B.S. Examination and at the commencement of their Clinical Programme. They rotate through the Department during four phases referred to as postings i.e.
Phase I -Introduction to Clinical Clerkship – a 2-week intensive course.
Phase II -Junior Medicine Posting (MI) lasting 8 weeks and comprising didactic lectures, tutorials, seminars, clinical work in the clinics and bedside teaching of clinical skills.
Phase III -Intermediate Medicine (M2) Posting lasting 8 weeks and comprising didactic lectures, clinical activities and side laboratory testing.
Phase IV -Senior Medicine Posting (M3 Posting) as the final phase of their apprenticeship. In addition, courses in Mental Health (Psychiatry) including 8 weeks lectures and clinical activities are housed in the Department of Medicine. A pass overall in Medicine and a Pass in Clinical Examination are pre-requisites for graduation.
Department Of Family Medicine
Since the inception of the Bowen University Teaching Hospital (BUTH), the Department of Family Medicine was the only department with full accreditation by the National Postgraduate Medical College of Nigeria and the West African Postgraduate Medical College.
The Department trains clinical students through the first and second years of clinical training (2 block postings, one each at 400 level and 500 level) and the Family Medicine Examination will be done at the end of the 500 level.
The Department trains resident doctors in Family Medicine through training curricula of the relevant Postgraduate Medical Colleges (The National Postgraduate Medical College of Nigeria and the West African College of Physicians) amended to suit local strengths and challenges in BUTH.
The Department runs the Family Medicine Clinics (formerly called the General Out-Patient Department), the Staff Medical Services of the hospital, the NHIS/Managed Care Services and the Global Fund-supported HIV Care Services.
The Accident and Emergency (A&E) unit, Intensive and Critical Care Unit (ICU) and Tb & Leprosy control programs supported by the Damien Foundation Belgium, are also run by the staff of the department.
Bowen University Teaching Hospital (BUTH)
The Baptist Medical Centre (BMC) was transformed to Bowen University Teaching Hospital (BUTH) Ogbomoso in 2009, as a result of introducing the College of Health Sciences to the Bowen University.
BUTH has training programmes for pre-registration of House Officers and for Doctors undergoing their General Medical Practice Training (Parts I & II).
Located in two campuses at Iwo, Osun State and at Ogbomosho, Oyo State (the campus of the College Administration and of the Teaching Hospital), the College of Health Sciences has three Faculties which run three major programmes. The Faculties are:
Faculty of Basic Medical Sciences (FBMS)
Faculty of Basic Clinical Science (FBCS)
Faculty of Clinical Science (FCS)
While the Programmes are:
B. Sc Anatomy
B. Sc Physiology
MB, BS
See Also: Everything To Know About NABTEB O'Level And A' Level Exams
The programmes have been accredited by the National Universities Commission (NUC) and the Medical and Dental Council of Nigeria (MDCN). The B.Sc. programmes run for 4 years while the MB, BS programme runs for 6 years (from 100 level).