Mohbad net worth is estimated at $200,000, making him one of the richest young artists in Nigeria. The 27 year-old singer, whose real name is Ilerioluwa Oladimeji Aloba, earned much of his money from his best songs, including KPK, Gumbody, Ponmo, Komajensun, Real Hustlers, Ronaldo, and many others.
The Nigerian music industry is one of the world's most prosperous music industries, giving room for much younger artists to soar. For many factors like the nation's population and mass access to the internet, the likes of Mohbad have received what many could describe as undeserving access to the upper echelons of the music world.
Born on June 8, 1996, the rapper, singer, and songwriter Ilerioluwa Oladimeji Aloba may have started his career in music just recently. Still, he is probably among the very few most influential artists within the Nigerian Music trade, seeing how impressive his songs have soared in the Nigerian music industry.
Interestingly, his music has left the shores of his home country and reached many other counties of the world. This, of course, has earned him more fame and wealth to go with. Below is a breakdown of how young artist Mohbad accumulated his fast-increasing net worth.
How Music Boosted Mohbad's Net worth
The success of Nigerian music is thanks to a combination of good talented Artists, producers, DJs, local and international promoters, marketing, etc. Due to these factors and more, young artists like Mohbad continue to earn a fast rise to fame and wealth.
Mohbad began his music career in 2016, doing covers for well-known Nigerian artists like Kizz Daniel and Tekno. While doing that, he was also popular for making and releasing Freestyles on his Instagram and Twitter pages. Eventually, Kizz Daniel's Fvck You freestyle caught the attention of The Marlian Records boss, Naira Marley.
Luckily, his signing into Marian Record in 2019 became his first step to stardom. To officially set off, Mohbad presents this new street banger, "Koma Jensun," featuring his music record boss Naira Marley. The song, which means (Didn't Let Me Sleep) premiered on February 8, 2020, and eventually garnered over 8 million views on Youtube. His viral song 'Balan Zia Gar 'also helped to pave the way to his stardom.
While Mohbad may not have earned much financially from his debut hit as a newbie, it sure earned him a massive fanbase upon which he was able to soar higher with his subsequent record release. Taking good advantage of the Nigerian rebirthed street pop, which has recently taken over the airwaves, Mohbad released more songs that are still trending him the market today.
Mohbad struck gold in 2021 after he collaborated with award-winning record producer Rexxie to release the street anthem single, KPK(Ko Po Ke). The song, which literally means It is Plenty or Who Says It's not Plenty, became an addictive street hop/pop record not only in Nigeria but in several other African countries and even the world.
For weeks, the song not only sat at the top of many Street Pop and Afrobeats charts but generated street slang, "O'Por" is usually used to acknowledge that something "Makes Sense," and when someone says it to you, it means they're proud of you or your achievements. While it is not known how much the young artist made directly from sales of the song, there is no doubt that it was a major contributor to his net worth growth.
When the song premiered on Youtube, it generated over 8 million views. According to reports, it charted in Australia, Canada, Philippines, South, Netherlands, Ireland, Korea, Switzerland, Ukraine, United Arab Emirates,  Belgium, United Kingdom, and United States. After this success, Mohbad released more trending hits, including an eight-track EP titled Light.
Best of Mohbad's Songs include the following
Ko Po Ke (KPK)
Real Hustlers
See My Bounzer
Balan Zia Gar
Ronaldo
Jaabo
No Long Cap
Freestyle
Owoale
Four 20
Oh Baby
Omo Ase
Lamba
Mi O Foh
Gumbody
Komanjensun
E Get Why
Usain Bolt
Shingbain
Madasi 2.0
Krest
Bad Vibes
Oluwanishola
Bb 2 Poverty
Time No Dey
Iro Nla (Big Lie)
Other Sources of Mohbad Net Worth
Even though, as a signee, Mohbad may not be making much income directly from his music as compared to his boss Nira Maley or the likes of Davido, Olamide, and Burna Boy, there is no doubt his music career contributes a great deal to his net worth. However, like other celebrities, he may be making additional income from other business ventures which are not currently known to the public.
Currently, it would be safe to say that the young artist made his money from selling concerts, selling records, show performances, and social media promotions from his other private businesses. Social media has played a huge role in Mohbad's rise in the industry.
He has successfully built a large following on social media, especially on Instagram, where he has over one million followers. Although he is yet to gain any brand endorsement from any company in Nigeria or abroad, it is believed that he will soon catch the attention of top-selling companies considering the growth rate of his fanbase.
Who is Richer Between Mohbad and Zinoleesky?
Mohbad and Zinoleesky could be said to have started their music career simultaneously as they were both signed to the Marlian records on the same day. Interestingly, the two broke into the limelight under the same record label, though in different years.
Zinoleesky, who happened to gain popularity much earlier, appears to be slightly richer than Mohbad, as his net worth is estimated at $610000. Zino made his big break following the release of his song titled "WhoKnowns," featuring "Lil Frosh," on it and the young artist revealed that the money he made from the song afforded him his very first car – a 2019 Chevrolet Camaro that cost 31 million Naira in 2021.
Between Mohbad and Bella Shmurda, Who is Richer?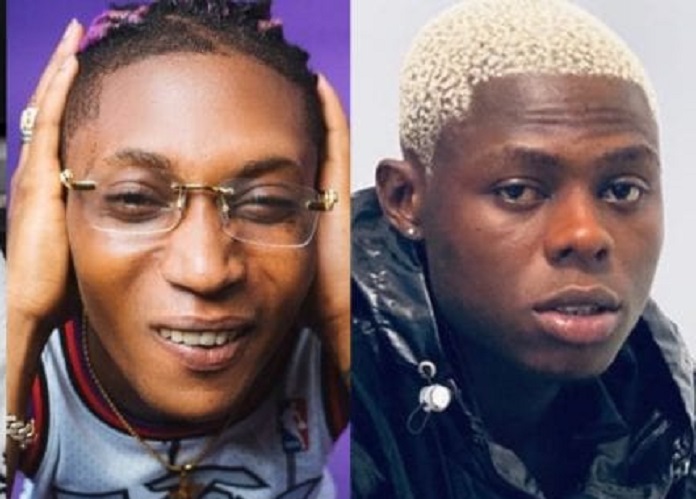 Bella Shmurda is another young artist of Mohbad's class who is doing quite well in the Nigerian music industry. The young afrobeat singer Akinbiyi Abiola Ahmed, professionally known as Bella Shmurda rose to stardom after releasing his debut single "Vision 2020" and a follow-up (remix) to the single in which he featured Olamide.
Currently, his net worth is estimated at $700,000, which is way higher than Mohbad's $30,000 net worth. Aside from the financial difference, Bella has, through his music which has received massive airplay, performed on some of the biggest stages all over Nigeria, and his contribution to the music world has earned him at least two notable awards, while Mohbad is yet to gain any.
Mohbad's Net Worth Compared to Cblack
As earlier noted, Mohbad and CBlack were both Naira Marley's new intake in 2019. Though both were cohabitating with Naira Marley even before the official signing, and they had already recorded loads of songs with the Marlian Music Imprint, they were officially unveiled as members of the imprint in December 2019.
As of the time of writing this piece, Cblack's net worth is believed to fall between $20,000 to $30,000 which is quite close to Mohbad's. Like his colleague, Cblack is yet to produce any music album, but some of his songs, including his debut single "Baby Kingsway," are still trending today.
How Much Does it Cost to have Mohbad perform at a function?
As a young but fast-growing star in the music world, Mohbad's charges per function are not expected to cost so much, especially compared to older music stars like Davido, Wizkid and even Timaya. Although he is yet to officially state his charges per show, some media reports have it that he charges from $10K to $15K per show.
So far, the youngster has only been to a few music concerts – the Omo better concert in 2020 and the Marlian music festival in 2021. In November 2021, he was reported to have visited the country of Cyprus for a show which turned out messy as he was arrested at the airport after the promoter for the show he went to perform at messed up his arrangement.
This event occurred shortly after the street singer performed alongside fellow star Zinoleesky in London, the capital of England. However, reports on how much he made from the concerts have not been revealed.
How many cars does Mohbad have?
It is common to have music stars drive exotic rides, and Mohbad is not exempted from this. Though not many of these luxury rides have yet been acquired by this young street singer, we've seen him in a couple of them, including a brand new Lexus, which he reportedly bought in 2021.
As per his house, it is not clear if Mohbad has acquired a house of his own. However, he is reportedly living in a lavishly furnished house in Lekki. Probably, it's one of Naira Marley's residences in the area.