Bright Okpocha (born on 14 September 1978), popularly known as Basketmouth, is a 53-year-old Nigerian stand-up comedian and actor. Basketmouth's net worth is estimated at $5 million, an amount he accumulated from various means, including acting and show hosting.
Not many may be familiar with his original name Bright Okpocha but his alias Basketmouth is undoubtedly a household name in the Nigerian comedy scene. Though he is not among the pioneers of comedy in the country, Basketmouth's name cannot be excluded from the list of Nigeria's biggest comedy exports, having been in the comedy business for over three decades. His long years of consistently cracking people up have earned him both the fame and enviable wealth to go with it.
Summary of Basketmouth's Bio
Full name: Bright  Okpocha
Nickname: Basketmouth
Gender: Male
Date of birth: 14 September 1978
Basketmouth's Age:

53 years old

Ethnicity: Igbo
Nationality: Nigerian
Sexual Orientation: Straight
Religion: Christianity
Marital Status: Married
Basketmouth's Wife: Elsie Uzoma Okpocha (m. 2010)
Basketmouth's Children: Janelle Okpocha, Jason Okpocha
Basketmouth'sParents: Felicia Okpocha (mother)
Siblings: Lenora Okpocha, Godwin Okpocha
Basketmouth's Net worth: $5 million
Famous for: "Basketmouth Uncensored"
Basketmouth's Instagram: @basketmouth
Twitter: @basket_mouth
Bright Okpocha Is Igbo, From Abia State, Southeast Nigeria 
Born and raised in the city of Lagos, Nigeria, the elite comedian Bright Okpocha is Igbo by tribe. He hails from  Abia State, Southeast Nigeria, but he spent much of his early years and adulthood in Lagos state. Not much is known about his biological family, but we know he has a sister and three brothers, one of which is Godwin, his former music band member.
Basketmouth did both his primary and secondary school education in Apapa Lagos, Nigeria, and then traveled to the city of Benin, Edo state capital, to pursue a degree at the University of Benin in Edo state. He graduated from the university owning a degree in sociology and anthropology.
He Started as a Rapper
Bright may not have seen himself thriving as a comedian. He was more interested in music, having discovered his talent at an early stage. First, he discovered his talents in playing musical instruments like the drum in 1991, and by 1994 he was already tilting towards music-making. He formed a group of seven members called "Da Psychophats". They started attending shows and rapping. Unfortunately, he could not achieve his dreams of releasing an official project before they disbanded.
Not giving up on his dream of making it as a rapper, Bright went on to form another rap group known as "Da Oddz" with his brother Godwin and Muyiwa Ola-Phillips. With them, he performed in a couple of events and shows and even went on university tours, but they didn't break through as their kind of rap was not accepted in Nigeria.
Though they went their separate ways, Bright confirms that individually, they are working hard to make their music career a dream come true. One of his group members, Dominic, is making music in Australia using "Item 7" as his rap name. Even his brother Godwin is into non-commercial music for now.
Bright only returned to music-making 20 years after his group disbanded, and it is fascinating to watch him metamorphose into a music producer with two widely acclaimed albums ("Yabasi" and "Horoscopes"). Although he has discovered music as his thing, Bright says he is not sure about pursuing it as a full career. He, however, speaks on featuring in a song with ill Bliss and Peruzzi.
Currently signed by a US-based record label, Empire, Bright Okpocha featured artists like Waje, Duncan Mighty, Flavour, and Phyno in his highlife album Yabasi which was a soundtrack for the film Papa Benji. The wide acceptance of the album led to its nomination for two awards at the 15th Headies in the categories for Album of The Year and Best Alternative Album.
His second album, "Horoscopes," which was released in 2022, featured top artists like Johnny Drill, Simi, MI Abaga, Bnxn, Peruzzi, Oxlade, Reekado Banks, Falz, Magnito, Illbliss, Dremo, and Flavour.
Basketmouth's Songs include
 Assembly Of Gods
 Celowi
 Listen
 Leave Me
 Love And Life
 Money
 The Traveller
 Papa Benji
 Hustle
 December
 Life
 Pepper Soup
 World People
 Udo
 Ride or Die
 One Bo
 Myself
 Ghana Jollof
 Your Body
 Trouble
Studio Albums
Yabasi (Onions) (2020)
Horoscopes (2022)
Basketmouth's Foray into Comedy
Basketmouth took a dive into comedy in the early 2000s. On his first appearance on stage as a comedian, the crowd booed him off stage, but not relenting in his effort, he later got the attention of the audience in UniBen after coming back with relatable and well-researched comedy content that was good enough to pull the crowd.
While working on his comedy acts, Basketmouth got himself engaged in events management. With his friend Bayo Adekeye, he packaged and promoted shows that featured music stars such as Plantation Boiz and others. He was one of the brains behind the conceptualization of  Laff n Jamz – a show where people are entertained with comedies and trending music.
Laff n Jamz became a major staple featuring prominent musicians and comedians of those days. The show brought Bright Okpocha closer to an array of successful comedians who helped him grow his career. It was after the Laff n Jamz in UNIBEN that Ali Baba admonished Bright to move back to Lagos to work on his career.  Alibaba said he chose Basketmouth because it defines who he is.
Upon relocating to Lagos, Basketmouth began to break ground performing at a concert called Hanging with the Home Boys. He later extended his activities to the monthly motherland concert hosted by Lagbaja. With the full support of Alibaba, Basketmouth appeared in more shows than he could count until he eventually met Opa Williams, who featured him in his comedy show "Night of a Thousand Laughs."
Bright began to hit the big screen featuring in international concerts and sharing the stage with the likes of Sean Paul, Chris Brown, and many others. His name trended internationally, particularly in Europe, from 2003 to 2006, and Atlanta at the Nigerian Reunion.
His performance in Atlanta led to several shows in countries such as the United States and South Africa. It also saw him win major awards ranging from Best comedian of the year to best stand-up comedian of the year. In 2006, Basketmout made history in Nigeria after staging a one-man standup comedy show, Basket Mouth Uncensored 1,2 &3.
Prominent Shows Basketmouth Has Performed include
Hanging with the Boys
Lagbaja's Motherland Concert
Choice FM comedy show
International Conference in Ethiopia
His one-man comedy concert "Basket Mouth Uncensored" held in Nigeria and abroad.
He had a sold-out concert on valentine's day, 2017, at Wembley Arena, which made the public consider him one of the greatest comedians in Africa.
Comedic Awards and Nominations 
 National Comedy Award 2005 and 2006
 The Best Standup Comedian of the Year
 Pan-Africa Comic of the year in 2017
 He was nominated for Africa Magic Viewers' Choice Awards (2022)
 Best Africa Magic Original Comedy Series (Nominated) (2022)
A Sneak Peek into BasketMouth's Acting Career
Bright Okpocha got into acting in 2006, the period when his career as a comedian was soaring and touching various countries in the world. He started with a comedy TV show titled My Flatmates. He worked with famous OAP Steve Onu, who uses the moniker Yaw, and actor Kayode Peters. Surprisingly, the show was a huge success as it became a trending show among many Nigerians.
The show's success came as a shock to Basketmouth, who revealed that at the time they began shooting the show, they could not afford a proper camera or even a location. Hence, they shot the scenes at his flat. Although the show stopped airing after some time, in 2017, DStv called to revive it with Basketmouth still playing the character he had started with on the show.
Meanwhile, in 2014, Basketmouth starred in a Nigerian comedy film, Head Gone. The film features some of Nigeria's finest entertainers, including Ali Baba, Alibaba Akporobome (aka Apororo), Tuface Idibia, and Eniola Badmus, among many others. He is also the executive producer of Ghana Jollof, a popular Showmax Original comedy series that also stars him alongside other comedians like Akah Nnani, Buchi, and Uzor Arukwe.
Basketmouth is also among the cast of the 2022 movie, The Brotherhood, which also features the likes of  Zubby Michael and Sam Dede. Basketmouth had in 2019 announced that he was working on a Nollywood horror thriller, The Exorcism of Alu, his first feature film. The movie was set for release in 2019 but did not materialize as planned.
What is Basketmouth's Net Worth?
Basketmouth's net worth is estimated at $5 million. He accumulates his net worth from various sources that mostly include:
Entertainment
Event Planning/Hosting
Brand Endorsement Deals
How Much Does Basketmouth Generate from Entertainment?
Basketmouth is no doubt an important figure in the Nigerian entertainment industry, particularly in the music and comedy sector. His almost three decades career in the industry has seen him telling jokes and rapping, acting, producing, and directing some of the country's biggest films, TV series, and concert events.
Although he considers himself not a full-blown musician but a singer in the making, Bright Okpocha is making his music at the highest possible level—production. Undoubtedly, he has generated a meaningful income from the songs compiled in his two albums.
No exact amount has been placed as to his income from his music albums, but it is believed that he made a reasonable income from streaming and from using his songs as soundtracks for films. Some of his songs made it to top-ten of music charts during the first few weeks of their release.
How Much Does Basketmouth Charge Per Show 
As one of the biggest comedians in Nigeria, Basketmouth is said to charge nothing lesser than N2 million per show in Nigeria and over $5000 per show in other countries like the U.S. This ranks him as the highest-paid comedian in Nigeria. However, Basketmouth is not the richest comedian – he falls behind Ali Baba, who is largely considered the richest comedian in Nigeria, with his net worth estimated at $7 million.
Though not verified,  most online sources claim that Basketmouth generates as much as N100 million annually from his one-man show "Basketmouth Uncensored". This is quite huge and a significant influencer of his fast-goring net worth.
Basketmouth Makes Additional income as an Actor and Producer
In the movie industry, Basketmouth doubles as an actor and producer, and it's no surprise that he generates additional income from both careers. He later established a consulting/event & Artist management company (Barons World Entertainment) in 2006.
Bright Okpocha is the producer of the TV series, My Flatmate and the executive producer of the Showmax original Ghana Jollof. His Ghana Jollof comedy series is laudably the first West African Showmax Original comedy series and is shot in Lagos and Accra. Interestingly, he has a role he plays in each of these films. This means a double income for the Nigerian multi-talent.
Aside from movie making, Bright also generates income from skits. He considers himself alongside Bovi as among the pioneers of skit-making. With over 225K subscribers on his Youtube channel Basketmouthcomedy, Basketmouth generates income by posting video clips of his skits, including the popular Papa Benji comedy web series that has generated millions of views since its inception in 2021.
He also posts comedy skits on his Instagram platform, with over 8 million followers. Other good sources of income from these platforms come from sponsored posts and merchandise and selling licenses and sponsorships for his photos or videos.
His Income from Hosting Events
Besides being a well-respected comedian, actor, and producer, Basketmouth is also a respected concert and event planner/host –  a career he picked up while at UNIBEN. The first event he hosted was Plantashun Boiz live in Uniben. The show sold out quite well, marking the beginning of his career as a show host.
One other big event Bright has hosted as a student was 'Laugh and Jams', which had Alibaba perform.  He hosted the event at Ekpoma and in Lagos state, and within two years, he hosted 24 shows.
One of the biggest events Bright has hosted is the Asa concert which was held in 2022. Although he could not come up with the exact amount he generated from the concert, Bright only revealed that he only pulled out  1.5 million (one million, five hundred thousand) naira for the show and made huge financial returns after the show's end.
Basketmouth's Brand Endorsement Deals
As one of the biggest personalities in the entertainment industry, Basketmouth also makes huge income from brand endorsements. The comedian is currently one of the brand ambassadors of Globalcom. He is also said to be a brand ambassador for Malta Guinness, KIA Motors, Sure Bet, Ping Express, and several other well-known companies in Nigeria. According to sources online, Basketmouth enjoys over N120 million annually from his endorsement deals.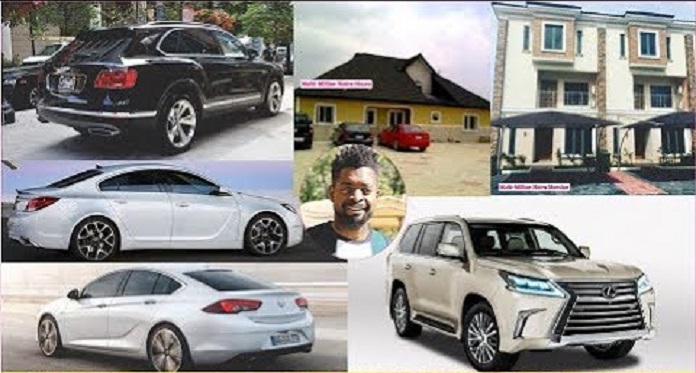 A Look At Basketmouth's Houses and Cars
Basketmouth has acquired a good number of luxuriosly-funished houses both in Lagos and in Southeast.  One of the houses he bought in Lagos for his wife contains a swimming pool, a double parking space, and other interesting amenities. He presented it to his wife on her birthday. He made a heartwarming post on Instagram, saying it was the best he could afford at the time
Bright Okpcha also built a multi-million naira house for his mother. The well-furnished bungalow was presented to the comedian's mother in 2013. The same year, he bought himself a customized 2013 Opel Insignia, reportedly worth around £42,000.  Below is the list of cars you can find in Basketmouth's house and their current prices
Lexus LX570 -$87 000
Honda Crosstour – $27 000
Opel insignia –  – $24000
Toyota Highlander – $41,000
Toyota Highlander
Is Basketmouth a Knight?
In January 2017, Bright Okpocha, also known as Basketmouth, broke the internet with the news of him being Knighted by the Queen of England.
"Guess who just got knighted by the Queen of England……I'm humbled, God is truly amazing. Your majesty, thank you for the great honor….yours truly Sir Okpocha Bright,"
"Now I'm officially the Lord of the rib," he wrote alongside other shots.
The news was received with mixed feelings as the majority of his fans took it for one of his many jokes. But while the congratulatory messages kept pouring in, it became clear that the actor was joking as he was putting up a full video of the sham to promote his comedy show, Lords Of The Ribs. Therefore, Basketmouth is not a knight.