Isabella Idibia is a 14-year-old Nigerian actress and model best known as 2Face Idibia's daughter.
Children whose parents are famous grow with lots of perks and privileges, but that does not mean they don't come with some complications. Regardless, many of these kids have gracefully utilized their inherited fame to launch their careers. At 14, Isabella is already garnering much fame for herself, being already accustomed to the spotlight given to her parents.
As one of the children of the legendary singer 2Face Idibia, the youngster has done well to distinguish herself among her peers and looking at how far she has gone, it won't be long she'd thrive in whatever career path she decides to settle with in the future. Here are some mind-blowing facts about Isabella Idibia you probably didn't know.
Isabella is 2Face Idibia's Second Daughter
Born on December 10, 2008, Isabella is the daughter of the legendary Nigerian singer Innocent Ujah Idibia, also known as 2Face Idibia or 2Baba, and Annie Macaulay-Idibia. Isabella hails from the Idoma tribe in the Southern part of Benue, Nigeria, but her mother is originally from Eket in Akwa Ibom State. Isabella's paternal parents are known to be Michael and Rose Idibia.
Isabella is a vibrant teenager whose parents are fond of. She is said to be the most famous of all Idibia's children; this is mainly because her parents proudly flaunt her picture photographs and activities on their various social media platforms.
Academic-wise, the youngster appears to be very smart. She reportedly gained admission into secondary school at the age of 9. In July 2016, Isabella made her parents proud as she bagged four awards, including "Best Behaved student" and "Best in Fiction," at her school's graduation ceremony. More like a habit to her doting mother Annie, she took to her Instagram page to outline and congratulate her daughter for her outstanding achievements.
Isabella is Very Active In the Nigerian Showbiz
Following the successes achieved by Isabella's parents, launching into an arm of the entertainment industry wouldn't be a surprise. Though very young to conclude on what career path to take, Isabella appears to know already what she wants, and she is working hard to achieve it. Today, she is recognized as an actress and model.
Isabella began her career as a child actress, and much later, she joined the modeling industry as a fashion model. She made her acting debut in 2018 in the African Magic Family drama titled Mr. X. The show also premiered in the same year, and it has Bella sharing the screen with the multiple award-winning veteran actor Richard Mofe-Damijo (RMD). RMD played the role of Mr. X, a wealthy, influential, single dad, while Isabella was his daughter. Other key actors in the sitcom include Ego Boyo, Nina Anyianuka, Mozez Praiz, and many more.
As a model, Isabella works for her mother's beauty salon in Atlanta called "BeOlive Hair Studio." She also models for "Belvia," her mother's fashion store. Bella's dive into acting must have been influenced by both parents, especially her mother, who has been in the field since 2009. Annie, who has a degree in Computer Science and Theatre Arts, is a famous actress in the Nigerian movie industry, Nollywood, and a model.
Bella's mother came into the limelight following her role in the movies titled Pleasure and Crime and Blackberry Babes. She was nominated in the "Best Supporting Actress" category at 2009 Best of Nollywood Awards. Her most notable works include Secret Lovers, Pleasure and Crime, Open Scar, White Chapel, Blackberry Babes, Return of Blackberry Babes.
Isabella's father, whose gifts and talents have earned him worldwide recognition as the King of Afro Pop, has also dabbled into acting. The singer-songwriter appeared as himself in the 2005 films Flying Without Wings and Fated. He is also part of the TV series The Mo'Nique Show. Isabella herself may not have shown any interest in singing, but she sure has a few of her father's talents in her.  In a video posted by her mom, the teenager is seen enjoying and freestyling to one of her dad's songs.
She is already Making Money Through Endorsements
Aside from gaining fame and wealth from her acting and modeling career, Isabella also earns from endorsement. In 2018, she was chosen as the ambassador for Walk4kids, a yearly charity event aimed at ensuring the healthy living state of the kids. The same year, she organized the Walk4kids charity event held on Saturday, March 10, 2018, at 35, Freedom way, Ikate Lekki phase 1, Lagos.
Bella has massive active followers on various social media platforms. She also owns a travel vlog, where she takes her followers through her experiences in all the countries she visits. The young youtube channel, which she started in June 2021, has few subscribers, with viewers of over two thousand.
How Many Siblings Does Isabella Idibia Have?
Isabella has only one direct sibling – Olivia, as she is the first child and daughter of 2face Idibia and his legal wife, Annie. Her parents got married on May 2nd, 2012, after which they had their civil wedding in Dubai, UAE, on 23 March 2013. The youngster was born before her parents officially settled down as a couple. At the time of her parent's marriage ceremony, she was already four years old. Her sister Olive was born in 2014, making Bella four years older.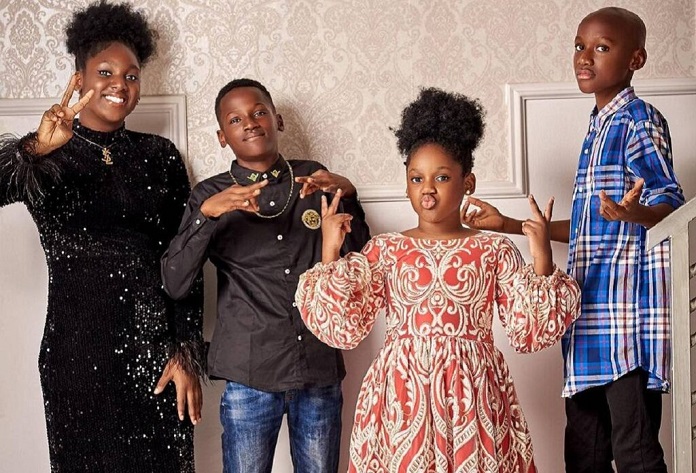 Aside from Olive, Isabella has step-siblings, namely Nino, Justin, Innocent, Zion, and Ehibenzy Rose Idibia. Her father has seven children from three different women—Zion and Nino are two male siblings of the same mother, whose name is Sumbo Ajaba. Nino is also the oldest of Tuface's seven children. Justin, Ehibenzy Rose, and Innocent Idibia are direct siblings from the same mother, whose name is Pero Adeniyi. Innocent Ejeh Oluwakitan Idibia is Tuface's last son.
Rose is much older than Isabella. She is the first daughter of the famous musician 2 Face Idibia. Like her sister Isabella, Rose is brilliant. She was honored with an award in Howard. Thanks to their father,2Face Idibia, who often brings all the children together, Isabella shares a cordial relationship with her elder sister and stepsiblings.