A tattoo is a form of body modification, made by inserting indelible ink into the dermis layer of the skin to change the pigment. Tattooing has been practised for centuries in many cultures and spread throughout the world. Gone are the days when "tattooing" for cosmetology reasons were seen as an alien culture, as most celebrities now find it very trendy to have tattoos on parts of their body such as their neck, arms, breasts, etc, despite the very painful process. And as is always the case, Africans especially celebrities, are crazy about this.
In Africa, where people have dark skin, it is difficult to make tattoos as we know them. But they want to be tattooed anyway, so they have developed another technique – they make scarifications (this is not really tattooing, but it is related to tattooing) which is done by lifting the skin a little, and making a cut with a knife or some other sharp object.
Special sands or ashes were rubbed in to make raised scars in patterns on the body. While tattoos are considered permanent, it is sometimes possible to remove them, fully or partially, with laser treatments.
Numerous celebrities have regretted this venture and have come out to warn of the dangers therein. Below are 10 randomly selected African celebrities who "love the needle" despite the pains.
Charlie Boy (Entertainer, Nigeria)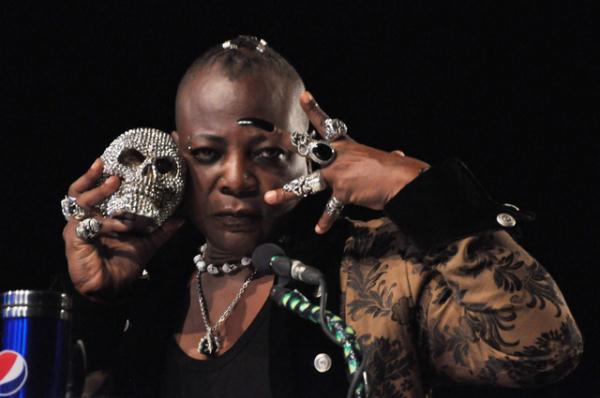 Charles Chukwuemeka Oputa known by fans as Charly Boy is arguably the godfather of tattoos among Nigerian celebrities. The no-nonsense, very controversial grandfather deserves to be mentioned first on this list and a look at his naked body will tell you why. He is a man who believes in giving the youths of Nigeria opportunities to make something out of life and he shows that through the Charly Boy TV Show.
Kevin-Prince Boateng (Footballer, Ghana)
Kevin-Prince Boateng also known as Prince, (by his soccer shirt name) is a Ghanaian professional footballer who plays for the Ghanaian national team and also Netherlands club, FC Schalke 04. Prince is a box to box midfielder who can also play in the attacking role. Known for his strength, speed, and ball-juggling tricks, he is also a lover of tattoos (as the picture depicts).
Kus Ma of Camp Mulla (Musician, Kenya)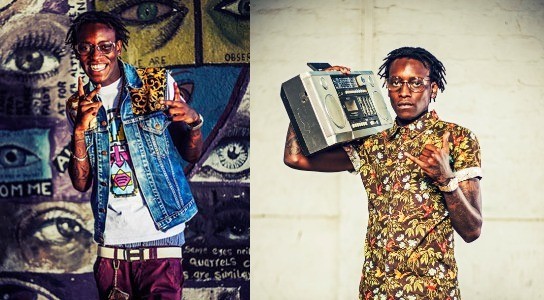 Camp Mulla is an alternative hip hop group originating from and based in Nairobi, Kenya. It is considered one of the most exciting upcoming music groups in Kenya and has grown a big fan base on social media, garnering over 40,000 fans on Facebook and over 30,000 followers on Twitter. Following the release of their debut studio album, Funky Town, the group's members decided to go on hiatus. Kus Ma, a member of the Camp Mulla music group is also a lover of tattoos.
Davido (Musician, Nigeria)
The famous rapper, Davido is a big fan if inking too. He has several tattoos on his hands, back, and neck. One of them which reads "Ema dami duro, emi omo baba olowo" translated into English means "Don't try to stop me, I am the son of a very rich man". Unconfirmed reports also say he also has a picture of himself on his back.
See Also: List Of Nigerian Celebrities Who Look-Alike
Eazzy (Musician, Ghana)
Born Mildred Ashong in August 1986 and grew up in Accra with her only sibling support coming from her brother, the talented entertainer has always been a firm believer in taking it easy and breezing through hardships with panache, hence her stage name "Eazzy." The fascinating beauty has always had a penchant for hard work and for tattoos too. Her tattoos can be found on her back and wrists, sources say she has more on her abs.
Tonto Dikeh (Actress, Nigeria)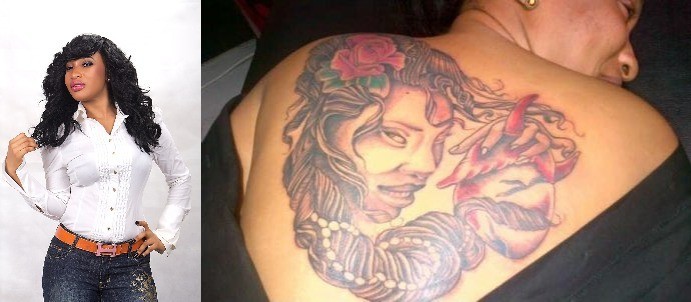 The controversial Rivers State born actress Tonto Dikeh may be described as the "grandmother of inking" in Nollywood. Although she has publicly advised her fans not to follow her path, she seems to be relentless in her tattoo addiction. Her latest tattoo acquisition cost her a lot of money, time and pain.
Minki Van Der Westhuizen (Model, South Africa)
The South African model and TV presenter's tattoo is far from the usual. She currently wears the most expensive tattoo in the world made from 612 Shimansky Ideal Cut .5 carat diamond. The tattoo costs a staggering $924,000. She started modelling at the age of 16. In her final year of high school in 2002, she was selected for an international campaign by the fashion label Guess. In 2003, she was voted the most popular pin-up girl by US troops serving in the Iraq War.
Dobet Gnahoré (Musician, Cote d'Ivoire)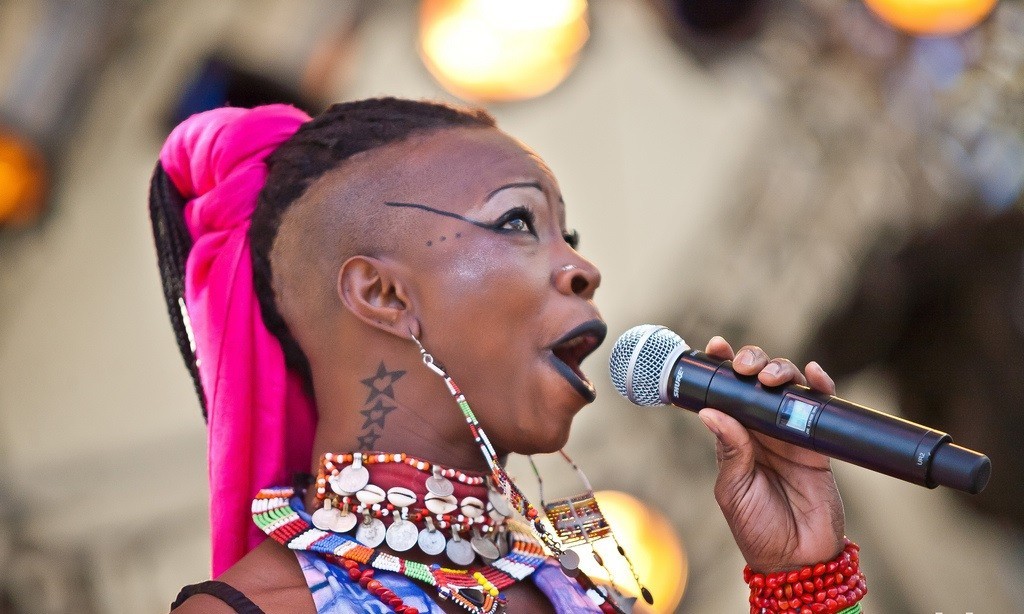 Not too known Dobet Gnahoré is a singer from Cote d'Ivoire. Her father Boni, is a percussionist who performs with her anytime she performs. She has a "thing" for tattoos and has a visible one on the right side of her neck.
Awilo Longomba (Musician, Congo)
How many still remember him? Awilo Longomba is a Congolese musician who has withdrawn from the limelight for a while now. His second CD, Coupe Bibamba (1998) made him known throughout Africa, Europe, and America, especially for his unique dance steps. He now lives in France with his fianceé. He also has a visible tattoo on the right side of his chest amongst other places.
D-Black (Musician, Ghana)
Identified as the King of GH-Rap and an African Hip-Hop Star, he goes by the birth name Desmond Kwesi Blackmore, better known in showbiz circles as D-Black. One of the best African Hip-Hop Artistes among the few from Ghana, he loves the "ink" and has a tattoo that has the semblance of Jesus on his right arm.
Please note that the list is endless. Feel free to add up your favourite celebrity who you feel should be on the list.