Aurora Imade Adeleke is a 8 year-old Nigerian child model and Instagram influencer who is popular for being Davido's daughter. She was born out of his brief relationship with Sophia Momodu.
Unarguably, Imade made it to the spotlight and has continued to receive massive attention for being the daughter of the Nigerian music superstar. However, it is interesting to note that she is also making name for herself in the business and entertainment world as a child model and brand influencer.
Aurora Imade Adeleke's Biography Summary
Full Name: Aurora Imade Oluwadamilola Adeleke
Gender: Female
Date of birth: 14th May 2015
Imade Adeleke's Age: 8 years old
Ethnicity: Yoruba
Nationality: Nigerian
Zodiac Sign: Taurus
Religion: Christian
Marital Status: Single
Imade Adeleke's Parents: David Adeleke and Sophia Momodu
Siblings: 2 half-siblings; David Adeleke Junior and Hailey Adeleke
Famous for: Being Davido's daughter
Imade Adeleke's Instagram: @realimadeadeleke
How Old is Imade Adeleke?
Imade was born Aurora Imade Oluwadamilola Adeleke on the 14th of May 2015 in Lagos. She is the daughter of Nigerian superstar David Adeleke and his ex-partner Sophia Momodu. While her mother is from Ile-Ife, her father hails from Ede, both in Osun State.
She is the eldest and first daughter of Davido. Despite his tight schedule as a musician, Davido never shies away from taking adequate responsibility for his daughter. He is an ever-present father in the life of Imade as well as his other children.
Imade recently completed her pre-primary education and is currently in basic one at Park View International School, Ikoyi Lagos. She graduated from kindergarten in June 2018. Davido's daughter Imade and Tiwa Savage's son Jamil Balogun are friends and attend the same school.
Though she is the only child of her mother, Imade Adeleke is not Davido's only child. She has two half-siblings which her father Davido had with two other women.
Hailey Veronica Adeleke is Imade's Half Sister
Hailey is Davido's second child and daughter who he had with a US-based model known as Amanda. She was born on 9th May 2017, two years after the birth of Imade.
Born in the USA, Hailey has continued to live there under the watch of her mother. Even though it resulted in a child, the relationship between Amanda and the celebrity singer was a brief one and was not publicized just like that of Sophia.
Ifeanyi Adeleke is Imade's Half Brother
The third child and only son of Davido, Ifeanyi, was born on 20th October 2019 in the United Kingdom. The singer had Ifeanyi with Chioma Avril Rowland, a Nigerian model, and chef from Imo State.
Unlike Amanda, Davido did not just have an affair with Chioma but dated her and went as far as officially proposing to her. However, things did not later work out for them.
Imade Adeleke is a Brand Influencer and Owns a Haircare Line
At age 7, Imade is already making headway in business with the help and influence of her parents, especially her dad. In 2019, at the age of 4, she founded her own organic hair care product line and Davido wasted no time in taking to his Instagram page to announce her daughter's newly launched business dubbed Aurora by Imade.
The beauty brand officially had its launch party on 29th May 2019 at Bay Lounge in Lekki Phase 1, Lagos. This big stride marked Imade's entry into the fashion and beauty industry.
A few days to her 6th birthday, in May 2021, Aurora bagged an endorsement deal as the brand ambassador of Eva Soap. From the photos, we can see her mother was with her as she signed the deal. Imade is also into Martial Arts which she started at the age of 3 in 2018. Being the child of a superstar, her father's fame and success obviously rub off on her.
Furthermore, Davido's daughter is a social media star who has gathered a good number of followers on Instagram. She made her first Instagram post on 15th August 2017 and in the photo, she was seen wearing a Micky Mouse Costume. You can meet Davido's daughter on Instagram via her handle, @realimadeadeleke where she has over 400k followers.
Imade Adeleke's Mother, Sophia Momodu, is a Fashion Connoisseur
Imade Adeleke's mother, Sophia Momodu, is Davido's first baby mama. She was born on 9th June 1987 and is a native of Ile-Ife in Osun State. Sophia is the cousin of Dele Momodu, the famous Nigerian journalist and CEO of Ovation International Magazine which is one of the leading magazines in Nigeria.
There are no educational records of Imade's mother but it is believed that she is a university graduate. The mother of one was able to build a name for herself following her relationship with the superstar singer.
Sophia is a fashion consultant, brand influencer, entrepreneur, and humanitarian. She is the CEO of The Sophia Momodu Brand (TSMB) where she also serves as the creative director. She is also a YouTuber and internet star with thousands of followers and subscribers.
Moreso, Aurora Imade Adeleke's mother is the founder of Precious Jewel Foundation, a non-profit organization that aims at mentoring, empowering, reaching out, giving hope, and extending love to the less privileged especially women and children in Africa.
What Led to the Separation of Imade's Parents
Sophia and Davido met in 2013, and a year later, they welcomed their daughter Imade. However, Imade's conception and birth were surrounded by a couple of controversies. According to Davido, Sophia came to his house in Lekki and claimed that her father is late and her mother stays in Abuja, hence, she had nowhere to stay in Lagos.
Out of his good heart, Davido accommodated her but Sophia rather took advantage of his youthful age. As of then, Davido was only 21 while Sophia was in her late 20s. Sophia ended up pregnant after they eventually had a fling.
After she gave birth, Davido denied the paternity of the child and subsequently requested a DNA test. It was only after a DNA test confirmed that Imade is his blood that he took up responsibilities. Today, Imade is Davido's favorite child.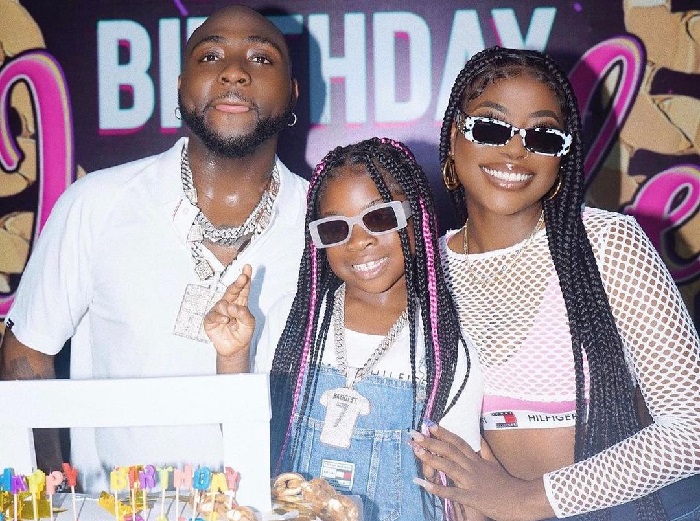 Immediately after the birth of Imade, Davido brought to an abrupt end his relationship with Sophia. Seven months later, drama ensued after Davido forcefully took custody of Imade in a legal battle that involved Sophia's uncle Dele Momodu.
Sophia and Davido openly engaged in confrontations on a number of occasions. It went to the extent that Davido's family conspired to take the child out of the country without her mother's consent. However, they did not succeed as they got restricted at the airport by the authorities on child trafficking.
Though they are no longer dating, Sophia and Davido eventually settled their differences as they co-parent their daughter. While Sophia finally got their daughter's custody, Davido does his best as a father by visiting them at intervals. Sophia reportedly lives in Davido's mansion in Banana Island.