A Popular Nigerian Pastor Chris Oyakhilome's marriage of about 22-years is reportedly falling apart. According to a report by online publication Thecable.ng; the divorce proceedings are almost final after Rev. Anita Odegwa Oyakhilome filed divorce papers on April 9, 2014 in London, England. However, in a public notice advertorial, through his counsel, Kemi Pinheriro, Mr Oyakhilome denied the allegation as wicked, malicious and intended to bring his person and the Christ Embassy Church to public ridicule. He further added that media reports of the divorce was a complete distortion of facts warning that he might be forced to take appropriate legal action to protect his reputation and that of his church. Here are a few facts you must know about Pastor Chris Oyakhilome's divorce mess as reported by the media.
See Also: 10 Things You Didn't Know About Pastor Chris Oyakhilome of Christ Embassy
Naij.com – Pastor Oyakhilome's Divorce Causes Division In Church?
The marriage crisis between the General Overseer of Christ Embassy International Church, Pastor Chris Oyakhilome and his wife Rev. Anita has reportedly caused discord among church members. Some members of the church, however, took to Facebook to share their opinion on the divorce crisis through a Facebook page created, 'Where is Rev. Anita Oyakhilome.'
According to the reports, several members of the church were asking the whereabouts of Rev. Anita Oyakhilome. Some Nigerians have also reacted to the divorce, according to Mrs Nkiru Ifekwem, a lecturer at the University of Lagos who described the situation as "very messy indeed": "This will only show that we are all humans- Pastors, Reverends, Bishops and so on. All the same, the story is quite disturbing bearing in mind that churches and mosques are the places we look up to in this part of the world as places where mentors for our younger generations shall come from," she said.
Sowetan Live – Popular Nigerian Pastor Chris Oyakhilome's marriage of about 22-years is reportedly falling apart.
Close sources told the publication that the leader of the Christ Embassy church 'has denied allegations of adultery and believes his wife is being influenced by "bad friends" who are intent on destroying their home.' "The members of the church have been aware of these issues for a long time. These allegations are not new. What is new is the divorce issue. We are surprised that she (Anita) went to file the suit in London despite the fact that they got married in Nigeria, obviously for financial reasons," a church elder reportedly told ThisDay newspaper.
Sowetan Live, a South African news publisher noted that all the pictures and mentions of Pastor Chris' wife have been removed from the church's official website, www.christembassy.org. Anita Odegwa Oyakhilome is the vice-president of Believers' Love World Inc, the registered name of the ministry, while her husband serves as President. The couple has two teenage daughters named Sharon and Charlyn.
Recommended Reading: 10 Things You Didn't Know About TB Joshua and His SCOAN Ministry
According to the News magazine, Pastor Chris, as church members affectionately call him, denied the accusation saying his wife is a bitter and angry woman and is being influenced by bad friends who are out to seek his downfall. The pastor also warned church members against analysing his problem with his wife adding that the church is not a political party. However, speaking to PREMIUM TIMES, through her lawyers, Mrs Oyakhilome said her relationship with Pastor Chris had terribly degenerated and that there is no chance for any reconciliation or out-of-court settlement.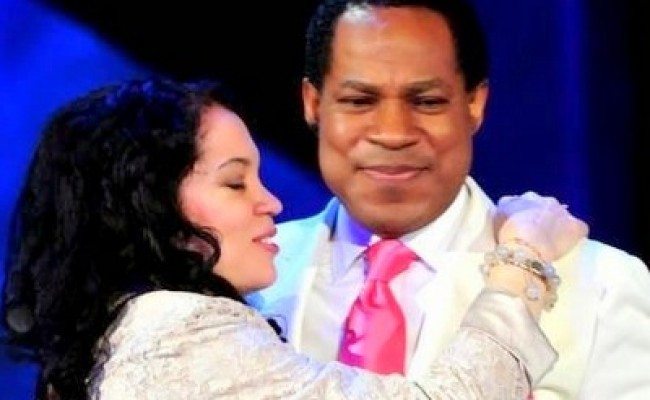 "It is with great sadness that our client, Pastor Anita Oyakhilome, has come to the conclusion that her marriage to Pastor Christian Oyakhilome has irretrievably broken down and regrettably there is no hope of any reconciliation," said Stephen Goddard, Business Development Manager of Attwaters Jameson Hill Solicitors.
Related: 10 Things You Didn't Know About Bishop David Oyedepo
PremiumTimes
Away from his divorce troubles, the Charity Commission of England and Wales is currently investigating the church over suspicious huge transfers worth at least N941 million made to connected parties overseas between 2008 and 2012. The commission has since appointed an Interim Manager to run the charity. Subsequently, the UK tax authority, HM Revenue and Customs, has withheld N711.4 million (£ 2.7 million) due to the church in donation between 2008 and 2012 until the conclusion is resolved.