Hushpuppi is a Nigerian socialite and social media celebrity indicted for fraud in the United States, whose net worth according to various media outlets is $40 million.
However, giving a conclusive figure about his net worth is difficult as there are different figures attributed to him, including the $40 million initially listed by Forbes. 
It should be noted that the American business magazine has taken down the post about Hushpuppi's net worth following his convictions over money laundering. There are also claims that Ramon could have earned more than the above-stated amount, considering the luxurious lifestyle he lived before his arrest.
In Nigeria, where he was born, Ray, popularly known as Ray Hushpuppi, @hushpuppi, Hush, or the Billionaire Gucci Master, had a strong Instagram presence that turned him into a celebrity adjacent to the biggest names in pop culture like Davido and WizKid.
He was even best seen with some of these pop idols and some soccer players on English clubs like Chelsea and Man City. Still, this made many people question how exactly he acquired all the wealth he constantly spends.
The Instagram celebrity is currently dealing with criminal indictments of conspiracy to launder cash gotten from business email bargain, fraud, and different tricks, including plans to dupe a U.S. law office of about $1 million. Attempt to loot $124 million from a premier league club, among other internet crimes.
However, despite the allegations against him, this Nigerian Instagram star still claims he earned his wealth through legitimate means. Well, to believe this, we would dig deep into all the necessary sources of Hushpuppi's net worth.
A Look At the Sources Of Hushpuppi's Net Worth
Hushpuppi has always found people's question of the true source of his wealth rather amusing. His replies to such questions have always been hilarious. He once referred to himself as a professional beggar while addressing the recurring topic.
His reply made a few believe he might have friends in high places who sponsor his lavish lifestyle. His constant posts on Instagram will, in no way, give a clue of what the socialite is into. All we are left with are mere speculations on how he managed to turn his life around for himself, from poverty to a life of extreme wealth.
Hushpuppi Allegedly Owns a Real Estate Business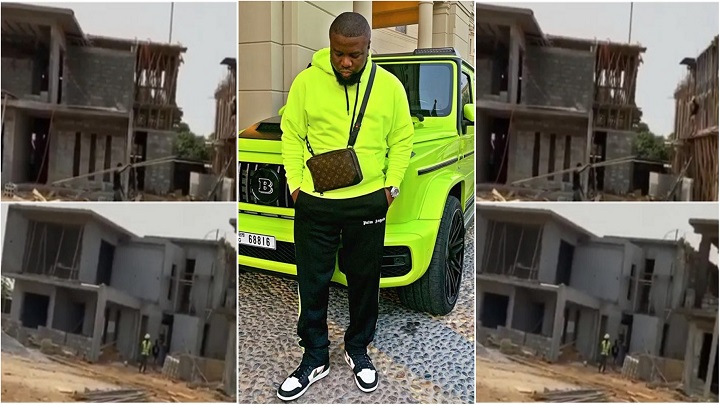 On the off chance that his Instagram page bio is anything to go by, the Instagram celebrity obtained his abundant wealth via real estate. The Instagram show-off king added "real estate developer" to his Instagram bio in 2019, after his best friend and former partner, Mompha, was arrested by Nigeria's Economic and Financial Crimes Commission (EFCC.)
To prove his claimed profession, Hushpuppi shared a video on social media, showing off what he claimed to be his estate in Ivory Coast. The video contained four buildings that were facing the water, all still under construction. The said properties were located in Cocody, Abidjan, in Ivory Coast. For him to carry on with a rich life, he must manage some wealthy customers. That notwithstanding, he is not known to have a real estate company as speculated.
He is Rumored to Be Gucci Ambassador
The Italian luxury fashion brand, Gucci, appears to be one of Hushpuppi's favorite brands. Of course, you could also find items from Fendi, Dior, Balenciaga, and Louis Vuitton in his closets, but Gucci seems to be his favorite. He even described himself as Gucci Master or Gucci Ambassador and had no problem showing off the brand on social media. He often prides himself in everything Gucci – from shoes to clothes and bags.
This made many buy the narrative that he actually had endorsement deals with the luxury brand. The brand had equally rewarded him with gift items, including a flower bouquet to wish him a quick recovery when he was not in good health and a birthday cake during his birthday celebration in 2017. That said, there is no indication that he has ever had any endorsement deal with the brand.
Moreover, Gucci is not the only brand that lavished gift items on the Nigerian influencer. He received a birthday cake from Fendi in 2018. Some of his wears, including his bathrobes, are customized by most of the known top brands. All these do not signify he has signed endorsement deals with any of the famous brands.
Is Hushpuppi a Yahoo Boy?
The inability to conclude on what type of trade or business Ray is involved in to fuel his lavish lifestyle aided the wide speculations about him being a Yahoo boy. A Yahoo Boy is an internet fraudster who deceives innocent victims to rip them off their money. Hushpuppi may have tried to answer questions about his true source of wealth, but that never sounded convincing to either his followers or to the various crime investigators.
One of Ray's activities that provided clues about his involvement in a possible fraudulent business was when he neglected to shroud an email address in a screen capture he shared on his Instagram page. The email was subsequently found to belong to a Jane Woodscrane located in Houston, Texas. Hushpuppi was said to have mastered the art of defrauding people when he left Nigeria for South Africa, and there, he became the ring leader of the illicit business.
Upon his success in the business, he relocated to Malaysia and then to Dubai, where he continued until his arrest in 2020. While Hushpuppi's Instagram bio shows he is a real estate developer, US federal affidavit alleged that his extravagant lifestyle was financed through hacking schemes that stole millions of dollars from major companies in the United States and Europe.
Hushpuppi's Fraud Allegations
Hushpuppi has for several years been a topic of discussion among the FBI and Interpol over various fraud allegations. Obviously, his flamboyant posts on Instagram left a digital trail of evidence that investigators used to link him to the crimes.
On June 10, 2020, his Dubai apartment at the exclusive Palazzo Versace in Dubai was raided by the Dubai security forces. The socialite was arrested upon allegations that he was involved in a fraud amounting to 1.6 billion Dirham (N168 billion).
Dubai authorities were also said to have seized nearly $41 million in cash, 13 luxury cars worth $6.8 million, phones, and computer evidence. Also uncovered in his apartment were the email addresses of nearly 2 million possible victims on phones, computers, and hard drives.
Upon his arrest by the United Arab Emirates investigators, he was handed over to FBI agents, who flew him to Chicago on July 2. In the United States, he was accused of plotting to launder a massive amount of cash in dollars.
As indicated by an FBI affidavit, Hushpuppi and others had submitted a BEC conspire that scammed a client of a New York-based law office of roughly $1 million in October 2019.
Hushpuppi and his co-schemers supposedly deceived one of the law office's paralegals into wiring cash proposed for the customer's land renegotiating to an account that was constrained by Abbas and the co-plotters. Abbas and his co-plotters had laundered $400,000 while one of them was in Los Angeles, California.
The affidavit also blamed Hushpuppi and a co-plotter for scheming to launder reserves planned to be taken through false wire moves from an 'unfamiliar monetary foundation.' Roughly US$14.7 million were moved from several bank accounts all over the globe in February 2019.
Even though the testimony didn't mention any bank name, as indicated by Forbes, the date of the assault and sum referenced in the affirmation coordinated with that of the assault on Malta's Bank of Valletta in February 2019.
In February 2019, $14.7 million was allegedly moved out of the bank through bogus worldwide exchanges to accounts in the United States, the United Kingdom, Czech Republic, and Hong Kong.
The assault was of such earnestness in Malta that at that point, former Prime Minister Joseph Muscat had to address the parliament. Numerous sources in Malta, including Times of Malta and Malta Today, likewise rehashed Forbes' cases that Hushpuppi might have been behind the assault.
As indicated by the affidavit, Hushpuppi had given a co-plotter two ledgers in Europe, expecting the receipt of $5.6 million for each of the deceitfully gotten reserves. U.S. specialists additionally blame him for supporting hackers from North Korea in laundering money.
Hushpuppi is likewise accused of committing fraudulent activities in his home country Nigeria. He is on the wanted list of Nigeria's financial crimes agency, Economic and Financial Crimes Commission (EFCC), for fraudulent crimes he allegedly committed in the country.
What Evidence was Brought Against Him?
On September 14, 2020, an FBI specialist in cyber-enabled fraud and Business Email Compromise schemes, Andrew John Innocenti, presented an FBI affidavit to the United States District Court, Central District California. The affidavit was made in support of a criminal complaint against and an arrest warrant for Ray Hushpuppi.
The FBI specialist used records from Ray's iPhone and other online accounts to prove that
showed that he operated and tasked money mule crews for several fraudulent schemes, including BEC schemes and cyber-heists.
One of the shreds of evidence against him came from a Chase Bank account he controlled in the U.S. According to the federal indictments of him, the account received a wire transfer for $922,857.76. from a New York law firm. The money was meant to be a payment owed to one of its clients, who'd refinanced a piece of real estate at Citizens Bank.
More than a third of the money was wired from the Chase account to an account at the Canadian Imperial Bank of Commerce. The rest was moved to different bank accounts. Most of the evidence used to establish the charges against him was from social media platforms. Apple, Instagram, and Snapchat records are all detailed at length in the FBI affidavit, all of which helped investigators confirm Hushpuppi's identity and address.
There are also past testimonies and a capture warrant for Hushpuppi for infringements. In the records, Hushpuppi was accused of utilizing a personal email ([email protected]) to enlist on Whizzlog, a web commercial for getting US bank logs and money laundering.
How Ray's Flamboyant Lifestyle Led To His Arrest
Hushpuppi's net worth is evident in his lifestyle. The socialite lives an enviable lifestyle surrounded by lots of luxuries, and as one who is best at showing off his belongings, he never hesitates to do so.
On several occasions, he has shown that he knows how to take care of himself – taking vacations and showering himself with lots of gifts. Even his birthdays are opportunities for extravagance. It is not clear how much Ray invested in properties, but we've lost count of his trips, parties. Let's take a look at some of the ways the Instagram star spends his monies.
He Lived in One of Dubai's Most Expensive Hotels
Beyond the expensive wristwatches, top brand clothing, and the luxury cars often displayed on his Instagram platforms, Hushpuppi lived in one of the most expensive houses in Dubai. The Versace Pallazo, which many can only describe as a paradise in Dubai, was Ray Hushpuppi's home for 33 months until his arrest in 2020.
The 5-star hotel, which is located only 15 minutes from the Dubai International airport in Jaddaf Waterfront, Al Jaddaf was reported to cost him nothing short of $10,000 per month, which is massive when multiplied by the number of months he lived there.
Hushpuppi's Exotic Car Collection is Worth Millions
One thing Hushpuppi was fond of was spending lavishly on luxury cars. He made sure he is equipped with the latest and fastest cars in the world. His love for cars has seen him invests so much time in flaunting every ride he bought.
In 2020, the Instagram star spent over N126 million to buy a Rolls Royce Cullinan, which he shared (as has been his habit) on his Instagram page with a caption about how special he feels with the car. The alleged fraudster spent an additional ₦6.2 Million to buy a new set of luxury custom rims to adorn the 2020 SUV to make it stand out from the crowd.
One other expensive car you are sure to find in Hushpuppi's garage is a Limited Edition Ferrari 458 Italia, worth over ₦150 million. He also owns a Bentley Bentayga, which he bought for himself during Valentine's day in 2019. The car at the time of its purchase was worth over ₦84 million.
His love for German cars has also seen him buy rides like Mercedes-Benz G-Wagon worth ₦45 million, Mercedes-Benz Maybach worth ₦95 million, and Brabus G-Wagon worth ₦65 million.
Hushpuppi has a 2019 Rolls-Royce Wraith worth over ₦100 million, a Ferrari 488 GTB, and a Range Rover Sport worth over ₦50 million. Other luxury cars found in his garage include Lamborghini Aventador, Maserati Quattroporte, and Rolls-Royce Ghost.
Following how costly these cars were, many wonder how true it is that Hushpuppi owns most of them. However, reports from criminal investigators show that the socialite actually owned all of the rides he displays on the media.
Here is a list of some of the cars that belong to Hushpuppi:
2020 Rolls Royce Cullinan- N126 million
Limited Edition Ferrari 458 Italia- ₦150 million
Mercedes-Benz Maybach S650- ₦95 million
2019 Rolls-Royce Wraith- ₦100 million
Range Rover Sport- ₦50 million
Ferrari 488 GTB
Lamborghini AventadorBentley Bentayga- ₦84 million
Mercedes-Benz G-Wagon- ₦45 million
Brabus G-Wagon ₦65 million
Maserati Quattroporte
Rolls-Royce Ghost
Other Ways Hushpuppi Spends His Money
Gucci, Fendi, Dior, Burberry, Balenciaga, and Louis Vuitton have always been Hushpuppi's to-go plugs. His love for fashion cannot be over-stressed, and when it comes to expressing it, he does not hold back the necessity to spend. He is a self-acclaimed Gucci ambassador, and the brand has been recognized as his favorite fashion brand.
He once spent N1.5 million on a Louis Vuitton bag, which he posted on his Instagram page. One of his Instagram posts also has him bragging about a gift of Richard Mille's wristwatch worth $250k (N90m) he got for himself as a new year's gift.
With the amount of money Hushpuppi has, exploring the beautiful places in the world was not difficult for him. Instead, it became a lifestyle as he was regularly on vacation. For reasons best known to him, Malaysia became his favorite place, and he chose to base in an Asian country.
But he has often been spotted in luxurious cities like Beirut, Ivory Coast, Paris, and Miami. There was a time the flamboyant Instagram celeb showed off his nightclub bill, which stands at over N11 million. This is just one of the many flamboyant lifestyles Hushpuppi devoted himself to.