Kogbadigi, whose real name is Olasunkanmi Quadri Taoreed, is a Nigerian show promoter and bar/lounge owner with an estimated net worth of $5 million. Kogbagidi was born on 21 June in the 1980s and is currently in his 30s.
With over a decade's experience in show and artist promotion, it is little wonder how Kogbagidi has been able to garner both wealth and fame. To his cap of achievements, Kogbagidi was known to have promoted artists like Portable, the ZaaZuu Zeh crooner; and has worked alongside big names in the industry like Davido, Kizz Daniel, Mayorkun, and Burna Boy. 
Kogbadigi's Biography Summary 
Full name: Olasunkanmi Quadri Taoreed
Nickname: Kogbagidi, KGB
Gender: Male
Date of birth: 21 June 1980s
Ethnicity: Yoruba
Nationality: Nigerian
Zodiac Sign: Cancer
Sexual Orientation: Straight
Religion: Muslim
Marital Status: Married
Kogbadigi's Children: Three children (2 boys and a girl)
Kogbadigi's Parents: Tajudeen Taoreed (Father) and Raliat Taoreed (Mother)
Siblings: Prince Babajide Hakeem Adebambo (brother), Abdul Taoreed (brother), Oluwaseun Taoreed (brother), and sisters
Kogbadigi's Height in Inches: 5 feet 7 inches
Kogbadigi's Height in Centimetres: 170.18 cm
Kogbadigi's Weight: 72 kg
Kogbadigi's Net worth: $5 million (Estimated)
Famous for: Show Promotion, brand influencing, club owner
Kogbadigi's Instagram: @kogbagidi
Twitter: @kogbagidi
Facebook: Kogbagidi Alhaji
Kogbagidi's Real Age Explored
Kogbagidi is currently in his 30s. He has kept the exact year of his birth private but is believed to be born in the late 1980s and celebrates his birthday every 21st June.
He was born Olasunkanmi Quadri Taoreed and hails from a royal family, commonly known as the Kinyun Royal Family, in Lagos, Nigeria. His parents are Mr. Tajudeen and Mrs. Raliat Taoreed. Mr. Tajuneen is from Ijede, Agbowa, Okepopo, while the entertainer's mother is from Epetedo, both in the highly populated Lagos State.
Kogbagidi's father owned bars and lounges and also hosted nightlife events and band sessions. With this, Kogbagidi was exposed to nightlife and show business early in his life and has accorded his father as a major inspiration for the career path he has chosen.
In an interview, the entertainer revealed that it is not only his father who got rooted in this line of career. Instead, he made an emphasis that he is from a lineage of people who owned restaurants, bars, and lounges.
He was raised alongside his siblings, which include three older brothers – Prince Babajide Hakeem Adebambo, Abdul Taoreed, and Oluwaseun Taoreed; and younger sister(s).
Kogbagidi grew up in Surulere – a residential and commercial Local Government in Lagos State's mainland. The same area is also known as home to famous people such as Wizkid, Babatunde Fashola, and Desmond Elliot, and Ramsey Nouah.
What to Know About Kogbagidi's Education
The entertainer's early childhood education began at K. Kotun Memorial School Bode-Thomas, Surulere, in Lagos State. Afterward, he went to Federal Government College Warri, Delta State, before returning to Lagos to attend Starlight College in Orile Iganmu.
For his tertiary education, Kogbagidi obtained a degree in International Relations Personnel Management (IPRM) from Lagos State University in 2012. Subsequently, at the university, he was involved in school politics, rising to the ranks of welfare director in the Student Union Government.
After university, he went to the eastern part of Nigeria in Ebonyi State for his National Youth Service Corp (NYSC) year.
How Did Kogbagidi Get His Name?
Olasunkanmi Quadri Taoreed is Kogbagidi's real name. Kogbagidi means 'Life is not hard' and was coined out of his need to motivate people positively through life hurdles.
The nickname, which has now become a brand of its own, originated as early as his university days. Kogbabgidi grew up around entertainment from an early age and had the opportunity to interact with socialites like Basket Mouth, AY Makun, 2 Baba, and a host of other reputable celebrities.
Meanwhile, the brand name Kogbagidi has been in existence since 2006, when he was positioned as a ticket personnel. He worked the job at Basket Mouth's A Night of Thousand Laughs Show. What's more, he eventually came up with an entertainment group called  Team KGB which meant Team Kogbagidi. The brand later became known as Kogbagidi  Entertainment and was officially registered in 2011.
Kogbagidi's Career as a Show Promoter
Coming into the entertainment industry in 2006, Kogbagdi began from the roots and started to build his way up by attending shows and connecting with rising artists. More than a decade down the line, Kogbagidi has been associated with many musicians and entertainers on global fronts, such as Davido, Wizkid, Zinolessky, Naira Marley, Burna Boy, Asake, Olamide, and Poco Lee.
In his early years as a show promoter, Kogbagidi's career was impacted by the likes of Davido, Basket Mouth, and others. In a bid to support Kogbagidi's rising professional life, Davido graced and performed at parties he was holding at Lagos' Elegushi Beach at the time.
Other Business Kogbagidi is Involved In
Kogbagidi is a multifaceted individual with a thirst for success, thus having several sources of income that are doing very well. The socialite is famously known as a Lagos club owner who is also in partnership with other clubs like Club Lite House in Surulere.
The Surulere native has also associated with Club Bedrock, Ibadan. With the need to explore other aspects of entertainment, Kogbagidi has successfully hosted events like the Kogbgidi VIP Saturday Series & Kogbagidi VVIP Lounge shows.
Years down the line, he has promoted several successful shows and hosted big international acts such as Rick Ross. His duties as an event promoter include managing mentorship programs and career development, as well as planning tours, parties, concerts, and talent hunts.
What is Kogbagidi's Net Worth?
Kogbagidi estimated net worth is $5 million. It is worthy of note that there are sources that claim the entertainer may be worth as low as $2 million and as high as $10 million. Regardless, there are more reliable sources tilting toward $5 million in terms of Kogbagidi's wealth.
While he may not have given the nod to any of these speculated amounts, it is no news that he remains one of the top-earning show promoters in Nigeria. More so, in our calculation of his net worth, we have put in mind things such as assets, investments, endorsements, and even his paychecks consideration.
As a showbiz personality, the bulk of Kogbagidi's income and wealth comes from events and promotions. However, his income is not only limited to being a show promoter but has spread his tentacles to owning clubs, bars, and lounges in Lagos.
Asides from promoting artists, films, and music, Kogbagidi is also a brand ambassador. He has signed an endorsement deal as an ambassador to Luc Belaire rare rose, a southern France wine brand that has risen to be among the top 25 most searched wine wanted list.
Kogbagidi Owns Several Luxury Cars and Houses
The show promoter lives a lavish lifestyle that portrays wealth and splendor, from his type of car to the luxury mansion he lives in. Some of his famous possessions that give a glimpse of his net worth are his recently acquired houses on the island and the mainland vicinities of Lagos. The houses were rumored to be worth over multi-millions. Kogbagidi also owns cars, including;
1. GMC Sierra 1500 Denali Pickup Truck
The GMC Sierra is one of the latest cars Kogbagidi bought before gifting himself a mansion for his birthday. Although the amount at which he bought the car was not stated, the car vastly goes within the range of ₦19 million.
2. Mercedes Benz GLE 63 SUV
In the show promoter's car garage is a Mercedes Benz GLE 63 SUV worth $117,500 (₦58 million).
3. Mercedes Benz G class G 63 AMG 4matic SUV
The Mercedes Benz G Wagon G63 is an expensive car and a prized possession for Kogbagidi. He has been seen with the vehicle in London, United Kingdom. The car is worth over ₦70 million.
4. Lexus LX 570
Kogbagidi also owns a Lexus LX570, which is worth ₦65 million. When he acquired the black luxury car is not certain, but it has been seen in his residence along with the rest of his cars.
Kogbagidi's Wife and Children
Kogbagidi is married to a non-Nigerian wife whose identity is hardly known. The businessman is a father of three. It is widely believed that he shares only two children with his wife, while his other child was born from another relationship.
This unconfirmed news is from the fact that his children with his wife are bi-racial, while the other child seems to be of African descent. Whatever the case, the father of three is known for celebrating and displaying pictures and moments with all the children on his social media pages.
Kogbagidi's only daughter was born on 9 February 2018. She is named after his mother, Raliat Taoreed. With respect to his other two sons, there are not many private details about them. Yet, the other is named Oluwanishola and celebrates his birthday every 7 April. At the time of this writing, there is uncertainty about the name of Kogbagidi's other son, but he made a post celebrating the boy's birthday in advance in February 2018.
Furthermore, Kogbagidi's children and wife live in the United Kingdom. On various occasions, he shared how it is a bit difficult for them to adapt to some things that are peculiar to Nigeria.
Controversies Surrounding Kogbagidi
While the businessman has his name running on pages for his contribution to nightlife as well as the entertainment industry, he has also found himself in the coils of a few controversies. Some of these controversies are with artists, while another is related to his sexuality. Here is all you need to know.
Fall out with Portable
Kogbagidi, although famous, hit the social media scenes even harder when he had a fallout with the Zaazoo Zeh crooner, Portable. The altercation between the two started when Portable accused Kogbagidi of ripping him off and cheating him over his money, cars, and contracts.
It is known that the show promoter took Portable under his wings in 2021 and has been promoting his music and career. Although Kogbagidi tried to tame the situation from getting out of hand, Portable would not let things die down, and the duo later unfollowed one another on social media. After a series of pleading and interventions by some music artists like Slimcase, Portable is now in a better place with Kogbagidi.
He Allegedly Had an Affair with Bobrisky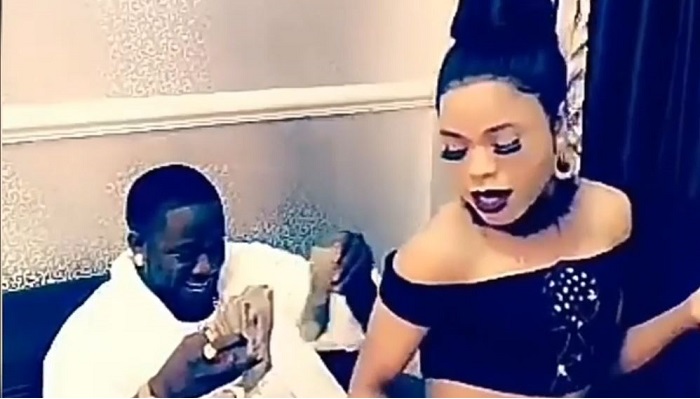 The popular Nigeria cross dresser Okuneye Idris Olarenwaju, who is best known as Bobrisky, was involved in a private moment with Kogbagidi in 2018. This moment included twerking and a lap dance to the businessman by Bobrisky.
After the video of the moment surfaced on the internet, the action did not sit well with the public, who assumed the celebrities might have been having an affair. Amidst the controversial act that had the internet buzzing, the show promoter's long-time friend Davido also took to the comment section to express his displeasure and disappointment over the situation.
Kogbagidi and Bobrisky were quick to refute the assumption of a possible affair between them, claiming the act was only a song promotion strategy. They maintained that they were only friends and nothing more, but the internet is not ready to let things go as the video keeps resurfacing.
Kogbagidi and Lil Kesh in a Brawl of Words
The father of three had stirred up mixed feelings online after he posted about Lil Kesh. The post entailed how Keshinro Ololade "Lil Kesh" did not have it in him to be a leading artist anymore. As a comeback, the Don't Call Me Back crooner took to his Twitter account to taunt Kogbagidi. He advised the show promoter to go take care of his family and baby mama rather than taking his frustrations on others.
The altercation did not stop at that, as Kogbagidi asserted that Kesh may have been intoxicated to claim that he had a baby mama. The long-time promoter claimed he has only one wife and shares children with her.
He went further to explain that he only meant for Lil Kesh to improve his music. In his opinion, the musician's career had been suffering since he left his signed label with YBNL under rapper and producer, Olamide. He claimed he was a fan of Lil Kesh and was only giving his genuine thoughts on the situation.