Davido has more than 12 cars, and his car collection includes luxury cars such as a Lamborghini, Bentley Bentayga, Rolls Royce, Range Rover Sports, Mercedes-G-Wagon, Audi, and Porsche.
Davido has a passion for luxury cars and enjoys collecting them as a hobby. For him, it may be less about showing off and more about appreciating the craftsmanship and design of these high-end vehicles. From the Lamborghini Urus to the magnificent Bugatti Chiron, you'll be amazed at the range and quality of fancy cars within Davido's car collection. Even if you're not a fan of Davido's music, you will certainly appreciate the diversity and craftsmanship of the vehicles that make up his collection.
Pictures of Davido's Cars
Nigerian singer-songwriter Davido has always been one to flaunt his wealth. His impressive car collection is evidence of his success. Photos of his cars have appeared on social media several times, and it's easy to tell that he has a penchant for luxury vehicles.
Looking at Davido's car collection, it is easy to tell that he has a great eye for luxury vehicles. He has quite a few high-end cars, including the Rolls Royce Phantom, Ferrari 458 Spider, and Bentley Bentayga. Davido also has an impressive SUV collection, with an Audi Q7, a Range Rover Sport, and a Mercedes-Benz G Wagon.
Apart from cars, Davido also owns a few motorcycles and scooters. He owns several Harley-Davidson bikes, including a Breakout, a Night Rail, and a Dyna Street Bob. He also owns a Vespa scooter and a few other scooters.
No one can deny that Davido has quite an impressive car collection. He continues to add new vehicles to his collection, and it will be interesting to see which cars he adds next. Take a look at some pictures of Davido's car collection below.
Davido's Lamborghini
Davido announced the arrival of his Lamborghini Urus on August 25, 2019, and it was reportedly worth around $200,000. Davido took to his Twitter to ask his fans and followers if he should ship the new vehicle to Nigeria or keep it in his Atlanta garage.
The SUV is one of the most luxurious and stylish cars on the market, boasting a powerful V8 engine and a striking cobalt blue exterior. It also features a 7-inch off-road capability for navigating all kinds of terrain.
Davido's Lamborghini Urus is certainly one of the highlights of his collection and can be seen in a variety of pictures posted to his Instagram page. The singer also takes great pride in showing off his car and regularly uploads photos showcasing its features and capabilities. With its sleek design, powerful engine, and off-road capabilities, it is no wonder why the Urus is Davido's favorite.
Mercedes Benz G-Wagon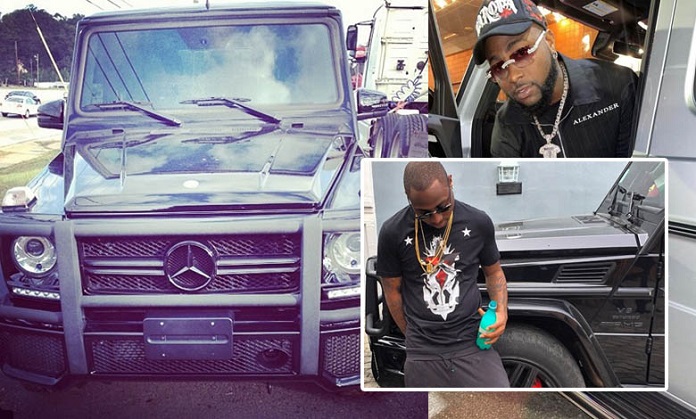 Davido has been a proud owner of this lavish car since 2017. This four-wheeled vehicle is fit for a king with its captivating exterior, sleek and terracotta-like interior, and impressive off-road capabilities. Photos of Davido's G-Wagon have been captured on social media, delighting fans with its luxurious features, striking color, and striking technological equipment.
In 2022, the singer also bought a 2020 model of the car brand for his wife Chioma. The black Mercedes-AMG G63 SUV, reportedly worth around ₦120 million, came a few years after he bought her a Porsche valued at ₦45 million to mark her 23rd birthday.
His Lamborghini Aventador
One of the most notable cars in Davido's collection is the Lamborghini Aventador, which he first revealed on social media in February 2021. The Lamborghini Aventador, which the Fem crooner gifted himself in the later days of 2021 as a Christmas gift, was reportedly worth $500,000, which is roughly ₦310 million. The singer bought the luxury car a few weeks after donating ₦250 million to charity homes across Nigeria.
The two-door coupe owned by the celebrity produces an impressive 700 horsepower. Featuring a unique exterior design and a powerful V12 engine, this car is sure to turn heads wherever it goes. The ₦310 million-worth Lamborghini Aventador is an impressive addition to Davido's car collection. Pictures of the singer posing with this car quickly spread across the internet, showcasing its magnificence to the world.
Davido's Lamborghini Huracane
Davido's love for Lamborghini is top-notch. Added to his Urus and Aventor, the singer also owns a Huracane. The singer himself announced the arrival of his new ride in 2020. The sports car arrived in a fiery red color, and Davido was obviously excited about getting himself the new ride.
In a video he shared on his page, the singer's lawyer was present as he took delivery of the ride. Davido's other cronies also gathered around the powerful ride as it was delivered to his home in Banana Island.
Range Rover Sport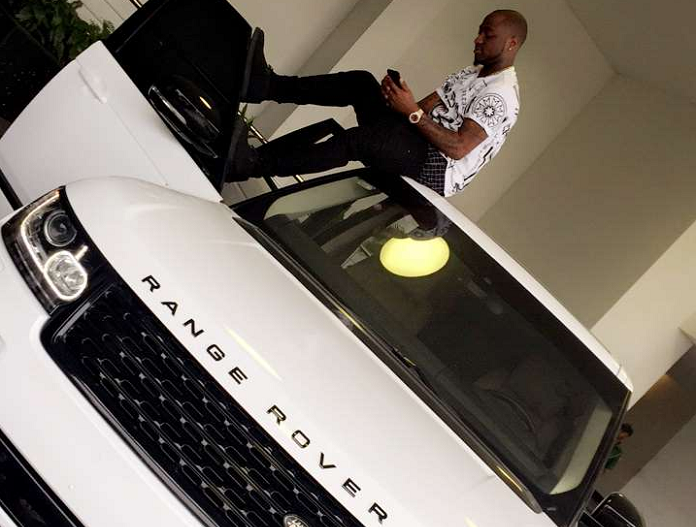 Just while the economic recession was hitting hard on Nigerians in 2018, Davido made the purchase of his ₦200 million-worth Range Rover Sports 2017 model. This is a new addition to his fleet of SUVs. Recall that in 2012, the music star bought himself a Range Rover Sport SUV car just after signing an endorsement deal with the multinational mobile telecommunications company MTN.
This brand of car has become common among Nigerian celebrities. The car is perfect for a star of Davido's stature, with its extraordinary design and rugged practicality. Some of the features of the Range Rover include upgraded leather seating, a panoramic sunroof, heated and ventilated front seats, a rearview camera, rear park distance control, cruise control, a speed limiter, and lane departure warnings.
Davido's Car Collection also Included an Audi Q7
Davido added an Audi Q7 to his possession in 2012. The singer revealed this in a tweet, saying, "[there are] too many Range Rovers in Nigeria. So, I had to upgrade." The 2012 SUV car was worth a whopping ₦12 million. The Audi Q7 is a great choice for those who want to combine luxury with bold looks. Davido is sure to be seen driving this impressive car, which can be seen in photographs of his car collection.
The Audi Q7 is designed with a bold exterior featuring 21-inch wheels, LED headlights with a dynamic design, and a sporty overall look. Inside, the Q7 features an array of luxurious amenities, such as a power-adjustable steering wheel with a four-spoke design, three-zone climate control, and an 8.3-inch infotainment system with Android Auto compatibility.
Davido's Bugatti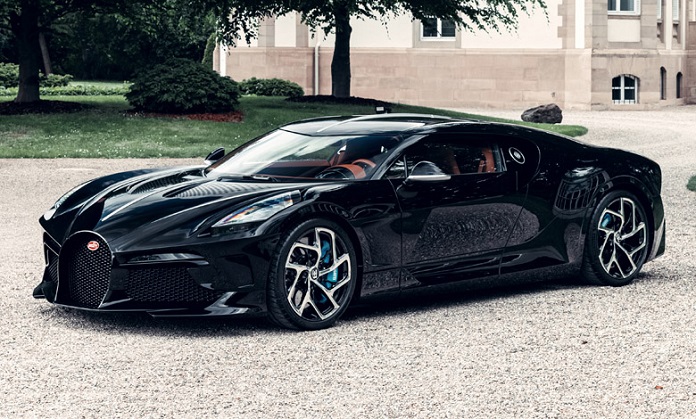 Davido's lavish car collection isn't complete without the luxurious Bugatti La Voiture Noire worth $18.7 Million. The ride, which he allegedly bought in 2022, arrived in September 2022, and it is said to have amazing features that include a carbon-fiber shell that's sculpted by hand, a quad-turbo W16 8.10L engine that produces 1500 horsepower, and an acceleration of 0-60 mph (0-100 km/h) in 2.4 seconds.
The luxury ride also has a top speed of about 260 mph (420 km/h), and its overall performance is precision-engineered by an auto house famous for producing the most powerful cars in the world.
His Porsche Panamera Turbo S
Davido is no stranger to luxury, and his Porsche Panamera Turbo S is no exception. This high-performance car has been the mainstay of his car collection for a long time. Davido bought the luxury car in 2015, a few months before he allegedly bought a 2015 Range Rover Vogue and Audi R8. His Porsche Panamera Turbo S is reportedly worth ₦23 million.
Porsche Panamera is a special sports car that combines impressive performance and great comfort. One of the biggest updates of the sports car is its possession of a standard adaptive cruise control across all trim levels. This car reaches 60 (with launch control) in 3.4 seconds and is powered by a 4.0 liter twin-turbocharged V8 generating 550 hp.
Rolls-Royce Cullinan
One of the most luxurious cars in Davido's car collection is a Rolls-Royce Cullinan. This car is evidence of Davido's wealth and his passion for luxury cars. Worth $340K, the Royce Cullinan is one of the most exquisite cars available, with its signature power rear doors and strong engine.
The Cullinan is the only SUV with a glass partition between the luggage compartment and rear passengers. The luxury car also features a 12.3-inch touchscreen infotainment system, a heads-up display, and a premium audio system. Davido's Cullinan is an impressive example of the beauty and performance of Rolls-Royce's cars.
Audi R8
Davido's purchase of an Audi R8 made headlines in 2015 when he gifted himself with the brand-new ride as an early birthday gift. The Luxury ride is worth over ₦120 million and is currently one of his most expensive cars so far. The Audi R8 GT is the first Audi with a new Torque Rear Mode. The motorsport-inspired technology combined with rear-wheel drive allows for 7 levels of traction adjustability. No doubt, this ride has an unparalleled performance.
Ferrari 458 Italia
You could count the "Omo Baba Olowo" among the few wealthy Nigerians that own a Ferrari. It is one of the most coveted luxury supercars of all time—the Ferrari Italia. He posed alongside this stylish car, which retails for around $275,000, in a few of his recent posts. The black paint job with a red stripe makes this car look sleek and sophisticated, and it perfectly reflects his luxurious lifestyle. From the pictures, we can also see the interior of the car, which is just as impressive as the exterior.
2018 Bentley-Bentayga

Davido showed off his 2018 Bentley Bentayga after confirming he made half a billion at his 30 Billion Concert in 2017.  Although he didn't say if the fortune he made was Naira or Dollars, an average Bentayga will have a starting price of ₦130m in Nigeria.
A List of Davido's Car Collection
Lamborghini Urus
Mercedes-Benz G-Wagon
Lamborghini Aventador
Range Rover Sport
Audi Q7
Bugatti La Voiture Noire
Porsche Panamera Turbo S
Bently Bentyagha
Rolls-Royce Cullinan
Ferrari 458 Italia
What is Davido's Latest Car?
Davido's latest car at the time of writing this piece is his Lamborghini Aventador. It has been reported that the musician Davido acquired a Lamborghini with a price tag of more than ₦900 million a few days after his comeback to social media in March 2023.
It's interesting to note that the new Lamborghini has a personalized license plate number "E choke" which is a common slang that he frequently uses.
What is Davido's Most Expensive Car?
The most expensive car in Davido's car collection is his latest Lamborghini Aventador which now has a market value of over ₦900 million. His second and third-most-expensive car is definitely his Rolls-Royce Cullinan and his Ferrari 458, which is apparently worth ₦156 million and ₦127 million, respectively.