Flavour is currently single and not married. Although he has been linked to have dated so many women, including well-known celebrities, the sensational Nigerian highlife singer is yet to make it down the aisle.
As long as the Nigerian entertainment industry is concerned, the artist has remained one of its most eligible bachelors. His career success stories will not be complete without mentioning his love for women. Here is everything to know about the Ashawo remix singer's relationship timeline, all the women he has been linked with, and the children he has with some of them.
Who is Flavour's Girlfriend Now?
Flavour is single as of this writing and is not dating anyone. Although there has been news making headlines on the media that Flavour has married one of his baby mamas, it later proved to be mere speculations from netizens. Since Flavour made it to the spotlight, his love life has continued to draw media attention. Most of his fans are always keen to know who the highlife singer is dating at each time and the women he has ever been involved with.
All the Women Flavour N'abania Has Dated
Although we have clearly stated that Flavour has never been married, he has dated a number of beautiful ladies ranging from celebrities to low-profile women. The truth, however, remains that when one is in the public eye, people tend to ship romances and pedal stories of dating with anyone they see them in contact with.
Sometimes, the stories are true, and other times, they are mere rumors. That said, here are all the women the 2nite entertainment artist has been linked with.
Sandra Okagbue
The first on the list of Flavour's love interests is a Nigerian actress, model, and entrepreneur, Sandra Okagbue. Sandra is also a princess and the first daughter of the former Obi of Onitsha, H.R.H Obi Ofala Okechukwu Okagbue of Onitsha, Anambra State. She first gained prominence in 2010 after winning a beauty contest, The Miss Delta Soap pageant.
Sandra has been in the modeling industry for over a decade and is the CEO of Borderline Business Solutions Limited. The model met Flavour in early 2014, and they started dating simultaneously. Their relationship gained more public attention after she gave birth to the singer's first daughter in 2014, and she gained more recognition for becoming Flavour's first baby mama.
She also had a second child with Flavour in November 2018. At first, the two lovebirds had a very flourishing and colorful relationship as they were always seen at each other's side in public places. However, not long after, their relationship became very inconsistent that fans are always on the question of whether they are still together or have broken up.
In 2017, rumors of their breakup started making rounds on the internet, but just then, Sandra was spotted with Flavour's name, "Chinedu," tattoed across her arms, and it somewhat made the rumor die down. But, shortly after, the rumors started circulating again. Sometime in 2015 and 2020, there were rumors that Flavour married Sandra in an enclosed wedding ceremony, but it was later proved to be false.
Flavour came out to debunk the rumors, stating clearly that he is not married to anyone. He explained that he does not have any plans of getting married in any foreseeable future as he believes that would affect his music career. According to him, most musicians, who got married, especially at the peak of their career ended up ruining the growth of their career, hence, he is not ready to tread that path.
Flavour and Sandra Okagbue's relationship went off and on, and to date, there is no record of the reason they finally ended up going their separate ways. Additionally, Sandra was rumored to be Nigerian international football star, Micheal Obi's ex-girlfriend. The rumor was never confirmed by either of the two.
Anna Banner
Anna Banner is Flavour's second known baby mama. In 2015, a year after the singer welcomed his first daughter with Sandra Okagbue, Anna became the mother of his second daughter. She is a 28-year-old Nigerian actress and beauty pageant titleholder. She made her acting debut in 2014 and has featured in a number of Nigerian movies.
Anna Banner won the Most Beautiful Girl in Nigeria in 2013 and represented Nigeria at the Miss World Pageant. During her reign as the MBGN, she was also the special assistant on Culture and Tourism to the former governor of Bayelsa State, Henry Dickson. She runs a foundation called Anna Banner Empowerment where she sees the need of the less privileged.
Anna Banner and Flavour Nabania met in 2013 and welcomed a daughter in 2015, but we do not know the details of how and where they met. Following her pregnancy, Anna, who was then studying at Middlesex University Dubai, was expelled from the institution as it is against the school rules and regulations for a student to get pregnant outside wedlock.
The actress told the story of how she faced a lot of challenges during the time as she didn't plan to become a baby mama. Her parents were highly disappointed in her for getting pregnant out of wedlock. However, she was able to fall back to her feet after giving birth to her baby. Although it is not certain what led to their breakup, they still maintain a cordial relationship for the sake of their daughter.
Onyinye Onungwa
Onyinye Onungwa claimed to be the first lady that got romantically involved with Flavour Nabania back in the days before he gained prominence in the music industry. She is a video vixen based in Silver Spring, Maryland, USA. She was featured in Flavour's Shake Ukwu music video.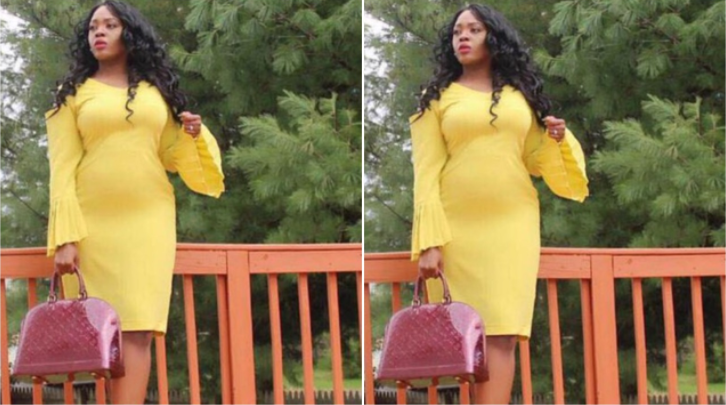 Onyinye did not reveal why her relationship with the singer ended, but she admitted that Flavour dumped her and moved on to have children with Sandra and Anna. In 2013, she pulled a stunt on the media when she wrote a letter to Linda Ikeji, calling her out with one of Flavour's girlfriends. According to her, Flavour is her one and only, and what she had with the music star is unbreakable.
Beverly Ukaegbu "Heels"
Another lady on the list of women the Nigerian singer has been romantically involved with is a US-based lady, Beverly Ukaegbu, popularly known as Beverly Heels. Beverly graduated with a degree in Broadcast Journalism from the University of Houston in the USA. She is an actress, singer, and dancer. She hails from Mbano in Imo state and lives in Houston, Texas.
Beverly Heels reportedly met Flavour in 2012. According to blogger Linda Ikeji, she got reliable information from the singer's family that Flavour was engaged to Beverly Heels. After she circulated the news of the engagement, Onyinye Onungwa sent a warning to the blogger to desist from making such reports about the love of her life. After that, nothing was heard about Beverly and Flavour again, and none of them confirmed whether they got engaged.
Chizzy Alichi
Chigozie Stephanie Alichi, best known as Chizzy Alichi, is a Nollywood actress who hails from Ezza Nkwubor in Enugu State but lives in Asaba Delta State. She joined Nollywood in 2010 and has starred in more than 100 Nollywood blockbusters. Chizzy is another celebrity who got caught up in the web of Flavour's relationship rumors.
Sometime in 2016, the actress and the singer's photoshoot was circulated online via BBM. This spurged the rumor that both of them were dating, but the actress was prompt to debunk them, stating that the photos were taken from a scene in one of the singer's music videos in which she starred.
She further stressed that there has never been any romantic relationship between them besides a business relationship. Finally, the rumor died completely a few years later when the actress got married to the love of her life Dr. Chike Ugochukwu Mbah.
Dillish Matthews
Dillish Matthews is a reality TV star who won the 2013 Big Brother Africa. She represented her country Namibia in the BBA, making her the first Namibian housemate to win the reality show. Dillish is also an actress, model, and entrepreneur who has interests in many businesses. The 33-year-old runs a cosmetic and hair business, High Definition Hair Spa, in Windhoek, Namibia.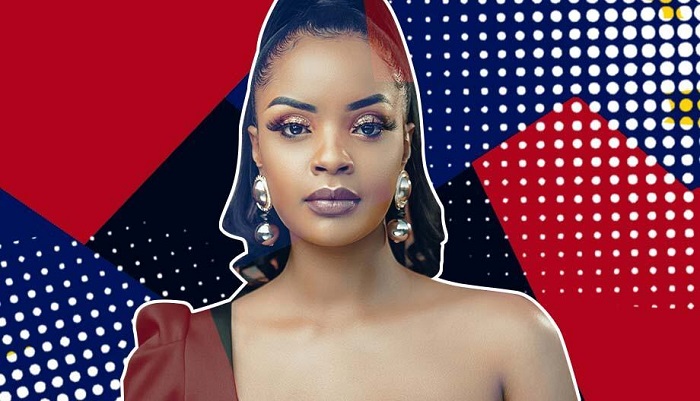 Dillish Matthews starred in Flavour's music video Ikwokirikwo and consequently did not escape being on the list of his rumored ex-girlfriends. In 2014, the former Big Brother African winner was entangled in the rumor of being in a romantic relationship with Flavour.
Both Flavour and Dillish refuted such rumors and stated that their relationship is strictly platonic. In her words, "We worked together, and we did our music video. Friendship did come from there, but yeah, we are just friends."
Juliet Oluchi Ehimere
Juliet Oluchi is not a celebrity or public figure, unlike other women with whom the singer has been involved. Flavour's relationship with this lady is best described as controversial and mysterious. According to Juliet Oluchi, she met Flavour in 2015 and had a daughter with him in 2016.
Nothing was known about the duo until 2019 when she took to her Instagram page to call out the music star claiming that he refused to take care of their daughter but demanded a DNA test. Flavour never came out to accept or debunk her claims.
Is Flavour Married to Chidinma Ekile?
The most famous celebrity on this list is Nigerian music star Chidinma Ekile. These two music stars have been constantly rumored to be in a romantic relationship due to their closeness and usual hanging out together. They have often been spotted together in events kissing, and they also contribute to causing stirs with the suggestive pictures of themselves they share online.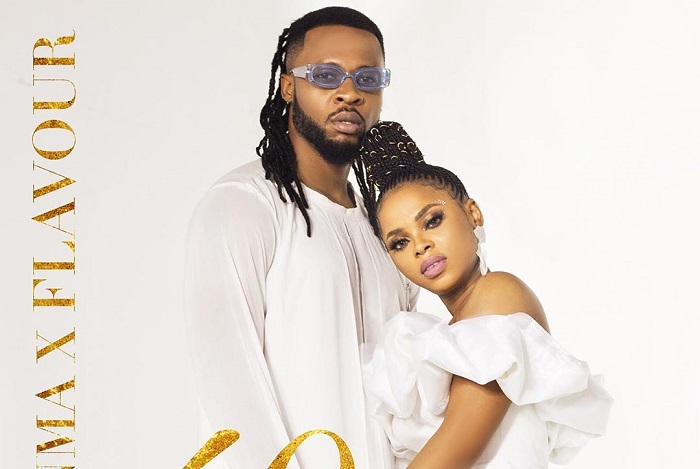 Professionally based, there is no doubt that Flavour and Chidinma have a partnership and have collaborated on some songs together, such as Ololufe, Oh Baby, and Mma Mma. However, in an interview with BBC Igbo, Flavour had cleared the air by categorically stating that his relationship with the Kedike singer is purely professional and nothing more.
"My connection to Chidimma is terrible. We kissed on TV, and it was awesome because the music we played at the time was love music. Kissing is like acting to show what we're reading is awesome. It's like when someone dies in a movie. The person didn't really die because you'll see him in another movie," the Shake Ukwu crooner explained.
How Many Children Does Flavour Have?
Even though he is not married to any woman, Flavour N'abania is an involved and loving father. Given his involvement with so many ladies, it is rather not easy to say precisely how many children the singer has. However, from the most we can see, the highlife musician has three confirmed biological daughters, one alleged daughter, and one adopted son.
Even in his busy schedule, Flavour makes out time to spend with his children and shares their photos on his social media pages. The name of his first daughter is Gabrielle Okoli, which he had with Sandra Okagbue. Gabriel was born in September 2014 and is currently 9 years old.
He had his second daughter Sophia Okoli with ex-beauty queen Anna Banner. Sophia was born on 1st August 2015 in the United States of America and is 8 years now. Flavour's third child and daughter is Kaima Okoli, born in November 2018 with his first baby mama Sandra Okagbue.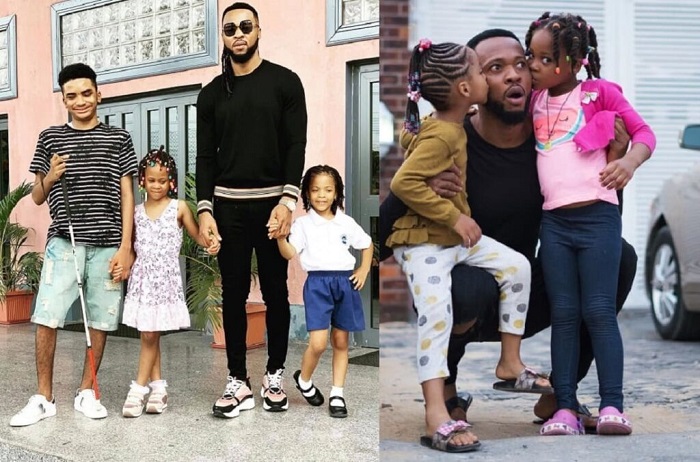 In 2017, the singer adopted a visually impaired Liberian boy named Semah G. Weifur. Semah was born blind and was being catered for by the Monrovia-based Non-Governmental Organization, Christian Association of the Blind (CAB), before the singer met him. Flavour featured the boy in one of his hit songs, Most High music video.
Before then, Semar had been a die-hard fan of Flavour and was also a talented singer who was part of what brought them together. Also, Flavour revealed that he has a special respect and interest for physically challenged individuals struggling to make ends meet.
Scandals that Have Trailed Flavour's Love Life
Of all the rumors surrounding Flavour's love life about the women he's been linked with, the one that seemed to have threatened his career was that of Juliet Ehiemre Oluchi. Juliet, who claimed to be 33 years old as of 2019, is the only low-profile lady the singer has allegedly had an affair with.
Oluchi's claims of having a child with the singer and his refusal to take responsibility for the child made some people call the singer out on the media. After making the claims on her Instagram page, Juliet stated that she went on to report the matter to the Office of Public Defender (OPD) in Lagos State.
Even though she came under heavy attacks on social media after the revelation, a few people stood by her in calling out the music star. One of her attackers claimed that Flavour had been looking for her to get her arrested for dragging his reputation to the mud. However, nothing further is known about how the situation was put to rest, as Flavour did not bother to respond publicly to that.