Ayodeji Richard Makun, popularly known as AY, is a Nigerian comedian, writer, director, actor, MC, radio, and TV presenter, and movie producer. Makun has an estimated net worth of $6 million and he ranks as one of the best and highly paid comedians in Nigeria.
The comedian is a successful businessman who has enjoyed his share of the entertainment industry. He is versatile and does so many things, which have contributed to his massive net worth. Born on 19th August 1971, Ayo Makun is a graduate of Theatre Arts, Delta State University, Abraka. He hails from Ondo State but was born and brought up in Warri, Delta State. AY is the first son among seven children, and he had to fend for his siblings. Thus, the celebrity started working early to make ends meet and it can be said that Ayo Makun started building his net worth from college. He spent nine years in the university because he chose Theatre Arts over Music while he was already in 300 level in Music. He started again from the first year after writing jamb without any regrets, which landed him where he is today.
How Ayo Makun Built His $6 Million Net Worth
The entertainment industry is the main source of Ayo's net worth. He started as a comedian, then he moved into movie production, directing, and acting. The fame he gathered from these brought other things his way. He subsequently became a radio and TV presenter, MC and signed some endorsement deals that add to his net worth. We shall take a tour of how much these engagements contribute to Makun's impressive net worth.
Ayo Makun Makes a Large Chunk of His Net Worth From His Comedy Career
While still an undergraduate at Delta State University Abraka, AY started his career in the entertainment industry. He survived through event planning and hostings. He hosted shows like Miss Delta, Face of Delsu, Miss Delsu, and others. It was in one of his gigs that he met Alibaba, who picked him up and invested in him. Subsequently, he took Alibaba Akporobome as his mentor and worked as his personal assistant and event manager. His closeness to a professional comedian prepared him for the career he has chosen for himself. Ayo started presenting his comedy at Alibaba's Fans Club show, which took place at Victoria Garden City (VGC).
The comedian came into the limelight after performing on A Night of a Thousand Laughs, hosted by Opah Williams in 2009. Since then, he has been hosting and participating in comedy shows. Ayo hosts one of Africa's largest comedy shows called A.Y Live. This show features comedians like Bovi, Helen Paul, and others. Comedy brought him into the spotlight and contributed to a great portion of his net worth. It bought Ayo fame, as well as some awards.
Highlights Of His Comedy Shows
AY Live on Rhythm 93.7 FM's The Morning Drive
AY Live shows
AY Comedy parody
AY's Crib; a sitcom launched in 2013
The AY Show; a TV comedy show
Acting and Movie Production Also Contribute to Makun's Net Worth
Having made a name in the entertainment industry as a comedian, Makun explored other aspects of the industry. Ayo Makun entered the movie industry as a producer, director, and actor. The first movie he debuted on was produced by him. Moreover, it was not so difficult for him to move into the movie industry because of his wide knowledge of the entertainment world. Besides, he is a graduate of the Department of Theatre Arts. However, unlike many other Nollywood actors, he did not have to audition for a role before he entered the movie industry. His experience and fame in comedy ushered him into the industry without much stress.
The first movie he produced and acted in was 30 Days in Atlanta (2014), where he starred alongside famous actors like Ramsey Nouah, Richard Mofe Damijo, Karlie Redd, Lynn Whitfield. The movie was directed by Robert Peters. Since his first movie, he has continued producing and starring in movies. Movie production and acting bring more money to him and contribute a good part of Ayo Makun's net worth.
Highlights Of Some Movies He Starred In
Being Mrs. Elliot – 2014
The Wedding Party – 2016
A Trip to Jamaica – 2016; produced by AY
10 Days in Suncity – 2016; produced by AY
The Wedding Party 2 – 2017
American Driver – 2017
The Accidental Spy – 2017
Merry Men: The Real Yoruba Demons – 2018; produced by AY
Mom at War – 2018
Merry Men 2 – 2019
His Endorsement Deals
In addition to his careers in the comedy and movie industries, Ayo Makun bagged some endorsement deals which has contributed to his $6 million net worth. Below is a list of the brands he endorses.
Western Lotto Brand Ambassador
Haven Homes
Glo Telecommunication
Lekki Gardens
Unilever PLC
Brand Ambassador to Peak Milk
Other Businesses That Contribute to Ayo Makun's Net Worth
The comedian is a good businessman who hasn't put all his eggs in one basket. He is fully into the entertainment industry and at the same time, owns some other businesses that contribute to his massive net worth.
He is the CEO of Corporate World Entertainment (CWE)
The TV presenter is the CEO of Corporate World Entertainment (CWE), a company that is in charge of providing quality content for television and radio stations and also organizing live events. It is one of the leading companies in Nigeria that produces comic content. The company is the producer of AY Live, AY TV shows, AY's Crib, and the Open Mic Challenge.
The company is interested in publicity and content creation. For publicity, it reaches out to everyone through all media, from social media to prints, audio, radio, and television. The company is interested in any content that makes the audience happy, keeps them interested, and makes them want more. He defines his type of comedy as not just making people laugh but also funnily passing a message.
AY Owns a Nightclub in Lekki Phase 1
The movie star owns a nightclub in Lekki Phase 1 called MVP Lounge. This nightclub is made up of a bar, karaoke room, gold and diamond room with a lounge, game room, and a restaurant. It was opened with a grand celebration that recorded the presence of celebrities in September 2014. Ayo Makun created this lounge with the intention to unite celebrities in a common place where they could have fun together.
However, in 2015, the comedian closed down the lounge temporarily. His reason was that he needs to re-strategize and find capable hands to run the place. For the months he ran the lounge, it contributed to his net worth. There is no information on whether the lounge is back to business.
He Makes Money Through Event Hosting and Writing
As part of his career and business exploits, Ayo hosts and organizes events both in Nigeria and abroad. He started planning and hosting shows from the university as an undergraduate, and has expanded his brand in the long run. He earns not less than a million naira from any event he hosts. He co-hosted the 2018 Golden Movie Awards Africa, held at Movenpick Ambassador Hotel, Accra, Ghana. In the movie The Wedding Party, Makun starred as the MC.
Ayo Makun is also a writer. He wrote 'AY Wire' as a guest columnist in Gbenga Adeyinka's Laugh Mattaz and The Sun Nigeria. He owns AY Lifestyle and Comedy Magazine, where he publishes any concert he does for the year. The star was the first to publish a comedy magazine in Nigeria. He planned to make publications more often, but we are not aware of the actualization of this plan. Not much is known about the comedy magazine, whether it continued to make publications or not.
Highlights Of All the Sources of Ayo Makun's Net Worth
At 53 years of age, Ayo Makun can boast of multiple streams of income and a booming career that makes up his net worth. Here is a list of all the things that contribute to his impressive net worth.
Career in Comedy
Acting and movie production
Endorsement deals
The content production company, Corporate World Entertainment (CWE)
A nightclub, MVP Lounge
Event Hosting, MC, and Writing
Ayo Makun's Net Worth Compared to Other Comedians in Nigeria
Comedy in Nigeria has been taken to another level. Nigerian comedians are high earners, and judging by their net worths, we can determine who earns higher. When compared to other Nigerian comedians, Ayo Makun is not the wealthiest but is among the richest comedians in the country.
With a net worth of $6 million, AY ranks as the second richest comedian in Nigeria. The richest comedian in Nigeria is Alibaba, whose net worth is $7.7 million. Ayo is famous for his AY comedy shows, and movies; therefore, he is highly paid for any show or concert he is invited to perform in. He receives up to ₦2 million or more for a concert. Apart from Alibaba, who may collect more than AY per show, others receive lesser pay than him. In the rankings of the richest comedian in Nigeria, after AY ranks Basketmouth with ₦2.1 billion net worth, I Go Die ₦2 billion, Julius Agwu ₦1.8 billion, followed by others.
Ayo Makun's Awards and Recognition
In the course of his career in the entertainment industry, AY has won some awards. They include the following;
Comedian of the year award in the 2008 Teens Favourite
Comedian of the year award in the 2008 MBG Abuja Merit Awards
The 2008 Diamond Awards for  Comedy as the Comedian of the year
Comedian of the year award in the 2008 Mode Men of the Year Awards
The 2008 National Daily Awards as the Comedian of the year.
Comedian of the year award in the 2008 Arsenal Award for Excellence
2009 City People Entertainment Awards as the Best Comedian in Nigeria
U.N. Peace Ambassador in 2009
The 2010 Nigerian Entertainment Awards as the Comedian of the year
The 2018 NELAS Awards, United Kingdom, A.Y Live as the Best Event
Most Creative Entrepreneur of the Year (comedy category) in the Creative Entrepreneurs Association of Nigeria (CEAN) Awards
How Ayo Makun Spends His $6 Million Net Worth
Ayo Makun spends his money on houses, cars, and a luxurious lifestyle like other wealthy personalities. First of all, he is happily married to Mabel, and his union is blessed with a child. He provides the best for his daughter and with his riches, their future is secured. He owns several cars and a luxurious house. His cars include Jaguar XJ, G-Wagon, Lexus LX 570.
Lexus LX 570
LX 570 provides a thick layer of refinement and luxury for adventure lovers. Ayo Makun acquired his Lexus LX570 in 2019. He shared a photo on his Instagram page where he is seen stepping out in the luxurious car worth ₦65 million.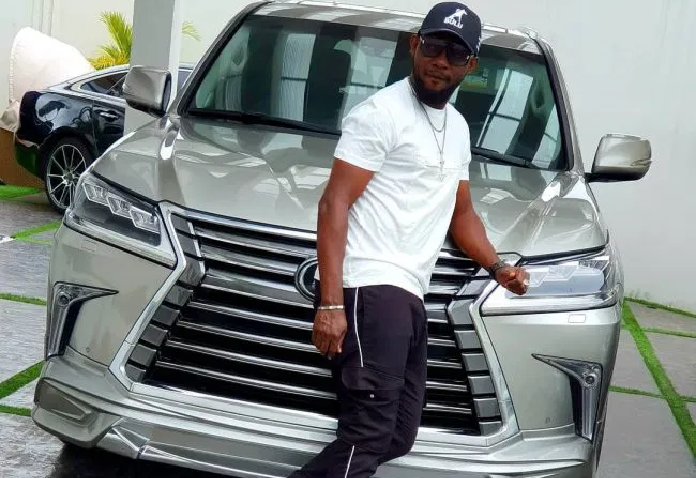 G-Wagon
The G-Class SUV is a standard luxurious car worth N51.4 million. The comedian shared a picture of his white G-Class SUV G-wagon on his Instagram page when he acquired it newly. He gifted himself this car on the occasion of his birthday on the 19th of August 2015. He acquired the car months after he bought a brand new Jaguar XJL.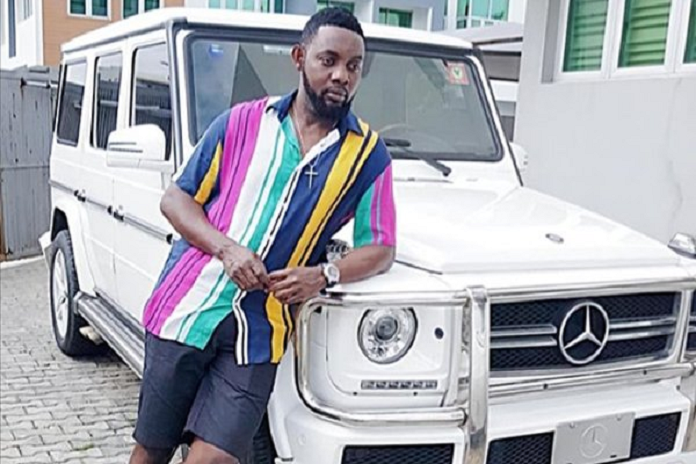 Jaguar XJ
AY acquired a new Jaguar XJL in March 2015. Jaguar XJL is a luxurious car with a combination of opulent luxury, cutting-edge technology, and sporting vehicle dynamics. It has a waistline that is low, long, with wide stance. These lovely features may have attracted the famous Nigerian comedian to it.
Ayo Makun Spends Part of His Net Worth on the Open Mic Challenge Show
Makun invests in talents, especially upcoming stand-up comedians. His company produces a show titled the Open Mic Challenge, where young talents showcase their talent in stand-up comedy. He knows how difficult it is to start a career and that is why he decided to encourage the young ones by allowing them to show what they've got.
The Open Mic Challenge show gave a lot of comedians a platform to perform. It has succeeded in bringing some of these comedians into the limelight. Some famous comedians who came to the spotlight through this show include Seyi Law, Akpororo, and Acapella. Ayo has succeeded in bringing a lot of comedians to the spotlight.
He Owns a Massive House in Lagos
Just like many other Nigerian celebrities, Makun owns a befitting house in the most popular city in Nigeria. The house is located at Ayo Makun Street in Lekki, Lagos State, Nigeria. The interior decoration of the house was done by his wife's company, Midas Interior, while the architecture was done by Play In Architecture. He shared a video and pictures of the house on his Instagram page.
The house is equipped with a table tennis spot, gym, swimming pool, mini wine cellar, and other facilities. The view from the top of the duplex at night is magnificent and breathtaking. This is his second mansion in Lagos and is part of what Ayo Makun spends his net worth on. There is not much information on his first mansion.