Afro-pop singer Di'Ja is married to a man who goes by the name Rotimi and they are blessed with three children; Kiton Farouk, Amana Morenike, and Ayana Wura.
Di'Ja became popular following her signing to Don Jazzy's Mavin Records and her performance in the 2014 hit song, "Dorobucci". Her astounding voice and striking fashion sense became instrumental in her quick rise to fame. She has however since taken to married life with her less-popular husband Rotimi who seems to be one of the major topics her fans enjoy knowing. Here is more about Dija and her married life.
Di'ja and Her Husband Got Married in 2015
Di'ja is one of the few celebrities whose private lives are carefully kept away from the prying eyes of the media. Despite being quite a famous figure, Di'ja rarely speaks or makes reference to anything that relates to her love life and so, nothing much is known about her husband except for the fact that he bears Rotimi.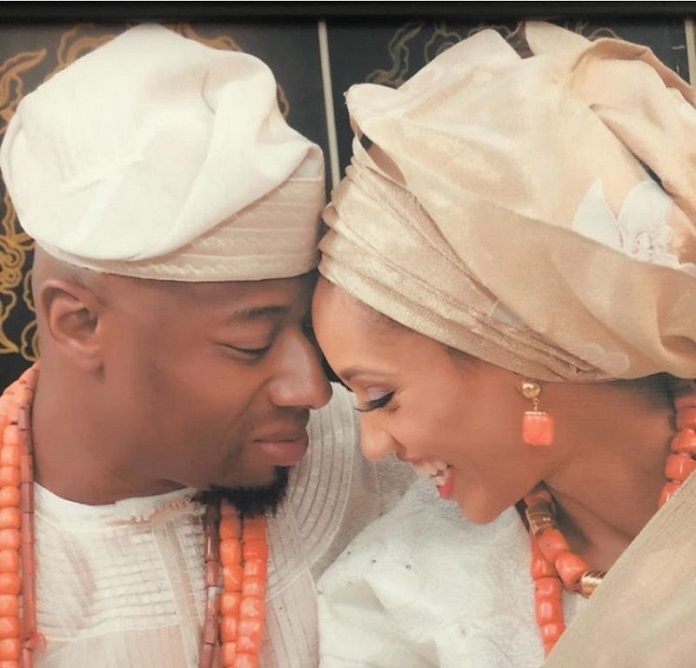 The audience only learned about her husband when she made a heartfelt post thanking everyone who supported her during her wedding ceremony. From his name Rotimi, it is clear that the Mavin Record star got married to a Yoruba man. Dija herself is partly Nigerian and half Sierra Leonean as her mother Asma'u Blell hails from Northern Nigeria and her father Amb Joseph Blell is from Sierra Leone.
Neither Di'ja nor her husband Rotimi has officially revealed a thing about their first meeting but from what we gathered, the two met sometime in 2014 and by the following year, they were on their way to becoming a couple. They had their traditional marriage in accordance with Yoruba culture in 2015 and a secret wedding followed with guests being strictly by invitation.
What's more interesting about her marriage ceremony is that even the photographer who was meant to cover the wedding events had no idea who his clients were until the very day he saw them at the venue. Though this utmost secrecy by the singer angered her fans, Di'ja only explained that it was her private life and therefore it remains her right to decide whether to let it out to the public or not. To this fact, she sees no reason why people are upset about it.
Di'ja and Her Husband are Blessed with Three Children
Over half a decade into their marriage, Di'ja and her husband Rotimi have been waxing stronger together and have since seen their family expand with the addition of three adorable kids. The couple welcomed their first child in 2016.
Although the exact day and month the little boy named Kiton Farouk was born has not been revealed, we are sure of his arrival barely a year after his parents took the marital vow. Di'ja's second baby arrived in 2018 which is about two years after Farouk's birth. The baby girl whom the couple named Aana Morenike happens to be the couple's first daughter. Her birth brought so much joy to the 53 -years old Mavin Record singer who took to social media not only to celebrate her new status as a mother of two children but also to celebrate the birth of her first baby girl.
While Amana was in her first year, the singer and her husband welcomed yet another baby. Ayana Wura is Di'ja and Rotimi's third child. She was born in 2019, and like her two older siblings, nothing much has been revealed about her day and month of birth.
Has Di'Ja Retired From Singing After her Marriage?
Juggling marriage and one's profession in showbiz could be a handful for most practitioners, especially the female ones like the passionate music diva Di'ja. However, despite the challenges she may be facing, this star has refused to let her incredible voice lie to waste.
Dija has not been able to take back her full place in the music world since her change of status first as a married woman and second, as a mother. In fact, for many years, this star has not really made any composition except for her reggae single released in January 2019.
While fans are still very much anxious about her return, the Mavin diva revealed that though music is still a part of her, her family comes first. In another interview she granted, she revealed that like many celebrities in the industry, she has dealt with anxiety, mental health, and instability, however, having her kids and being able to raise them has helped her manage them all.
Di'ja began her musical career in 2008 and she is known for releasing several singles, including "Dan'Iska (Rudebwoy)", "Hold On (Ba Damuwa)" and "How Can We Be Friends". However, the only production fans have received from her since her marriage is her EP titled 'Aphro Pop' and two singles "Ayo" and "Yaraye Iye."
Currently, she appears to be more focused on helping her husband run a foundation called iChange Foundation through which they offer humanitarian services.