Naira Marley is reported to own a number of enviable houses and exotic cars including 2014 Bentley Continental GT (N50 Million), A Mercedes Benz G-wagon (N24 million), Porsche Panamera (N16 million), and Mercedes Benz S-class
Celebrities making millions of dollars can afford to splurge on some of the most expensive cars and properties in the world. In Nigeria, people with the most expensive things are mostly in the entertainment industry. One name you could easily find on the long list of celebrities with classy lifestyles is the music star Naira Marley. Aside from his captivating music style and viral dance steps talks about Naira Marley's houses and cars are some of the trending topics you would find on various media platforms. 
Azeez Fashola, also known as Naira Marley, is a Nigerian afro-pop singer and songwriter. He began singing in 2014 and has since grown to become one of the most popular musicians in the Nigerian music industry. Naira Marley has enlarged his avenues of generating revenue. He currently earns from music, endorsements, and investment in real estate.
With his current net worth estimated at $700,000, which is equivalent to 255 million Naira, Naira Marley can afford all the luxuries he enjoys and more. His houses and cars are some of the best you would find among top celebrities in Nigeria. To know more about Naira Marley's houses, cars, and all other of his luxuries, here are facts we have to share with you.
Naira Marley's Net Worth Affords the Singer to Own Multiple Houses in Choice Locations
A common thing with most Nigerian celebrities is the tendency to live in luxurious houses once wealth is acquired. Naira Marley can't be left out. According to sources, he has five houses purchased in the Lekki axis alone. His fifth was bought in July 2020, and from the exterior view of the apartment, you could tell how lavishly decorated the house is.
It is, however, shocking to know that the young artist does not live in any of his houses. During his legal battles with the Economic and Financial Crimes Commission (EFCC) officials in 2019, rumors emerged that most of the houses he claimed to have acquired are rented apartments.
In May 2020, there were reports that Naira Marley bought a multi-million naira house for his younger brother Shuddy Funds. The palatial mansion located in Lekki, Lagos, is said to be worth over N85 million.
A Peek at Naira Marley's Car Collection
Despite having one of the most beautiful properties in the country, Naira Marley's houses are also hardly seen in the media. This is because the controversial artist hardly flaunts his acquisitions for the world to see. However, that changed during his reaction to his car theft allegations. Naira Marley denied being involved in any car theft, saying he owned more expensive cars. The leader of the 'Marlian Movement' was forced to show off his amazing luxury cars, which include the following:
2014 Bentley Continental GT (N50 Million)
Naira Marley on this pic.twitter.com/rK1u6NrLi8

— ARISE AND SHINE ENTERPRISE (@IsaiahOsinowo) August 22, 2019
This is the fastest and the most recently acquired car in his collection. It has a 626 horsepower, 6.0 liter twin-turbo W12 engine, which allows a top speed of 207mph. It can do 0-60mph in 3.8 seconds. The Soapy crooner bought the car in August 2019, and as expected, the car possessed all the features that make it a luxury car.
A Mercedes Benz G-wagon (N24 million)
Although it is not known when the popular singer bought the wagon, the luxury car is very much affordable for Naira Marley. Also known as Mercedes G-class, the boxy-shaped, go-anywhere SUV is one of the most popular off-roaders globally, and we believe the singer bought its latest brand, which is around N24 million.
Porsche Panamera (N16 million)
A few months after he was released from prison on alleged fraudulent activities, Naira Marley was spotted in a video shared on social media where he passed with a brand new Porsche Panamera. The singer joins the host of other Nigeria celebrities who own this luxury car.
Panamera is a full-size luxury sedan manufactured by Volkswagen-owned Porsche. It has a spacious interior with comfortable seats, top-notch materials, and a sleek infotainment system.
Mercedes Benz S-class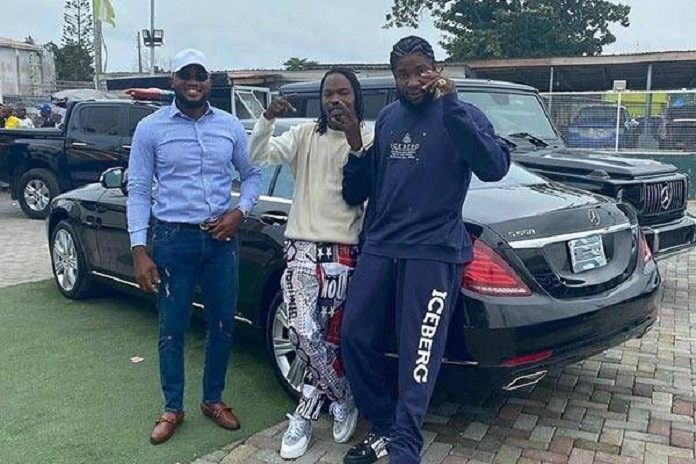 News about Naira Marley's purchase of the Mercedes S-class reached various media channels in 2020. The singer revealed his new ride in a short video with his friends cheering him on his latest ride. The new luxury ride comes with a richer interior, innovative safety equipment, and some seriously futuristic features that include a 3D gauge cluster, a massive OLED touchscreen, rear-wheel steering for better maneuverability, and an active air suspension that makes cornering smoother and keeps passengers safer in the event of a collision.
Apart from the above-listed cars, there was a time Naira Marley gifted his friend's girlfriend a brand new 23 million Naira-worth Range Rover Evoque, which was her favorite car as a birthday gift. Also, he bought a Mercedes Benz car worth 30 million Naira for his younger brother that same year as a gift.
What type of Cars Do Naira Marley's Wives Drive?
In 2019, Naira Marley had issues with the EFCC, during which he uncovered a great deal of interesting information about himself in the court statement, which went viral. The young musician revealed that he is married to two British citizens that live in the UK. He further disclosed that he is a proud father of four, including two twin girls and two boys. His wives' names are undisclosed to date because he rarely talks about them, making it hard to know anything about the two women in his life, including the cars they drive or what they do for a living.
How Naira Marley Generates Money for His Lavish Lifestyle
Musicians are among the wealthiest persons globally, and in Nigeria, the entertainment industry forms one of the major markets to generate income. Although he has been in the music scene since 2014, Naira Marley only achieved fame in 2017. He made it into the spotlight of Nigerian music with the hit single Issa Goal, which became a sort of nationwide dance anthem for football lovers. The song was used to support the super eagles at the FIFA world cup in Russia.
He later did a remix of the song featuring already established stars like Olamide Badoo, Falz, Simi, Slimcase, and Lil Kesh. Naira Marley has maintained the same energy as he keeps releasing other awesome hit songs and viral dance steps. Ever since his rise to stardom with his hit single, the young artist's fan base has surprisingly grown to become a controversial group that often refers to themselves as 'Marlians.' He has recorded many hit singles.
Some of Naira Marley's top tracks include:
Soapy (2019)
Mafo (2019)
Am I a yahoo boy (2019)
Issa Goal (2017)
Tesumole (2019)
Tingasa (2019)
Opotoyi (Marlians) || tooxclusive.com
Back to work (2019)
Aye (2020)
Chi Chi (2020)
Naira Marley Also Makes Huge Income From Shows
By a long stretch, music shows and concerts are among the top money-making channels for Nigerian artists, and Naira Marley is not an exception. Having grown massively in his music career, he has joined the many top artists who charge millions of naira per show. In 2019, the controversial star disclosed that he charged N20 million per show and made around N60 million in one week.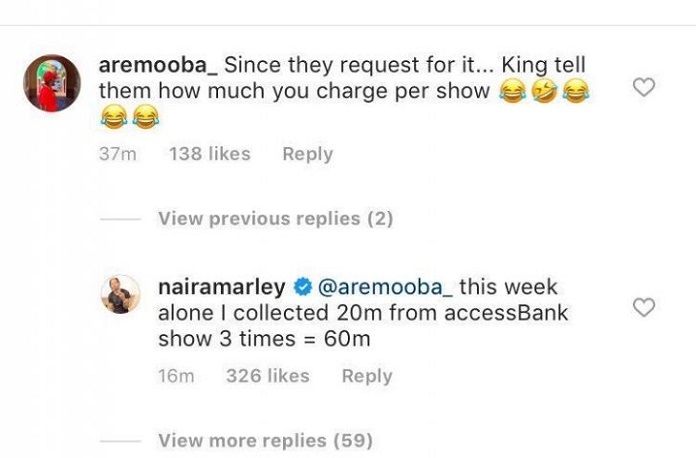 Going by his revelation on his charges per show, the Soapy crooner could then be listed as the highest-paid artist so far. Even Davido considered one of Nigeria's wealthiest and fast-growing artists, reportedly charged N3 – N3.5 million for local shows and between $20,000 – $30,000 for shows abroad in 2019. In 2020, he charged from 10- 40 million per show.
Apart from his show rate, he also earns from his record and album sales. His hit single Opotoyi went on to gain over 3.3 million YouTube views, which is a whopping sum when monetized. He launched his record label, Marlian Records, on the 30th of December 2019 during his Marlian fest at Eko hotels and suites. He also signed upcoming artists, including Zinoleesky, CBlvck, Fabian Blu, Mohbad, Lyla, and Emo Grae.
His Marlian Record Helped to Grow His Wealth
Naira Marley may have ventured into music by chance as he initially wanted to either become an MC or a voice-over artist. The young star has successfully built for himself an enviable platform, particularly in the Nigerian music world. Just a few years into the industry, he further established himself by launching his record label called Marlian Records.
Naira Marley announced the label's launch on the 30th of December 2019 during his Marlian Fest at Eko Hotels and Suites. Further in his statement, the artist revealed his new signers to include Zinoleesky, CBlvck, Fabian Blu, and MohBad. In September 2020, the artist signed Tori Keeche to his label. Keeche is the first female artist to join the Marlian record label.
You may be wondering how artists like Naira Marley make a huge income from their record labels. Record labels make their money off of selling records. Each time a record is played on the radio, sold in a record shop, or online, "Royalties" goes to them. The artist and the writer also get their respective percentage.
Is the Artist Into Real Estate Business?
Naira Marley is among the popular Nigerian artists with an obsession with acquiring properties. The young musician never disappoints as he is confirmed to have acquired several real estate properties in the past few years; quite impressive, isn't it? Although it is not certain if he is into the real estate business or just acquiring properties for the fun of it.
The Marlian President Has A Few Endorsement Deals and Awards to his Name 
Endorsement deals are among the many other easy ways stars like Naira Marley have earned from. The artist has so far received some endorsement deals from notable brands in Nigeria. Some of his known endorsements include the following:
Patricia (a bitcoin and gift card company)
Ycee endorsed him dubbing him the greatest Nigerian singer.
Thanks to the energy behind his musical talent, the star has also received several award nominations. However, he has only won one – 2020 Viewers' Choice Award for Song of the Year for his song Soapy.