Lola Omotayo-Okoye (born 2nd September 1974, Age: 49 years old) is a Russian-Nigerian media personality and business development director best known as the wife of Peter Okoye of the singing duo P-Square.
Peter Okoye, better known as Mr. P, is a Nigerian singer, songwriter, and record producer who rose to fame in 2003 as a member of the now-defunct P-Square with his twin brother Paul. Peter has since become a household name in the Nigerian music industry through the numerous hit songs he continues to drop.
Apart from his successful music career, the Nigerian singer has also made the news as a result of his marriage to a Russian-Nigerian woman, Lola Omotayo. Lola Omotayo-Okoye is a media personality and business development director. She came to the limelight following her relationship with Peter Okoye and their marriage has since survived the test of time, regardless of a number of criticisms against the union.
Profile Summary of Lola Omotayo-Okoye
Full name: Titilola Loretta Omotayo Okoye
Gender: Female
Date of birth: 2nd September 1974
Lola Omotayo's Age: 49 years old
Ethnicity: Yoruba
Nationality: Russian-Nigerian
Sexual Orientation: Straight
Religion: Christian
Marital Status: Married since 2013
Lola Omotayo's Husband: Peter Okoye
Children: 2; a son and daughter (Cameron and Aliona)
Lola's Parents: Mr. and Mrs. Dipo Omotayo
Lola Omotayo's Net worth: $500,000
Famous for: Being Peter Okoye's wife
Instagram: @LolaOmotayo_Okoye
Lola Omotayo-Okoye is Biracial
Lola was born on the 2nd day of September 1974 to Mr. and Mrs. Dipo Omotayo. She is currently 49 years old. Lola bears double nationality; her father is a Nigerian (Yoruba) and her mother is Russian.
Lola's father met her mother in Russia and they got married long before relocating to Nigeria. However, Lola was not born until her parents moved to Nigeria. Her father is the owner of Silco Drilling and Completion services, an oil and gas company that is based in Lagos. It is not known if Lola has other siblings as she hardly discusses her family.
She is a Graduate of San Francisco University
Lola had her early education in primary and secondary schools in Ondo state. According to her, they speak the Russian language at home, thanks to her mother, and she only learned how to speak the Yoruba language after attending a boarding secondary school.
After her secondary education, Lola got admission to study Psychology at the University of Ife, now Obafemi Awolowo University, Ile-Ife in 1990. But due to the periodic strikes that Nigerian tertiary institutions were experiencing, she could not continue.
So, she left for the USA to continue her studies. Lola Omotayo-Okoye graduated with a bachelor's degree in Theater Arts from San Francisco University. She returned to Nigeria immediately after she graduated from the university and started working with some Nigeria-based media firms.
She has also worked with several organizations as a business development director, including FKG2m, a marketing agency in Lagos. Currently, Lola works in her father's company Silco Drilling and Completion services as one of the executive directors.
Lola and Peter Started as Friends
Peter Okoye and Lola are one couple that has reminded us that friends could still fall for each other as they started off as friends. The two had always known each other for a long time even before they met in person. When Peter was a part of the P-Square duo with his brother Paul, they were in contact with Lola because the agency she was working with then used to organize shows that had them in attendance.
Coincidentally, P-square's former manager later introduced Lola to the singers by offering her one of their CDs. Lola subsequently became their fan and started growing some form of likeness for them and over time, Peter also started liking her.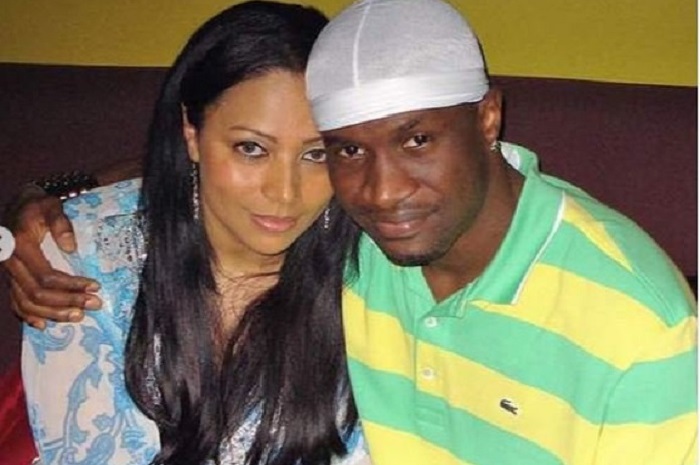 Eventually, Lola's agency had an event to host in Enugu, and Lola, being the marketing representative of the company, used her influence to invite the duo to come and perform at the event. After the show, Peter summoned up the courage to ask for her phone number but she refused.
She responded by telling him to find another means to get her number if he really needs it. Peter took up the challenge even though it was hard for him to contact her afterward. However, he was very determined and had to search for her all-around Lagos until he found her. Following their meeting, they officially started dating in 2006.
Their Relationship Has Received Criticisms as a Result of Lola Being Older Than Peter
Despite the various vices and attacks from people trying to pull them down, Peter and Lola were quite having a peaceful and rosy relationship. One of the criticisms they started facing after officially announcing their relationship is the fact that Lola is seven years older than Peter.
Lola is 49 years old while Mr. P is 41. Despite the backlash and criticism that they receive on this end, the singer had insisted that age is just a number and will never be a barrier when their love is concerned.
When asked her view about people criticizing the age gap between her and her husband, read her response: "As I said, Peter is an old soul and he always tells me that I'm like a 23-year-old. Age is just a number. Right now, you can see it around the world.
Demi Moore, Usher, and some known people. Even in Nigeria here, they are dating people far older than their age. So, we shouldn't base it on the age factor. He doesn't make me feel like he's younger than me."
Lola Omotayo-Okoye Tied the Knot with Mr. P in a Lavish Wedding Ceremony
Peter Okoye and Titilola Loretta Omotayo took their time to get familiar with each other before getting engaged and finally getting married. After several years of dating, on Sunday 17th of November 2013, the couple walked down the aisle in a traditional wedding ceremony held at The Ark Event Center, Lekki Lagos. Lola Omotayo and Peter Okoye's wedding was certainly one of the best celebrity weddings in Nigeria.
The occasion was star-studded with all the movers and shakers in the Nigerian entertainment industry. The billionaire business mogul and Chairman of Globacom Telecoms, Mike Adenuga who was meant to be the chairman of the occasion could not make it but was represented by the CEO of the company, Mohamed Jameel. Another person his absence was obviously felt was Peter's elder brother Jude Okoye. It was reported that he was still in Ghana after their Saturday show and could not make it to the wedding.
Meanwhile, other top celebrities and wealthy people who graced the occasion include Africa's richest man, Aliko Dangote, Emmanuel Adebayor, Folorunsho Alakija, DJ Zeez, Rotimi Amaechi, Rukky Sanda, Tee-A, Kanu Nwankwo, Flavour, Bracket, Genevieve Nnaji, Victor Osuagwu, Klint the Drunk, Dr. Sid, KCEE, Don Jazzy, Tiwa Savage, T-Billz, Lambogini, Kate Henshaw, Kanayo O. Kanayo, Mike Ezeruonye, Naeto C, Phyno, DJ Jimmy Jatt, Osita Iheme, Chinedu Ikedieze, Lynxx, Joke Jaiyesimi, Susan Peters, Funke Akindele, Timaya, Banky W, Ali Baba, J Martins, Ice Prince, Toke Makinwa, Uti Nwachukwu, Toyin Lawani, just to name a few.
The Couple Have Two Kids
Lola Omotayo-Okoye and her husband Peter currently have two children together; Cameron Okoye, and Aliona Okoye. It is worthy of note that they had both of them before they wedded in November 2013. Their first child Cameron was born on 24th September 2008, while their daughter Aliona was born on 22nd January 2013, the same year they got married. Peter and his wife Lola seem immensely proud of their children as they continually share photos of them and talk about them on their social media pages.
Lola Omotayo-Okoye's Marriage to the Singer Has Seen a Lot of Controversies and Criticisms
Just like many celebrity marriages, Peter Okoye's marriage with Lola has quite survived some criticisms. Excluding the criticism of age differences which we have earlier discussed, some other known issues the couple has fought against since they got married include:
Tribal Differences
Lola has received several backlashes from tribalistic haters both online and offline for being biracial. Her husband Peter is Igbo while she is a Yoruba woman, and to some, it's even worse to know that her mother is a Russian. She has been slandered and disrespected on many occasions by people who would have preferred for Peter Okoye to marry from his origin.
Rumors That Peter's Family is Not in Support of Their Marriage
Recall that we earlier mentioned that Peter's elder brother Jude Okoye was not in attendance at their wedding ceremony because he was reportedly stuck in Ghana after the twins performed at a show the previous night before the wedding. It was said that Jude missed his flight and couldn't make it to the wedding in Lagos Nigeria.
Meanwhile, a source who was a part of another artist's entourage to the concert in Ghana revealed that Jude did not travel to Ghana at all. "…we didn't see him, the twins were here with their band but we didn't see Jude…"
Close sources to the Okoye family went on to tell that Jude did not attend the wedding because he and a few other family members do not like Lola and were not in support of their brother's marriage to her. However, Peter Okoye after a long silence had debunked all rumors to this end.
Manipulative Accusations
It is no longer news that many people call Lola a manipulative person who had managed to break the music group of her husband and his twin brother P-Square. In October 2017, when news of P-square's breakup broke out, people accused Lola of being the brain behind it. A source close to P-square revealed that Lola played a role in the whole drama. Lola Omotayo-Okoye who had been in the media and entertainment industry, and with her experience in corporate Nigeria had always wanted to bring more professionalism to the music group.
She brings forth her innovative ideas to her husband who in turn goes to relate with his twin brother Paul Okoye and their elder brother Jude Okoye who is their manager. But they would always shut his ideas down, preferring their old style of handling the business.
According to Peter Okoye, Psquare is a very big name outside but inside it has no structure. Peter even went to the extent of telling Jude to step down as their manager which brought a tussle between both camps (Peter & Lola on one side, and Paul & Jude on the other side).
The pressure became too much and eventually led to the split of P-square. However, throughout the whole drama, Lola Omotayo-Okoye never reacted nor responded publicly. Instead, on their birthday on 18th November 2020, Lola wrote a birthday wish for her husband and his twin on her Instagram page asking them to come back to make music together. Unfortunately, Paul's reply to her birthday wish did not go down well but went on to fuel the accusation that she is the one that masterminded their breakup.
Paul Okoye accused Lola Omotayo-Okoye of acting a saint on social media, saying that she is quite the opposite of what she shows herself to be. He went on to drag her by saying that at the age of almost 50, she is still manipulative as ever and does evil things behind closed doors.
Infidelity Scandals
Amidst the rumors that Peter's family is not in support of the marriage, people had also gone as far as alleging that Lola has constantly cheated on Peter. Information was further gathered that there were demands for a DNA test to prove that Cameron and Aliona are truly his. They claimed that Lola had been sleeping around with her so-called uncles. There was never a confirmation to this rumor as they are tagged wicked rumors, neither did the couple ever react to them.
According to the singer, he had nothing when he met Lola, and he was a gold digger at the time. But despite all, Lola stuck with him through thick and thin. After almost a decade now, their marriage is really waxing stronger and they still have sweet words for each other. The cute couple never fails to celebrate their wedding anniversary on social media every year with loved-up photos and sweet words.
In the midst of all gossip and slander, Peter has maintained never to go back on his vows to love and protect his wife no matter what it would cost him, even if it has to be his family. On their 7th anniversary in 2020, Lola Omotayo-Okoye shared throwback photos of them on Instagram and boldly confessed his love for her husband.
Is Lola Omotayo Related to Tania Omotayo?
Many people have over time assumed that Lola Omotola and Tania Omotayo are sisters, but they are not, and also not related in any way. Tania Omotayo is a creative analyst, fashion entrepreneur, and model.
She was born to a Nigerian (Yoruba) mother and an Austrian father whose name is Mr. Teller. So, Tania's surname is actually Teller but she chooses to go by her middle name Omotayo. This clarifies that Lola and Tania are not of the same parents, they only share the name Omotayo. While Omotayo is Lola's surname, the same is Tania's middle name.
Tania was once in a relationship with the popular music artist, Wizkid which brought her to the spotlight. They broke up in 2016 after Wizkid welcome his second child. Tania is now married to Sumbo, a co-owner of the popular Lagos restaurant and lounge, Buzzbar.