Anayo Modestus Onyekwere, also known as Kanayo O. Kanayo, is a Nigerian actor and lawyer with an estimated net worth of $2.5 million. The Nollywood veteran made his wealth through acting career, businesses, endorsements, and other endeavors as a lawyer and politician.
Undoubtedly, Kanayo O. Kanayo has an unprecedented enchantment that resonates not just with lovers of Nollywood but with lovers of different types of entertainment. This is due to his years of hard work, patience, resilience, and constant show of talent and skills to claim fame as an actor who has been acting for almost 3 decades. Respect and admiration are not the only things he has earned in his career. He has made wealth that places him among the richest actors in Nigeria with his $2.5 million net worth.
Other than acting, Kanayo is also a lawyer, brand ambassador, politician, and currently a United Nations ambassador and bears the title of MFR. The sources of Kanayo O. Kanayo's wealth have generated controversies over the years. While others believe his wealth came from his acting career, endorsement deals, and perhaps other business ventures, others believe rituals could be another way he may have generated his income. Below is the truth about Kanayo and how he made his wealth.
How Kanayo O. Kanayo's Net Worth Of $2.5 Million Was Achieved
Kanayo had a rough beginning in terms of a job. His first paid job was that of digging pit latrines. Nevertheless, upon his graduation from secondary school in 1982, he began his professional career working with Nigeria Television Authority (NTA), Aba. He later moved to NTA Enugu and, subsequently, Anambra Broadcasting Service (ABS TV).
His journey to becoming a professional actor began when he was 30 years old in 1992 in the movie Living in Bondage, where he earned ₦1,500. In the film, Kanayo played Chief Omego, a cult member alongside Kenneth Okonkwo, Ngozi Nwosu, Francis Agu, and Bob-Manuel Udokwu, among others.
Currently, Kanayo has made an appearance in more than 100 Nollywood movies, playing different roles and gaining nominations that led to winning the 2006 African Movie Academy Awards in the category of Best Actor. Kanayo's earning was not as juicy as it currently is. Many sources have claimed that the actor currently receives from 2 million to 3 million Naira, depending on his role. This makes him one of the highest-earning and richest actors in Nigeria.
Even though his net worth has been listed as $2.5 million (over 1 billion Naira) by many sources, others project his net worth to be around $1 million or even less. Still, other sources claim his net worth may be around $3 million or more. Kanayo, on the other hand, has not come out to either accept or denied any claim regarding his net worth.
Kanayo O. Kanayo's Net Worth Comes From His Career As A Businessman, Politician, and Lawyer
In 2020, before obtaining a degree in Law in 2018, Kanayo was called to bar to become a barrister and solicitor of the Supreme Court of Nigeria. Before he became a lawyer, Kanayo first obtained a diploma certificate in Mass Communication, a degree in Philosophy, and Masters in Political Science.
Apart from these and his acting career, Kanayo is a businessman and the Chief Executive of Tobafa Ventures International, a media consultancy outfit in Lagos. He is also the Chairman of Heaven & Earth DOCOM (Internet Outfit). Kanayo has added to the list of his ventures a mentorship project called The Kanayo O. Kanayo Mentoring Academy, KOKMA.
The Nollywood veteran is a politician who first shared his interest in aspiring to be the House of Representatives member, representing Ahiazu/Ezinihitte Mbaise Federal Constituency of Imo State in the 2019 election. Although his dream never came true, he intends to pursue his political ambition over time.
The Actor Also Makes Money From Endorsements
Owing to the fact that he featured in Professor JohnBull, sponsored by Glo, rumors have juggled that the award-winning actor signed a contract with Globacom. While the amount he was paid for the commercial has not been disclosed, we know it will be substantial.
Apart from this, it is not known if Kanayo is involved in any sponsorship deal with any other brand. But he has promoted Pasa Bitters on his Instagram page, which brings about the belief that he may have signed a sponsorship deal with the IKI Leads Limited.
Kanayo O. Kanayo's Net Worth Places Him As One Of The Richest Actors In Nigeria
There are many actors in Nigeria who have earned incredibly from their careers. Among them are a number who have become the highest-paid and the richest. They include Jim Iyke, whose net worth is $30 million; Richard Mofe Damijo, with a projected worth of $17 million, and Desmond Elliot, who has an estimated net worth of $11 million. Although Kanayo O. Kanayo is not the richest actor in the industry, his net worth of $2.5 million, places him above several renowned actors and places him among the top 20 richest actors in Nigeria.
Movies That Brought Kanayo O. Kanayo To the Limelight
Living In Bondage (1992)
The Chris Obi Rapu directed film was the first-ever film Kanayo was involved in. Kanayo played the role of Chief Omego, a cultist. The film contributed immensely to the growth and success story of Kanayo in the Nigerian movie industry. Even with his remarkable performance in the film, Kanayo earned ₦1,500 for his role.
In addition, Living in Bondage is to date regarded as the first Nigerian home video to achieve blockbuster success. It also has been rated 7.3/10 by IMDb. Although Rotten Tomatoes has not given its ratings for this movie, Google users have rated it 4.5/5.
A sequel to the movie is Living in Bondage: Breaking Free. The movie was released in 2019 has remained one of Nigeria's most successful movies at the box office. Kanayo also played Chief Omego in the sequel.
Nneka The Pretty Serpent (1994)
Kanayo played the role of Emeka in the movie alongside Ndidi Obi, who played Nneka among other actors. His role in the movie was not of rituals as in Living in Bondage but that of a friend who helped to find a solution for Tony, his friend who had married Nneka, a marine girl. In addition to his acting skills, he was one of the writers of the film alongside Zeb Ejiro, who also directed the film.
Nneka the Pretty Serpent was generally a successful film, but Kanayo at that time, was still an upcoming actor whose earning was not high. Although it is unknown how much he earned exactly from the movie, his income was in thousands when compared to his current earning of millions.
Full Moon (1998)
Before Full Moon, Kanayo had played roles in Circle of Doom (1993), Rituals (1997), and Obstacles (1998). However, Full Moon is a major film that contributed to his fame in the Nigerian movie industry. In the Chico Ejiro directed film, Kanayo played the role of Daniel.
In Full Moon, which centred on the life of Lucy (Regina Askia) who was born under the full moon and had supernatural powers, Kanayo played the role of Daniel, a policeman who needed to find out who was responsible for the mysterious deaths of Lucy's uncles. Other actors in the film include Regina Askia, Sola Fosudo, and Pete Edochie, among others.
Since Kanayo was renowned for playing the role of a ritualist, especially in the foremost movies, his role in Full Moom gave a fresh insight into his acting talent.
Kanayo O. Kanayo's Highest Earning And Top-Rated Movies
Although it remains unknown how much exactly Kanayo was paid for the roles he played in many movies, there are movies he starred in that made it to the list of highest-grossing movies in Nigeria. They include the following:
Living In Bondage: Breaking Free – ₦168.7 Million (2019)
This is the follow-up of his debut movie Living in Bondage of 1992. The film followed the same storyline of rituals, and characters from the initial Living in Bondage were featured, with Kanayo playing the same role as Chief Omego, who aspires to be governor. However, a number of new faces that include Ramsey Noah, Enyinna Nwige, Swanky JKA, and Shawn Faqua, were featured. Although the film was budgeted for ₦10 million, it generated up to ₦168.7 million in Box office to make it one of the highest-grossing movies ever in Nigeria.
The film was not only successful at the Box Office, but it received 11 award nominations at the 2020 Africa Magic Viewers Choice Awards. It, however, won 7 in the categories of Best Overall Movie, Best Movie West Africa, and Best Director.
Living in Bondage: Breaking Free, according to IMDb, is rated 5.8/10 to become one of the most top-rated films of Kanayo O. Kanayo. The supernatural thriller movie was premiered on Netflix in 2020. Kanayo's interpretation of the role in the movie has equally received positive reviews
Up North – ₦94 Million (2018)
Released in 2018, the movie made ₦94 million in Box office. Kanayo played the character of Chief Otuekong and father of Bassey Otuekong (Banky W). Up North centers on the life of a youth corp member Bassey Otuekong whose influential father, Chief Otuekong, sent him to the North (Bauchi) for a year to serve as a youth corp member. It was directed by Tope Oshin and produced by Isioma Osaje and Zulumoke Oyibo. Other actors in the film include Rahama Sadau, Ibrahim Suleiman, Adesua Etomi, Hilda Dokubo, and Michelle Dede.
Based on a total of 119 ratings, Up North has a 5.6/10 rating on IMDb. Although it currently does not have a rating from Rotten Tomatoes, the movie is generally perceived as a success. Kanayo's role has also received positive review and may have been paid in millions for his position in the film.
October 1 – ₦60 Million (2014)
October 1 is a mystery and thriller Nigerian film produced and directed by Kunle Afolanyan. In the film, Kanayo O. Kanayo played Okafor, an Igbo man, who a Hausa traveler allegedly killed his daughter Chidinma. Other than waiting for a justice he felt he might not get for his daughter, Okafor took the law into his hands by killing the Hausa traveller and face the consequences.
Kanayo's role in the movie was a significant one and although it has not been revealed how much he earned, he played a minor role that may have earned him from 1 to 2 million Naira or more. His role contributed to the film's success, which grossed up to 60 million at the cinemas to become the second highest-grossing movie in Nigeria at the time of its release. IMDb has rated it 6.6/10, while Rotten Tomatoes' audience score for the movie is 60%.
October 1 has more than 20 award nominations and has won in about 16 categories, including African International Film Festival (2014) for Best Feature Film, Best Screenplay, and Best Actor (Sadiq Daba), and much more.
Lionheart ₦21.3 Million (2018)
Kanayo O. Kanayo found himself playing the role of Igwe Pascal, owner of IG Motors, who intends to buy Lionheart, a company in the movie Lionheart. Apart from his well-interpreted role in the movie, it became one of the highest-earning movies he featured in. The success of the movie saw it becoming the first Nigerian movie to be submitted to the Oscars. The film was acquired by Netflix in September 2018 and became the first Netflix original film produced in Nigeria.
Still, Kanayo would not reveal what he received for being part of the movie. But based on his stands in Nollywood, he may have received up to 2 million to 3 million Naira. Apart from the overall acceptance of the movie, it made ₦21.3 million in Box office. The film also marked the debut of Genevieve Nnaji as a director and Peter Okoye (Mr. P) and Chibuzor Azubuike (Phyno) as actors. It further features Nkem Owoh, Pete Edochie, Onyeka Owenu, Kalu Ikeagwu, Jemima Osunde, Ngozi Ezeonu, and Chika Okpala, among others.
The film has received 100% approval and a 3/5 rating from Rotten Tomatoes. It also has an average of 6/10 rating based on 7 reviews. Based on 70 users and 1,241 ratings, Lionheart has a 5.7 rating on IMDb. Despite the success of the movie, it is not known how much Kanayo received for his role, but he may have been paid over 1 million Naira.
Nominations And Awards Won By Kanayo O. Kanayo
Family Battle: Won Best Actor in Leading Role at the African Movie Academy Award (2006)
Across The Niger: Nomination for Best Actor in Leading Role at the African Movie Academy Award (2008)
Apaye: Nomination for Best Actor in Leading Role at the African Movie Academy Awards (2014).
Other Movies By Kanayo O. Kanayo
Celebrity Marriage (2017)
High Blood Pressure (2010)
Sin No More (2008)
Big Hit (2007)
Cover Up (2007)
Final Risk (2007)
The Next Election (2007)
Brutal Heart (2007)
Innocent Father (2006)
Tears in My Heart (2006)
Blood Billionaires (2005)
Family Battle (2005)
Occultic Battle (2005)
Billionaires Club (2003)
Festival of Fire (2002)
Why People Think Kanayo O. Kanayo Is A Ritualist
When it comes to interpreting roles, Kanayo is great at it. From his debut film to the many to come, Kanayo has played many roles of a ritualist, which has led to many accusations that the actor may have soiled his hands in rituals even outside of movies. However, Kanayo, on many occasions, has denied being involved in rituals. Many of his recent films have exposed the actor to play the roles of a businessman, professor, politician, father, and many others.
A Look At Kanayo O. Kanayo's Lifestyle
The Nollywood veteran has become incredibly successful in his career and other ventures. He has made huge wealth and the fame that comes with it. The actor is currently living a luxury lifestyle. In addition to mansions, Kanayo O. Kanayo's net worth of $2.5 million affords him some of the luxury and exotic cars.
Kanayo O. Kanayo's Cars in His Garage
Bentley Continental GT (N71 million)
Toyota Land Cruiser (N30 million)
Toyota 4runner (N12 million)
2012 Toyota Camry (N9.8 million)
2007 Toyota Camry (N4.5 million)
Kanayo O. Kanayo's Houses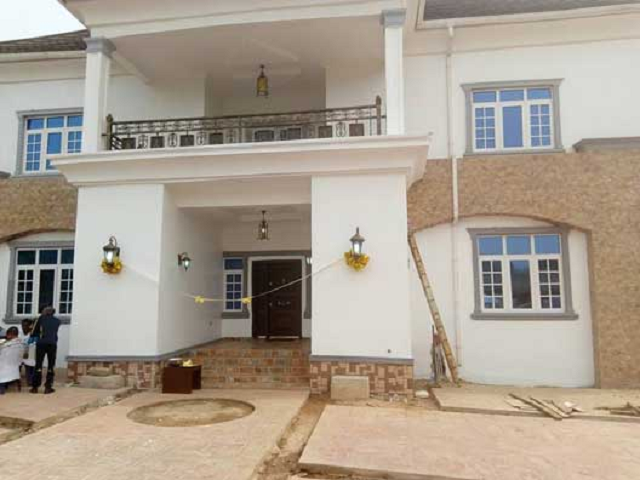 The actor has different houses in different parts of Nigeria that may include Lagos. However, he has kept that part of his life under wraps. His only house that has made it to the public is his mansion in Mbaise, Imo State. The multi-million Naira house was officially opened on December 27, 2017. The house warming ceremony had many dignitaries in attendance, including the former Anambra State Governor, Peter Obi and other prominent personalities.