Mike Adenuga (born April 29th, 1953; Age: 70 years old) is a Nigerian businessman and Africa's third-richest person. He is known as the founder of the telecom company, Globacom.
A lot has been said about the rich, famous, and good-looking 3rd richest man in Nigeria and one of the richest men in Africa – Mike Adenuga. His journey to fame and wealth, his many feats in risk-taking, and the many hurdles he has had to cross to get to where he is today. He has shocked many people with his tenacity and his almost gluttonous need for work, work, and more work. His net worth has been estimated at over $6.2 billion and still counting. He is seen as one of those who have vowed to leave the world better than they met it.
But aside from the public knowledge of him as a businessman, an adventurer, a risk-taker, entrepreneur, and a man with a magic touch when it comes to investment. Needless to say that there is little that is news when it comes to life and achievements of the giant spirit.
But even the sun can still surprise us with its intensity, so even though it seems like all has been said about the tycoon, there are still facts about him that it would shock you to realize you have not heard. This article gives you details of Mike Adenuga's life, career, and all there is to know about the entrepreneur's very private life.

Mike Adenuga's Profile Summary
Full Name: Michael Adeniyi Agbolade Ishola Adenuga
Date of Birth: April 29th, 1953
Place of Birth: Ibadan, Oyo State
Mike Adenuga's Age: 70 years old
Nationality: Nigerian
Occupation: Entrepreneur
Education: 

Pace University, Northwestern Oklahoma State University, Ibadan Grammar School

Marital Status: Married
Mike Adenuga's Wife: Titi Joyce Adenuga
Mike Adenuga's Children: 7 (including Bella Disu, Adetutu Oyindamola Emilia, Eniola, Folashade Adeniyi, Prince Michael Babjide, Tunde, and Abimbola.
Mike Adenuga's Parents: Michael Agbolade Adenuga Sr, Juliana Oyindamola
Mike Adenuga's Siblings: 4
Mike Adenuga's Net Worth: $6.2 billion
Mike Adenuga is Originally from Oyo State, Western Nigeria
Mike Adenuga, born Michael Adeniyi Agbolade Ishola Adenuga Jr, was born on April 29th, 1953, which means he is currently 70 year old. He is the son of Oloye Michael Agbolade Adenuga Sr, a school teacher, and his mother, Omoba Juliana Oyindamola Adenuga (née Onashile, of Okesopin, Ijebu Igbo), was a well-known businesswoman of her time.
Mike was born and raised in Ibadan, Oyo State, Nigeria, but he is said to belong to be of a royal Ijebu descent from his maternal side. He is the youngest of five children, and though not much is known about all his siblings, we know of his older brother Otunba Demola Adenuga, an accomplished businessman with an interest in banking, conglomerate, and telecommunication; and an elder sister Chief Mrs. Margaret Afolashade Akande, popularly known as Mama Ikoyi.
His other siblings include late Mrs. E.O. Osunsade, popularly called Aunty Olu, and Otunba Yetunde Adegbola. They were raised in a middle-class family with their parents living a very simple life, despite their mother's booming business.
He Got His Business Acumen from his Mother
Mike is undoubtedly one of the richest people in the world today, but unlike most folks who happened to inherit fortunes from their family business, he inherited nothing more than a great business acumen from his very busy and illustrious mother.
Owing to the busy nature of the city of Ibadan, Adenuga had the opportunity of learning how to manage businesses on both a large scale and a small scale. On a daily basis, he would support his mother at her business place, and gradually, he was able to learn the trade. Although he may have added some academic knowledge to grow his present businesses, there is no doubt that the knowledge he gained while handling his mother's business formed the bedrock of what he is today.
Mike Adenuga Has a Master's Degree in Business Administration
Mike's interest in business did not deter him from gaining academic knowledge. Of course, as the son of a school teacher, education was paramount for his age. He attended Ibadan Grammar School, Ibadan, and Comprehensive High School Aiyetoro, where he received his Higher School Certificate (HSC). He had his first degree in Business Administration from Northwestern Oklahoma State University and a Master's degree in the same course at Pace University, New York. It is also noteworthy that during his university years, Mike got himself into taxi driving to see himself through school.
Mike Adenuga is very learned that People who have had the honor of meeting him think of him as the Aristotle or Henry Ford of our time. The way he excelled in all of his business adventures is the same way he excelled in his studies while in school. Even Dimgba Igwe, a co-author of the yet-to-be-published book titled THE GURU, our "Eyewitness Biography of Mike Adenuga," had once described Adenuga as one great intellectual who might have had a Doctoral thesis written on him if he were a white man.
Mike Made his First Million at the Age of 26
For someone with such early business experience plus great academic excellence, Mike Adenuga's rise to financial success wasn't much of a surprise to those who were closer to him. Having so much interest in business, Mike hastily returned home after his studies to take over his mother's sawmill business. While handling what appeared to be his family business, he did other side businesses like selling lace materials and distributing soft drinks to add to his income.
You will find it amazing to learn that Mike Adenuga had a humble beginning, hawking animal feed in the streets of Ibadan to being one of the richest men not just in Yoruba land or Nigeria but in the continent of Africa. In 1990, 37-year-old Mike received a drilling license. The following year his Consolidated Oil Nigeria Limited headed for the shallow waters of Southwestern State of Ondo State, making it the first indigenous oil company to do so in commercial quantity at the time. Consolidated Oil Nigeria Limited later changed its name to what is now widely known as Conoil Producing Plc.
Mike's oil exploration outfit, Conoil Producing, operates six oil blocks in the Niger Delta. The company, which has its headquarters at the Mike Adenuga Towers in Victoria Island, Lagos, is known for extracting, producing, selling crude oil, and supplying a range of lubricants and household and liquefied petroleum gas for use by the domestic and industrial sectors. Its range of lubricants includes transport lubricants, industrial lubricants, greases, process oil, and bitumen. Conoil also supplies what is referred to as White products: premium motor spirits, aviation turbine kerosene, dual-purpose kerosene, low-pour fuel oil, and automotive gasoline/grease oil.
How He Joined the Telecommunication Industry
It would interest you to know that one of Mike's nicknames is John Bull because of his keen eyes for available and unexplored opportunities. He never backs down from taking risks. The spirit of risk-taking makes him a real Bull. In 1999, he went for a GSM license when telecommunication was just being introduced into the country, and he got a conditional license that was revoked. In 2003, he received a second one when the government-held auction again.
His telecom company, Globacom, began spreading so quickly and even began challenging the largest network providers then –  MTN Group, which, at the time, was one of the two GSM companies that first debuted in Nigeria's market, creating almost a duopoly. The emergence of Glo—being the first indigenous GSM company, revolutionized the telecommunications industry for the good of ordinary Nigerians, and today, it is a network company to be reckoned with not just in Nigeria but also in a few other countries across Africa, with more licenses currently being prospected in other West African countries.
Some of the best moves that distinguished the company among its peer at the time of its introduction in 2003 were its introduction of cheaper SIM cards to Nigerians who were initially buying one sim as high as N50,000 and its introduction of the per-second billing in voice calls that has today become the model for all telecoms industry players in Nigeria. Before the introduction of the latter,  Nigerians were charged N50 per minute, and they could only buy N1500 recharge cards—that had a 14-day lifeline. At the end of two weeks, if you could not finish the airtime, whatever airtime left would be frozen until you renew your line.
Chief Adenuga-led Globalcom made all these cheaper and very much affordable for an ordinary citizen. The company offers international and voice calling, SMS, high-speed internet, ADSL for homes, fixed landline services, and other telecoms solutions. Now regarded as the third largest telecommunications business in Nigeria with about 55 million subscribers (according to Forbes). As of this writing, Glo serves customers in the United Kingdom, Nigeria, Benin Republic, and Ghana.
In 2011, Glo became the first telecom company to build an $800m high-capacity submarine fibre optics cable known as Glo 1 that successfully connected Nigeria to Europe. In 2015, Adenuga made a takeover bid to purchase Ivorian mobile telecom operator Comium Côte d'Ivoire for $600 million.
Mike Adenuga's Net Worth is Currently $6.2 Billion
According to Forbes, Mike Adenuga's net worth has risen tremendously from $4.6 billion in 2012 to 5.3 billion in 2018. As of 2023, Mike Adeuga's net worth has increased to a whopping $6.2 billion, and it is all thanks to his two major sources of wealth – his telecommunication and oil bloc businesses. Globacom boasts over $1.178 billion annual revenue, while Conoil company lists its net income at ₦2.8 billion.
Mike Adenuga is not just the second richest person in Nigeria, after Aliko Dangote, but he is also among the top five of Africa's richest billionaires. Mike is also among the top ten richest black billionaires in the whole world.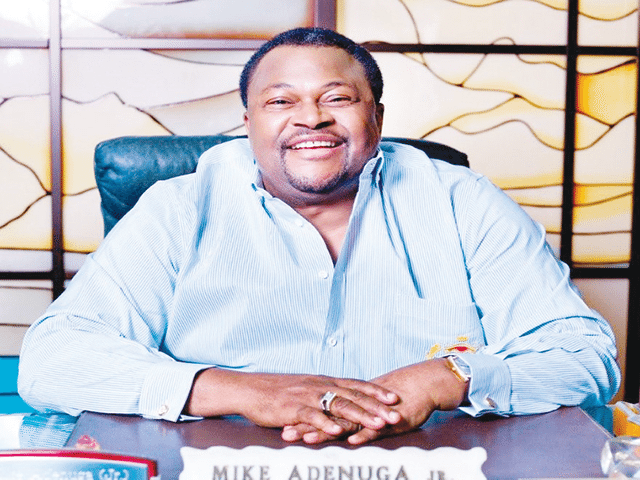 Mike is so wealthy that you would be sure his house should be a haven, and sure it is. His estate (this is because the house is more than just a mansion) located in Banana Island is said to be called Gold digger's den and is worth over N1 billion.
The massive estate is said to have been handled by Julius Berger and Cappa & D'Alberto. It comprises eight duplexes and an additional one for his residence with a home office (the gold one), two watchtowers, a mosque, a church, and a multipurpose hall that sits 200 people. It also has an indoor swimming pool, car park, helipad, yacht deck, and it sits on roughly 3 hectares.
He Is So Rich That He Bought His Own Burial Tomb
Mike is also a very weird man. He recently purchased a Disney vault (burial tomb) for himself for a whopping N200 million at the upscale Vaults and Gardens, Ikoyi. It is said that he bought the same space for his sister when she died. What else could be weirder?
Controversies Involving Mike Adenuga
Wealthy and famous entrepreneur Mike Adenuga has been involved in a couple of controversies involving his personal life and, sometimes, his businesses. One of the most recent controversies involved him and his ex-lover Nora Olumide.
Nora Olumide Johnson, who was a billionaire businessman, Mike Adenuga's former confidential secretary and mistress for over two decades, recently released a comment pleading with the Economic and Financial Crimes Commission (EFCC) to leave her alone, alleging that her ex-billionaire lover is using the anti-graft body to collect her properties.
She further revealed during a court hearing that Mr. Adenuga accused her of conspiracy, forgery, stealing, and obtaining money under false pretense. She said the false allegations leveled against her by her former boss, was because she walked away from a 27-year love relationship with him for her peace of mind.
Further report has it that Adenuga had accused her of diverting about $300,000 belonging to Worldspan Holdings (One of Mike Adenuga's alleged companies), which was meant to be transferred to a Conoil account, to a different account in China for her benefits.
While Mr. Adenuga is yet to comment on the matter, Justice A. Lewis Allagoa, Presiding Judge, Federal High Court ( Lagos Division), has ordered the EFCC to take possession of all properties owned by Ms. Nora Johnson. The anti-graft agency had received a petition over some infractions allegedly committed in her former office.
His Refusal To Pay Multi-million Dollar Company's Debts
In October 2021, Mike Adenuga was reportedly being haunted over an unpaid debt of about $7 million. According to reports, a foreign company and a local company were after Conpurex, a wholly-owned subsidiary of Adenuga's oil and gas conglomerate Conoil.
It was said that Conpurex owes Depthwize, an Ibadan-based drilling contractor, more than US$6,248,441.27 ($6.2 million), making it unable to pay its US partner Megadrill. With the payment now more than a year overdue, Megadrill then hired New Orleans law firm, Jones Walker, to recover the funds from Conoil.
Megadrill is not alone in this pursuit. Zukus Industries Limited, an oil and gas services contractor, has also revealed that Adenuga's Conoil is owing it over N317,750,268.09 (about $700,000) in outstanding invoice and that it has written the company thrice to pay up. All these poor debt records are said to be affecting their attempts to expand their operations.
What We Know about Mike Adenuga's Family and Private Life
Mike Adenuga is a well-known polygamist who has had relationships with many women, one of which is Titi Joyce, with whom he has two children. Titi, fondly called 'Tizzle Girl,' is Adenuga's second wife after his first marriage to Emelia Adefolake Marquis, mother of his daughter Belinda' Bella' Olubunmi Ajoke, turned awry. The couple met at the defunct Devcom Merchant Bank while Titi was searching for a job.
Titi is the daughter of Pa. Elijah and Madam Susan Okome of the Itsekiri tribe of Delta State. She is also a graduate of Obafemi Awolowo University in Ile-Ife, Osun State. Mike and Titi Joyce Adenuga's marriage has faced a series of chatting scandals, among which is his alleged relationship of 27 years with his former Secretary, Nora Olumide Johnson, which recently ended.
His Children Are Equally Successful In their Various Endeavors
Mr. Mike is one of the few wealthy men who enjoy the company of any children, and he has not denied himself from having a handful of them. Without an iota of doubt, Mr. Adenuga has made a success of his business, so also is he blessed to have brilliant and hardworking children who are making him proud in their fields of endeavors. While many of them hold key positions in his many companies, some have also taken a step further to pursue their personal businesses.
The oil and telecom mogul has seven children, namely Bella Disu, Adetutu Oyindamola Emilia, Eniola, Folashade Adeniyi, Prince Michael Babjide, Tunde, and Abimbola. While all his children are grown up and well educated, only a few are well known to society. Three of his well-known children are:
Bella Disu
Popularly known as Bella Disu, Belinda  Ajoke Olubunmi Disu (nee Adenuga) is a well-known businesswoman and an executive member of her father's business Globacom. She is the Chairman, Board of Directors Abumet Nigeria Limited, Executive Vice Chairman of Globacom, and a non-executive director of Julius Berger Nigeria Plc, among many other positions.
The 37-year old beautiful woman is Mike Adenuga's daughter with his first wife, Folake. She was born on May 29th, 1986,  and she is a member of the Nigerian Institute of Directors and the Nigerian Institute of Management. Bella is a married woman. She got married in 2010 to Jameel Disu, a venture capitalist. They have two children.
Like her father, Bella has won some notable awards for herself. In December 2019, she was awarded the Ordre des Arts et des Lettres by the French government for her contributions to the preservation of arts and culture, especially her coordination of the construction of the Alliance Francaise Mike Adenuga Centre in Ikoyi, Lagos.
Paddy Adenuga
Mike Agbolade Adeniyi Ishola Adenuga, also known as Paddy Adenuga, is a businessman, writer, and speaker. He is also the co-CEO of GLO & Conoil Producing. Paddy is another highly ambitious person like his father. He loves the oil and gas business and has been very successful in it too. Paddy is also into screenwriting. He notably has been in the screenwriting business since he was 15. His latest work is titled Waterloo and was published in 2017. Paddy also holds a Bachelor's degree in Business Management.
Paddy Adenuga is not married yet, and though he seems to be searching for a wife, the 39-year-old oil mogul seems not to be lucky with women. He was engaged twice in 2010 and 2012, both not working out. In one of his posts on Twitter, he said he's not been able to settle down yet because women are "stressful."
Abimbola Adenuga
Abimbola Adenuga is one of Mike Adenuga's daughters who is equally popular. Although nothing much is known about her career achievements, she, mostly popular for sharing the same birthday and month (April 29th) with her father. You would always find her cutting birthday cakes with her father each year her father celebrates his birthday.
Like her siblings, Bimbo is also at the helms of affairs at her father's company, Conoil Plc, and for many years she has been contributing to the success of their family business. Abimbola is the group executive director and the only child on the board of directors at Conoil Plc.
Adenuga Has Several Awards to His Credit
Mike Adenuga was named African Entrepreneur of The Year at the first African Telecoms Awards (ATA) in August 2007. Mike received Ghana's highest honor when, in 2016, the President of Ghana, John Dramani Mahama, conferred him "The Companion of the Star of Ghana (CSG)" following his contribution to Ghana's growing economy by providing employment for the teeming youth, artists, footballers, and many more.
In 2018, he was among those that were decorated with the insignia of a Commander of the Legion of Honour by President Emmanuel Macron of France. A year later, he was cited as one of the Top 100 most influential Africans by New African magazine.
Other awards Mike Adenuga has won include:
African Telecoms Award, 2007
Pillar of Football in Africa has been conferred on him for his strong support for African Football.
Nigerian national award of Grand Commander of the Order of the Niger
Grand Commander of the Order of the Niger in the year 2012
Special Golden Jubilee Independence Anniversary Award