Ini Edo (born April 23, 1982) is a 41-year-old Nigerian actress who came into the limelight with her role in the 2004 film World Apart.
The Nigerian entertainment industry is blessed with many beautiful and gorgeous black women contributing to its various fields. The likes of Ini Edo are not just sexy and beautiful; they are exceptionally gifted, famous, accomplished, and talented. Ini Edo is gorgeous, talented, inclusive, charming, and successful, which is why she is among the Most Beautiful Nollywood Actresses, one of the best actresses from Nollywood, and one of the richest actresses in the industry.
Best known for featuring in romantic, sorrowful, and action thriller movies, Ini Edo has contributed immensely to Africa's largest film industry, Nollywood. However, beyond her career, there are still very interesting facts there is to know about her. This article brings you detailed information about one of Nollywood's most beautiful actresses.

Profile Summary Of Ini Edo
Full Name: Iniobong Edo Ekim
State of Origin: Akwa Ibom State
Date of Birth: April 23, 1982
Age: 41 years old
Tribe: Ijaw
Parents: Lawrence and Eunice Jonathan
Occupation: Actress
Alma mater: University of Uyo, University of Calabar, National Open University of Nigeria
Marital status: Divorced (

Philip Ehiagwina 2008–2014

)
Children: 1 daughter
41-year-Old Ini Edo is Originally from Akwa Ibom
Iniobong Edo was born on April 23, 1982. Sheis the second born one elder cousin whom she considers her elder sister, a younger brother, and a younger sister. Her sister works at a brewery in Ota, Ogun State.
Ini Edo hails from Akwa Ibom State, but she was brought up in Calabar, Cross River State, under a strict and very religious environment, which saw to it that she grew into the nice girl we all love. You might confuse this pretty face with a daughter of a Nigerian Tycoon, but that's not the case. The truth is; Ini Edo understands the trouble that every young Nigerian woman from a humble background goes through. She knows how it feels to sell coconuts to pay your fees or buy yourself Christmas clothes.
And she does know all these by experience because that's exactly what she used to do while growing up. Ini attended Cornelius Connely College, after which she attended the University of Uyo, Akwa Ibom, and got a diploma in Theatre Arts. She then proceeded to the University of Calabar, where she earned a degree in the English Language.
Ini Edo Joined Nollywood When She was 21 Years Old
Ini Edo is one of those kids who nursed the passion for showbiz since her teenage years, and during her diploma years, she engaged herself in drama classes which helped her build her stage confidence and prepared her for a career in the movie industry. She began her acting career in 2003 after a producer discovered her at the audition she attended. She debuted in a movie titled Thick Madam. However, the movie World Apart introduced her to a larger population of Nigerian movie lovers.
Starring as a village girl Ulinma, the 2004 movie also has her sharing the screen with the industry's A-list actors like Kenneth Okonkwo as Prince Promise, Hilda Dokubo as Rhoda, Liz Benson as Queen Mirabel, Laz Ekweme as King Idoto, among others. Since her major breakthrough, the actress has featured in hundreds of movies, which has earned her notable awards in various categories.
A Look At Some of Ini Edo's Best Movies
We have some great actors who are naturally gifted with acting skills, and some learn to be great actors by going to acting schools. Thie likes of Ini Edo possess a combination of the two categories of actors we have in the industry. That is why she is largely regarded as one of the best actors the Nollywood industry ever has.
Since her big break in the industry, Ini Edo has only engaged herself in movie roles that brought out her best. Luckily, these movies have also further announced her to the world and earned her massive monetary rewards. Let's take a quick look at some of the movies she is best known for.
While You Slept
This is a 2015 movie shot in Lagos directed by Desmond Elliot. Its storyline presents a character called Kimberly, whose life is turned upside down when Najite, a mysterious stranger, shows up claiming to be the secret wife of Emeka, her late husband. Although shocked by the new development, Kim was determined to investigate Najita's true identity, and with the help of her friend Tega, she discovered that there was indeed a history between the strange woman and her late husband, but it was very different from how Najite presented it.
With a 63% viewers ratings, While You Slept has Ini Edo sharing the screen with talented and stylish actors like Venita Akpofure, Joseph Benjamin, Emma Ayalogu. Her role in the movie earned her deserved positive criticisms and earned her many award nominations, out of which she won two; a 2015 Ghana Movie Awards for Best Actress category and a 2018 ZAFAA Global Awards for the same category.
Weekend Getaway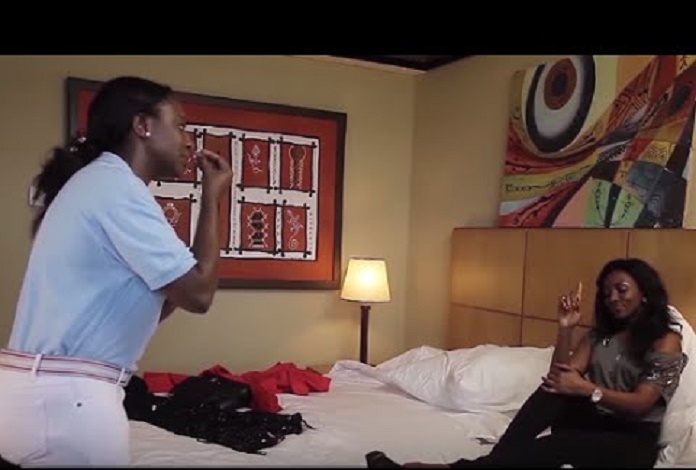 If you want to see Ini Edo at her best, then you must watch her roles in romantic movies. It is one of the film kinds that brought the Akwa-Ibom-state actress to the limelight. The 2012 romantic drama film Weekend Getaway is another film you should watch to see Ini in action. Starring many A-list Nollywood actors like Genevieve Nnaji, Ramsey Nouah, Monalisa Chinda, Ini Edo, Uti Nwachukwu, Alexx Ekubo, Bryan Okwara, Beverly Naya, and Uru Eke, the film follows the lives of five couples, each with their own drama, that all seems to culminate at the Le Meridian in Akwa Ibom: A bored bachelor meeting his online love, a married couple looking to revive the spark in their relationship and a wealthy cougar all hoping to have a good time while rekindling romance.
Among every other role in the movie, Ini's role as a hotel maid made every scene worth watching. Although Weekend Getaway received more negative critics ratings, it was put up for up to 11 award nominations, out of which it eventually won 4. The movie was also a box-office success in Nigerian cinemas, generally grossing over ₦22 million. Ini Edo's efforts in the movie did not go unrewarded. She received the award for Best Supporting Actress at the 2013 Nollywood and African Film Critics Awards (Nafca).
Desperate Housegirls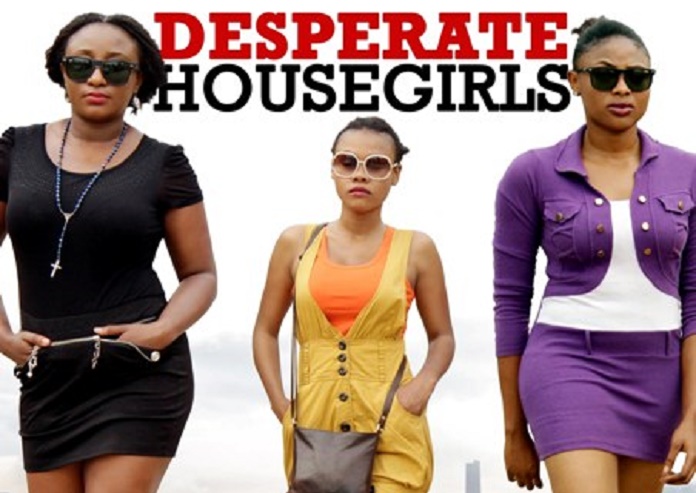 This TV series directed by Desmond Elliot gained many award nominations not just because of the very active actors involved but also because every movie scene exhibits mind-blowing actions from every character. The movie storyline centers on three frustrated street girls who decide to stop their work at a local buca to become house girls with the intent to steal and seduce their way to riches. The character 'Ekemini,' played by Ini Edo, masterminds the idea to quit their demeaning day job and the rest of the girls, including Victoria, played by Tamara Eteimo Ivie, played by mary Lazarus decides to follow.
All the character roles were well represented, and it is quite unsurprising that the movie scooped many award nominations, including awards for Best Cinematography, Best Original Screenplay, and Best Drama at the GIAMA 2013, with actresses Tamara Eteimo and Mary Lazarus scooping up slots for most promising actresses. For her roles in the critically-acclaimed movie, Ini received two award nominations: the 2016 Africa Magic Viewers Choice Awards for 'Best Actress in a Comedy' category and the 2016 Nigeria Entertainment Awards for 'Best Actress – TV Series.'
Highlights of all Awards the Actress has Received So far:
2009 Best of Nollywood Awards for Best Actress Leading Role category
2011 Zulu African Film Academy Awards for Best Actress Indigenous category
2012 Golden Icons Academy Movie Honorarium Appreciation Award
2013: Golden Icons Academy Movie Awards as female viewers choice
2013: Cross River Movie Award as best act female
2013: Nafca award for best-supporting actress
2015: Ghana Movie awards for being the best actress- African collaboration
2018: ZAFAA Global awards as the best actress
Other Ini Edo's Notable Movies include
The Begotten
he Bank Manager
The Bet
Cold War
Crying Angel
Desperate Need
Emotional Blackmail
I Want My Money
Last Picnic
Living in Tears
Living Without You
Men Do Cry
My Precious Son
One God One Nation
Lonely Hearts
Desperate Billionaire 
Married to the Enemy
Games Men Play
Most Wanted Bachelor
Reloaded
Ghetto Queen
Caro The Iron Bender
Ass on Fire
Knocking on Heaven's Door 
The Patient
Chief Daddy 
Citation
Other Endeavors Ini Edo is Engaged In
Ini has gradually been climbing the ladder of success to become one of the most revered and most-loved stars from Nollywood. Besides acting, Ini is known for doing charitable works by assisting the less fortunate in society. Other activities that are keeping the actress busy includes:
She was UN-Habitat Youth Ambassador
In 2011, she was appointed by the United Nations Habitat as a youth ambassador alongside Ramsey Nouah and another star from Bollywood, Vikram Vinod. According to the director, the appointed stars were supposed to participate in urban issues and, at the same time, help the UN body improve the lives of youths all over the world. On April 23 of the same year, she carried out her first assignment.
She was a judge in the 2013 Miss Black Beauty Pageant in the UK
In 2013, this world-renowned Nollywood star was announced as one of the judges in the 2013 Miss Black UK Beauty pageant. Others on the list included Jones Adebayo, Sporah Njau, Charles Ven, Justina Mutale, and Jenni Steele.
Her Role As Special Assistant to Akwa Ibom State Governor
2016, Ini Edo was appointed The Special Assistant to the Akwa Ibom State Governor on Culture and Tourism. The Nollywood queen was appointed alongside Imeh Bishop, popularly known as Okon. Both actors were to manage various special assignments on Culture and Tourism as directed by the Governor. She was reappointed by the Governor Udom Emmanuel of Akwa Ibom State in July 2020, and as expected, the actress has been executing her duties in a most stylish way.
She was appointed as NDI Ambassador for Women Empowerment
Ini Edo bagged an appointment with the National Democratic Institute (NDI) in 2020. The non-profit organization works with partners in developing countries to increase the effectiveness of democratic institutions, and the stat actress was appointed to work with some notable people to achieve the organization's goal to increase women's representation in public office and also to address every obstacle to women's participation in the nation's political space.
In response to her ner appointment, the star actress noted that she would be working with influential Nigerians like e like former women heads of state and other NGOs to address the problem of violence against women, especially during elections in her new capacity.
Ini Edo was Once married to Businessman Phillip Ehiagwina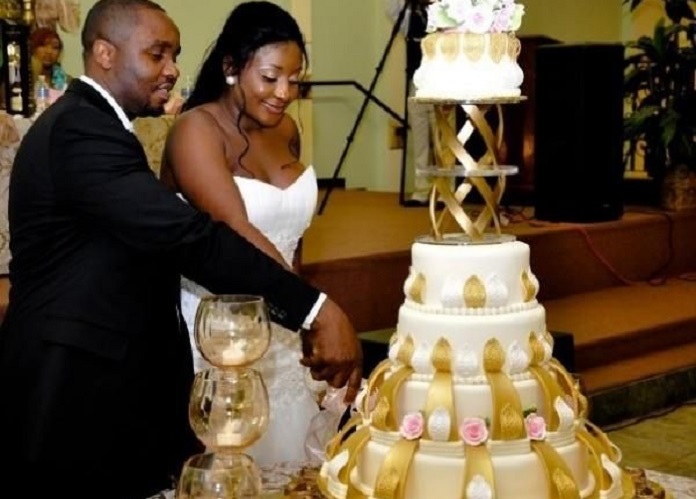 Ini Edo used to be married; however, the short-spanned marriage crashed unexpectedly. In November 2008, the actress and a US Based Nigerian Businessman, Phillip Ehiagwina, officially got married in a church wedding in Nigeria, and in February the following year, the wedding was repeated in Houston, Texas, where her husband resides. But it did nothing to save her marriage. The 6-year marriage crashed in 2014, with many fingers pointing at Ini for being responsible for the fall out of her marriage.
While the former Mrs. Ehiagwina cited "irreconcilable differences" as the major reason for her divorce, she blamed the media for partly playing a role in her separation from Phillip. The actress said though publications of her sexual escapades with many men were largely false, they did more harm to her reputation and values than she ever imagined. Perhaps, it is the sacrifice I have to pay for my stardom, she thought.
The beautiful actress was rumored to have snatched her husband from Ruth Okoro, who was formerly married to Phillip Ehiagwina. However, in her reply to the allegation, Ini said Philips was completely separated from Ruth when they began seeing each other; Phillip presented her documents to prove he was done with his Ruth. "There is no way I would have dated him if he was still married to Ruth," she said.
Aside from claims of her extra-marital affairs, there was also a case of Ini not agreeing to Phillip's demand to include his name as a joint owner of one of her properties in the Lekki area of Lagos state. Ini revealed that Phillip threatened to leave their marital home if she refused. At her vehement refusal, the business magnet made good his threat. He moved out of the house and started putting up with another lady in Accra, Ghana. All entreaties by family members for Philips to return home were rebuffed, and it dawned on Ini that her marriage was heading for a crash. Phillip wanted his name on the deed, or no marriage, and Ini could not afford to do so.
Since their separation, Ini Edo has not been involved with any man. However, her ex-husband Phillip is said to have married another woman. Many who knew Phillip quite well insinuate that his third marriage may likely go the way of the previous ones, as he was the real problem, not the women.
The Veteran Actress Now Has a Daughter
Ini Edo is now a proud mother of a baby girl. The actress welcomed her baby through surrogacy. She revealed that she chose to have her first child through surrogacy to fulfill her dream of becoming a mother. Although she is yet to produce pictures of her newborn, Ini further denied rumors that her child's father was a married man, identified as Kome. She said she opted for a donor because of her and her baby's peace of mind and that she still has a good number of eggs frozen in case she decides to do surrogacy again or carry her baby herself.