Yomi Fash-Lanso is a 55-year-old Nigerian actor, director, and producer who was born on June 7, 1968. Yomi has played numerous roles in his over 2 decade-long career. He became famous for his roles in Wura and Omo Elomosho.
While his career is at the forefront of his public life, his marriage to Adetutu George and their three children is equally at the center of his private life. There are many other details about his childhood and family, education, career, net worth, wife, and children in this article.
Summary of Yomi Fash-Lanso's Bio 
Full name: Oluwayomi Oluwarotimi Akanbi Lanso
Nickname: Yomi Fash
Gender: Male
Date of birth: 7 June 1968
Fash-Lanso's Age: 55 years old
Ethnicity: Yoruba
Nationality: Nigerian
Zodiac Sign: Gemini
Sexual Orientation: Straight
Religion: Christianity
Marital Status: Married
Yomi Fash-Lanso's Wife: Adetutu George
Children: 3 boys
Yomi Fash's Parents: Mr. Alamu Olansosiwaju Lanso (father) and Mrs. Adedoyin
Siblings: 5 (3 brothers and 2 sisters)
Yomi Fash-Lanso's Net Worth: $1 million
Famous for: Acting
Yomi Fash-Lanso's Instagram: @officialyomifashlanso1_works
Twitter: @yomifashlanso1
How Old Is Yomi Fash-Lanso?
Yome Fash-Lanso is 55 years old as he was born on 7 June 1968 in Ebute Metta, Lagos. Although there are claims that his real name is Oluyomi, he revealed his birth name as Oluwayomi Oluwarotimi Akanbi Lanso.
He hails from Ogun State in the South Western region of Nigeria. The actor led his early life away from fame and attention. Instead, he enjoyed the company of others and played local games called ten ten and boju boju among others.
In addition, he attended different schools at a young age, including Jibril Martin Grammar School in Iponri. He later headed to the University of Lagos, where he studied Business Management.
The actor also trained at the Independent Television Producers Association of Nigeria (ITPAN). There, he took a course in Film Directing and Production. He has attended seminars and has consistently studied the art of movies, which have helped in building his career over time.
Yomi Fash-Lanso's Family
Yomi was born into a closely knitted family. His father was Mr. Alamu Olansosiwaju, and his mother was Mrs. Emmanuella Adedoyin Lanso (nee Fashola).
The actor has kept details of his parents private, but his mother was born in 1926 and died in 2015. He has also given tales about his father. He revealed that if he were to go back in time, he would call his father a comedian. This is due to his father's comic prowess when the actor was growing up.
More about the actor's father, Yomi revealed that he had never seen his father angry, and the deed would later help him raise his children better.
The actor grew up in a Christian home. He once shared how his family's church pastor once asked his father to sow a seed with his newly purchased car. The actor's father agreed to give the pastor the car key but stepped out of the church and went home to bring a spare key, which he used to drive the family back home.
Yomi Fash-Lanso had 5 siblings (three brothers and two sisters) who were the first people to expose him to movies by often taking him to the cinema.
Who is Yomi Fash-Lanso's Wife?
Yomi Fash-Lanso is married to Adetutu George. He keeps details about her private but praises her for her contributions to his personal life, their children, and his career.
Fash Lanso's wife understands her husband's career as an actor. She is both a fan and a critique.
As the story goes, the couple first met at a phone booth. At the time, Adetutu was still in school, did not watch a lot of movies, and so did not know who he was. They would eventually get to talk and know each other more, even though Adetutu gave him the wrong address to her home.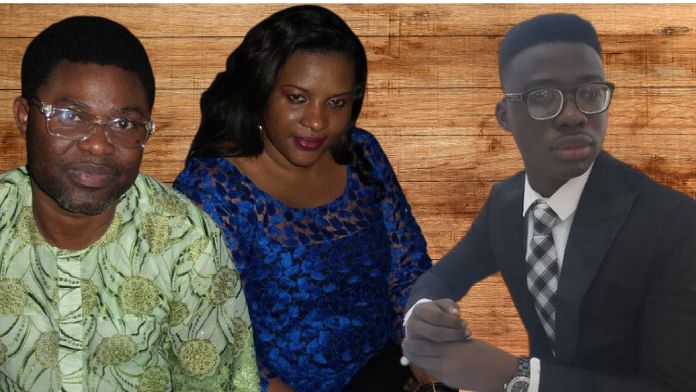 Prior to the time the couple became married, Fash-Lanso used to wear a fake wedding ring to keep women off his back. When he eventually met a girl he was interested in, he would ask them out and lie that he was married and his wife was living abroad. Some agreed to date him, while others didn't.
According to him, he started the tactics when he realized that many women he met at the time were interested in getting married. However, he did not feel ready.
Yomi Fash-Lanso's Children
The Wura actor is a father of 3 boys. He first became a father in 2004, and the other 2 were born afterward.
The actor shares a very close bond with his young children but keeps them away from the spotlight. With his children, he is a firm believer in teaching them things about life through his actions and not only with words.
This pushes him to be disciplined and project himself as a good parent and teacher to them.
So far, Yomi's children are not exactly tilting toward the movie industry as their father. Instead, he lets them move at their pace and also watch his movies. Speaking about parenting, the actor has also noted that his kids are smart.
Yomi Fash-Lanso's Net Worth
Yomi Fash-Lanso has an estimated net worth of $1 million. He has earned from different sources, such as banking, acting, filmmaking, and endorsement deals.
At the time of this report, Yomi's primary source of income in acting. He has been featured in both English and Yoruba movies and series. Here is a complete breakdown of how Yomi Fash-Lanso has made his fortune.
He worked as a Banker Before His Career as an Actor
The Wura actor was in the banking sector for some time before quitting and later venturing into acting. This was after he completed his education at the University of Lagos.
It marked one of the earliest stages of his earnings. Although his salary at the time is unknown, bankers in Nigeria in the 1990s were some of the most highly paid employees.
How Acting Has Contributed to Yomi Fash-Lanso's Net Worth
After quitting his bank job, Yomi ventured into entertainment, playing roles on stage and in movies. He had his major career breakthrough in 1995 when he featured in Omolade, produced by Jide Kosoko.
He later gained several other roles. In the earliest times of his career, he featured more in Yoruba films. They include Perosoko (2003), Kadara Mi (2004), and Opolo (2005).
One of Fash-Lanso's notable works in the 2000s is Jénífà (2008), where he played Demola. He featured alongside Funke Akindele, Odunlade Adekola, Owolabi Adelaja, Toyosi Adesanya, Alade Adeshina, Kemi Afolabi, and Olaniyi Afonja.
In later years, Yomi Fash featured in numerous films that have added both fame and fortune to him. Some of the commercially successful films and series he has featured in include Tunde Kelani's Dazzling Mirage (2014), Citation (2020), and Wura (2023).
From all of these movies, Lanso has received different salaries for each of these roles. While his exact salary is not known, reports have it that less experienced actors earn from ₦50,000 to ₦200,000 while more experienced can earn from ₦1 million.
Yomi Fash-Lanso's Career as a Director has Contributed to His Net Worth 
The Ogun State native has earned from his role as a director. He has directed the likes of Osuwon Eda (2006), Idunnu Okan (2006), Timileyin Oluwa (2007), and Omodara (2007).
As a director, his salary is not known. However, apart from a movie director's salary, they also get to earn from the percentage of the gross receipts of the movie (mostly 20%). In addition, studies suggest that directors earn significantly more money than average actors.
In this case, Fash-Lanso may have earned significantly from each of the projects he has directed.
List of Yomi Fash-Lanso's Films and Series
Wura (2023)
Àkúdàáyà (2023)
Atunwa (2023)
Òsòròngà (2023)
Citation (2020)
Professor JohnBull (2016)
Dazzling Mirage (2014)
Omo Elemosho (2013)
Idamu ojo kan (2011)
Jénífà 2 (2009)
Omo iya meta leyi (2009)
Farayola (2009)
Jénífà (2008)
Aje metta 1&2 (2008)
Akaba (2008)
Idoti oju (2008)
Kondo olopa (2007)
Egun (2007)
Arigbabuwo 1&2 (2007)
Niniola (2007)
Ebo isinmi (2007)
Idunnu okan (2006)
Osuwon eda (2006)
Alase aye 1&2 (2006)
Alase aye (2006)
Kòséfowórà (2006)
Temidun (2005)
Ofin kokanla 2 (2005)
Ofin kokanla (2005)
Tani kin fe? (2005)
Opolo (2005)
Keke gbajumo (2005)
Owo laso oge (2005)
Agbara ife (2005)
Imado (2005)
Àgbéké (2004)
Teni N Teni (2004)
Kadara Mi 1&2 (2004)
Perosoko (2003)
Ago kan oru (2003)
Súnmibáre (2003)
His Awards and Nominations
Yomi Fash has received credit as one of the most fascinating and versatile Nigerian actors. Here are some of his nominations and awards.
Yomi Fash-Lanso was nominated for the Africa Movie Academy Award (AMAA) for Best Actor in a Supporting Role in 2014
He won the NEA Awards for Best Actor in a Supporting Role
Businesses and Endorsement Deals Have Also Contributed to Yomi Fash Lanso's $1 Million Net Worth
The Business Administration graduate has opened up that he channels his energy in business, and in turn, it yields him a fortune. Nonetheless, he has not made full revelation into his type of business or how much fortune he makes from it.
Apart from that, he earns from endorsement deals. Among them include his being unveiled as the Cultural ambassador by the Oodua Progressives Union, OPU in 2015.
A year later, he became an indirect Globacom ambassador when he was featured in the network's series Professor Johnbull. He featured alongside Mercy Johnson and Kanayo O. Kanayo, among others.
The actor also endorses Kitan Casual Wears, an African traditional fashion company.