If you were a Nollywood movie lover in the 80s and 90s, you would be familiar with the legendary actress Liz Benson. The Efik-born beauty, who was born 5 April 1966, has been described as ageless, owing to the charming looks that won her more admirers while still active in the Nigerian film industry.
Beyond beauty, the star also had earned acclaims as well as substantial fame after having starred in two film classics, Fortunes, and Glamour Girls. The screen goddess was at the height of her fame when she suddenly vanished from our screens.
Naturally, devoted followers are not happy when an actor's career comes to a descending point and eventually are not involved in Nollywood scenes. On this note, Liz Benson's fans have been on a rampage asking why we don't see much of her onscreen anymore.
This comes on the heels of other veteran actors being featured in movies and making cameo appearances on music videos. So, what has the endearing and lovable actress been up to?
She Became An Evangelist 
The actress started acting at a very young age. As a matter of fact, she got her first movie role when she was only 5-years-old in 1971. She has occasionally revealed how she dreamed of being an actress as a kid. This inspired her to relocate to the United States of America to study at the Sylvania State College in the US, where she graduated with a Bachelor's Degree in Dramatic Arts.
It did not take long for her to start a professional career in the movie industry, shortly after returning from the United States of America in 1993 and her appearance in the Nollywood blockbuster movie "Glamour Girls" alongside Eucharia Anunobi blew her to a global figure status the following year. The highly successful home video film focuses on the theme of prostitution. The sensational actress also played in Fortunes as Mrs Agnes Johnson in the soap, which ran for about two years on the Nigerian Television Authority network. Shortly after these roles, Liz Benson became a beloved actress in Nollywood.
She accomplished this through hard work and her perfect interpretation of roles. Liz Benson rose to become one of the most sought-after actresses at the peak of her acting career till 1996, when she took a break from the Nigerian movie scene.
Some years later, she allegedly showed up although not as active as she used to be, but noted that she is now an evangelist and has completely given her life to Christ.
She Gave Up Roles That Don't Fit Her Faith.
Upon returning to the limelight, most people were confused about how she would go about featuring in movies and keeping her newfound faith. But the dogged and charismatic Liz Benson clarified these thoughts by saying that she will only feature in movies and play roles that keep in line with her faith.
Obviously, she is now into preaching. In fact, she is now being addressed as Evangelist Liz Benson which goes to show how dedicated she is to win souls for Christ. Alongside her second husband, Bishop Great Ameye of Freedom Family Assembly, whom she married after losing her first in her mid-twenties, she is a co-shepherd who is deeply involved in carrying out Christian Evangelical Ministry across cities in Nigeria, while their church is headquartered in Warri, Delta State.
Her Second Marriage May Have Affected Her Acting Career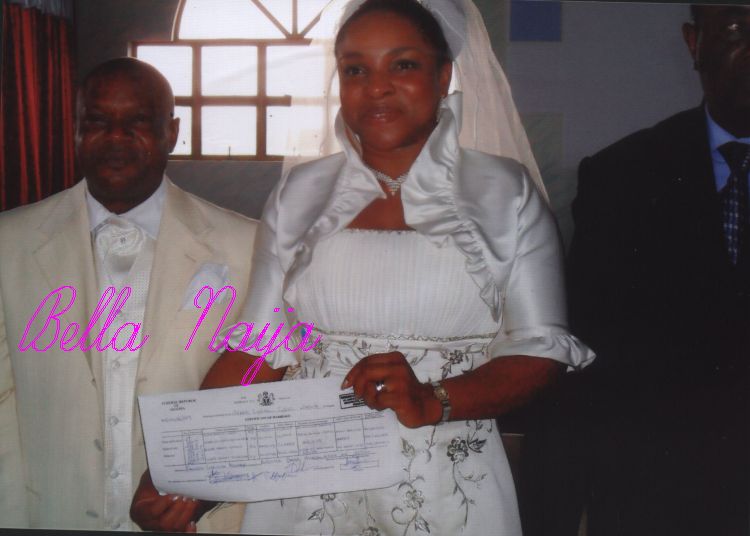 Liz Benson has been married twice. Her first marriage resulted in three children namely; Lilian Etim, Roseline Etim, and Richard Etim. Tragically, she lost her first husband; it is believed that this loss taught her the true meaning of strength. After his passing, she decided to take less acting work so that she could focus on being a full-time single mom to her children. However, she continued to act actively, and her career peaked even more. After a long wait, raising her children, and focusing solely on her acting career, she fell in love again with an ordained man of God.
She married Bishop Great Ameye, a notable pastor, in 2009 in a quiet court wedding and a white wedding that took place in Rainbow Christian Assembly in Warri, Delta State of Nigeria. They are the overseers of the Freedom Family Assembly. This marriage led her closer to Christ and she gradually lost her passion for acting. As a result, we began to see less and less of her until she eventually slipped off from the industry.
Although she's back in the Nigerian movie industry, she maintains her role as one who now preaches the gospel on fulltime-basis. Thus, we may likely see her more on the pulpit sharing the word of God than sparking love and light onscreen.
She Had A Successful Acting Career
Back in the 90s, there were many pretty incredible talents in Nollywood. Regardless, Liz Benson was able to become a sensation at the time. The actress was undoubtedly one of the most famous stars of the decade, proving her mettle in the Nigerian film industry. She distinguished herself in the versatility and talented way by perfectly interpreting her roles as a royal queen, housewife, mother-in-law, and wicked stepmother, amongst others. These roles ranked her as one of the highest-paid actresses in the Nigerian movie industry. She was starred in the biggest movies of the 90s and 2000s, such as Scores To Settle  Glamour Girls and Women In Power, all of which were among the most-watched movies of the 90s. The list below is further proof of some of her best movies.
Note text
List of Her Best Movies
Fortunes (1993)
Glamour Girls (1994)
True Confession (1995)
Back to Life (1997)
Scores to Settle (1998)
Witches (1998)
Women in Power (2005)
Now & Forever (2005)
Her  Most Recent Movies Include;
Since her return in the 2000s, Liz Benson has starred in top-notch movies, and from her acting ratings in these movies, one can conclude that Liz Benson was born to act. Although none of these movies threw her into the same amount of fame she had in the 90s and early 2000s, they still showcased her outstanding talents. Below is a list of some of her recent movies since her return.
Dry (2014)
Dearest Mummy (2015)
Hilarious Hillary (2015)
Lotanna (2017)
Children of Mud (2017)
Lizard Life (2017)
Amazingly, Liz Benson has spanned over two decades in Nollywood and has gone on to feature in over 250 movies. Today, Liz Benson no longer acts in films and hasn't appeared in a movie since 2017.  She stays selective of the kind of roles she plays now due to her born-again Christian status.