Monalisa Chinda (born September 13th, 1974, Age: 49 years old) is a prominent Nollywood actress, film producer, T.V. host, media personality, U.N. Ambassador, and philanthropist.
She was one of the long-established and unique personalities to emerge in the Nigerian entertainment scene in the 1990s. Besides gracing our screens with her acting prowess, the beautiful actress is involved in many charity works, through which she gives back to society. What's more, Monalisa is currently in her second marriage with a Germany-based Nigerian-Sierra Leone husband, Victor Tonye Coker, after her first marriage with Dejo Richards hit the rocks. Here, we will give you the full details of her biography and how well she has done for herself.

Profile Summary of Monalisa Chinda
Full name: Monalisa Chinda-Coker
Date of Birth: September 13th, 1974
Age: 49 years old
Place of Birth: Port Harcourt
State of origin: Rivers state
Nationality: Nigerian
Marital Status: Married to Victor Tonye Coker (2016 – present)
Children: Tamar Chinda
Education: University of Port Harcourt
Occupation: Actress, film producer, T.V. host/personality
Years Active: 1996 to present
Monalisa Chinda was born in Port Harcourt 49 Years Ago
Monalisa Chinda was born on September 13th, 1974, to an Ikwere father and an Igbo mother as the first of six children; two males and four females. Although some mistake her not to be a Nigerian, probably because of her gleaming fair skin color, the stunning actress originally hails from Port Harcourt in Rivers State, Nigeria. She spent her early years in Port Harcourt, where she attended Army Children's School G.R.A. for her primary education and Arch Deacon Crowther Memorial Girls' (Secondary) School, Elelenwo.
Afterward, she proceeded to the University of Port Harcourt and graduated with a degree in Theatre Arts in 2000. Monalisa had described her call into the acting business as "divine." Her parents wanted her to be a lawyer, and she hadn't quite made up her mind about what to study at the university; she simply went for it. Growing up, she took part in several school drama performances and was privileged to learn under renowned Nigerian playwright Ola Rotimi.
Monalisa Chinda Started Her Acting Career as an Undergraduate
Monalisa Chinda had quite a humble and perhaps a comfortable beginning. As an undergraduate in 1996, she debuted her first professional appearance in the Nigerian movie, Pregnant Virgin. She was also featured in a Nigerian television soap opera, Heaven's Gate. After her debut, she featured in stage productions like Our Husband Has Gone Mad Again by Ola Rotimi and The Fight To Stop Female Circumcision by Amatu Braid.
After her graduation, Monalisa gave a full-time shot to her career as an actress. In no time, she became one of Nollywood sweethearts and leading actresses. In early 2000, she dominated the movie scene. So far, she has acted in several blockbuster films. The reputable actress surprisingly has a down-to-earth personality amidst her daunting successes.
Below is a list of some of her popular movie appearances. 
Next door Neighbor
Hidden Price
Salt and Pepper
Pregnant Virgin
Open Marriage
Spellbound
Above the Law
Games Men Play
The Devil in Her
Royal Grandmother
Critical Truth
Anointed Liars
Hot Island
Memories of the Heart
Nollywood Hustlers
Kiss and Tell
Weekend Getaway
Gossip Nation
Lagos Cougars
Keeping my Man
The Unthinkable
One Night Stand
Enslaved
The Therapist
Return of the Don
Passionate Heart
The Biggest Game
Deep Fever
Okon Lagos
The Good Husband
Night Bus to Lagos
The Bling Lagosians
Besides Acting, She is Also a Producer and TV Host
Monalisa moved from being an actress to a movie producer. She has produced over 50 Nollywood movies, including Golden Moon, Wrong Woman, Games Men Play, Reloaded, and the all-time success Weekend Get-Away, where she served as both actress and Executive producer. Behind the scenes, Monalisa often works in conjunction with Nigeria's leading production company, Royal Arts Academy. Her productions with the company have produced some of the top-notch movies that Nollywood can boast of. She also works as a consultant in the academy.
Aside from the thespian profession, the actress had other media interests. She has a column (Monalisa Code) in the Saturday edition of The Sun Newspapers. In 2014, Monalisa took her talent to T.V. production. She launched her T.V. talk show, You & I with Monalisa, which airs on several Nigerian media channels – A.I.T., T.V.C., Channels Television, and other T.V. networks. According to the stunning star, the idea behind the show is to address social situations, dissect them and proffer solutions using the tool of drama.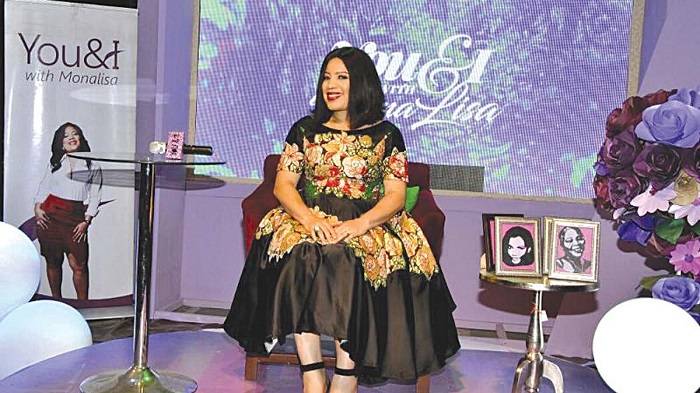 You & I with Monalisa is currently in its fourth season and expecting the brand new season 5 soon. The show, which is considered Africa's most enriching T.V. show on social issues, is recording much more success than the folded editorial with millions of viewers across Nigeria. The innovative and engaging show has also featured prominent national figures and celebrities. To a large extent, the Nollywood damsel is a conservative personality. This trait clearly shows in her shows and interviews. With class and a bold personality, she has an effortless, dazzling and subtle charm that endears her to her fans.
The Screen Diva Has Signed Lucrative Endorsement Deals
Every actress who has shown hard work and used their prowess to influence the entertainment industry has some endorsement deals to brag about. It could come from the entertainment circle, beverage companies, telecommunications, diverse manufacturing or electronic companies, clothing/beauty lines, etc. For the screen goddess like Monalisa, she can boast of a handful of top endorsement deals from different companies.
Monalisa Chinda has won an over N100 million contract which earns her an impressive fortune. Her remarkable contribution in the Nigerian film industry landed her a mouth-watering deal with Nigerian Telecommunication Giant Glo as the company's brand ambassador. Shortly after, in the same year, she bagged another juicy deal with Vita500, an energy drink from South Korea. The energy drink, marketed and distributed by Mescon Industries limited, stormed West African countries, especially Nigeria, in 2011 and turned into a wave-making drink. The actress was reportedly paid a whopping sum of N30 million for being the popular brand's face.
Furthermore, she was named the "Face of Port Harcourt" during the annual Carnival in Rivers State and has graced the cover of Genevieve magazine in May 2016. In 2012, she was featured on the cover of Hollywood Weekly Magazine and had earlier featured in the prominent Nigerian Lifestyle magazine in 2010. She is also a brand ambassador of a professional spa salon, Beauty Secret Skin Care.
She Has a Way of Giving Back to Society
Monalisa Chinda has participated in many charity works. She founded an African-based non-profit organization dubbed The Arise Monalisa Foundation (A.M.F.) located in Lagos State. The foundation is focused on creating opportunities and promoting creativity for less privileged Africans. Also, it is devoted to protecting lives by promoting health awareness. To grossly achieve its goal, A.M.F. works with several orphanage homes in Lagos and beyond to provide supplies and other essential assistance, thereby relieving the burden of the children from their parents. They also have a network outreach system for widows and women in jail.
Her Awards and Nominations
The multiple award-winning actress has been rewarded for her industrious works and contributions to the growth of Nollywood and the entertainment industry in general. Below are some of the awards she has received so far:
2009- African Film Awards U.K.
2009- Best Actress at the Afro Hollywood Award
2010- Nominee for best actress in a drama series at the Terracotta T.V. and Film Awards
Afro-Australian Music and Movie Award for the most outstanding actress
Monalisa was named the Face of Port Harcourt – Carnival Queen
Nominated for Nigeria Model Achievers' Awards
Nollywood@20 E-Golden Award (NEGA) for outstanding character actress
2014- Africa Movie Academy Award for best actress in a leading role
2015- Nominated at the City People Movie Award for the face of Nollywood (English)
Monalisa Chinda is Currently in Her Second Marriage with Victor Coker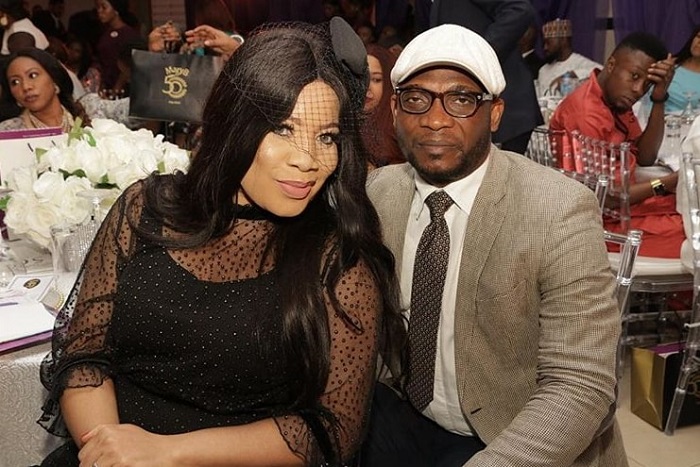 In 2009, the beautiful actress was all over the media for her marriage crisis. Her first marriage to Dejo Richards ended in 2009 over allegations of domestic violence and abuse. Together, they had a daughter, Tamar Chinda, born on February 13th, 2008. Monalisa has been involved in a couple of high-profile relationships. Despite her failed first marriage to Dejo Richards, the actress still maintains that "marriage is a better option." In her words, she said:
I tried to make it work, but it takes 2 people to tango. That's the only thing I regret, raising my child without a father. It's a bit painful. But I have to live with it…
Seven years later, Monalisa Chinda found love again. On February 20th, 2016, she traditionally wedded her second husband, Victor Tonye Coker, in her hometown in Ikwerre. On September 1st, they had their white wedding ceremony in Santorini, Greece. Even though his profession is still unknown, Victor Coker is a Germany-based Nigerian born to a Sierra Leone mother and Kwale, Delta State father. According to the actress, the main reason she remarried was to give her daughter a father figure. The duo has been together since, and she has revealed plans to have a child for him.