Victoria Inyama is a Nigerian actress, applied positive psychologist, and a Peer Leader (Talking Therapist) with EmpowerSisterQueen. She has been featured in numerous films since the 1990s and is famed for her roles in Talking Dolls (2017), Housemates (2012), and Ripples. In her private life, she was married to Godwin Okri, with whom she had 3 children.
Inyama is now one of the most important, influential, and respected actors in Nigeria. Her impact on society and entertainment has continued to gain her attention, and several questions have been asked about her life. Here are the answers to every important question ever raised about Victoria Inyama.
Summary of Victoria Inyama's Bio 
Full name: Victoria Inyama
Gender: Female
Date of birth: November 23
Ethnicity: Igbo
Nationality: Nigerian
Zodiac Sign: Sagittarius
Sexual Orientation: Straight
Religion: Christianity
Marital Status: Separated
Victoria Inyama's Husband: Godwin Okri
Children: 3 (1 daughter and 2 boys)
Victoria's Net worth: over $100,000 (estimation)
Famous for: Acting
Victoria Inyama's Instagram: @victoriainyama
Facebook: Victoria Inyama
How Old is Victoria Inyama and Where is She From?
It is commonly believed that Victoria Inyama is 53 years old, but her year of birth is not known to the public. She celebrates her birthday every November 23.
She was born in Enugu State into a family from Arochukwu, Abia State in Eastern Nigeria. Her mother is Nnena Urim. Victoria makes time to celebrate her mother on social media. On the other hand, the actress lost her father but has also celebrated him on social media.
While she keeps details about her other family members private, we have found out that some of her relatives are Chinyere Inyama, Akara Inyama Bright, Henry Inyama, Nnaoma Inyamah, and Adaora Inyama. A handful of them live and work outside Nigeria.
Victoria Inyama's Education
Victoria is easily one of the most well-educated Nigerian actors. In her early life, she attended Holy Child Secondary School. Then, in 1998, she attended the University of Lagos, where she studied Creative Arts and was classmates with actress Mercy Aigbe. She graduated from the prestigious institution in 2002. 
In 2011, she obtained a Level 2 Introduction to Counseling Skills from Lewisham Counselling & Counsellor Training Associates. The actress also received Peer Leader Training from the MINDUK from 2017 to 2018.
In 2016, she embarked on a quest for more knowledge from the University of East London. She would later graduate in 2019 with a Bachelor of Arts in Psychosocial Studies, Social Sciences.
Dabbling through many and figuring that she needed more learning, Victoria Inyama headed back to school in January 2023. She returned to the University of East London to obtain a Master's degree in Applied Positive Psychology and Coaching Psychology.
The Abia State Native Started Her Acting Career in 1990
In 1995, Victoria Inyama started her acting career with a role in Ripples, a Nigerian series. She was discovered by Nollywood veterans Zik Zulu-Okafor and Alex Usifo.
At the time, she was living on the same street as Alex Usifo in Surulere Lagos. Then, there was an opening role for a female to play a role in the soap opera. It was at that moment that Usifo reached out and invited her for an audition. She gained the role after she was auditioned by Fred Amata and Zeb Ejiro.
This led to many other roles, and she fast became one of the most famous actors in the 1990s and 2000s. Some of her earliest roles were in Silent Night (1996), Holy Crime (1999), Orange Girl (2002), and Lost Passion (2003).
In her career, she featured alongside notable actors such as Jim Iyke, Ramsey Nouah, Kate Henshaw, Joke Silva, Segun Arinze, and Omotola Jalade-Ekeinde.
She Took a Hiatus From Nollywood and Returned Almost a Decade Later
The light-skinned actress left the acting scene after she made a remarkable impression in the industry with her skills. According to her, she left the industry due to some circumstances.
She left in the mid-2000s while her career was at its peak. Years later, she reappeared and played Bimbo in Housemates in 2012. Again, in 2017, she was featured in Talking Dolls. The same year, she was featured in Who Am I with Chinwetala Agu and Emeka Enyiocha, among other actors.
Victoria Inyama's Movies and TV Shows
Talking Dolls (2017)
Housemates (2012)
All My Heart (2005)
Love from Above 1 & 2 (2004)
Feelings (2004)
Holland Heat (2004)
Woman Rapa 1&2 (2003)
Oga and His Boys (2003)
Days of Agony (2003)
Six Problem Girls (2003)
Lost Passion (2003)
Iyanga (2003)
Blind Love (2003)
Ofeke (2003)
Orange Girl 1&2 (2002)
Gangster Paradise (2001)
Mothers Cry (2001)
Holy Crime (1999)
Arusi-Iyi (1998)
Silent Night (1996)
Who is Victoria Inyama's Husband?
Godwin Okri was Victoria Inyama's husband. He is a businessman and a realtor who obtained a law degree in 1992 from the University of Sheffield. He is based in the United Kingdom but has widened his business to the United States and his home country, Nigeria. They were married in the early 2000s before Inyama announced their splitting in 2017.
Apart from this, there have been different reports with respect to Okri's first name. His name has been noted as Mike by Premium Times, while Pulse.ng and Wikipedia report his name as Godwin. Others report it as Ben.
While his name remains debatable, Buzznigeria has found out that Godwin and Ben Okri are brothers, often reported as the same person. Ben Okri is an award-winning author, while Godwin is a real estate agent and lawyer.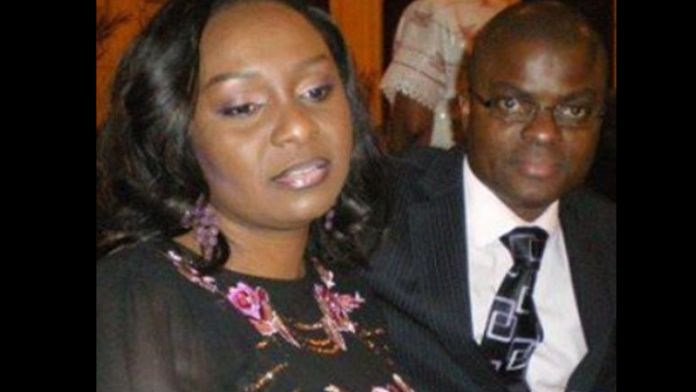 Since Inyama reported that her ex is a lawyer, he is certainly Godwin and not Ben, as alleged by numerous sources. This said, Godwin Okri has kept a quiet, private life but met Inyama in 2003 in London at a show. They were married afterward and became parents of three – a daughter and two sons.
Throughout the marriage, Inyama kept her ex's life private until around 2016/2017, when she made a revelation on her Facebook page. She recounted how he abused her and their children. She claimed that he refused to give her a divorce despite having another woman living with him.
Ever since, she has spoken openly about the union and abuse in different forms. In one of her tales about the marriage, she revealed that Mr. Okri had raped her while they were married. She also spoke about how he got her arrested in the presence of their kids and she was detained for 12 hours.
At a time when she could not take the maltreatment that was directed at her and their children, she called the cops on him.
Victoria Inyama' Children
Victoria Inyama is a mother of three – a daughter and two sons. She bore the children from her union with Godwin Okri.
There are reports that one of her two sons is autistic, and her ex and a pastor blamed her for having a child with the ailment. Her other two children are Mark and Rachel.
Apart from their three children, Inyama reportedly had a stepdaughter, born from Godwin Okri's previous relationship. Interestingly, the child is Natalie Okri, a 2009 Britain's Got Talent finalist famed for Alicia Keys' No One cover. She was born on 20 November 1998.
However, Inyama may not have had a close relationship with the girl as there are claims that Godwin does not also have closeness with her.
Where is Victoria Inyama Now?
Victoria lives most of her life in England but returns to Nigeria, where she still features in movies. One of her most renowned works in recent times is her being featured as Evelyn Williams in the UK film Golden Stripes (2023). The film is directed by a London-based Nigerian, Peace Osigbe, and it features actors such as Ray Calleja, Philip Gill, James Laskey, Habida Moloney, and Boris Steele.
In another aspect of her life and at the time of this report, Victoria is a student at the University of East London. She is studying Applied Positive Psychology And Coaching Psychology at the Master's level.
She is now a mental health advocate, taking a career as a Peer Leader (Talking Therapist) with EmpowerSisterQueen. She started this career in 2022 in the United Kingdom.
Victoria is also a single mother who juggles raising her three children and exploring her different career paths. While showing herself more recently in the Nigerian media space, Inyama has not left herself out of controversies.
Later, she had a back-and-forth with former Big Brother Naija winner Hazel Oyeze Onou, who is famed as Whitemoney. She called him out, also calling out his mother after he claimed that no woman was out of any man's league as long as he had money. Quickly, the famous people fixed their differences after Whitemoney apologized.
Also, in 2021, she publicly dragged Nigerian pastor Funke Adejumo for advising women to protect their husbands' names in public. Inyama further spoke about her thoughts about how marriage is meant to be enjoyed and not endured.
Apart from all of these and before returning to the screen, Inyama has suffered health issues. She revealed being diagnosed with cancer in 2006. Since she has not given any details in recent times about the ailment, it is believed that she fought it and could be free of it.
Another health challenge faced by the actress is testing positive for COVID-19 alongside her children. They were tested in 2021, and the mental health advocate has spoken about her encounter with the virus.