Kenneth Okonkwo (born 6 November 1968) is a 54-year-old multitalented Nigerian actor, producer, entrepreneur, lawyer, and politician from Enugu State. He is best known for playing the role of Andy Okeke in the movie Living in Bondage.
One of the most accomplished Nigerian celebrities, the veteran actor has made his mark in the industry over the years and is particularly known for his ability to deliver acting roles as naturally and as real as possible. He is one of the few celebrities to have an active professional life in addition to acting.
Summary of Kenneth Okonkwo's Biography
Full Name: Kenneth Arinzechukwu Okonkwo
Date of Birth: 6th November 1968
Age: 54 years old
Place of Birth: Nsukka, Enugu State, Nigeria
Spouse: Ifeoma Okonkwo (2007-Present), Ogechi Ezekiel (2000-2002)
Children: 2 (Ifeanyi Okonkwo and Kenechukwu Okonkwo)
Occupation: Actor, Producer, Lawyer, Politician
Kenneth Okonkwo was Born 54 Years Ago in a Refugee Camp
The 54-year-old Kenneth Okonkwo was born to Mr. Ozioko Francis Okonkwo and Mrs. Beatrice Okonkwo on the 6th of November 1968. Kenneth did not enjoy the warmth of a hospital bed at birth, as he was born in a refugee camp where most of the Igbos stayed during the Nigeria/Biafra war. He lived a greater part of his life in Nsukka, where he comes from.
He started his academic pursuit at Union Primary School, Nsukka, from where he moved on to St. Theresa College, also in Nsukka. For his first degree, he studied Business Management at the University of Nigeria, Nsukka. After which, he moved over to Lagos to obtain his LLB. To add to his portfolio, he obtained a Master's degree in International and Law Diplomacy at the University of Lagos and a doctorate from the Chartered Institute of Economics. He equally has an educational background in Theology.
Although there is no detailed information about his parents and siblings online, the actor once revealed that he comes from a family of lawyers. He shared a photo of himself and two of his sisters, who are also lawyers as well. In the caption he made for the picture, he mentioned that three of them, he and his two sisters, were handling the same case, and they were on the same side of the case. He also once described his mother as a fashionable and beautiful woman.
His Journey Through His Acting Career
Kenneth Okonkwo has been in the entertainment industry for about thirty years now. He started acting immediately after obtaining a degree in Law from the University of Lagos. Although he had no prior acting experience or training, the then 23-year-old graduate had talent that was apparently good enough to pull him up the ladder of the industry. In 1991, he made his debut with the soap opera "Ripples" in which he played Captain John Mark.
However, he was not noticed until he was featured in the blockbuster movie "Living in Bondage: Breaking Free" in 1992. He played the role of Andy Okeke, a young man who joined a secret cult and sacrificed his wife for riches but eventually paid the price. This character almost swallowed up his real name as he became known by it in most Nigerian homes as Andy Okeke.
Over the years, the talented actor has featured in several movies, including:
The Mad Prince
The Crime in Our Hearts
Deep into Poverty
Best Husband Ever
The Royal Dragon
My Decision
Rich Families
Dumebi the Dirty Girl
Another World
Wives on Strike: The Revolution, etc.
The versatile actor also has a political career, which he takes seriously. He has contested for two positions since he indicated an interest in politics. He contested for the seat of Enugu State governor, his state of origin, in 2018. Kenneth has also contested for the House of Representatives. Unfortunately, he lost both seats. Regardless of all of these, he still sees himself as a politician and is not discouraged in any way.
Kenneth Okonkwo Has Been Married Twice
Kenneth also has quite an interesting life outside the screen. He has been married twice. Asides from his professional achievements and accomplishments in the entertainment industry, the actor is also a proud father and husband. His love for his family is evident in the way he flaunts them on social media.
His First Marriage was with Ogechi Ezekiel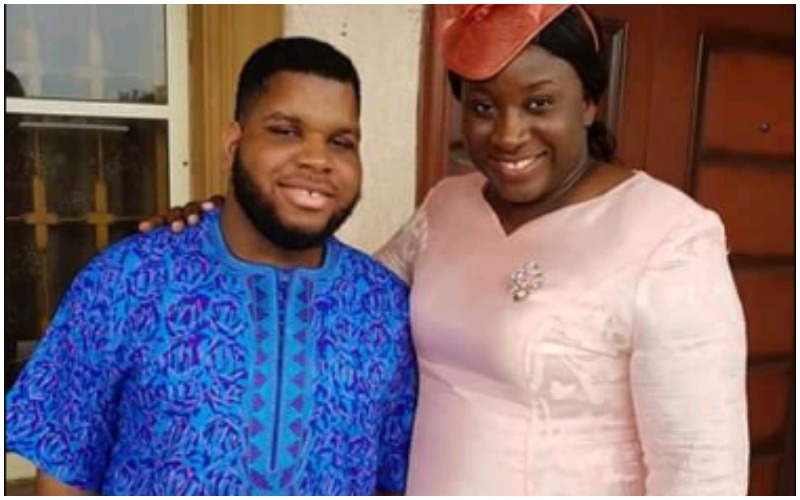 Kenneth and his first wife, Ogechi Ezekiel, got married in 2000, but the marriage did not last long as they divorced in 2002. Ogechi is the daughter of Pastor Ezekiel, then General Overseer of Christian Pentecostal Mission International. Their short-lived union was blessed with a son whose name was given as Ifeanyi.
Neither Kenneth nor Ogechi has revealed what truly transpired between them and why their marriage failed. But in an interview captured by Nigeriafilms, the actor stated that he doesn't support divorce, and the rumor that he married Ogechi because of her wealth and that of her parents was totally false. Also, when asked about a story on the internet that said his hot temper crashed his first marriage, Kenneth didn't give a direct answer. Instead, he inferred that if he was attacked violently by a woman, he would defend himself.
On the other hand, his son with Ogechi, Ifeanyi, has grown into a man, but details about him and what he is up to are hard to come by. On the other hand, his mother remained single and now serves as the lead pastor of Christian Pentecostal Mission International in South Africa. Beyond this, nothing else is known about her, her son, and if Kenneth still interacts with them.
Ifeoma Okonkwo is Kenneth Okonkwo's Second Wife
After his failed marriage with Ogechi Ezekiel, his mother decided to help him find love again. Since 2007, the entertainer has been married to Mrs. Ifeoma Okonkwo. It happened that about five years after his divorce, Kenneth's mother, who thought that he did not deserve to suffer in marriage because of his Christian virtues, took it upon herself to help him find a good girl for him to marry.
She spoke to him about Ifeoma, who was a homely girl from his place. She equally had a good reputation among other town people. After his mother's description of what sounded like his 'spec,' he decided to meet the girl in person. He arranged for them to meet, and after speaking with her, the rest became history. Their relationship continued to grow into what it is today. He made all of this revelation in an interview with Mercy Michael.
He Had His First Child with Ifeoma Okonkwo After 9 Years of Marriage
Kenneth Okonkwo has only one son with his current wife. After patiently waiting for nine years, the couple was eventually blessed with a son in 2016. Their child Kenechukwu Okonkwo was born on Saturday, the 6th of May, 2016, at the University of Maryland St. Joseph Medical Center, USA. Like his name says, Kenechukwu, which means Praise God, the child was a big reason for the couple to sing praises to God.
In a chat he had with Diamond Celebrities, the actor expressed his gratitude to God and thanked Him for fulfilling his promises. He equally extended his appreciation to all who stood by them and offered prayers on their behalf. The boy has continued to grow stronger, and he is currently 7 years old.