Majekodunmi Fasheke, also known as Majek Fashek, was a legendary Nigerian singer, songwriter, prophet, and guitarist. Notable as one of the pioneers of Nigerian reggae music, Fashek entered the limelight in 1988 following the release of his solo debut, Prisoner of Conscience. Since then, the anti-apartheid activist never looked back. Through his career, Fashek became a notable figure in Nigeria and beyond. Like most celebrities, Majek Fashek's life wasn't void of challenges as he battled drug addiction for a long time before his death in June 2020. Although he is no more, his legacy lives on through his music.
Quick Profile Of Majek Fashek
Name: Majek Fashek
Date of Birth: March 7th, 1963
Died: June 1, 2020; Aged: 57
Nationality: Nigerian
Place of Birth: Benin City, Edo State
Occupation: Singer, Songwriter, Guitarist, and Prophet
Spouse: 

Rita Fashek (m. ?–2015)

Children: 3, including Randy and Seun
Majek Fashek Was A Native Of Benin City, Edo State, Nigeria
He was born on March 7th, 1963, in Benin City Edo State, mid-western Nigeria, to an Edo mother (Grace Igodan) and a Yoruba father (Emmanuel Olatunji Fasheke), but he chooses to identify with his mother's Benin roots. However, he is from the Yoruba tribe. Various translation of his name includes "Rainmaker," "power of miracle," "high priest who does not lie." He claims to have been born with dreadlocks, which is a sacred hairstyle for Rastafarians.
After his parents separated, he remained in Benin City with his mother. Majek joined the choir at the Church of Our Lord (Aladura), where he learned how to play the trumpet and guitar; he also composed and wrote songs for the choir. His love and talent for music were evident even at that point in his life.
He was married to Rita Fashek, who inspired the song "Without You." She now resides in Jabose Boulevard, New York. They met at an Internship in Benin City, became friends, and over time fell in love. They were married for over thirty years before he started having issues with substance abuse and died on 1st June 2020 in New York City, United States. Rita was the backbone that supported him throughout his career since they met till he died. The union produced three children Randy, Seun, and the last, whose name is unknown. They divorced in 2005 after she got tired of his substance addiction problems. However, she stated that he was a loving man who loved her and their children unconditionally.
He Was One Of The Pioneers Of Reggae Music In Nigeria
Majek was first known by the stage name Rajesh Kanal before joining the group Jasix, which included Amos McRoy Gregg and Black Rice. The trio gained prominence in Nigerian Television Authority NTA Benin TV music show Panorama. In the 1980s, they toured with the Mandators. In 1987, Jasix disbanded, and he started a solo career. He signed with Tabansi Records and was now known as Majek Fashek.
His style of music is known as Kpangolo, which is a mix of various genres, including Reggae and Rock, his song "My Guitar" is an ode to his guitar, which infused Rock into his music. He released his debut album "Prisoner of Conscience," which included the hit track "Send Down the Rain." The song became the most popular song of the year and quickly earned him international fame.
Later in 1987, he won six Performing Musicians Association of Nigeria PMAN awards, including Album of the Year, Song of the Year, and Best Reggae Artist of the year. In 1989, he released his second album, I & I Experience, which featured the anti-apartheid songs "Free Africa" and "Free Mandela." After Tabansi Record disbanded in 1988, he signed to CBS Nigeria Records before proceeding to Island Record's Mango Imprint and released the Album Prisoner of Conscience Re-released. In 1991, he signed to Interscope Records and released the Spirit of Love album.
His other works include:
"Rainmaker" by Lightyear Entertainment (1997)
"Best of Majek Fashek" by Flame Tree (1997)
"Little Patience" by Coral Music Group (2005)
Majek was a prolific reggae artist who performed with legendary stars like Snoop Dogg, Tracy Chapman, Beyonce, Michael Jackson, and Jimmy Cliff. Reggae was a conscious revolutionary type of music used to fight oppression and subjugation, express pain, anger, address political ills, and call politicians to order. Things he often did well.
Majek Fashek Struggled With Substance Abuse For A Long Time
From 2015 till his death on 1st June 2020, Majek was in and out of hospitals and rehabilitation centers. His addiction to drugs and alcoholism got the best of him. It broke him and turned him into something unimaginable compared to who he once was. He was deported from the United States in 2015 and was seen roaming the streets of Lagos looking shaggy, haggard, and unkempt. He was literally looking for petty change to buy food and drinks; a national hero turned beggar was his unfortunate predicament.
Monica Omorodion, a backup singer with Majek, saw him aimlessly roaming the streets, took pity on him, and organized a GoFundMe Campaign to raise funds to get Majek off the streets. With the intervention of well-meaning Nigerians like Ayiri Emami, Monica, his wife Rita, and son Randy, Majek was taken to a rehabilitation center in Abuja, where he was cleaned up.
Against the wish of his rehabilitators, he was released and sent back to Lagos to continue his music career. Sadly, he ended up in the same pit of shame he was rescued from. His addiction got worst, and there seemed to be no redemption forthcoming.
His long-time friends Charles Novia and Ebuka narrated how in April 2018, Majek staggered to the stage of Eko Le Meridian Hotel Lagos oozing of alcohol; he misbehaved and trashed everybody. His musical career had already died a natural death, but his legacy lived on. Majek's wife reported that he started depending on substances after the birth of their second son Seun. She explained how he would go out and return stoned, wasted, and erratic.
His Addiction Led To Several Issues That Resulted To His Death In 2020
His addiction led to several health issues, including esophageal cancer and liver problem diagnosed in the United States. He was rumored to have died in September 2019, but his manager dismissed the rumor. He was actually very ill and hospitalized at Queens Hospital, London; his manager requested financial help, a call that Billionaire philanthropist Femi Otedola heard and obliged.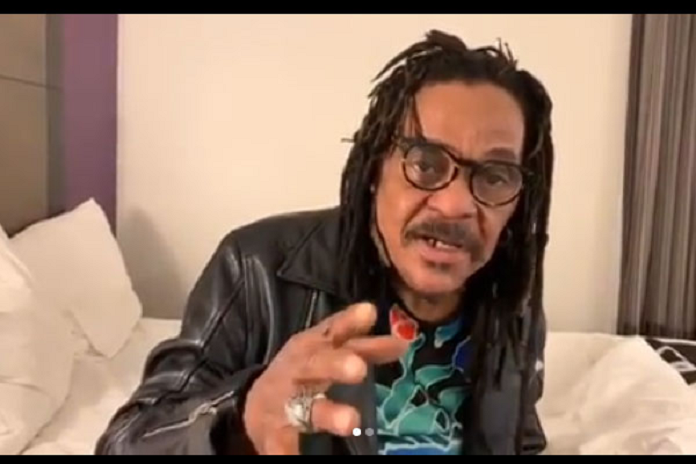 After treatment, he was discharged in January 2020 before being admitted to a hospital in New York, where he eventually kicked the bucket. His death was confirmed by his manager Omenka Uzoma Day on his Instagram page. The cause of his death is unknown, but he was under the care of his first son Randy in New York when he passed away. Majek died in his sleep on 1st June 2020, aged 57, leaving behind his long-time wife Rita and three children.
After his death, Majek Fashek was immortalized with the track "Walk without you" by his manager Uzoma. When compared with the likes of Ras Kimono, Eric Shurman et cetera, Majekwas outstanding. He dominated America and the Caribbean with his new style of Reggae infused with Rock. The Sahel Drought of 1970 to the 1980s led to the deaths of hundreds of thousands of people. After his "send down the rain" track, it rained and ended the drought. He won the heart of Nigerians and was called the "rainmaker." He was outstanding and creative, which gave him an edge over other reggae artists of his time. Majek broke several barriers and won numerous music laurels within and outside Africa.