2Baba (born Innocent Ujah Idibia) is a renowned 48 year-old Nigerian musician, record producer, activist, entrepreneur, humanitarian, and philanthropist with an estimated net worth of $22 million. He is best known for his hit song African Queen.
2Baba (or 2Face) is a household name not just in Nigeria but in the whole of Africa. The hit maker and record producer is one of the most successful Nigerian musicians and his impressive net worth proves it. It goes without saying that he owes his great fortune to his music career. However, he has other revenue streams ranging from businesses to endorsements, book sales, and so on.
The African Queen crooner has consistently been ranked as one of the best African musicians of all time. He has so far released seven studio albums with so many hit singles that have gained massive airplay and brought him legendary status. Also a human rights activist and philanthropist, 2face has a high interest in giving back to society. He does this through his foundation which reaches out to the poor and less privileged in society.
Summary of 2Baba Biography
Full Name: Innocent Ujah Idibia
Nickname: 2face, Tuface, 2Baba
Gender: Male
Date of Birth: 18th September 1975
Place of Birth: Plateau state
2Baba's Age: 48 years old
Ethnicity: Idoma
State of Origin: Benue state
Nationality: Nigeria
Zodiac Sign: Virgo
Sexual Orientation: Straight
Religion: Christian
Education: Obafemi Awolowo University, Institute of Management and Technology (IMT) Enugu
Marital Status: Married (2012)
2Baba Wife: Annie Macaulay-Idibia
Children: Isabella, Nino, Rose, Olivia, Justin, Innocent, and Zii
2face Parents: Micheal and Rose Idibia
Siblings: Hyacinth, Stephen, and Oche
Occupation: Singer, songwriter
2Face Net Worth: $22 million
Famous for: Music
2Face Instagram: Official2baba
Twitter: official2baba
2Baba is an Idoma Man From Benue State
2Baba was born Innocent Ujah Idibia on the 18th day of September 1975 to the family of late Mr. Micheal Idibia and Rose Idibia in Jos, Plateau state. He is the second son out of four boys (Hyacinth, Stephen, and Oche) born to his parents. 2Face grew up with his parents alongside three siblings in Jos.
The Idibia family however originally hails from Okpokwu local government area in the southern part of Benue State, Nigeria. They belong to the Idoma ethnic group.
Tuface came from a Christian middle-class family background where his father worked as a civil servant with Benue State's Ministry of Agriculture. According to the music star, his father never at any point discouraged him from pursuing his passion for music just like most Nigerian parents do. Sadly, Mr. Micheal Idibia died on 18th August 2014 after a battle with cancer.
The musician's younger brothers, Stephen and Oche, are both pursuing a career in music, trying to follow in their brother's footsteps. Nothing much is known about them or the eldest son in the family who is not in the limelight.
He is a University Dropout
Growing up in Jos, 2Baba enrolled at Mount Saint Gabriel's Secondary School Makurdi, Benue State, where he obtained his senior school certificate in 1992. After that, he got admitted to the University of Jos in 1994 where he studied a one-year pre-degree program. In 1995, he proceeded to the Institute of Management & Technology (IMT) Enugu State to undertake a preliminary National Diploma course in business administration and management.
2Baba did not finish his two-year course in IMT before he left to pursue his career in music. As a result of this, among other factors, he has received criticism. It is said that he speaks bad English because he did not complete his education. The Nigerian music legend once made a Twitter post asking why Africans look down on people who cannot speak proper English or do not have an accent.
He went on to call for the development of pidgin English to become an official language. He said that considering the fact that there are several different languages in the country and people of different tribes speak pidgin without struggle, it should be made one of the official languages of Nigeria. Regardless of all that, 2Baba was able to go on to excel in his career, singing in both pidgin and English.
How 2Baba's Net Worth of $22 Million Accrued
Even though 2face Idibia made his fortune from multiple sources, he gets a lion's share of his total revenue from music. Apart from selling his music (digitally and physically), 2Baba makes money from other avenues such as endorsements, book sales, and performing in concerts. Anyone who thinks about booking the music legend for a show should be ready to part ways with more than 5 million Naira.
He Started His Music Career at IMT with Plantashun Boyz
While at IMT Enugu, 2Face was the man around town performing at virtually every show and party in school and even in other schools within the Enugu Metropolis. He also made money from composing and singing jingles at the GB Fan Club at the Enugu State Broadcasting Services (ESBS).
The aspiring musician would eventually drop out of school and head to Lagos where he met rapper Blackface (Ahmedu Augustine Obiabo) and singer Faze (Chibuzor Oji). It was during this time in Lagos that the three formed the Plantashun Boyz band. The trio released two successful albums, Body & Soul (2000) and Sold Out (2003) under Nelson Brown's music label, Dove Records.
Unfortunately, the band would go on to separate in 2004 following a disagreement between Faze and Tuface. Each member of the group then went solo. Blackface accused 2face of performing songs written by both of them and not remitting any revenue to him. Eventually, the matter was laid to rest after a long media and legal battle. They came back in 2017 and recorded their last album titled Plan B.
TuFace Became a Star After Embarking on a Solo Career in 2014
Following the disbandment of Plantashun Boyz, all band members went their way and started their solo careers. As a solo act, 2face has released a total of seven albums that sold millions of copies on a global scale.
1. Face 2 Face (2004)
On 15th May 2004, just after Plantashun Boiz disbanded, 2Face dropped his debut solo album titled Face 2 Face. The album was produced by Kennis Music. Thanks to its lead song, African Queen, Face 2 Face became a major hit, selling millions of copies.
African Queen gave Tuface an international audience. The song has remained a hit to date and still plays on many TV programs and radio shows. The music video on YouTube has over 16 million views. Moreover, it later became a soundtrack for the internationally released American film, Phat Girlz.
Other songs in the album include Ole (Thief) ft Freestyle, Right Here, U No Holy Pass, Thank You Lord, etc.
2. Grass 2 Grace (2006)
His second album, Grass 2 Grace came two years later in 2006. The album was also produced under the Kennis Music Record Label by Kenny Ogungbe and comprises thirteen songs. Some of the songs in the album that made major hits are One Love, No Shaking, See me son, 4 Instance, True Love. 
3. The Unstoppable (2009)
2Baba left Kennis Music after the release of his second solo album and set up his own record label known as Hypertek Entertainment. His third album titled The Unstoppable was now released under his own record label and the executive producers are J Sleek, Mic Tunes, Jiggy Jegg, and Spanky alongside a track produced by R.Kelly.
Like his previous efforts, the album was also quite successful, with the track Enter the Place featuring Sound Sultan as its lead single.
4. The Unstoppable International Edition (2010)
In 2010, 2Baba released an international edition of The Unstoppable. This feat made him the first Nigerian singer to have an appropriately priced international album. The album won two consecutive awards at the 2010 SoundCity Music Video Awards. It also won the Best R&B/Pop Album at the Headies and the Album of the Year in 2011.
Regarded as his fourth album, the edition came with hit tracks Only Me and Implication which went ahead to win several awards.
5. Away & Beyond (2012)
Away & Beyond was released by the music star as his fifth studio album on 30th April 2012 under Hypertek Entertainment. The album turned out very successful and its lead single My Rainbow became very popular.
6. The Ascension (2014)
The legendary Nigerian musician released his sixth studio album on the 21st July 2014 as a follow-up to the previous album. It was produced under Hypertek Digital and 960 Music Group and featured guest appearances from artists like Dammy Krane, Vector, Sir Victor Uwaifo, Kim Almarcha, Iceberg Slim, Rock Steady, Montano, Bridget Kelly, and others.
The Ascension has four successful hit tracks, Ife Dinma, Let Somebody Love You, Go, and Diaspora Woman. The project debuted on the Billboard World Album chart at number 12, making him the first Nigerian artist to make such an achievement.
7. Warriors (2020)
Warriors is Tuface's latest album released in February 2020. It took 2Baba 6 years to release another album after The Ascension. The 13-track album featured collaboration from several music icons such as Burna Boy, Wizkid, Olamide, Peruzzi, and Tiwa Savage.
Some of the songs in the album include We Must Groove, Important, Carry Dey Go, Kitty Kat, Love me, Love me, Ginger, and others
List of 2Baba's Idibia Popular Songs
Enter the place
Take it back
Outside
Can't do without you
Pako
Excuse Me Sister
Power of Naija (Ft Cobhams & Omawunmi)
Rain Drops
Steady Steady
Gaga shuffle
Dance in the Rain
Dance Floor (Ft Sarkodie & Cabo Snoop)
Omo T'osan
Spell Bound
Freedom is Life
Not A Surpises
Vote Not Fight
Holy Holy
Chemical Reaction
Close To Where You Are
Holiday
Aproko
Jeje
Spiritual Healing
Mr. Senator
True Love
Diaspora Woman
Awards and Recognitions Received by 2Baba
2face Idibia has received numerous awards and recognitions for his successful music career. Below are some of the most notable ones.
Amen Awards
Best New Act Male, 2004
Best Video, 2004
Song of the Year, 2004
Best Male Vocalist, 2004
MTV Africa Music Awards
Best R&B, 2009
Best Male, 2009
Artist of the Year, 2010
Best Video for Enter the Place, 2009
Best Male, 2010
Channel O Music Video Awards
Best Male Video, 2005
Best African Act, 2005
Most Gifted African West Video for "Only Me", 2011
Best Male Video, 2005
Best African Video of the year, 2005
Most Gifted Video of the Year for "Only Me", 2011
Nigeria Entertainment Awards New York
Song of the year for "African Queen", 2004
Best Album of the year, 2004
Best Hip-Hop and R&B Artiste, 2004
Africa Break Through Artist of the Year, 2006
The Headies
Artist of the year 2011 Hip-Hop World Awards
Best R'n'B / Pop album 2011 Hip-Hop World Awards
Best R&B Single – Let Somebody Love You
Album of the year 2011 Hip-Hop World Awards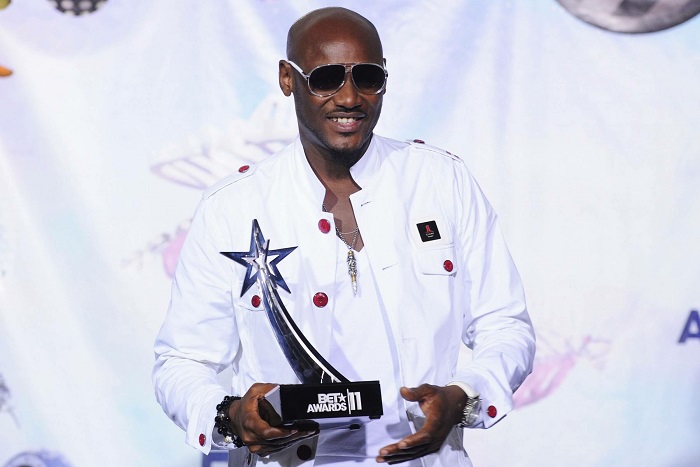 Sound City Awards
Best Western, 2010
Best Pop Video for "Implication", 2010
Ben TV Awards
Album of the year – Ascension, 2014
Best International Collaboration – Rainbow ft. T-Pain, 2014
MOBO Awards
Nominated Best African Act, 2005
Best African Act, 2007
Other Awards
Best R'n'B / Pop album 2008 Hip-Hop World Awards
Outstanding Contribution to the Entertainment Industry 2004 Award for Excellence
Best Male Vocalist 2002 Affinity Awards
Musician of the Year 2004 City People Awards for Excellence
Best African Act 2005 Kora Awards
The Outstanding Musician of the Year 2005 Black Heritage Awards for Excellence
Best African Act 2005 Kora Awards
Best Musical Artiste 2005 Afro Nollywood Award
African Song of The Year (Non-Ghanaian) 2005 Ghana Music Awards
Special Recognition Award 2005 Hip Hop World Awards
Best Song of The Year 2005 G.C.E International Awards
Best African Act 2005 MTV Europe Music Awards
Musician of The Year 2006 The Future Awards
Song of the Decade 2007 Nigerian Music Awards
Best Album of the Year 2007 Nigeria Entertainment Awards New York
Best selling Nigerian Artist 2008 World Music Awards, Monaco, Spain
Music of the Year 2004 Excellence Recognition Awards
Best African Act 2008 Australian African Awards
Best International Act: Africa BET Awards of 2011
New Champions For An Enduring Culture 2011 16th edition of the Annual THISDAY Awards presented by former U.S. President Bill Clinton and Governor Arnold Schwarzenegger
Other Means Through Which 2Baba Makes Money
2Face Idibia has good business acumen and he keeps expanding it through various endeavors. Alongside music, here are some other means through which the music star has carved a niche for himself
Hypertek Digital
2Baba started his career with Kennis Music label before he launched his own record label Hypertek Digital in 2006. The record label saw his departure from Kennis Music and it subsequently became a subsidiary of 960 Music Group. Hypertek Digital is home to recording artists like Rock Steady, Dammy Krane, and Victor Uwaifo.
Real Estate
The Nigerian music maker is also into real estate. He keeps an open eye on nice properties and acquires them on the go. According to the singer, he is not grossly into the real estate business but does it with ease. However he goes with it, we believe it sure adds decent sums to his bank account.
Rumour Night Club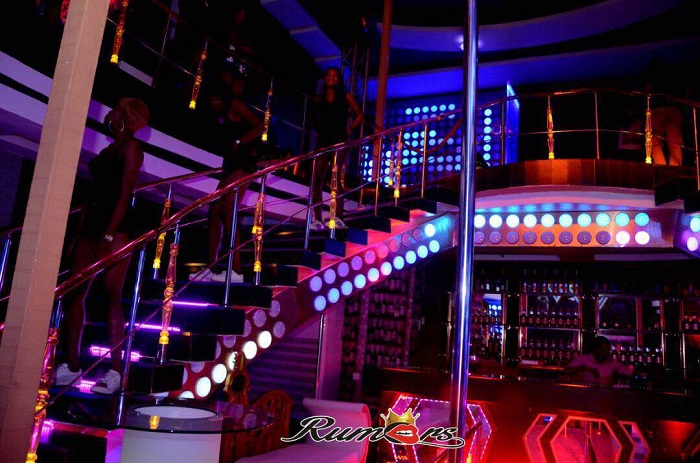 Recall that 2Baba started his early career in Lagos. During this period, he was based in FESTAC town but moved to Island after he began to record massive success in his music career. However, the music star actually left an imprint at FESTAC town in the form of a nightclub dubbed Rumour Night Club. Today, Rumour Night Club has grown to become one of the biggest wave-making nightclubs in Lagos State.
Book Sales
The Enter the Place singer has a good business head on his shoulders and never fails to expand his business acumen. In addition to being a singer amongst other things, 2face Idibia has proficiency in writing. He published his first book titled A Very Good Bad Guy in 2015, and from the look of things, it seems the publication is selling fast.
Concerts
The Nigerian celebrity musician does not just make money from singing and producing music, he makes a good living from performing at concerts all over the country and beyond. It is said that he is paid upwards of 5 million Naira at any show he goes to. Being the founder of Buckwyld and Breathless Concert, 2Baba has organized a number of these shows himself.
To celebrate his 40th birthday in a grand style, the music star organized an All-Star Tribute Concert stylized as #FORTYfied. The event, which was also in commemoration of his influence in the Nigerian entertainment industry, was held on the 20th of September 2015 at Eko Hotels and Suites Convention Centre, Lagos.
The concert was sponsored by Star Lager Beer and hosted by Nigerian famous comedian Basketmouth. It featured performances from notable singers and had in attendance many Nigerian A-list artists such as Timaya, Wizkid, Patoranking, Burna Boy, D'banj, Vector the Viper, Seyi Shay, Wande Coal, and other important dignitaries.
Endorsements Deals
2Baba started securing mouthwatering deals since he hit the limelight. In 2005, Guinness signed him for an endorsement deal that was reportedly worth N20 million. In 2009, in recognition of his immense contribution to the Nigerian youth development, 2baba was made the International Youth Ambassador for Peace Summit and presented with the Nigeria Youth Merit Award.
Also in 2009, NAFDAC unveiled 2face as her brand ambassador. He released the track Man Unkind in a bid to create awareness of the menace of fake drugs and sub-standard food products in the country. In August 2016, Italian alcoholic liqueur Campari appointed him their official Brand Ambassador.
That's not all, 2Face Idibia in 2019 became the brand ambassador of a real estate firm, Pazino Homes & Gardens. He also has other lucrative endorsement deals with high-ranking companies such as Airtel, Globacom telecommunication, Oraimo, and Nigerian Breweries.
Philanthropy and Social Activism
Tuface Idibia has a strong passion for charitable activities. His love for philanthropy made him establish an NGO originally known as 2Face Idibia Reach-Out Foundation. However, it underwent a name change in 2016 and is now known as 2Baba Foundation. With the aim to serve humanity, Idibia's foundation focuses its attention on nation-building, accountability in governance, and peaceful co-existence. It has quite positively affected the lives of many people in the country through its activities.
In January 2017, Tuface started partnering with United Nations High Commissioner for Refugees (UNHCR) and made a donation of US$11,000 for her IDPs and returnees. In June the same year, he dropped an IDP-awareness song titled Hold my Hand in order to mark World Refugee Day and also promised 60% of the song's proceeds to the IDP cause.
2Baba was later appointed a Regional Goodwill Ambassador of the United Nations High Commission for Refugees (UNCHR) on 23rd June 2020. Ever since then, he has collaborated with other NGOs such as Youngstars Foundation, The Nigerian Red Cross Society, and Enough is Enough (EiE) among others.
Furthermore, 2Baba has since been lending his voice to the oppressed and less privileged via his celebrity status. He creates awareness on the issues of the government in Nigeria and in Africa at large. In April 2021, he expressed displeasure to the Nigeria Centre for Disease Control for frustrating travelers by charging a mandatory fee of about N50,000 for the Covid 19 arrival test. Many travelers ended up being stranded because the NCDC's portal was not able to deliver the QR codes that are needed for the test.
How He Spends His Wealth
The 48-year-old millionaire musician does not only work hard to earn his keep but also spends big and lavishes on many luxuries. He reportedly owns a five-bedroom duplex at Richmond Gate Estate and another luxury Haven Home on Banana Island. The two buildings are estimated to be worth over worth N400 Million. The luxurious five-bedroom duplex is said to have a gym, mini studio, two sitting rooms, and terrace, among other personalized components.
2Baba has a garage filled with exotic automobiles. Even though he is someone who is not used to sharing a lot of things on social media, we know that he has a lot. Tuface also reportedly has other properties in Festac, Ikeja, and Lagos Island.