Fela Anikulapo Kuti, whose birth name was Olufela Olusegun Oludotun Ransome-Kuti, and popularly known as Fela Kuti, was a Nigerian musician, instrumentalist, Pan Africanist, bandleader, political activist, and composer. His style of music was afrobeat, an African music genre that combines funk and jazz with traditional Yoruba. Fela Kuti got married to 27 women during his lifetime and had seven children. He divorced most of them shortly after marriage, and a few stuck by him. However, since his death, Fela Kuti's seven children have been carrying on his legacy in diverse fields as musicians and entertainers, making waves in the Nigerian entertainment industry.
How Fela Kuti Married 27 Wives
Kuti was a sex addict who loved women and wanted to have plenty of them. He said that he does not want to lack sex. His take on polygamy is that he preferred to have sexual intercourse with his wives against messing around outside his home. He condemned the white man who marries one wife and ends up looking for another woman outside his marriage. For him, he prefers to marry them and do whatever he likes with them. He accepted polygamy wholeheartedly and saw it as a means to curb infidelity in marriage. As an offspring of a human rights activist, Funmilayo Ransome Kuti, he was a feminist whose intentions were misunderstood.
He got married to Remi while studying Music at the Trinity College of Music, London, in 1960. However, in 1987, he wedded 27 women in a traditional wedding ceremony held in the Kalakuta Republic, Lagos State. This marriage was to save the women the shame of being called prostitutes, drug addicts and make them proud women in society. He had good intentions for them, but his other addiction to marijuana could not allow him to treat all of them the way he wished.
After his marriage, he divorced some of his wives and randomly chose a few of them to continue the marriage with. Kuti dismissed some of the women he married based on adultery, and some others were taken away by their parents. He maltreated them, but the remaining few loved and cherished him, anyway. They had one reason or the other to stay back; some loved the freedom they received with him, others loved the way he had helped them in the past, while some others felt secured around him.
However, Fela's views on marriage and polygamy changed in the long run. After his experience as a polygamous man, the instrumentalist discovered some things about women that bored him. He said that women are jealous of themselves and are never satisfied. Consequently, he divorced most of them and was left with a few. Those who stayed behind have one good thing or the other to say about him, the same thing applies to his children. They all adored him.
Meet Fela Kuti's Children
The music legend gave birth to seven children, most of whom followed his footsteps in the music industry. Fela Kuti's seven children are from 4 different mothers. His seven children include three boys and four girls – Yeni, Sola, Femi, Kunle, Shalewa, Motunrayo, and Seun. Learn more about them below.
Omoyeni Anikulapo-Kuti
Date of Birth: 24th May 1961
Age: 61
Profession: Dancer
Marital Status: Divorced
children: 1
Yeni is the first child of the late musician. Born Omoyeni Anikulapo Kuti in London on 24th May 1961, Yeni is the first and the oldest of Fela's seven children. Her mother was Fela's first wife, Remilekun Anikulapo Kuti, who was a British citizen. She is a dancer, musician, and pioneer of the Felaberation. Felabration is a music festival used to remember her father and his contributions to music. In an interview with sunnewsonline, Yeni revealed that she started fending for herself at a young age. After Fela's Kalakuta Republic was burned down, her mother rented a house where they lived and Yeni started working to help out with rent and other things.
The 61-year-old dancer attended her primary and secondary school education in Nigeria. She attended the Nigerian Institute of Journalism and graduated with a diploma in Journalism. However, she did not practice her profession as a journalist; rather, she became a fashion designer, which she recently dropped for the entertainment industry. She Joined her brother – Femi's band and currently manages the New African Shrine with him. As the first fruit of a controversial musician, she follows in her father's footsteps. After her father's death, she worked hard to preserve his legacy, which is why she pioneered the Felaberation. Yeni was once married to Femi Segun, and their union was blessed with a child, Rolari Segun. The marriage later ended in a divorce.
Olufela Olufemi Anikulapo-Kuti
Date of Birth: 16th June 1962
Age: 60
Profession: Afrobeats Musician
Marital Status: Divorced
children: 9
Olufela Olufemi Anikulapo Kuti is the second child and first son of the instrumentalist. Just like his father, he is also a musician and an instrumentalist. He was born in London on 16th June 1962 to Remilekun Anikulapo Kuti, but he grew up in Lagos State, Nigeria. Shortly after his birth, his mother moved out from his father's house to live and raise her children alone. But when the star grew up, he moved in with his father because of his love for music. Femi attended Baptist Academy and Igbobi College.
The 60-year-old musician has continued to uphold his father's musical legacy. As a young boy who had looked up to his father as a role model, he started playing the saxophone when he was 15 years old. Femi began his music career with his father's band, Egypt 80. However, after being with the band for eight years, he freed himself from his father's shadow and started his own band, Positive Force, in 1986.
As a musician, he has recorded many albums, including No Cause for Alarm, Shoki Shoki, Fight to Win, among many others. Femi has also traveled far and wide for musical performances and has featured in other musicians' albums. Currently, Femi has made a name and fame in the music industry, and he has worked hard to see that his father's legacy is preserved.
Beyond his career, Femi has nine children: 6 biological and three adopted. Omrinmade, popularly known as Made, is one of his sons who is also a musician. Femi revealed in an interview that he loves women and cannot be faithful to one. He questions the world's knowledge of marriage being blessed by a priest. He has the same view as his sister, Yeni, who believes that marriage is subject to his own approval and acknowledgment. Yeni looked up to his father in many things, including polygamy. He was once married but now divorced. As a result of his belief, he has so many women in his life, and some of them are the mothers of his children.
Even though he is polygamous like his father, he said he doesn't know why his father married many women in one of his interviews. He may be like the father career-wise and in polygamy, but he still wonders why his father married so many women. As a father, he reveals that he will never force his opinion and belief on his children. He is polygamous like his father, but his son chose to be with one wife and wishes to bless his marriage in a church.
Olusola Anikulapo-Kuti
Date of Birth: 1963
Age:  Died at 34
Profession: Dancer
Marital Status: NA
children: NA
The second daughter and the third child born to Fela Kuti by Remi, Sola could not live long. She was born in 1963 and died in 1997, the same year her father died. Her death was a result of a wrong diagnosis. Like her sister, Yeni, she was also a dancer, and she danced with her father's band.
Kunle Anikulapo-Kuti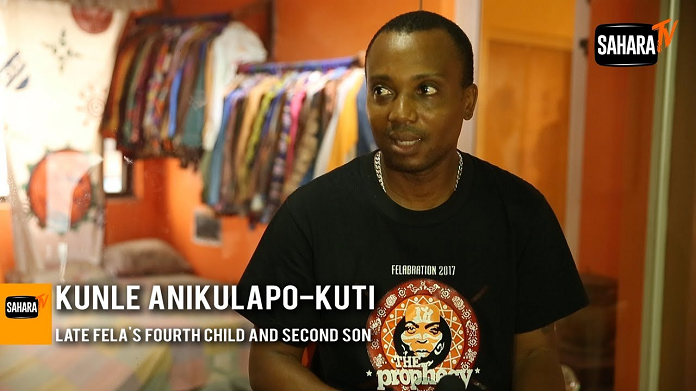 Date of Birth: 1971
Age: 52
Profession: Music producer, singer, manager
Marital Status: Married
children: 2
Kunle is Fela's Fourth child and second son. He was born in 1971 in Lagos State, Nigeria. For his primary education, he attended Adrao International School, Victoria Island, while he attended Government College, Victoria Island, Lagos, for his secondary education. He is a graduate of Lexington College, United Kingdom. Just like his other siblings, Kunle is also a singer and a music producer.
He is currently the manager of Kalakuta Museum. The museum was built to preserve Fela's works and the valuables he left behind. It was opened in 2012 with the initiative of Yeni Kuti and architect Theo Lawson. It is also a source of tourist attraction to the state. Unlike his brothers, Kunle is quiet and not so famous. To Kunle, Fela was a messiah sent to deliver his message in Africa through his music. Beyond his musical exploits, Kunle is married with two sons.
Omoshalewa Anikulapo-Kuti
Date of Birth: 14th October 1976
Age: 46
Profession: Lawyer, disc jockey (DJ), entrepreneur
Marital Status: NA
children: NA
Omosalewa Anikulapo Kuti is the fifth child and second daughter of Fela. She was born on 14th October 1976 in Lagos State. Her mother is Olufunmilayo Hastrup Anikulapo Kuti. Salewa studied Mass Communication at Ogun State Polytechnic, which is now called Moshood Abiola Polytechnic. Furthermore, she studied law at the University of Lagos and went to music school where she studied Music Production and Jockey, after which she opened her own music studio, Shaarks Records.
She is a lawyer who found love and purpose in the entertainment industry. She currently works as a DJ and is popularly knowns as DJ Shaarks. Salewa also shares the same love for music as her father and siblings, but she is not a singer like them; rather, she enjoys listening to music. She is so passionate about music and believes that music is not only meant for entertainment but also passes messages that address the issues in society. It is important to note that she believes that she also upholds her father's image through her career as a DJ.
Motunrayo Anikulapo-Kuti
Date of Birth: 5th January 1980
Age: 43
Profession: Dancer
Marital Status: NA
children: 1
Motunrayo was born in 1980. Her mother, Damiregba, was one of the 27 women who got married to Fela in 1978. Like her siblings, she loves music and is a dancer, too. She has a daughter whose name is Ifeniola. Motun is the CEO of the record label, Ifeniomous Entertainment, a name she coined from her daughter's name. She loves music like her siblings but does not sing; her interest is in the intelligence contained in the song and not just the rhythm. Moreover, Motun is a music promoter and an entertainment enthusiast.
Oluseun Anikulapo-Kuti
Date of Birth: 11th January 1983
Age: 40
Profession: Musician
Marital Status: Married
children: 1
Oluseun Anikulapo Kuti was born on 11th January 1983. His mother is Fehintola Kayode Anikulapo Kuti, a dancer in Fela's band and one of the women Fela married in 1978. Just like his other siblings, Seun loves music and is a musician. The musician joined the Egypt 80, his father's band, at the tender age of eight. Interestingly, Seun became the bandleader after his father's death, as was instructed by his father. Fela trusted him to keep the band going when he is no more, which he did and is still doing to date. The band released its first album with Seun as their leader in 2008 and it's titled Many Things. Like his siblings, Seun believes that music serves the purpose of motivating people and not just entertaining them. He says that music should not be mere lyrics and rhythm but a meaningful and motivating work of art.
The 40-year-old musician has a girlfriend, Yetunde George Ademiluyi, and the duo has a child named Ifafunmike Adara Anikulapo Kuti. The child was born on 16th December 2013. Seun has lived together with his girlfriend for 15 years before thinking about marriage. Like his brother, Femi, Seun had a child without getting married officially, but he broke the chain in November 2020 when he married his long-time lover.
Who's The Most Famous Among Fela Kuti's Male Children?
One thing about Fela Kuti's children is that they all love and cherish their father, no matter what people think or say to them. They see their father as a god and worship him, especially his music. Again, all his children are into music and the entertainment industry in one way or another, and they all love his music. They have participated in his band at some point in their lives. To them, afrobeat music rocks and they contribute to preserving their father's legacy.
The two sons, Femi and Seun, are alike in some ways: they are both afrobeat singers, they play instruments, and they are the most famous of the three sons of Fela Kuti. Femi and Seun are both rebellious singers like their father. Both of them joined their father's band at an early age and developed a love for music from their father's style of music. Femi and Seun are political like their father. In contrast, Kunle is the quiet one and is not as famous as his brothers.
Like there are similarities between the two brothers, there are also differences. While the first son, Femi, was supposed to take over the leadership of his father's band after his demise, he was more interested in his own band and fame. He learned from Fela but continued with his own band. At the same time, Seun learned and trained in their father's band and accepted to take over the band even at an early age. On the relationship front, Femi is polygamous in nature, while Seun isn't.
Overall, fame is bought by one's efforts; it is earned and not awarded. One's judgment on the most famous is subject to their opinion. Therefore, Fela's sons are all famous in their own rights. However, judging by their achievements, it is safe to say that Femi is the most famous, followed by Seun and then Kunle.