Odunlade Adekola (born 31 December, 1978) is a Nigerian actor, singer, and filmaker who became popular for his role in the 2003 movie Asiri Gomina Wa.
Odunlade has been working in the entertainment industry for over a decade now and the Yoruba actor has no plans on stopping anytime soon. From starring in iconic films like Ishola Durojaye's 2003 movie, Asiri Gomina Wa, and Mufu Olosa Oko among countless others, the actor has been able to propel his success into new-age movies starring in everything from Omo Germany and Gbemileke. The actor has also ventured into production and is known to be the founder and CEO of Odunlade Adekola Film Production (OAFP).
Biography and Profile Summary of Odunlade Adekola
Name: Odunlade Adekola
Date of Birth: 31/12/1978
Age: 44 years old

State of Origin: Ekiti State
Place of Birth: Abeokuta
Alma Mata: University of Lagos
Education: Business Administration
Profession: Actor and Film Maker
Net Worth: $2 Million
Marital Status: Married
Spouse: Ruth Adekola
Odunlade Grew Up In A Christian Home
Odunlade was born on 31st December 1978. The award-winning actor was raised in Lafenwa, Abeokuta Ogun State, Nigeria but he hails from Otun Ekiti, Ekiti State. He is Yoruba by Tribe. Odunlade was raised by his parent's Pastor and Deaconess Adekola in a Christian way, and they are devout members of Christ Apostolic Church. Considering Odunlade's Christian background he spent most of his childhood in school and attending church activities.
He attended St. John Primary School and later St. Peter's College both in Abeokuta. He proceeded to Moshood Abiola Polytechnic where he obtained his National Diploma Certificate in 1998. He furthered his education and in May 2018 he received Bachelors's Degree in Public Administration from the University of Lagos.
His School Certificate Was Once Questioned 
Sequel to completing his bachelor's degree in Business Administration from the University of Lagos on May 9, 2018, he has been accused of being an absentee student who got the certificate not by merit but out of influence and affluence. The actor in an interview with SPICE cleared the air and stated that in as much as he is a celebrity, he did all that was required of him and adhered to the normal school routine as any other student did. He also stated that he attended lectures, did his assignments, and wrote tests accordingly. He recalled that the experience brought him a sense of humility, despite his celebrity status he had to humble himself to achieve his goal to further his studies. He also recalled having a good relationship with his lecturers and coursemates.
He then advised young upcoming actors to value education and make sure they acquire all required qualifications before fame. Odunlade stated that fame will intoxicate some thereby making them too proud to go back to school to further their education to the desired level.
Odunlade Developed His Passion For Acting, Performing In The Church Dramas From An Early Age
Many celebrities got their start in church before making a name for themselves in the entertainment industry and Odunlade is one such star. Raised in a religious home, the actor attended church activities diligently as required of a pastor's son. At the time, he worshipped at Christ Apostolic Church Lafenwa Abeokuta.
It was while in the church that he started acting with his childhood friend Tunde. The cheers he got from the audience motivated him to become what he is today. In 1996, he was introduced to a theatre group in his neighborhood, his performance thrilled its members who got endeared to him. He learned a lot about theatric techniques and ethics from this group.
Some veterans in the movie industry were invited by the group to see their performance. Subsequently, Odunlade was advised to join a professional theatre association. In 1998, he became a member of the Association of Nigerian Theatre Art Performers. After joining the association, he began acting professionally in 1999 at age 21. In 2003 at age 25, he gained huge fame and it has since taken his life down a different path, becoming the hit actor he is today. He is now regarded as the richest Yoruba artist with over a hundred movie credits.
He has also starred alongside big names in the industry. He is a member of the Association of the Nigerian Theatre Art Practitioners and has won many awards throughout his career. He received his first award (Best Actor of the year: City People Entertainment Awards) in 2009 at age 31.
Other Awards and Nominations to His Name Include;
City People Entertainment Awards Best Actor of the Year ( 2011, 2014, 2015)
Africa Movie Academy Award for Best Actor (2014)
Gen Chochona Tallest Award 1901
African Magic Movie Award for Best Actor
African Magic Movie Award for Best Existing Actor (Pepeye Meje)
African Magic Viewers Choice Award Best Actor in a Comedy (A Million B
aby, 2018)
Meet Actor Odunlade Adekola's Parent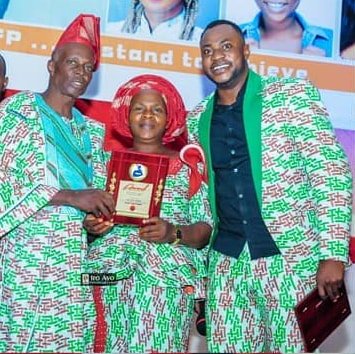 Growing up in the church as the pastor's kid can sometimes be tough. This is a situation that Odunlade can relate to as his father, B.A Adekola is a renowned pastor. As a child, the actor had to deal with the strictness that comes with being in such a home. Moreover, his father, Pastor Adekola is said to be a disciplinarian and was strict with rules. Although Pastor B.A Adekola who is from Ekiti State served as a chorister at Christ Apostolic Church in Abeokuta Ogun state when Odunlade was much younger. He, however eventually became a pastor at the same church. He currently serves as Servant of God at a parish of the church.
Lola Idije is the mother of the award-winning Nollywood actor and filmmaker, Odunlade Adekolas. She has always been there for the actor and remains a strong support system to him. In 2015, she was honored with an award 2015 at the graduation ceremony held at Odunlade Adekola's film school in Abeokuta. Deaconess Adekola is also from Ekiti State.
Odunlade Has A Brother Who Is Also An Actor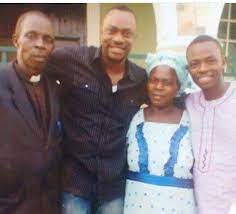 The Yoruba movie superstar has a younger brother whose name is Jethro Oyekanmi Adekola. He was born on 2nd June yearly. He shares a lot of things in common with his elder brother. First off, he is a Yoruba actor per excellence just like Odunlade. He also works as an editor in Yoruba films such as Ade Oba, Iseju Marun, and Darkness (Okunkun). Although he is not as popular as his brother Odunlade, Jethro has starred in a number of movies including Abila and Pepeye Meje. Beyond acting, Jethro runs a Christian theater group.
Jethro got married in 2016. His wife is also from Ogun State and she goes by the name Blessing Oluwatomisin Adebori. Their union has produced a boy. Jethro is also doing well academically. he studied Mass Communication at Moshood Abiola Polytechnic Abeokuta.
Odunlade Is Not Related To Rebecca Adedimpe Adekola
There were allegations that the Yoruba super-actor is related to Rebecca Adedimpe Adekola also known as Ireti. This is because they coincidentally have the same surname. However, they are not related in any way, the only thing they have in common is their acting profession.