Dr. Lizzy Johnson Suleman (born 24 February) is the wife of Apostle Johnson Suleman, a controversial Nigerian preacher, televangelist, and general overseer of Omega Fire Ministries. On her own, she is a preacher, singer, lecturer, author, and philanthropist. 
Apostle Suleman's wife further establishes herself as a marriage counselor. As a gospel singer, she has released songs such as More Than Enough, Gratitude, and Faithful God. Regarding her writing prowess, she is known for books such as Marine Power, Vomit my Money, Don't Give Up, and The Love of a wife as Support to Her Husband.
Summary of Lizzy Johnson Suleman's Bio 
Full Name: Elizabeth Johnson Suleman (née Abinya)
Nickname: Lizzy, The Dynamic Mother
Gender: Female
Date of birth: 28 February
Ethnicity: Igede (Benue State)
Nationality: Nigerian
Zodiac Sign: Pisces
Sexual Orientation: Straight
Religion: Christianity
Marital Status: Married
Husband: Apostle Johnson Suleman
Lizzy Johnson Suleman's Children: 6 (Godsfavour Johnson-Suleman, Divine, Love, Mirabel, Ebenezer, and Excel)
Parents: Mr. and Mrs. Abinya
Lizzy Johnson Suleman's Net worth: Above $500,000 (estimation)
Famous for: being the wife of Apostle Johnson Suleman
Twitter: @DrLizzySuleman
Facebook: Lizzy Johnson Suleman
Apostle Johnson Suleman's Wife is From Benue State but was Born in Kano
Lizzy Suleman was born Elizabeth Abinya on February 28 sometime in the 1970s, in Kano State, Nigeria. The preacher also grew up in the state, but she originally hails from Benue State. She grew up away from fame and has equally kept her parents and siblings away from stardom. Yet, it is known that her parents are Mr. and Mrs. Abinya, and she grew up in a Christian home.
Lizzy Johnson Suleman's Education
Lizzy Johnson completed her primary and secondary education before heading to Edo State, where she attended Auchi Polytechnic. There, she studied Mass Communication. She had an interest in teaching, and in order to bring it to life, she went to National Teacher's Institute in Kaduna State. There, she bagged a Teacher Grade II certificate.
By 2010, she reportedly finished her Youth Service. However, she still desired to further her education and develop herself differently. With this in mind, she obtained a P.E.C in Public Administration. The preacher and pastor at OFM also attended the Chartered Institute of Local Government & Public Administration of Nigeria.
In her later life and in the quest to further develop her intellect, Apostle Suleman's wife attended Bethel University in Benin City. There, she obtained a Doctorate Honorary Degree in religious studies.
Johnson Suleman's Wife Has Multiple Careers
She is an Ordained Pastor and Evangelist
Lizzy Johnson has developed herself to fit into different careers over the years. Most of her works are centered on Christianity and humanity. She is a pastor who helps in the growth of her husband's Christian ministry, the Omega Flame Ministry.
She started trailing the road to ministration even before she was married to Apostle Suleman. In an interview, she revealed that God has always been at the forefront of her life. She buttressed that it was at that time that God had started preparing her to work in line with sharing the Christian Gospel.
Currently, she is famous for preaching within and outside the corners of OFM. While she has traveled to different parts of the globe to preach, she has equally put rural evangelism at heart.
With her works, she has become one of the most renowned preachers in Nigeria.
Lizzy Johnson Suleman is a Lecturer at a Bible Institution
Lizzy is a lecturer at Omega Bible Institute (O.B.I). This school is a unit of the Omega Fire Ministries (OFM), and Lizzy also serves as a founder alongside her husband, Apostle Suleman.
More into academics and her role as a teacher, the education and Christianity enthusiast is the founder of Dynamic British Montessori International School LTD, Auchi, Edo State. The school was registered in 2016, and the pastor's wife serves as proprietress and director.
Currently, the school has been named one of the fastest-growing learning places in Edo. The school is unique and adopts the Montessori method of education. This means that the school's philosophy pays attention to helping learners of different ages to be self-motivated and learn under natural interest, and also aims at nurturing respect and understanding for learners.
She is Involved in Multiple Streams of Businesses
The preacher cum teacher has been involved in different streams of businesses for years. She is most renowned for being an important part of the Hosanna Conglomerate, which was founded by her spouse.
The business venture has interests in oil and gas, publishing resorts and suites, water, laundry services, real estate, and mining. To add to these, she is the editor and supervisor of Celebration TV, which is also owned by Apostle Suleman.
Dr. Lizzy received a shopping mall, petrol station, and transport company from her husband as birthday gifts in 2018.
Dr. Lizzy Johnson Suleman is Renowned for her Philanthropy
Dr. Lizzy has given back to society in different ways through philanthropy. She has been reckoned as one of the most generous Nigerian women of recent times. Since her giving knows no bounds, it isn't easy to trace her generosity, but some of her philanthropy works, include paying bills for people at the hospitals and donating 20 million to Internally Displaced Persons (IDPs) in Benue State.
Also, she donated heavily to 200 widows in December 2022. Ushering into 2023, she opened a free shopping space for foodstuff, female wear, and other items.
She is into Music
Lizzy Johnson Suleman presents herself as an interesting music artist. She performs in church and has also recorded a number of songs. According to her, she writes all of her songs and relies on the holy spirit for music direction. Lizzy Suleman's songs include:
Gratitude
Faithful God
More Than Enough
My Hero
Higher Higher
Yahweh
She is an Author of Numerous Books
Lizzy Johnson Suleman is a best-selling author known for books ranging from topics about finances, family, and love while also focusing on the Christian God. Here books are:
How to Ignite Your Husband's Love
I Can Make My Marriage Work
Pastoring the Pastor
The New Anointing
The Power to Overcome
The Midwife Anointing
Don't Give Up
The Love of a Wife as Support to Her Husband
How to Manage the Finances of the Family
Timeline of Her Relationship with Apostle Johnson Suleman
How They Met
Apostle Johnson Suleman revealed that when he met his wife, Lizzy, she did not show interest in him like many other ladies. Before they met, he attested how there were bankers, medical doctors, and several other women of a high standard, but they did not pick his interest as much as Dr. Lizzy did.
While the exact time they met has not been revealed, they are speculated to have met around 1998. Whatever the case, they married on June 5, 2004, and their marriage has lasted 19 years.
They are Parents to 6 Children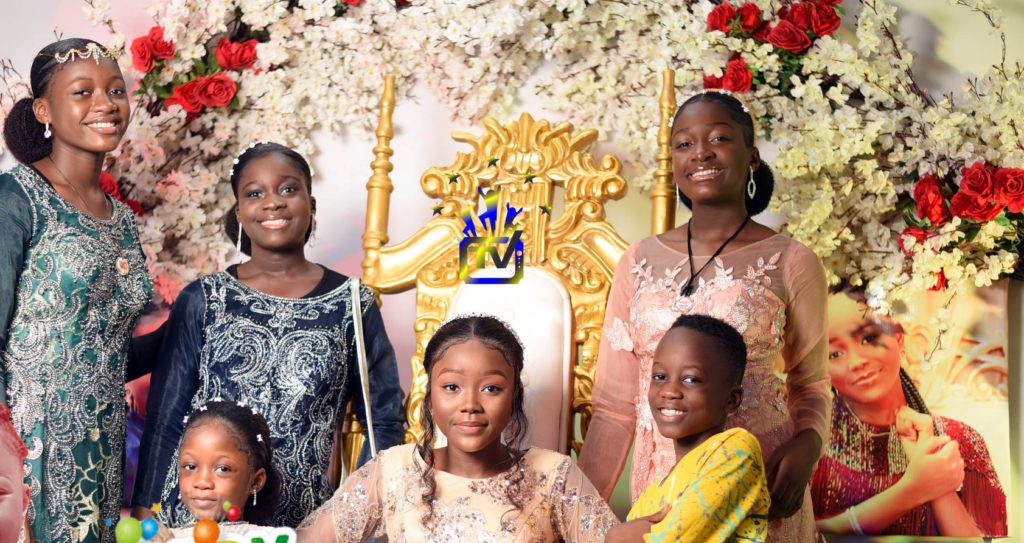 The preacher and her spouse are parents of 6 children – 5 daughters and 1 son. Godsavour "God's Favour" Vanessa Johnson Suleman is the oldest of the children. She is 18 years old and was born on June 14, 2005, the year after her parents were married. She is a singer known for Zoe, Jehovah the Doctor, and We Will Hearken Unto You. 
The second of Lizzy and Johnson Suleman's children is Divine Johnson-Suleman. She is 17 years old and was born on August 17, 2006. She is also a singer, most notable for You in Me. Although she released the official song as a solo artist, she had a live performance of the song with gospel artist Moses Bliss.
Like her parents, Divine preaches. One of her most renowned messages is The Supernatural, which she shared at a Teen's Conference.
Lizzy's third child with Apostle Suleman is 15 years old Love Johnson-Suleman. She was born on 7 June 2008, and like her older siblings, she is also a singer. She is notable for her song, My Time Has Come. 
Mirabel Johnson-Suleman is the fourth child of the OFM pastors. She was born in 2010 and is also a music and spoken word artist. She mostly performs life in Christian gatherings. One of her most famous spoken words Do You Know Jesus?
All of the 4 older aforementioned children on Lizzy and Apostle Suleman are church ministers. Together, they belong to a music group called the Triumphant Sisters. They are renowned for songs such as Take Over and Greater Glory Greater Works.
Going further, Ebenezer Johnson-Suleman is the only son of the family. He was born in 2013 and is 10 years old.
Excel Johnson-Suleman is the 6th and last child.
Their Marriage Has Suffered Numerous Controversies and Cheating Scandals
From sex scandals to money miracle scams, there have been tons of controversies in Dr. Lizzy's husband's life. Most of his controversies are related to sexual affairs with numerous women, including church members and top female Nigerian celebrities. Many of these allegations have not been proven to be true.
Whatever the case, Apostle Suleman's wife has stayed in her marriage for 19 years, and according to her, some of the rumors only come up to test their faith. Here are some of the women and controversies Apostle Johnson has been involved in.
1. Her Husband Allegedly Poisoned Stephanie Otobo After an Affair
Canadian-Nigerian singer Stephanie Otobo, famous as Stephanie D'ocean, alleged in 2017 that she had an extramarital affair with Apostle Suleman. She claimed to have met him in 2015 when she attended a wedding in Nigeria and reached out to him for counseling. She contended that she started a relationship with him after he told her that his marriage had broken, but he couldn't make it public.
In an interview, she claimed that she received cash from him that may have been given to her for fetish reasons. The relationship was said to have ended after the OFM's General Overseer asked for some sexual escapades, such as a threesome with the singer.
After the news made different pages, Stephanie came out to state that she was paid by some powerful and strong politicians and pastors to defame him.
While the story may have died down, Stephanie came out again in 2022 to make claims that the initial story about their alleged relationship was true. However, she was intimidated and lured by the pastor to state that she had lied against him. She further released a diss track titled Apostle, which she dedicated to him.
To prove the said relationship, she released some images claiming to be the genitals of Dr. Lizzy's spouse. She went again to attest that he had used the police to shut her up, tried to end her career, poisoned her, and even bribed some of her family members to take her life.
Well, Apostle Suleman rose to defend himself by denying the allegations. He accused her of blackmail, trying to steal from him, and even becoming a threat to his life. He also claimed that the story was brought out by his enemies.
2. Apostle Suleman vs. Queen Esther
Queen Esther claimed to have been a member of Apostle Suleman's Church. She stated that she was an usher in the church before they started dating in 2013. Nonetheless, she broke up with him after 2 years in 2015. She contended that the pastor threatened her life since she broke his heart with the breakup.
Shortly after, she started experiencing strange movements in her womb and sharp pain in her breast. She went seeking a solution and was told that the condition was spiritual. Her family helped to get her help before she was healed.
As in the case of Stephanie Otobo and the other alleged sexual relationships of Suleman, he denied Queen Esther's claims. His wife, Lizzy Johnson Suleman, also supported that her husband was innocent. However, Queen Esther pointed out that Lizzy was aware that she (Esther) and the Apostle were having a sexual relationship.
3. Her Husband was Said to Have Slept with a Female Pastor
Another height of the controversy in Lizzy's marriage is the accusation that her husband had a sexual relationship with a female pastor named Faith.
As the story goes, Faith's spouse, Pastor Mike David, was a pastor at OFM for 15 years. However, in 2018, he was suspended for "ungodly behaviors." Well, David had a different tale to tell when he claimed that he was suspended because Apostle Suleman was having an affair with his (David's) wife.
He further claimed that Apostle Suleman started sleeping with Faith when the couple's child was barely a year old. Also, he argued that Lizzy's spouse hypnotized Faith so he could sleep with her.
Although David's wife was said to have told her husband about the relationship, she still returned to the Apostle's arms while her husband was transferred to Ogun State. David claimed that Suleman also intimidated and denied him from seeing his children while he made Faith the head of an OFM branch without notifying her husband.
Since he couldn't take it anymore, he reached out to the public through social media. Faith also used social media to report that the story was untrue, and even David walked out on their marriage and children.
Suleman also denied the allegation and sued Mike David for blackmail and defamation of character, among other charges. In turn, David also sued him for how he broke the former's marriage, among other charges.
4. He Allegedly Dated Some Top Nollywood Celebrities
From Halima Abubakar to Chioma Ifemeludike, Steph Naya, Shan George, and Ruth Kadiri, Suleman reportedly had sexual relationships with top female celebrities.
Other actresses allegedly having relationships with the man of God are Mercy Johnson, Georgina Onuoha, Omo Brish, Vivian Metchie, Ini Edo, Angela Okorie, Chinyere Wilfred, Queen Nwokoye, and Mary Uranta, among others, as reported by Nigerian website Gistlovers.
Many of these women have denied having any sexual relationships with the pastor. However, Steph Naya has openly spoken about her relationship with the preacher. She also claimed she had a threesome with him and actress Iyabo Ojo.
Another claim was raised by actress Halima Abubakar. She reported that the pastor deceived her by saying that his marriage had failed and that he would marry her. However, that never happened.
It was further revealed on her Instagram page how a sexual encounter with him had left her bedridden as she suffered a strange ailment that caused her abdomen to grow as big as that of a pregnant woman. She also acknowledged that the preacher had similar relationships with Iyabo Ojo and Shan George.
Again, Lizzy's spouse denied this allegation and sued her for defamation of character. When the news rallied in 2022, Dr. Lizzy Johnson Suleman tagged the entire scandal as a test of faith.
Also, actress Chioma Ifemeludike claimed to have slept with Suleman twice. Again, this claim was refuted.