Apostle Johnson Suleiman is the President and General Overseer of Omega Fire Ministries International, a church which he established in 2004.
Not one to be media-shy, news coverage of his many controversial prophecies and contentions with government officials and the likes are a common occurrence.
The Muslim-turned-Christian preacher is well-known for traveling far and wide, preaching the gospel and healing the oppressed. Suleiman has practically visited every country in Africa and most foreign countries as well.
Apostle Suleiman's Biography
Johnson hails from Auchi in Edo State Nigeria but was born in Benin to Muslim parents who at first discarded a prophecy given to them by a traveling group of missionaries, who brought the message that he was to be a prophet of God and minister in His presence.
Apostle Johnson Suleiman was, however, to grow up to fulfill that call. He was in Auchi his hometown for his secondary school education when he met Christ and gave his life to spreading the gospel.
He showed signs of a love for the things of God early on, eagerly going out to evangelize and partaking in church activities against pressure from his parents. On June 20, 1994, an encounter with Acts 10:38 of the Holy Bible, was to jump-start his actual work in ministry.
Family – Wife, Children
Apostle Johnson Suleiman is married to Reverend Lizzy Johnson and their marriage is blessed with four children – four lovely girls and a boy.
Ministerial Journey, Omega Fire Ministry
He first served as an Assistant Pastor in the Armor of God Church, Lagos, which he joined in April 1998. However, after a series of encounters with the Holy Spirit which he says formed the background of Omega Fire Ministries which he went on to establish in 2004.
Omega Fire Ministries International, under the leadership of Johnson Suleiman, believes in the fire operation of the Spirit of God that refines, purifies and equally destroys.
The church has a global reach as messages are distributed through Facebook as well as a 24-hour Christian television channel called Celebration TV and its radio counterpart a 24-hour Christian radio station, "Voice of Fire Radio".
Apostle Johnson Suleiman who trained as a mass communicator and has a Doctor of Philosophy in Human Resource Development has over twenty bestselling books to his name.
The church's International headquarters is also a hub of many entrepreneurial pursuits as the grounds have restaurants, a printing press and numerous other employment creating ventures present.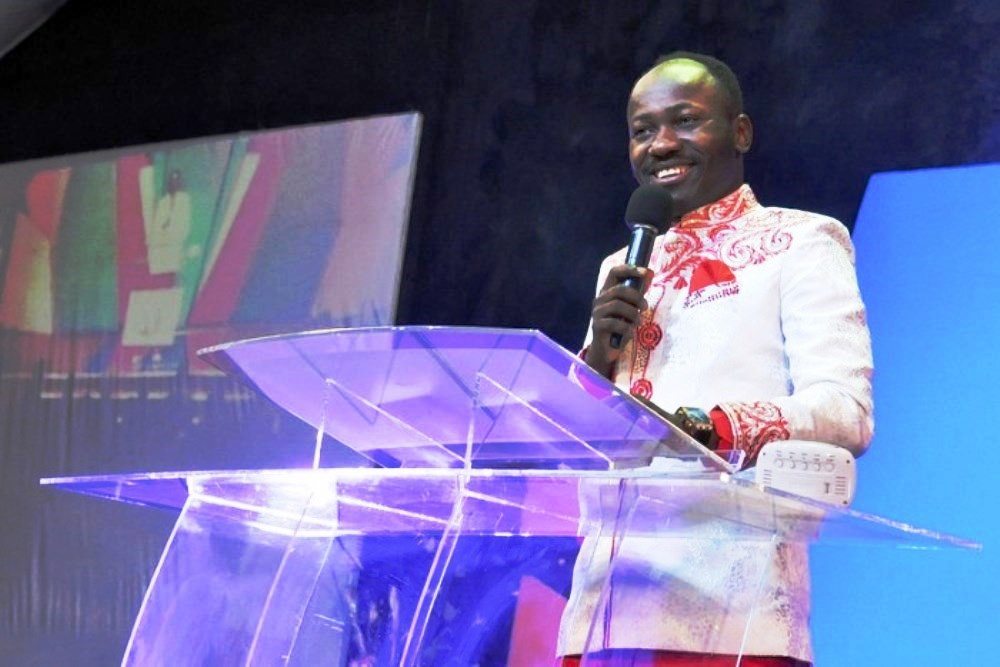 Suleiman has a reputation for openly confronting political and economic rulers in his home country Nigeria and dishing out prophecies on a plethora of future national or world events.
Suleiman prior to the controversies that followed him in 2015, was said to submit himself to the ministerial oversight of Pastor Ayo Oritsejafor, the leader of Christian Association of Nigeria (CAN), a protégée of late Archbishop Idahosa. More currently, he has been linked in that capacity to Pastor Enoch Adeboye, General Overseer of The Redeemed Christian Church of God.
Apostle Johnson Suleiman is also widely touted to be a generous giver who does not withhold from anyone in real need.
Apostle Johnson Suleiman's Prophecies
Famed for challenging political leaders for wrongdoings, the Benin-born pastor, in addition to this, is known for releasing prophecies about Nigeria and the world at large annually, as earlier mentioned.
Over the years, most of his notable prophecies have come to manifestation, pulling a good number of believers to his church and also making him one of the most sought-after preachers in the world, especially on matters that seem otherworldly.
Some of his recent prophecies include:
1. Atiku's men will betray him
2. EFCC boss to have a major setback
3. Nollywood, new stars to take over
4. 2018 budget, Senate, and presidency lock jam
5. NAFDAC to pray against fire disaster
6. Senate President To Be harassed embarrassed. Many publications and threatened arrest.
7. DSS boss, to attend to his health
8. U.K bombings, biggest in history
9. Channels TV in court crisis
10. America, Canada, Asia, to experience hurricanes.
11. Ibe Kachikwu to be removed and replaced
12. NTA to pray against losing a top boss
13. Shoprite Lagos to beef up securities, I see a major raid
14. I see Fulani herdsmen entering Lagos and Rivers State massively
15. Oh America, I see a war in 2018
16. Let's pray against train accident. I saw a train going out of the rail
17. I saw the naira gaining relevance
18. Economy to get better in Nigeria in 2018
See Also: David Oyedepo: The World's Richest Pastor And His Shocking Net Worth

19. Year of serial bombings in Nigeria
20. Imo State Governor to make governorship a family affair
21. Donald Trump's health needs attention
22. New strategies for killing perceived political enemies in Nigeria will arise
23. Wildfire outbreak in an American state
24. Manhunt for Ekiti state Governor by the Federal Government of Nigeria
25. The government of Nigeria to disobey court orders
26. God says " Let Sambo Dasuki go"
27. President Buhari to be flown abroad on emergency
28. A former Nigerian military President laid to rest
29. Many bloggers to be arrested and jailed
30. Bola Tinubu to have a public showdown with President Buhari
31. Robert Mugabe, former president of Zimbabwe, rest in peace
32. Political blackmail to be on the rise
33. I saw two great northern kings in open conflict
34. Church buildings collapse, tears, tears
35. Fresh charges against Abubakar Atiku and friends to be embarrassed
36. I saw major bombings in Egypt
37. The attempt on the life of Chief Femi Fani Kayode's wife
38. South African Jacob Zuma to be humiliated
39. I see a new political party that will divide APC and PDP
40. 2019, power will not move from the North
41. I see serious politics against Osibanjo
42. Nigeria pray against air crash
43. I saw a young Nigerian musician experiencing major media attack sponsored by a fellow musician of the same genre.
44. Kardashian family, topsy-they in 2018
45. I see some Nollywood stars permanently leaving Nigeria for better opportunities
46. 2018, the year of the Army. So much military presence and control
47. Good luck Jonathan should pray not to be bereaved
48. Nnamdi Kanu to be embarrassed both locally and internationally
49. God will give people good health and there will be cure to incurable diseases
50. I see a group rising in the North and asking for their own nation.
Quick Facts You Need To Know
Apostle Johnson Suleiman's birthday and year of birth are currently unavailable.
His net worth is currently under review but certainly one of the richest African preachers.
In 2017, he was hit by a major scandal which almost disintegrated his church and other men of God and Christians who are loyal to him. His nightmare began after Canadian-based singer Stephanie Otobo accused him of abandoning her after their short-term relationship. Although the controversial case has always been on-and-off the spotlight, many believe Otobo was paid to ruin the preacher's reputation. Suleiman, on his own part, denied the allegation severally and was supported by his wife, who stood by him from the beginning of the 'battle' to the time Otobo confessed to being paid by top politicians to humiliate him.
The preacher was also accused of buying a 160 million worth mansion situated in Maryland, Lagos, for Nollywood actress Daniella Okeke in 2017.
"The Oracle", as he is fondly called, owns a house in Auchi.