Ruth Kadiri (born 24 March 1988, Age: 35 years old) is a Nigerian actress, screenwriter and film producer from Edo state. She is known for many of her roles in Nigerian films such as In Your Arms and Circle of Interest among others.
Ruth Kadiri qualifies as one of the most beautiful women in Nollywood. She has been in the Nigerian movie industry for over a decade and has risen to the height of some of its A-list actors. While she continues to excel in the industry, many can't help but imagine what her early start in the industry looked like. Well, she did start big, unlike many stars, but her consistency has fetched more stable grounds for her.
Ruth Kadiri Bio and Profile Summary
Full Name: Ruth Kadiri
Profession: Actress
Gender: Female
Date of Birth (DOB): March 24, 1988
Age: 35 years old
Birth Place: Edo, Nigeria
Star Sign/Zodiac Sign: Aries
Nationality: Nigerian
Hobbies: Traveling
Father: Desmond Kadiri
Mother: Unavailable
Marital Status: Married
Husband: Mr. Ezerika
Sexual Orientation: Straight
Ruth Kadiri Is From Edo State, Nigeria Where Her Education Also Started
Ruth Kadiri hails from an ancient city in the Southern part of modern-day Nigeria, currently called Edo State. She was born on the 24th of March, 1988 and was raised in the heartbeat capital of the state in the ancient city of Benin.
As a little girl, Ruth Kadiri grew up in Benin-city with her parents and sibling. She was the first of two children and attended her primary and secondary school education in Benin-city shortly after obtaining her First School Leaving Certificate and West African Senior School Certificate (WASSC) before moving to Lagos.
Although Ruth Kadiri lived most parts of her teenage life in Benin-city, she still attended First Foundation College, Ajeromi Ifelodun in Ajegunle secondary school briefly in Lagos before her days in Yaba College of Technology. She got admitted to the Yaba College of Technology and, after two years, obtained a National Diploma in Business Administration. Later, driven by her passion and pursuit for educational success, she would attend the University of Lagos and bagged a degree in Mass Communication after four years of study.
Although Her Parents are Very Private, Here's The Woman That Raised Ruth Kadiri
Ruth is a private person and hardly shares things about her family. On that note, not much is known about her intimate and extended family. Nothing is known about her father or other family members. However, it is known that she grew up with her mom and younger sister.  It is also clear where Kadiri got her glowing skin and fresh-faced looks from. While we don't know what her mother does for a living, she appears to be following in her mom's footsteps as a good mother with the way she lavishes praises on her each time she shares her photo.
She Also Has A Sister Who Is A Movie Producer
Ruth Kadiri has a sister named Precious Eis Kadiri. Precious was born on the 2nd of February 1993 in Benin City, Edo State, which makes her five years younger than Ruth. She graduated from Delta State University where she studied Biochemistry. Precious is an ambitious woman just like sister Ruth. She is a budding businesswoman and a movie production manager. She has produced several movies such as Mother's Love, All Four, Restless, Shrine Girl, Five is a Company, among others. She serves as the CEO of Flore Beddings that deals in baby cot, duvet sets, bedsheets, etc.
Ruth Was Already An Adult When Her Her Movie Career Started
Today, Ruth Kadiri is a multi-award-winning actress with numerous awards and honors, however, she did not begin acting quite early. After her tertiary education at the University of Lagos, where she bagged a bachelor of arts in Mass Communication, she ventured into the movie scene. Unlike some other actresses that started with soap operas and TV shows, Ruth Kadiri began her acting career as an adult and made her Nollywood debut in the movie Boys Cot. The role became her first breakthrough, but the popularity of the multi-talented Kadiri reached new heights in 2017 when she played in the movie In Your Arms which made a wave in the Nollywood movie scene.
The movie highlights a woman in an abusive relationship and is constantly battered until she decides that she wasn't ready to be a punching bag.  Ruth Kadiri went on to play in Black Bride that tells a story of a family man who is in disagreement with his wife over her prioritizing work over family.
That same year, she went on to star in the movie, We Cheat More. In the movie, she plays the role of a new wife-to-be opening up to her best friend that she is only dating her fiance for his money. Devastated and disappointed, her fiance decides to play her at her own game. Her role in the educative romantic movie further enhanced her image as a bankable movie star.
Considering these roles, she has gained a reputation playing the obedient wife, helping her husband face life challenges and build the home. She also plays the single lady who men sought out for marital purposes.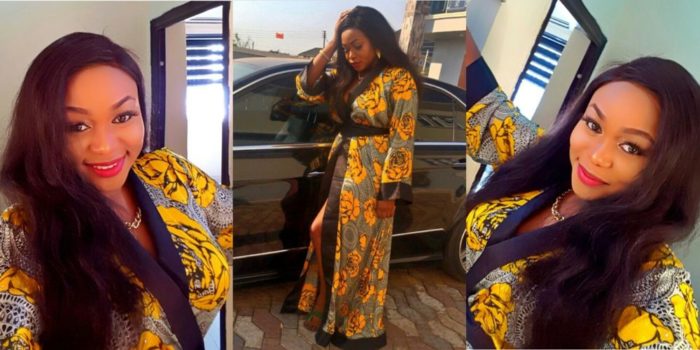 She Is Also Know For Playing Bad Girl Roles
Ruth Kadiri knows a thing or two about being a bad bitch on-screen while also playing strong, empowering female characters. She has delightfully embodied these roles over the years. For evidence, take a look at the list of her movies. Hits like Black Men Rock, where she tries to live a life of what and who she is not, as well as Jack and Jill, which tells the story of a village girl who sets out to hustle in Lagos with a simple mission; to package herself as a rich babe and suck men dry of their wealth. Unfortunately, she targets a man equally as packaged, leading to a funny unfolding of chaotic events.
In 2020, Kadiri treated us to more movie magic by starring in the movies Tears of Rejected Seed and Too Old For Love, both of which have remained on the lips of movie lovers across Africa.
Other Notable Movie Roles She Has Played Include:
Breath of Love – 2010
War for Limpopo – 2013
Matters Arising – 2014
Mad Couple – 2014
The Patient Girl – 2014
Internet Hustlers – 2015
Over the Edge – 2015
Stolen Lives – 2015
Miss Taken – 2015
Somebody Lied – 2017
Change of Ownership – 2017
Five Wives – 2017
Heart Beat – 2017
Bridge of no Return – 2017
Neighbour's Wife – 2017
War in France – 2017
Ishaka – 2017
A Toast to Heartbreak – 2018
Dear Ijeoma – 2018
De'Adura – 2018
Heaven on my Mind – 2018
Somto – 2018
A Tiny Line – 2018
Peperempe – 2018 The List – 2018
Against the Tide – 2018
WET by Ruth Kadiri (2018)
Tripod by Ruth Kadiri (2018)
Black Men Rock (2018)
Love is Beautiful (2019)
The Dumb Wife (2020)
Too Old for Love (2020)
Tears of Rejected Seed (2020)
She Doubles As A Successful Movie Producer
Although Ruth Kadiri is famously known for her acting skills and unique interpretation of roles, she doubles as a scriptwriter, film producer, and CEO of Ruthkolors, an online hair store. In other words, Ruth Kadiri is not just an actress but also a businesswoman. As a producer, she has her own productions with the name Ruth Kadiri Films.
Through her own production company, Ruth Kadiri Films, she has produced many movies that include; Matters Arising, Over the Edge, Somebody Lied, and Memory Lane. Some of her works where she acted, produced, or took on both roles productions include:
This Is Not A Love Story – 2019
Limpopo Final – 2019
Something True – 2019
 Tea Room – 2019
Tender Lies – 2019
Jump – 2019 Blur – 2019
Ruth Kadiri Has A Number of Awards and Nominations To Her Name
Over the years, Nollywood has recognized Ruth Kadiri's talent with awards. The actress has won many awards and has a long list of nominations to her name.
She won the following awards;
Nigeria Entertainment Awards for Actress of the Year – 2015
City People Movie Award best Actress of The Year, 2018
Ruth Has Been Nominated For The Following Awards
Best On-screen Duo with Majid Michel at the Golden Icons Academy Movie Awards (GIAMA) – 2015
Golden Icons Academy Movie Awards (GIAMA) nominee for Best Female Viewers Choice – 2015
Ghana Movies Awards nominee for Best Movie African Collaborations – 2019.
Best Actress African Collaboration nominee at the Ghana Movies Awards – 2019
City People Movie Award nominee for Face of Nollywood (English) – 2018
Best of Nollywood Awards nominee for the Best Kiss in A Movie – 2015, and a host of others.
In the days to come, Kadiri will certainly continue to stun in the Nigerian movie industry. But clearly, she has more movies on the way, too.
She Has An Active Love Life Despite Her Success In The Movie Industry
It is widely believed that most notable actresses in the Nigerian movie industry have bad relationships, but this can't be said about Ruth Kadiri. While continuing to gather Nollywood film work, Ruth Kadiri has managed to keep her love life alive.  The actress is married to Mr. Ezerika, and together they have a daughter named Reign Ezerika. Before her marriage in August 2020, Ruth Kadiri was quiet about her relationship, except in 2017 when she disclosed her engagement to Mr. Ezerika on her social media page, and fans were amazed at how private she has been with her relationships.
She had also once been in a lengthy and slightly publicized relationship with Nollywood producer Stanley Ebonine. Shortly after that breakup was made public, she started dating her husband, who has remained unknown to both Kadiri's fans and haters alike.