Nigeria owes all thanks to local television and radio stations who kept viewers glued and captivated with interesting shows and soap operas before the advent of cable or pay-TV. We're talking about the 80s and 90s when the major source of television entertainment was obtained from Nigerian TV shows. Unlike nowadays, when content has been digitalized and democratized, it was a time when family members would gather around and wait for a particular program to air, as there was no other time or place or where such content could be obtained.
During this time, veteran actors like Olu Jacobs, Omotola Jelade, Desmond Elliot, etc., were already household names but were appreciated majorly for their presence in Nigerian TV shows. Many other actors who are scarce in recent times were also dominant on our screens back then and served us entertainment back to back. That being said, here are the five best TV shows in the 80s and 90s, which left an unforgettable memory in the minds of viewers. The list below is presented in no particular order.
Nigerian TV Shows Every Child Born In The 80s And 90s Can Relate To
1. The Village Headmaster
Produced By: Dejumo Lewis
Director: Dejumo Lewis
Release/Air Date: 1968
Channels Aired On: NTA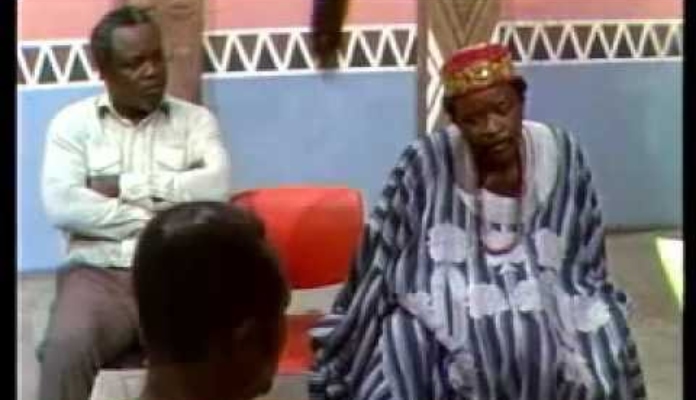 The Village Headmaster is about one of the oldest TV series in the Nigerian entertainment space. It was initially aired on radio alone from 1958 until it found its way into television in 1968. The show, which is also one of the longest-running series, ran for twenty years after it transitioned to television. The fictitious story was set in Oja, a town in Yoruba land plagued with governmental anomalies and social problems. It starred the following actors:
Justus Esiri (now late) – Headmaster ( he replaced Femi Robinson, who also replaced Ted Mukoro, the first Headmaster character)
Dejumo Lewis -Kabiyesi, the traditional ruler
Clara Olushola – wife of the headmaster
Albert Egbe – Lawyer Odunuga
Ibidun Allison – Amebo, the village gossip
Funso Adeolu – Senior Chief
Albert Kosemasi – Gorimapa
Joe Layode – Teacher Garuba
Albert Kosemasi as Gorimapa
English language with a mix of Nigerian Pidgin was used as the language of Oja people. The show was mostly shot in Oja's palace, the headmaster's school, and the palm wine shed where the character Amebo usually drinks. Following its transition to TV, the show immediately started to air on NBC TV Lagos, now known as Nigerian Television Authority (NTA). It received massive critical acclaim as it mirrored some of the challenges facing Nigerian society.
The Village Headmaster became a household name, with some of its characters also becoming household names. The show also gave rise to some popular slang that has been diffused into the Nigerian dialect. Words like 'Amebo,' the character of Ibidun Allison, now stands for rumormongering or rumormongers. Another popular word coined from the show is 'Gorimapa,' which in the Nigerian culture refers to baldness or hair loss.
Three decades after the original release of The Village Headmaster, it was announced that the show was making a comeback in a new series with the same name. The recording of the new series started in November 2020 and began airing in April 2021 on NTA Network, AIT Network, and wapTV Network.
2. Checkmate
Produced By: Moving Movies
Created By: Amaka Igwe
Release/Air Date: April 4, 1991
Channels Aired On: NTA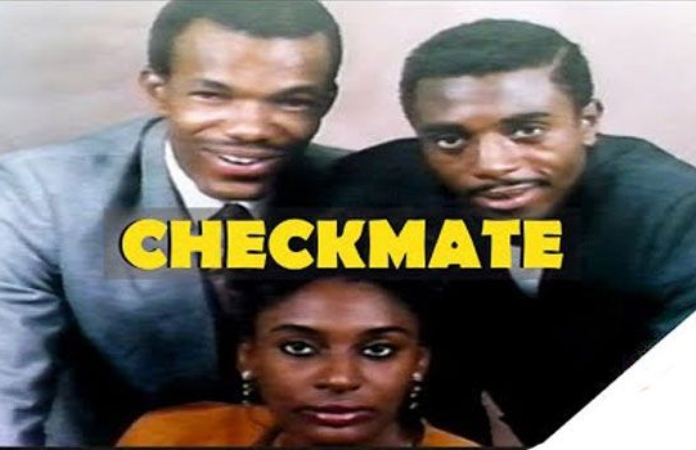 Second on our list of top 5 Nigerian 80s and 90s TV shows is Checkmate. The ace series ran for four years, but in that span, it won the hearts of many Nigerians with its intriguing plot. It centered on the life of the Haatrope family, which is challenged by antagonists of their success both in business and otherwise. The family head Ann Haatrope returned to Nigeria from the US to revamp her family's business. However, her return is greeted with episodes of hullabaloo from different stakeholders of their business. The show starred the following actors:
Ego Nnamani  – Ann Haatrope
Francis Agu – Benebo 'Benny' Haatrope
Bob-Manuel Udokwu – Richard 'Richie' Haatrope
Richard Mofe Damijo – Segun Kadiri
Edyth-Jane Azu – Tonye Haatrope
Ruth Osu – Nana Kofo
Mildred Iweka – Adaobi 'Ada' Okereke
Bimbo Manuel – Nduka Okereke
Obiageli Molobe – 'Mama Nduka' Okereke
Kunle Bamtefa – Chief Tajudeen 'T.A.' Fuji
Uche Mac-Auley (credited as Uche Mobuogwu) – Nkemji Okereke
Pauline Njoku – Peace Fuji
Toun Oni – 'Iya Moji' Fuji
John Njamah – Rabiu Fuji
Shola Onayiga – Ireti Fuji
Gloriana Nwankwo – Jumoke Fuji
Jude Orhorha – Gbenro Fuji
Zulu Adigwe – Monday Edem #1
Norbert Young – Monday Edem #2
Tammy Abusi – Eno Edem
Tunde Euba – Akpan Edem
Anne Njamanze – Temi Badmus
Paul Adams – Kunle Ajayi
The show featured a diverse and dynamic cast and also pictured the individual lives of stakeholders to the Haatrope family company.  Fictitious Chief Tajudeen 'T.A.' Fuji, a board member at Haatrope Investment, was a big-time womanizer and a proudly polygamous man with three wives. With numerous children from his wives, he had the most dysfunctional family. The massive drama in the fuji family led to the spin-off – Fuji House of Commotion, making Checkmate one of the Nigerian TV series to produce a spin-off at the time.
Another dimension to the show's cast was seen in the life of Ada Okereke, played by Mildred Iweka. She was Ann's best friend who experienced many challenges in her marriage filled with hatred from in-laws, insecurities from her spouse, and decisions of her ancestors haunting her. We also see the life of Monday Edem, played by Nobert Young, a university lecturer known for pressuring girls to give him sex in exchange for good grades.
His family is also plagued with misfortunes emanating from his horrid lifestyle, a rascal son, and a frustrated wife. Checkmate remains one of the very best in the 90s and gave some of its actors like Richard Mofe Damijo and Bob-Manuel Udokwu their breakthrough in the industry. Some of the actors on Checkmate are still very active on the screen in recent times.
3. The New Masquerade
Produced By: James Iroha, Chika Okpala
Directed By: Chris Obirapo
Release/Air Date: 1980s
Channels Aired On: NTA
The New Masquerade was one show that cracked everyone up in the 80s. The name alone reminds us of the hilarious Chief Zebrudaya, who made everyone laugh with his postcolonial linguistic appropriation. The New Masquerade, one of the 80s and 90s Nigerian TV shows was originated during the post-civil war era and was intentionally created to bring some comic relief after the horrific episode of the war. The show had started as The Masquerade and was radio-based alone but later transitioned to Television.
It starred Chika Okpala as Chief Zebrudaya Okoroigwe Nwogbo, alias 4.30, a World War II veteran who comes home to his homeland to meet his people, who now perceive him to be very enlightened. To prove that he is well-traveled, he communicates with seemingly dismantled English to suit his fluency. The highly respected veteran used a mixture of Queens English, Igbo language, and Pidgin English as his means of communication. This was the major comic aspect of the show. The show set in Zebrudaya's sitting room also had the following characters:
Lizzy Evoeme – Ovularia, Zebrudaya's wife
Claude Eke – Jegede Sokoya, Zeburudaya's friend
James Iroha – Giringori Akabogu -Houseboy
Christy Essien -Igbokwe as Apena – Sokoya's wife
David Ofor – Clarus, Giringory's partner as a houseboy to Zebrudaya
James Iroha was the original producer of The Masquerade before Chika Okpala took over and produced The New Masquerade, which still mirrored the vision of the initial producer. The show was satirical in the sense that it shed light on societal problems in a comic way. It has remained one of the most talked-about TV shows in Nigeria. The series not only gave the lead character Chika Okpala his breakthrough but also had its influence on the Nigerian popular culture.
Today, Chika Okpala hardly goes by his name as he is usually referred to as Zebrudaya. The comic actor now uses his Zebrudaya dismantled English in adverts and campaigns for various brands he works with. This further emphasizes the influence and acceptance of his diction and style on the show.
4. Things Fall Apart
Produced By: Adiela Onyedibia
Directed By: David Orere
Release/Air Date: 1987
Channels Aired On: NTA
Also part of the most captivating 80s and 90s TV shows, Things Fall Apart has remained one of the most significant stories of Africa's pre-colonial era. It was first written as a fictional book by African author Chinua Achebe and published in 1958. But for its significance and massive critical acclaim, it was transitioned to a television series in 1987 and ran through the 90s. Like the legendary novel, the story was set in a fictional Igbo clan of Umofia.
The show told the story of Okonkwo, played by Pete Edochie, a strong, vibrant wrestler admired and feared by many. For reasons best known to the elders, the wrestling champion was chosen to be the guardian of Ikemefuna, a young boy taken in as a peace settlement between Umuofia and another clan, as his father killed someone from Umuofia. As time went on, the gods of the land decreed that the boy be killed. Okonkwo's strong will to prove his masculinity pushes him to kill the boy he has grown fond of, who looks up to him as a father, despite warnings by Ezeudu, the oldest man in the village.
Things soon start to go sour for the champion as fate takes him through a ride of misfortunes. After accidentally killing a man (the son of Ezeudu), he is sent on exile. He finally returns to see his worst fears coming to reality – the white men had penetrated his community and even had his son Nwoye converting to Christianity, the white man's religion which he so much detested. Okonkwo ends up committing suicide after a failed revolt attempt against colonial leaders in his community.
Starring on the show are:
Pete Edochie
Funsho Adeolu
Fabian Adibe
Justus Esiri
Sam Loco Efe
David Iheise
Things Fall Apart remains a major landmark in African history and has been cited on many platforms as one of the most influential books ever written. The TV show, which only gave more life to it, earned critical acclaim nationally and internationally. It was also the show that ushered veteran Nollywood actor Pete Edochie into the big screen and gave him his breakthrough in the industry.
Things Fall Apart's impeccable originality, and the tremendous performance of its characters caused the prestigious media outlet BBC to fly into Nigeria and interview the author Chinua Achebe and lead character Pete Edochie.
5. Tales By Moonlight
Produced By: Victoria Ezeokoli
Directed By: undisclosed
Release/Air Date: 1984
Channels Aired On: NTA
We are sure that 80s and 90s kids can never forget the popular children's program called Tales by Moonlight. It was the longest-running children's national program, which aimed to build relevance and provide cultural education to children in a society where western technology is taking precedence. The show tries to imitate the traditional setting where stories are told when the moon is shining.
It usually starts with the signature song, after which we see the children as the on-screen audience gathered around the feet of the storyteller or raconteur. The storyteller sometimes sits with a little child or sits alone and then tells the stories. One captivating part of the show is the inclusion of children in the stories told. Sometimes there are two segments; the first with an elderly telling the stories, and the second, with a child telling another different story.
It runs for 30 minutes and usually ends with the children and elders discussing the morals learned from the stories. The lessons always include that children should not tell lies (as the tortoise or the monkey does); children should obey their parents; children should learn to help others; children should not steal; children should not cheat others, and so on.
Tales by Moonlight, which aired at 6:30 PM on Sundays on NTA, had kids glued to the screen at the said time and was one of the all-time favorite Nigerian TV shows. This is because it was the only program that projected African folklore in the most typical way, and children related so well with it.
Recap of the Nigerian TV Shows Every Child Born In The '80s And '90s Can Relate To
The Village Headmaster
Checkmate
The New Masquerade
Things Fall Apart
Tales By Moonlight