Nkem Owoh is an award-winning Nigerian veteran actor, movie producer, comedian, musician, and Nollywood icon best known for his roles in the films Ikuku, Osuofia in London, and Ukwa. Through his super-successful career, he has garnered an estimated net worth of $4 million.
Nkem Owoh is a 65 years old phenomenal actor in the competitive Nigerian entertainment industry. Popularly known as Osuofia, Owoh has been remarkably consistent and enormously unruffled in his career that spans more than 3 decades. In the career that has seen him work as a comedic actor, writer, singer, and producer, he has become one of the richest actors in Nigeria with an estimated net worth of $4 million.
As an actor, Owoh has worn many shoes of different characters in films such as Osuofia in London (2003), Ukwa (2000), and Lionheart (2018). On the other aspects of his life away from entertainment, he has maintained a position as a humanitarian who has worked for several causes through charities. Some of the organizations he has worked for include Gaurapad Charities and Marian Mission Charities.
Nkem Owoh's Biography Summary
Full Name: Nkem Owoh
Nickname: Nwabuoku, Ukwa, Osuofia
Gender: Male
Date of Birth: 7 February 1958
Nkem Owoh's Age: 65 Years Old
Ethnicity: Igbo
Nationality: Nigerian
Zodiac Sign: Aquarius
Sexual Orientation: Straight
Religion: Christianity
Marital Status: Married
Nkem Owoh's Wife: Ngozi Nkem Owoh
Nkem Owoh's Children: 2 Daughters
Siblings: late Batholomew Owoh 
Nkem Owoh's Net Worth: $4 million
Famous For: Acting (Osuofia in London)
Education: Federal University of Agriculture, Abeokuta, Ondo State
Osuofia's Instagram: @nkemowohosuofia
Twitter: @its_osuofia
Facebook: @nkemowohosuofia
The 65 Year Old Nkem Owoh Hails From Enugu State
Osuofia was born on February 7, 1958, in Amagu Village, Udi Town in Enugu State. Details about his family are not known except from the fact that his mother died in 2011 in her 80s. Also, Nkem Owoh had a younger brother, Batholomew Owoh, who was allegedly publicly killed in 1985 at the age of 26 for carrying drugs.
In Enugu State, Nkem began his educational pursuit before moving to Abeokuta in Ondo State to study engineering at the Federal University of Agriculture.
He Nurtured The Dream of Becoming a Professional Football Player and Later an Engineer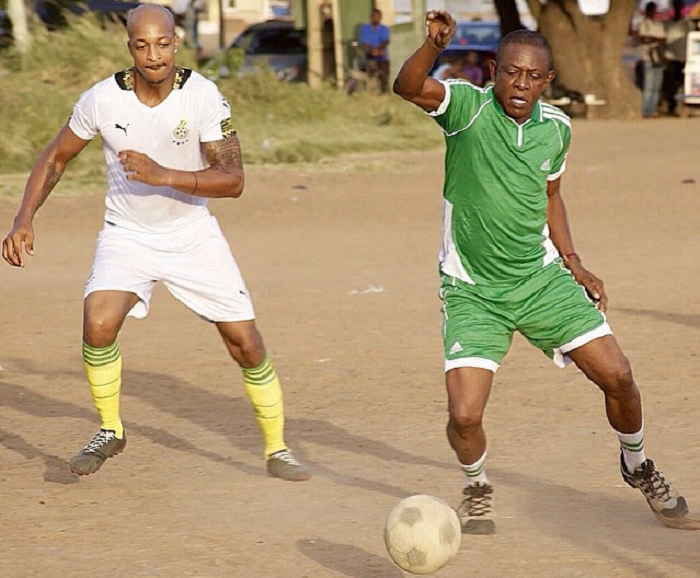 At a young age, Nkem Owoh was an athlete who explored the game of football. He would go on to represent his zone and state at football competitions. His love for the game was fast becoming a dream of becoming a professional. However, his dream could not come to reality, especially because his parents did not accept it.
Along the line, Nkem started honing the dream of moving to become a professional engineer. This would lead to his heading to the southwestern part of Nigeria to build himself through education.
Osuofia's First Job Was With The Nigerian Television Authority (NTA)
Osuofia started his journey in the corporate world in Enugu after he elected to work professionally. His first port of work was with the Nigerian Television Authority (NTA). Although it is not known how much he earned, it became a major stepping stone for the career of the then-broadcaster.
Also as a broadcaster, the actor worked with the Anambra State Broadcasting Services (ASBS). With the progression of time, he continued with his career in broadcasting until he made a leap into the acting scenery where he would move to become one of the most celebrated in recent years.
He Started His Career In The Movie Industry As A Writer
Since the time that he was a child, Nkem Owoh had developed talent as an actor and comedian. He would go on to act on stage as a student. Nonetheless, his career in the movie sector as a professional started with him working as a writer. He notably handled the subtitle of an Igbo language home video titled Living in Bondage. Also as a writer, he was responsible for making scripts for different sitcoms across Nigeria.
His writing credits in the earliest years of his career include the following:
The New Masquerade
Bassey and Company
Tales by the Moonlight
While he was exploring his career as a scriptwriter, the veteran multi-award-winning Nollywood actor later landed his first movie role in Circle of Doom. In the film, he played the role of a Customs Officer.
In 1987, he featured in Things Fall Apart – a film adaptation of Chinua Achebe's book of the same title. He was in the film alongside other veteran actors such as Fabian Adibe, Pete Edochie, late Justus Esiri, and Sam Loco Efe among others.
His Fame Skyrocketed After Featuring in Ukwa
It was in the year 2000 that Nkem Owoh featured in the comedy-drama, Ukwa. Although it was the first time he was featured as a lead character, the film was a remarkable success and he gained notable recognition. He appeared in it alongside Patience Ozokwor, Amaechi Muonagor, and Sam Loco.
A sequel titled Ukwa 2 was subsequently released and it enjoyed similar success. Prior to that, he was featured in Pam Pam (1997). It did not take long for the actor to land other roles as he appeared in other late 1990s films such as Kiss Me Quick (1998), Conspiracy (1999), and Big Man… Big Trouble (1999).
Even though it is difficult to trace how much the actor earned in the earliest days of his career, the 2000s came with a new wave in his acting profession. He featured as Onye-Eze in the movie of the same title (2001), Fake Doctor (2001), Long John (2002), Spanner (2002), Mr. Trouble (2003), and Lion Finger (2003) among others.
Nkem Owoh Got His Nickname Osuofia From One Of His Earliest Movies
At the age of 45 in 2003, Owoh reached international stardom with a comedy film titled Osuofia in London. The film, which was produced by Kingsley Ogoro and Kola and was directed by Kingsley Ogoro, centers its story on the life of Osuofia. It is noteworthy that the actor was first called Osuofiason in the film Ikuku in 1995. The screen name has gone on to somewhat replace his real name.
In Osuofia in London, the actor portrayed a villager from Nigeria whose brother left him a lot of wealth following his demise. Osuofia headed to London and found his late brother's fiancee, Samantha. There was a twist on whether Osuofia should follow the custom of his home which would allow him to inherit Samantha (as a wife), or go with her custom.
The fame of the movie would add further to Nkem Owoh being known widely as Osuofia. It also won the Africa Movie Academy Award for Best Soundtrack and was commercially successful. A year after its release in 2004, a sequel titled Osuofia in London 2 was pushed into the market. Like the first one, it also received positive reviews and grossed highly.
In the same year, Nkem Owoh would feature in films such as Spanner Goes to Jail, The Master, and Akanchawa. In 2007, when he was 49, the actor featured in Stronger Than Pain and his performance as Ulonna won him an African Movie Award in the category of Best Actor in a Leading Role.
Even though Osuofia was part of several other movies in recent times, he most notably appeared in Lionheart in 2018. It is still buttoned-up how much he made in the movie. Nonetheless, the movie remains one of the highest-grossing movies of all time in Nigeria with ₦21.3 million. It also made the history of becoming the first Netflix original film in Nigeria.
Other Notble Films of Nkem Owoh
My Village People 2021
Kpali (2019)
Chief Daddy (2018)
Lionheart (2018)
Ghana Must Go (2015)
Military Zone (2012)
His Holiness (2008)
Johnbull & Rosekate (2007)
A Fool at 40 (2005)
Bus Driver (2005)
The Master (2004)
King of Forest (2003)
Long John (2002)
Onye-Eze (2002)
Ukwa (2000)
Big Man…Big Trouble (1999)
Rattle Snake (1995)
Things Fall Apart (1987)
Nkem Owoh Also Makes A Living As A Movie Producer
In the late 1990s, Osuofia became a movie producer. He produced movies such as Kiss Me Quick (1998), Yogo Pam Pam (1998), and Pam Pam (1997). In 2002, he wrote and produced a film called King of the Forest. In spite of the film not making a huge commercial success, the actor would report that it remains one of his favorite movies.
Generally, many of the movies of Nkem Owoh rally around the genres of comedy and drama. What remains under wraps, however, is the exact fortune he may have generated as a movie producer.
He Had A Music Career
Nkem Owoh proved to be versatile in the entertainment industry when he ventured into music. In 2004, he released several songs with the most notable being "I Go Chop Your Dollar". The song was featured in the movie The Master where the actor played the role of a fraudster.
Although the song gained massive attention, it also became controversial. The lyrical content of the song would lead to accusations that the Osuofia in London veteran actor was promoting fraud. As such, the song was banned by the Economic and Financial Crimes Commission as well as by the Nigerian Broadcasting Commission.
The music career of the actor took a hiatus and sometime in 2017, he reportedly made a comeback but in a different light. Rather than continuing with songs about love amidst other themes, he opted for gospel music. One thing that remains the same nonetheless is the fact that he earns from the career even though it may not be compared to how much wealth he has generated in the acting scenery.
Nkem Owoh's Songs
I Go Chop Your Dollar
Know Me When Am Poor
Agreement
I Am a Master, You are a Loser
Mama No Know 'N' Pikin Again
He Graces Many Stages as a Comedian
Osuofia made people laugh naturally even before he became an actor. As a result, he also unleashes this talent on stage, attending several events around the world to make people laugh. Obviously, his comedy career has fetched Owoh a good fortune but there is no certainty how much wealth he has been able to draw from the career.
Endorsements Have Added To Nkem Owoh's Net Worth of $4 Million
MTN
In 2012, it came to light that Nkem Owoh was named a brand ambassador of the telecom company, MTN, alongside Davido and Patience Ozokwor. Years came along and the endorsement deal has been renewed, making him one the longest-serving ambassadors of the brand in Nigeria. The brand also features the actor in its advertisements. The wealth he has made from the deal alone is reportedly in millions of Naira.
Hero
Sometime around 2021, Nkem Owoh joined the brand ambassadors of the alcoholic brand Hero. He is also one of the brand ambassadors that champion ₦50 Igba Boi Apprenticeship scheme that would help raise 100 apprentice to enjoy ₦500,000 at the end of 6 months of mentorship under different mentors.
Is Nkem Owoh The Highest Paid Actor in Nollywood?
Osuofia may not be the highest-paid actor in Nigeria but he is definitely one of the highest-paid and also one of the richest Nigerian actors. Many actors of his league in the industry receive up to a million Naira and above per role. He is also notable for mostly playing lead roles. Hence, his earning may be higher that a lot of other actors or play supporting roles only.
In relation to this, the actor has also appeared in some of the highest-grossing movies in Nigeria such as Chief Daddy (387.5 million), My Village People (100.9 million), and Lionheart (21.3 million).
In spite of the wealth he has gained for decades since his career as a broadcaster and now as an entertainer, Nkem Owoh has also lost a relative income. The most notable is when he was kidnapped in November 2009. Although his abductors demanded 15 million, they were later handed 1.4 million for his release.
Prior to that, in 2007, he was arrested in Amsterdam, Netherlands after he was accused of suspected fraud. Perhaps he may have spent some fortune in trying to gain his freedom.
Some Awards Won By Osuofia
City People Movie Special Recognition Award (2014)
AMAA- The Life Time Achievement Award (LTAA, 2017)
Africa Movie Academy Award for Best Actor in a Leading Role (2008)
City People Lifetime Achievement Award (2017)
Where is Nkem Owoh Now?
The comedian cum actor has maintained his relevance in the entertainment industry for more than 3 decades. He has evolved with time and continues to be part of movies as an actor. In 2021, he appeared in My Village People alongside other actors such as Bovi and Amaechi Muonagor.
Additionally, Nkem Owoh also promotes a YouTube channel with the aim of sharing his comedy. However, it was at the time of this writing taken down due to a copywriter claim by Sunny Nwatu.
While it may be difficult to trace how the actor spends his fortune in his thriving career, it may not come as a shock that he may have a home in more than a place, including in his hometown Enugu. He also may have luxurious cars. Although this has not been proven, it is reported that the actor is an owner of cars such as:
Mitsubishi Montero SUV (costs about 10 million Naira)
Mercedes Benz 4matic (worth more than 15 million Naira)
Furthermore and apart from showbiz, Nkem Owoh is involved in charities. He has worked closely to raise funds for disabled children through the Marian Mission Charity. He also supports other courses through different NGOs.