Omotola Jalade Ekeinde (born 7 February 1978) is a 45-year-old Nigerian actress, singer, philanthropist, TV personality and former model known for many of her roles in movies such as Blood Sisters, Games Women Play, and The Woman in Me among others.
Omotola Jalade Ekeinde is a talented and prominent Nigerian actress. She is one of the leading actresses in Nollywood and one of the most followed and respected across Africa. The 45 year-old actress was notably honored in Time magazine's list of the 100 most influential people in the world in 2013.
Besides gracing covers of magazines and billboards, Omotola is a passionate activist, entrepreneur, and a successful wife and mother. She is married to Captain Matthew Ekeinde and they have four adorable children. At 45, Omotola has accomplished a lot. Let's take a look at the achievements so far.
Bio and Profile Summary of Omotola Jalade Ekeinde
Full Name: Omotola Jalade Ekeinde
Date of Birth: 7th February 1978
Age: 45 years old
Place of Birth: Lagos State, Nigeria
Nationality: Nigerian
State of Origin: Ondo State
Education: Chrisland School, Opebi; Oxford Children School Santos Layout; Command Secondary School, Kaduna; Obafemi Awolowo University; and Yaba College of Technology
Occupation: Actress, Singer, TV Personality, Entrepreneur, Model
Marital Status: Married
Children: 4
Omotola Jalade Ekeinde Is From Ondo State, Nigeria
Omotola Jalade is a native of Ondo State but was born in Lagos State. Her parents are Oluwashola and Oluwatoyin Jalade. The actress' father worked at the Lagos Country Club and YMCA while her mother worked at J.T Chanrai Nigeria. Up until he died in 1990, Oluwashola took good care of his home as every responsible father would. He died in a ghastly motor accident along the Benin-Ore expressway. Omotola was just 12 years old when her father passed on at the age of 41, but she received a wealth of parenting from her dad for a few years.
Ten years after the death of her father, Mrs. Oluwatoyin died. She catered for her children when she was alive. Omotola said that she never knew that her mother was going to die so soon. She organized a 5-day make-over training for 20 widows on mothers day, saying that she was not opportune to do that for her mother who was a widow for ten years.
She is 45 Years Old
The actress was born on 7th February 1978 in Lagos State, Nigeria. She is the only girl child and the eldest of three children born to their parents. She spent part of her childhood in Lagos State, before moving to Kaduna for her secondary education. She has two younger brothers, Bolaji Jalade and Tayo Jalade.
Bolaji Jalade is the CEO of Fitz Luxuria Hospitality located at 15 Iperu Akeson street, Alimosho, Lagos State. He owns a decoration company for corporate events and other side businesses. Although there isn't much about her brothers, they are successful in their rights.
The Actress is an Alumnus of Yaba College of Technology
Omotola attended Chrisland School Opebi and Oxford Children School for her primary education. She had her secondary education at Command Secondary School Kaduna where she graduated at the age of 15. For her tertiary education, she studied for a while at the Obafemi Awolowo University before completing her studies at Yaba College of Technology where she studied Estate Management. Omotola notably acted in her first movie before entering the university in 1996. Moreover, she tried her hands at modeling as she awaited her school results after graduation.
In December 2019, the actress was awarded an honorary doctorate degree at Igbinedion University, Okada, Edo State. She has a Doctorate of Arts degree for her contributions to human development and progress at national and international levels.
Omotola Jalade Ekeinde Started Her Acting Career at the Age of 17
Omotola Jalade Ekeinde's venture into the Nigerian movie industry was accidental. The actress who wanted a life in business management had accompanied a friend to an audition. On losing the role, her friend suggested that she goes for the role. She ended up getting the role but her mother was skeptical and didn't like her daughter to become an actress. Finally, she gave in after a film director, joined by the entire movie crew, went to her house to convince the older woman to allow her daughter to appear in the Venom of Justice movie.
Omotola went on to make her debut in the movie industry in 1995 in the Reginald Ebere-directed Venom of Justice. Reginald launched her career and gave her lead roles in her movies which set the stage for Omotola's career as an actress. Later in 1995, Omotola got her first major role with the movie Mortal Inheritance. On a whole, she has featured in over 300 Nigerian movies.
The actress has featured in top-rated Nigerian movies such as Ije co-starring Genevieve Nnaji. The movie became the launch of Cinematic movies in Nigeria. Other blockbuster Nigerian movies she has featured in include Games Women Play, Blood Sisters, and Last Flight to Abuja, amongst others.
List of Some of Ekeinde's Movies
Scores to Settle – 1998
When Love Dies – 2003
Lost Kingdom – 1999
Blood Sisters – 2003
Die Another Day – 2004
A Kiss from Rose – 2004
Games Women Play – 2005
Yankee Girls – 2008
Send in My Shoes – 2007
My Last Ambition – 2009
Ije: The Journey – 2010
Last Flight to Abuja – 2012
Hit the Floor – 2013
The Island – 2017
Blood on the Lagoon – 2014
The Tribunal – 2017
Alter Ego – 2017
Omotola Started Her Musical Career At Age 27
Being much of a free spirit, Omotola has ventured into various things. She tried her hand in the music industry when movie producers were restricted from producing for some reason. She released a couple of albums with the recent ones featuring international stars like Bobby Valentino.
Speaking about her interest in music, Omotola said she has always loved singing but becoming an activist and working with the U.N. World Food Programme motivated her to launch her music career. She launched her music career with the release of her first album Gba in 2005. Her second album Me, Myself and Eyes was launched in 2013 and featured songs like "Feel Alright", "Barren Land", "Get Busy", "Missing You", etc.
Omotola started working on her third album towards the end of 2012. The singer sought the help of The Bridge Entertainment in this album. She worked with few notable producers in Atlanta to create a unique sound that would go well with the American audience.
Later on, the singer went on a long break from singing. She said she decided to face other things after she was discouraged from releasing more music. Years later, in 2021, Omotola revealed her intention of going back to her music career. This time around, she will be more serious about it and not take any discouragement from anyone.
List of Some of Her Songs
Dance ft. Ruggedman
Don't Flip
Grass to Grace
Life or Death
Thing You Do to Me
Gba ft. Six O
Honey Boy Show Me Love
She Launched a Reality TV Show In 2012
In 2012, the beautiful actress diverted a little from the usual Nigerian movies. She became one of the first celebrities in Nigeria to launch a reality TV show titled Omotola: The Real Me that aired on the Africa Magic Entertainment channel of DStv.
Ekeinde's Other Achievements at 45 and the Awards She Has Won
Omotola Jalade has made outstanding achievements in the entertainment industry; particularly with Nigerian movies. She has amassed well over 40 local and international awards. She received her first award in 1997 when she was just 19 years old and has continued to bag many awards to date. Having started at a young age, she was privileged to be among the youngest celebrities to receive some awards. Also, she received several accolades for her outstanding personality and contributions.
Awards
Omotola was the youngest person to win the THEMA (The Movie Awards) Best Actress Overall and Best Actress English in 1997.
In 2005, she won the Best Actress in a Supporting Role during the first African Movie Academy Awards (AMAA).
She won the Best Actress in the 2004 City People Awards for Excellence
Best Actress and Grand Achiever in the 2004 Global Excellence Recognition Awards
Best Individual and Symbol of Creativity in the 2004 Civil Enlightenment Organization of Nigeria (CEON) awards
Most Friendly Actress in the 2006 Youths Benefactor's Award
Best Actress Africa Collaboration in the 2011 Ghana Movie Awards
Actress of the Year in the 2012 Eloy Awards
Film Actress Icon in the 2012 Black Entertainment Film Fashion Television and Arts Awards (BEFFTA)
Pan African Best Actress in the 2012 Screen Nation Awards
GIAMA Humanitarian Award in the 2012 Golden Icons Academy Movie Awards
Best Actress in a Movie/TV Series in the 2018 Africa Magic Viewer's Choice Awards (AMVCA)
Lifetime Achievement Award in 2017 Best of Nollywood Awards
Best Actress in the 2017 Nollywood Travel Film Festival, and Toronto International Nollywood Film Festival
Female Entertainment Personality in the 2016 City People Social Media Awards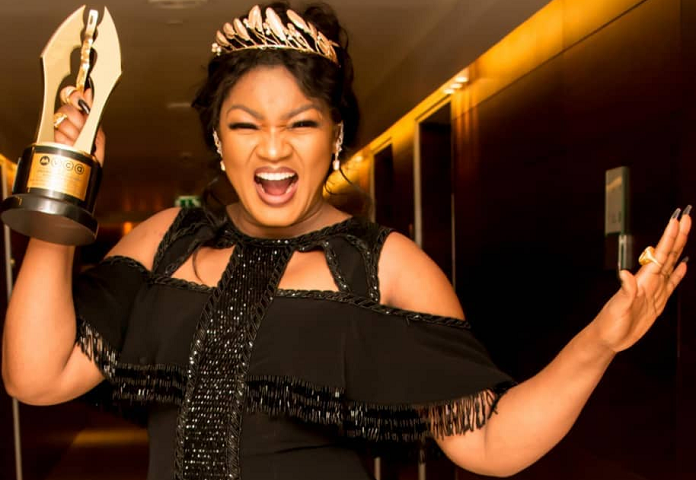 Achievements
She became a United Nations WFP (World Food Programme) Ambassador in 2005, going to missions in Sierra Leone and Liberia.
She's the first Nigerian to start a reality TV show, Omotola: The Real Me.
In 2013, she made it to Time magazine as one of the 100 Most Influential People in the World alongside Michelle Obama and Kate Middleton.
In 2014, the Nigerian government honored her with a national prestigious title. She was conferred a Member of the Order of the Federal Republic, MFR, for her contributions to Nigerian cinema.
She got a column, Omotola's Diary, in OK! Nigeria Magazine
Omotola received a chieftaincy title in her hometown from Oba Victor Kiladejo, King of Ondo Kingdom
Her accent ranked 5th on the World's Twelve Sexiest Accents of CNN Travel in 2012
In 2013, Omotola Jalade Ekeinde was listed among the Top 100 Most Influential Africans by the New African magazine
She was also listed among the highest-grossing movie stars one has heard of in 2015. Other celebrities on the list are Martin Klebba, Bob Bergen, Michael Papajohn, Chris Ellis, Frank Welker, Jack Angel, Shah Rukh Khan, Clint Howard, and Mickie McGowan.
Jalade made the Forbes Africa's 100 Innovations, Inventions, and Icons from Africa list alongside other Nigerian celebrities like Davido, Wizkid, Burna Boy, Chimamanda Ngozi Adichie, and Ngozi Okonjo-Iweala.
List of All the Brands Omotola Jalade Ekeinde Endorses
She is a brand ambassador to Knorr alongside her daughter, Meraiah Ekeinde
Brand ambassador to Scanfrost
Konga.com
Protector and Gamble Nigeria, P&G's Pampers
Beyond Her Career, Omotola Jalade Got Married to Captain Matthew Ekeinde at 18 Years
Omotola Jalade Ekeinde has been married for close to three decades. She is one of the Nigerian actresses who got married early and is still married. She also had her children within the first six years of her marriage.
On 23rd March 1996, the actress tied the knot traditionally with her spouse, Capt. Matthew Ekeinde, who is from Edo State, Nigeria. They had their white wedding in the most uncharacteristic place, on board a Dash 7 aircraft while flying from Lagos to Benin in 2001. Their union has since been blessed with four children; M.J. Ekeinde, Micheal Ekeinde, Princess Ekeinde, and Meraiah Ekeinde.
Capt. Matthew Ekeinde is a renowned pilot and aviation personality who has worked for several Nigerian and international airlines. He has worked with Aero Contractors, AIC Airlines, Bellview, Sosoliso, Air Nigeria, Arik Air, and Bristow Helicopters. He is also the owner of The Aquatic Jungle Entertainment, an entertainment and tourist center located in Badagry.
Omo sexy, as she is fondly called, shares a strong bond with her children despite her busy life. Princess Ekeinde is the first daughter and the first child of the family. Born on 30th March 1997, she is studying Hospitality and Tourism at the Eastern Mediterranean University, Cyprus. Matthew Junior is a singer and music producer and is famously called Captain E. He was born on 20th August 1998 and is the second child and first son. He is a student in the United States.
The Ekeindes' second daughter, Meraiah Ekeinde, was born on 7th February 2000. Coincidentally, Meraiah and Omotola share the same birthday. She has drawn media attention with her close resemblance to her celebrity mother. Both mother and child have been seen together at several events and it seems Meraiah, who is fast becoming an adult, is pretty much interested in living in the limelight. Meraiah bagged a degree in Merchandise Production and wants to also study Business Management. The teenager would probably follow in her mother's footsteps. She is an actress and a singer with an encouraging fan base. She is also an aspiring model and a fashion designer.
Born in 2002, Michael Ekeinde is the last child of the family. He is good at photography and has an interest in acting and movie production.