Desmond Elliot is a popular Nigerian actor, politician, movie director, and producer whose net worth is estimated at $5 million. Over the course of his acting career, Elliot starred in over 200 movies and TV shows and is currently a lawmaker at the Lagos State House of Assembly.
Desmond Oluwashola Elliot was born on 4th February 1974 to a Yoruba father from Lagos State and a mother from Delta State. For his early education, he attended Air Force Primary School and St. John's College, Jos. He is a 2003 graduate of the Department of Economics, University of Lagos. The politician made his net worth through acting and politics but a greater part of his net worth comes from politics because he stopped acting in 2014 when he decided to go into politics. However, he didn't drop everything about the entertainment industry completely. Rather, he owns a movie production company, Denziot Productions, and he still directs movies.
How Desmond Elliot Acquired His $5 Million Net Worth
Desmond ranks among the richest actors in Nigeria with an estimated net worth of $5 million. He is a popular actor, producer, politician, and all of these exploits have greatly contributed to his net worth. Let's take a look at the several businesses and careers that helped the actor achieve such a great net worth below.
Acting Career
The former actor started acting as early as the 2000s when he featured in Nigerian Soap Operas like Everyday People, Super Story, One Too Much, and Saints and Sinners. He was brought into the movie industry by a friend, and he put in his best in acting until he became famous. In his active days, he was one of the best actors in Nollywood, and he featured more in romantic roles than epics. In just about 14 years of acting, the actor-turned-politician starred in over 200 movies, TV shows, and soap operas.
Highlights Of Some Of His Movies
Fishers of Men 
Jesu Mushin
Images in the Mirror
Okon Goes to School
Magic Moment
A kiss from Rose
Knowing You
Men Do Cry
Wedding Gift
Divided Attention 
Naked Sin
King of the Town 
Love Wins
He Owns a Production Company
In 2008, the actor took his talent into movie production. He was still acting at the time and in that year, co-produced and co-directed the movie Reloaded. This was his first attempt at movie production and in no time, he delved fully into it and opened a production company he called Denziot Production. So far, he has produced movies like Edikan (2009), Too Much (2010), Ordinary People (2014), To Be Again (2017), and Unbroken (2018). He has also directed several other movies which include Guilty Pleasures (2009), Bursting out (2020), Kiss and Tell (2011), Desperate Housegirls (2013), Baby Shower (2016), and Disguise (2018) among others.
Desmond Elliot's Political Career Also Contributes to His Net Worth
Desmond Elliot has always nurtured a passion for politics and wishes to become the Governor of Lagos State one day. Accordingly, in September 2014, he declared his intention to run for the Lagos State House of Assembly under the All Progressive Congress (APC). He won a seat in the Surulere Constituency in the 2015 general elections and currently, he is in his second tenure.
Not done, Desmond revealed in an interview that he is still interested in higher political positions and is not going to relax in his current position. Consequently, he has enrolled in two Masters programs in Social Studies, and Business Administration as a way to prepare himself for the journey ahead.
Since he stopped acting, politics has been the main source of income for him and has contributed a lot to his net worth. A Nigerian lawmaker earns an official salary of at least N800,000, monthly excluding allowances. And a running cost of N8.5 million, bringing it to a total of N9.3 million monthly. Such is what Desmond Elliot receives every month which therefore contributes a better portion of his net worth.
He Also Earns Through Endorsement Deals
Multiple streams of income are the order of the day; therefore, the actor-turned-politician also has some endorsement deals which contribute to his net worth. Here are some of the endorsement deals that contribute to his huge net worth.
Desmond Elliot is a Brand Ambassador to Globacom telecommunication company
Close-up in 2002
Guinness Extra in 2008
Is Desmond Elliot Still Acting?
Elliot is a real deal and he gives his best at whatever he sets out to do. He joined politics but did not back out entirely from the entertainment industry. Production and directing have contributed a good percentage to his net worth and will continue to do so since he combines politics with them.
Currently, Desmond Elliot is not acting; however, he revealed in an interview with Premium Times that he is still in the entertainment industry as a movie director and producer. He also said that his reason for not leaving the industry is because he does not want to create the impression that, he is now in a place that pays him more money, and as such has forgotten Nollywood.
Desmond Elliot's Acting Career Earned Him Awards and Honors
Over the years, outstanding actors and actresses have been recognized and rewarded with deserving awards. Desmond has received some of these awards and recognitions.
Nominations
Best Supporting Actor Award at the 10th African Movie Academy Awards in 2006
Reloaded, the movie he co-produced, received three nominations at the African Movie Academy Awards in 2009
Best Actor category in the 2009 and 2010 at the Nigeria Entertainment Awards
Best Actor in a Supporting Role at the 2014 African Movie Academy Awards for the movie Finding Mercy
Awards and Honors
In the 2013 Africa Magic Viewers Choice Awards, he won the Best Supporting Actor in a Drama
In 2011, the actor was honored with the title Member of the Federal Republic (MFR)
A Look at How Desmond Elliot Spends His Wealth
As one of the richest actors in the country, Desmond Elliot is swimming in cash and he spends heavily on his family, acquiring houses, and numerous expensive cars. His wealth also speaks in his appearance and expensive lifestyle.
He Lives in a Multi-million Naira Mansion in Lekki, Lagos State
Many Nigerian celebrities own mansions in Lekki. These luxurious mansions are worth millions of naira. Among these celebrities are Tiwa Savage, E-Money, Davido, 2Face, and Timaya, and their houses are furnished with expensive furniture. Desmond Elliot, with his mouth-watering net worth, also owns a mansion in Lekki. Not much is known about his house and its worth because he keeps his personal life away from the camera.
In the same vein, he keeps his children's private lives away from social media, except for some pictures that have filtered out. Owing to his status, it is safe to say that his children attend expensive schools and are getting the best of life. Desmond Elliot relocated his wife and children to the United States in 2014 for better life and education. They went for what seemed to be a vacation but did not return.
He Has a Fleet of Exotic Cars in His Garage
The Nollywood star has an eye for quality things and also gets them for himself. He owns one of the most sophisticated cars in the country among many others. This is to show how much he loves fancy cars and spends his money on them. The politician owns a Vintage Mercedes Benz worth N30 million.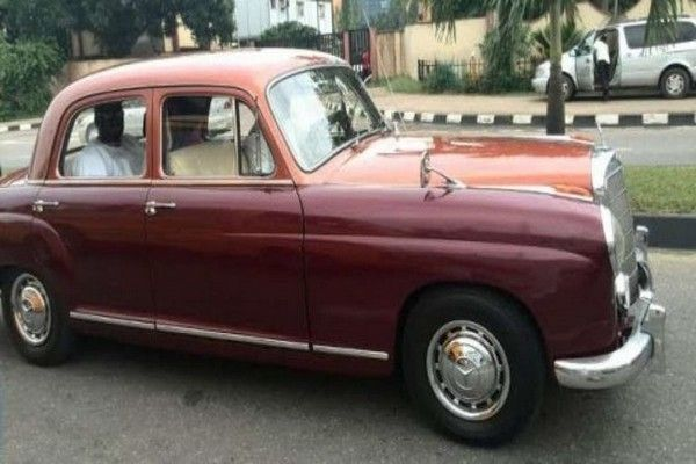 Desmond Elliot Cars and Their Prices
2010 Toyota Camry – N2.3 million
Nissan Versa – N5.8 million
Ford Explorer – N13.8 million
Toyota HiAce – N15.3 million
Toyota 4Runner Classical – N15.9 million
Range Rover Evoque – N23.8 million
He Gives Back to Society Through The Desmond Elliot Foundation
Desmond is a also philanthropist who runs a charity organization. This foundation was established in 2008 and is focused on the provision of clean water to people who are in poor urban areas and rural areas. They worked mainly in Jos and Liberia, where they provided gift items to motherless babies' homes and old people's homes.
More recently, as part of his political campaign, he donated school buses to schools under his constituency in Surulere, Lagos State. He engineered the donation of Desktops to schools, too, and also donated Tricycle (Keke Napep) to people.