TStv, which represents Telcom Satellite TV, is an indigenous digital satellite TV service provider, airing over 108 channels. TStv channels cut across various spheres of entertainment and sports, including live matches, religion, education, music, history, general information, and much more.
TStv Channels List in Nigeria
TStv unlocks 108 channels after a package subscription. The channel list covers different genres to provide quality screen time for viewers. Below are the complete list of the genres and their different channel numbers:
Language/ Culture/ Pan Africa Channels
Riwendu TV (128)
Nollywood TV (130)
Mama Africa Movies (125)
Mama Africa Movies Hausa (127)
Mama Africa Movies Yoruba (126)
General Entertainment Channels
Grande Comedy (150)
NCTV (151)
Fox Entertainment (152)
Ben TV (155)
AIT (156)
NTA (257)
NYSC TV (365)
Movie Channels
Grande Movies (175)
Televista (183)
NBC Max (179)
NBC 2 (177)
NBC Action (178)
Telenovela (181)
Movie Box (176)
Bollywood TV (184)
Kiddies Channels
A1 Kids (200)
Panda Biggs (201)
Nickelodeon (202)
JimJam (203)
Health and Lifestyle Channels
AHTV (215)
Fashion One (217)
Fine Living Network (216)
Documentary Channels
IDX (Channel 226)
Viasat Nature (224)
National Geographic (222)
Nat Geo Wild (223)
Discovery Science (225)
Music Channels
Hits (240)
Trace (241)
MTV base (242)
News Channels
BBC (252)
CGTV (256)
CGTV (256)
CNN (250)
Aljazeera (251)
Channels (253)
TVC News (254)
Bloomberg (255)
Sports Channels
Bein Sports NBA – (channel 276)
Bein Sports HD2 (277)
Eurosport (286)
Bein Sports HD3 (278)
Bein Sports HD 5 (280)
FOX Sports 1 (287)
Bein Sports 6 HD (281)
Bein Sports HD 7 (282)
FOX Sports 2 HD (288)
Bein Sports HD 8 (283)
Bein Sports 9 HD (284)
Kombat Sports (289)
Bein Sports 10 HD (285)
Bein Sports Max 4 HD (279)
Religious Channel
Qraa (303)
EWTV (305)
Emmanuel TV (301)
TBN Networks (302)
Grande Gospel (300)
Sunna Makaranta (304)
TStv Free Channels
As of writing this article, TStv does not offer any free channel to its customers. You can only watch your favorite channel through their official decoder or on a forever server.
TStv Price
TStv Africa Smart Satellite decoder costs between N12,000 – N15,000 besides the installation charges. Installation price may range between N2,000 and N5,000 depending on your negotiation with the installer. The price variation of the decoder results from some factors like where the installation will take place and the period of purchase.
Even though it is not yet the most popular cable TV in Nigeria, TStv has been gradually pulling its market and drawing admiration. Meanwhile, with the quality, unique and affordable services they offer, one would expect it to be one of the best-rated cable TVs in the country. But, TV has limited options with their available types of decoders.
TStv Subscription Packages and Prices
TStv offers five unique, flexible, and affordable subscription packages. All subscription allows you to watch all the available channels for a certain period, and the timing depends on the package you subscribed to. Viewers can subscribe with at least N200 and as high as N3,000. Let's take a look at the subscription packages and prices.
Daily Subscription Package
With 200 Naira, you can subscribe to TStv daily plan and still have premium access to watch your favorite TV channels that are entertaining and educative. This package also comes with 500MB of data that you can use to browse the internet.
3-Day Subscription Package
This is a pocket-friendly plan that an average person can role with. This package which costs only N500, also offers you 1GB of data to take advantage of its 4.5G network. You can connect your phone or laptop over Wi-Fi to browse the internet.
7-Day Subscription Package
This flexible package delivers affordable entertainment through several selected TV channels. It is geared toward cable TV users that need better value for money via flexible payment options. With N750, you are good to subscribe to this package and equally get a bonus of 2GB of data.
14-Day Subscription Package
This exciting TStv bouquet aims to provide customers with enjoyable screentime within 14 days. You will spend N1,500 to subscribe to the 14-day plan, after which you will get 5GB of allocated data.
1-Month Subscription Package
The monthly subscription is regarded as the full subscription package, and the subscription price is N3,000. After you have subscribed, you can browse the internet with a data cap of 10GB. If you just purchased a new TV decoder and subscribing for the first time, do well to subscribe to the monthly plan because an extra 20GB bonus is waiting for you.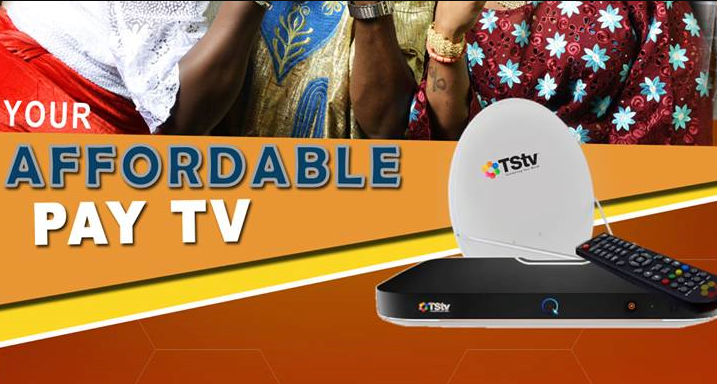 The most interesting thing about the TStv is that all channels are accessible regardless of the plan you subscribe to. Access to major channels is only denied at the time your subscription elapses. Also, you can decide to pause your subscription when not in use for a maximum of 7 days. This flexible subscription remains a fascinating feature of the service provider. In fact, TStv currently runs the cheapest TV subscription package in the country.
What is TStv Frequency?
The satellite position to reach TStv channels is on Belintersat 51.5°E, and the frequency and position have become more stable than before. For you to set up TStv appropriately, you need the help of an installer. Kindly get a professional installer to assist you to set it up perfectly with the parameters and symbol rate below:
Satellite Name: Belintersat 1 (same position as MyTV)
Orbital position: 51.5 degrees East (51.5ºE)
LNB Type: KU Band LNB
Dish Size: 90 CM or larger
TStv Africa Frequency – 1
Freq: 11130
Polarization: H/V
Symbol Rate: 30000
Frequency – 2
Freq: 11050
Polarization: V/H
Symbol Rate: 30000
Frequency – 3
Freq: 10970
Polarization: H
Symbol Rate: 30000
Brief History of TStv
Telcom Satellite TV (TStv) was officially launched in Nigeria on the 1st of October 2017, which is also Nigeria's Independence day. The TV company is a wholly-owned Nigerian digital Pay-TV operator. Upon arrival, TStv was well received by Nigerians, especially those who saw it as a messiah that would liberate them from the monopoly of DSTV.
The sole aim of the innovation is to have a homegrown digital satellite service for citizens, and it was birthed by solution finding exploits of Africa Health Television AHT. The unconducive economic situation in Nigeria prompted the initiators to share in finding solutions to ameliorate the relatively high rate of DSTV and GOTV services.
Its launch on 1st October 2017 came with several packages, including a three-year tax break and 5,000 free decoders. TStv boasts special features such as PVR function, 20GB complimentary, Pause function, 24 hours customer service online, Video calls, and WiFi.