Olamide is a Nigerian rapper and singer who is also known as one of Africa's biggest and most influential artists. 
The mention of the name Badoo brings Olamide, a Nigerian who is considered one of the most famous music stars in the Nigerian music industry, into focus. He is pretty good at what he does, thus, making him one of the highly sought-after music artists.
Olamide is one of the most promising music artists in Nigeria and belongs to a clique of young musicians taking Nigerian music to the next level. In this category, we have the likes of Davido, Wizkid, Burna Boy, among others. The 34-year-old Nigerian musician sings mostly in his native language Yoruba.
His music brings out a deep cultural aspect of Nigerian culture to anyone who listens. He focuses on his background and upbringing, making it easy for many people to reflect on the music. People from the high-life society, professionals, students, market traders, and ordinary, well-meaning Nigerians appreciate the young man's music. This article will give you scintillating details of the Nigerian music star's biography and his career journey so far.
Olamide's Profile Summary
Full name: Olamide Gbenga Adedeji
Nickname: Badoo
Gender: Male
Zodiac Sign: Pisces
Date of birth: 15th March 1989
State of origin: Lagos State
Olamide's Age: 34 years old
Ethnicity: Yoruba
Nationality: Nigerian
Sexual Orientation: Straight
Religion: Christian
Education: Tai Solarin University Of Education
Marital Status: Married (2014)
Olamide's Wife: Adebukunmi Aisha Suleiman
Children: Batifeori Maximilliano Adedeji, Tunrepin Myles
Olamide's Parents: Pa Adedeji and Ronke Osisanya Adedeji
Siblings: TemmyGold and Eniola Olamilekan
Olamide's Height in Inches: 5 feet 9 inches
Olamide's Height in Centimetres: 118cm
Net worth: $12.5 Million
Occupation: Rapper, singer, songwriter
Record label: YBNL Nation (CEO)
Active years: 2010- present
Olamide's Instagram: @Olamide
Twitter: @Olamide
YouTube: OlamideVEVO
Facebook: @Olamide
Olamide is Currently 34 Years Old in 2023 and Was Born in Lagos State, Nigeria
Adedeji Gbenga Olamide was born and raised in Bariga, in Lagos, on 15th March 1989. He goes by the stage names "Baddo, YNBL, Young Erikina, and Baddest Boy Ever Liveth." Olamide is the second out of the three children born to his parents Pa Adedeji and his second wife, Ronke Osisanya Adedeji. His two other siblings are Emmy Gold and Eniola Olamilekan, best known as DJ Enimoney. DJ Enimoney is also a popular name in the Nigerian entertainment industry. He is the official DJ of the YBNL record label. In April 2021, DJ Enimoney dropped new music titled Sugar Daddy, featuring his elder brother and boss Olamide.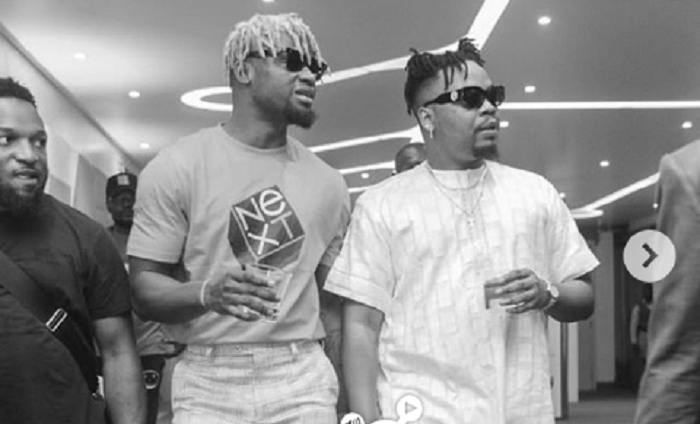 Olamide had his primary and secondary schools in Lagos before proceeding with his university education. It was while in the university that he developed a passion for music. He attended the Tai Solarin University of Education in Ijagun, where he studied Mass Communication. Regardless of his course of study, he decided to go for music, so it is safe to say that what he learned in the university did not shape him into the career path he is now. When asked why he chose music, Olamide responded that he found out he was highly gifted in it, so he decided to explore it. Meanwhile, it was recorded that he dropped out of the university due to financial constraints.
Olamide's Music Career Took Off in the Year 2000
After he dropped out of the university, Olamide did not waste time going into any other field of endeavor but pursued his passion for music straight away. He was first signed to the record label Coded Tunes managed by Toni Payne, and under the label, he released his debut single, Eni Duro. Even though Eni Duro was his first official release, the song would reveal him to the world. It received wide critical acclaim and therefore launched him to the limelight.
He had subsequently dropped numerous singles, which continue to make waves in the country. Some of which include Apa Ti Jabo, Stupid Love, Omo To Shan, First of All, Yemi My Lover, Melo Melo, Matters Arising, Eleda Mi, and many others. One of his popular songs is the 2020 trending hit, Infinity, featuring Omah Lay. The video of the song currently has gathered over 46 million views on YouTube, and it grossly contributed to catapulting him onto more fame.
One notable aspect of the music done by Olamide is the fast-paced rap. This type of music genre has not been very familiar in Nigeria, where a majority of the people prefer the high-energy, fast-paced party popping jams. However, Olamide has managed to bring change by incorporating new skills into his rap music. He is versatile as an artist and can easily blend different tunes and beats. Although he majorly raps in Yoruba, Nigerian slang, and Pidgin English, Olamide has produced a few tracks in English.
Some of Olamide's famous songs include:
Infinity
Jale
Confession Aiye
Triumphant
Loading
Apa Ti Jabo
Green Light
Awon Goons Mi
Up in the Club
Plenty
Unconditionally
Another Level
Oja Majemi
Take Rich
Famous Vision
He Has Released 8 Studio Albums So Far
So far, Olamide has released 8 studio albums, 3 collaborations and EPs, and numerous hit singles. The Eni Duro crooner has managed to stay afloat in the music scene given his hard work ethic and ability to stay out of scandal. This is evident in the number of albums he has released over a short time of launching his music career. Below are the albums he has under her belt and how successful they wee
Rapsodi (2011)
Olamide's debut studio album Rapsodi was released in 2011, while he was still under the Coded Tunes label. The tracklist of 16 singles, Rapsodi, is a hip-hop album performed in the Yoruba language. In the album, Olamide featured many A-list Nigerian artists like Wizkid, ID Cabasa, Dbanj, 9ice, Reminisce, Jumoke, etc., and it turned out to be a huge success. The album's lead single, Omo To Shan, charted on various radio stations in Lagos and across the country.
YBNL (2012)
After the success of his first album, Olamide didn't take a break but went on to release his second album titled YBNL. He left the Coded Tunes in 2012 to start his own YBNL Nation (Yahoo Boys No Laptop), and his second album was its first release. YBNL, released on 12th November 2012, was produced by Tyrone. The album featured guest appearances like Davido, Kay Switch, Tiwa Savage, Dammy Krane, and Reminisce. Some singles in the album are I lefo Illuminati, First of All, Stupid Love, Durosoke, Voice of the Street, and Owotabua. 
Baddest Guy Ever Liveth (2013)
Olamide started recording his third studio album titled Baddest Guy Ever Liveth in 2012 and released it on 7th November 2013. It featured Don Jazzy, Pheelz, B.Banks, Phyno, Viktoh, and others as guest artists. The singles in the album include Turn Up, Yemi My Lover, Eleda Mi O, and Anifowose. Baddest Guy Ever Liveth was ranked 12th on Afrikka Radio's list of the top 12 best Nigerian albums of 2013. It won three different awards in 2014 and was nominated for Rap Album of the Year at the City People Entertainment Awards in the same year.
Street OT (2014)
Following the third album the next year, Olamide dropped his fourth studio album, Street OT. The album follows the 2013 Baddest Guy Ever Liveth album and features guest appearances such as Pasuma, Lil Kesh, Phyno, Reminisce, Don Jazzy. Two popular singles in the album are Goons Mi and Story for the Gods. The album is a combination of hip-hop, afrobeat, and rap, and the language used is English, Yoruba, and Igbo language. The album's lyrics are focused on the "street" where the singer was raised and his love for God.
Eyan Mayweather (2015)
Olamide's fifth studio album was produced by Pheelz, B-Banks, ID Cabasa, and Young John and released on 23rd November 2015. It comprises 21 tracks which include Bobo, Matters Arising, Lagos Boys, and Melo Melo.
The Glory (2016)
The Nigerian rapper released his sixth album, The Glory, on 23rd December 2016. It contains 16 songs featuring artists like Phyno, Burna Boy, Wande Coal, and Akuchi. In the following year, he released the album Lagos Nawa (2017).
UY Scuti (2021)
On 18th April, Olamide announced that he was done working on his eighth and latest studio album and released it on 18th June 2021. He said that one of his sons inspired the title of the album UY Scuti.
CARPE DIEM
On 8th October 2020, Olamide released Carpe Diem, his first body of work under American label and distribution company Empire Distribution. Carpe Diem contains 12 tracks featuring Fireboy DML, Bad Boy Timz, Omah Lay, Phyno, Peruzzi, and Bella Shmurda as guest appearances.
Recap of His Studio Albums To Date
Rapsodi (2011)
YBNL (2012)
Baddest Guy Ever Liveth (2013)
Street OT (2014)
Eyan Mayweather (2015)
The Glory (2016)
Lagos Nawa (2017)
Carpe Diem (2020)
UY Scuti (2021)
Collaborations and EPs
2 Kings (with Phyno) (2015)
YBNL Mafia Family (2018)
999 (2020)
He is Signed to His Record Label YBNL Nation
Olamide's record label Yahoo Boy No Laptop (YBNL) Nation Label is an independent record label he founded in 2012. The label's name is slang referring to young boys making money with no illegal approaches. After his first studio album, all other subsequent works of the rapper were released under YBNL Nation. His second studio album, which was the first label's release, proved to be a huge success, winning top awards at the Nigeria Entertainment Awards and The Headies. YBNL has signed many prominent Nigerian artists like Lil Kesh, Temi Ovwasa, Adekunle Gold, and many more. In 2016, YBNL won the record label of the year in the City People Entertainment Award.
The Eni Duro Crooner Has Attained Decent Fame and Success in His Musical Career
Olamide was born like any other child in Lagos, Nigeria. He wasn't born with a silver spoon and thus grew up on the streets of Lagos, faced with a hard and challenging life with only a dream of making it big one day. We can confidently say that the champ has indeed broken forth and currently living the dream. His current net worth is estimated at $12.5 million, which is not bad at all. His money is made basically from his music career, where he charges an average of N4 million per show he attends weekly. He also makes money as an ambassador for different brands, including Ciroc, Guinness, Glo, and Sterling Bank.
No doubt, Olamide's music career has flourished over the years. He is always featured among the best artists in the industry. Meanwhile, he was initially rumored to have been signed by D'banj's DB records, but this claim was debunked by Olamide, stating that it is too late for anyone to sign him at his current level in the industry. Olamide has performed alongside other famous artists such as Dbanj and Eja Nla, among others. The young man has simply carved a niche for himself in the music industry.
Olamide is a Multi-Award Winner
One of Nigeria's most prolific rappers has won several top and coveted awards throughout his music career. Although he has not been in the music industry for so long, Olamide has managed to scoop several awards. As of 2021, Olamide has been nominated for 55 different awards (both national and international), and he won 22 out of them. Below is a list of the ones he has won
Best Indigenous Artist, Nigeria Entertainment Awards (2013)
Best Album of the Year, 'YBNL' Nigeria Entertainment Awards (2013)
Entertainment Awards (2013)
Best Rap Album and Album of the Year, YBNL, The Headies (2013)
The Best Afro Hip-hop Video Durosoke Nigeria Music Video Awards (2013)
Best Street Hip-hop Artiste, Durosoke, The Headies (2013)
Most Gifted West 'Turn Up' Channel O Music Video Awards (2014)
Album of the Year, 'Baddest Guy Ever Liveth' The Headies (2014)
Best Rap Album, 'Baddest Guy Ever Liveth' The Headies (2014)
Male Artiste of the Year, Too Xclusive Awards (2015)
Artiste of the Year, Too Xclusive Awards (2015)
Artist of the Year, The Headies (2015)
Best Street-hop Artiste, The Headies (2015)
Rap Artist of the Year, City People Entertainment Awards (2015)
Mixtape of the Year, '2Kings', Olamide and Phyno, Too Xclusive Awards (2015)
Best Hip-hop Track' Local Rapper' Reminisce featuring Olamide & Phyno, Too Xclusive Awards (2015)
Video Wonder of the Year, 'Melo Melo' Too Xclusive Awards (2015)
Certified Banger of the Year' Shakiti Bobo' Too Xclusive Awards (2015)
Album of the Year 'Eyan Mayweather' Nigeria Entertainment Awards (2016)
Rap Act of the Year, Nigeria Entertainment Awards (2016)
The Best Collabo of the Year, 'Ghost Mode Phyno featuring Olamide' (2016)
List of Olamide's Cars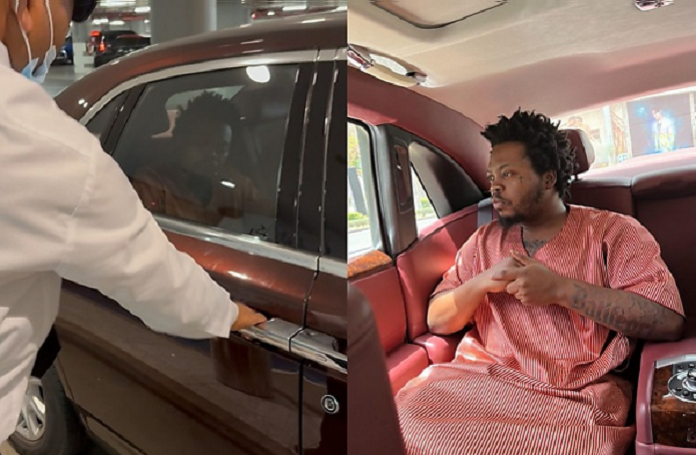 Olaide owns and drives many luxurious cars. As one of the richest and most influential celebrities in Nigeria, he is known to drive luxurious cars like the Mercedes-Benz G-Class, Range Rover Sport V8, and Lamborghini Aventador. Throughout his music career, this Nigerian entertainer has achieved great success and accumulated substantial wealth, truly reaping the rewards of his hard work. One of his biggest and latest car acquisitions is a Lamborghini Aventador. The Baddo-crooner reportedly bought the N218 million-worth luxury ride in 2022 and it is just one among the many luxuries he added to his garage. here is a list of Olamide's cars
Lamborghini
Toyota Camery
Range Rover Sports
Range Rover V8
Mercedes-Benz G Class
Rolls Royce Phantom
Quick Facts About Olamide
Money Flaunting Habits: Having been brought up in a "razz" background, Olamide joined the list of wealthy musicians at a very young age. Like most artists, he also lives lavishly and spends lavishly on exquisite, luxurious, state-of-the-art vehicles.
Controversial and Multi-talented: One aspect that makes Olamide distinct from other artists in the region is his style of music. Besides being a new breed of rap, he is also known to be quite outspoken when delivering his lyrics. Some people may view his music weird, but it appeals to quite a large number of people.
Arrogant: Some people may view Olamide as an arrogant rapper. This is possibly attributed to his hard-hitting lyrics, which often do not go down so well with other artists. For instance, in his track "Ghost Mode," where he collaborated with Phyno, he rapped that he has achieved more than other artists despite them being in the music scene much longer.
Apart from being a good musician, Olamide is a husband to Adebukunmi Aisha Suleiman and father to two boys.
FAQs
Who is Olamide?
Olamide Gbenga Adedeji also known as Olamide, "Baddo" or "Baddosneh" is a Nigerian rapper, singer, songwriter, record executive and one of the most influential artists in Africa. He is best known for songs like Jale Melo Melo, Matters Arising, Eleda Mi.
How Old is Olamide?
Olamide is 34 years old. He was born on March 15, 1989, in the city of Lagos, Nigeria.
What is Olamide's Net Worth?
Olamide's net worth is estimated at $12.5 Million as of 2023. He accumulates his net worth from his music career as well as other businesses he is involved in.
Where is Olamide Originally from?
Olamide hails from Bariga, a district and suburb in Lagos State, Nigeria
How Many Children Does Olamide have?
Olamide has three children from two baby mamas. Olamide's children include Batifeori Maximilliano Adedeji, Tunrepin Myles, and Asaiah Monifé Maria.
How tall is Olamide?
Olamide's height is 5'9" in feet and inches, 180 cm in centimetres and 1.8 m in metres.