At 36 years, Adekunle Gold has already become a music icon, winning multiple awards and diversifying his music. He has explored the different genres of highlife, afrobeat, world, and pop. Most importantly, he does all of these mainly with the catchy voice that has helped him create songs such as Orente, Sade, Sinner, and Money, to list a few.
Rather than wrapping himself only in music, Adekunle wears other hats. He is a sculpture artist and a graphic designer whose popular works include photoshopping into many pictures of renowned celebrities and designing Olamide's YBNL record label logo and Lil Kesh's Yagi Records logo.

Profile Summary of Adekunle Gold
Full Name: Adekunle Kosoko
Also Known As: Adekunle Gold, AG Baby
Date of Birth: January 28, 1987
Age: 36 years old
State of Origin: Lagos State
Occupation: singer, songwriter, graphic designer
Active Since: 2010
Popular Works: Sade, Orente, Sade, Ire, Before You Wake Up, Sinner
Spouse: Simisola Ogunleye
Children: 1, Adejare Kosoko (daughter)
Adekunle Gold Hails From a Royal Family in Lagos State
Adekunle Kosoko "Gold" was born into a Lagos and royal family of Kosoko on January 28, 1987, as an only son. He has three sisters and is the nephew of Nigerian actor Jide Kosoko. Gold, who was not born with a silver spoon, had his education in Lagos State. He first obtained a first leaving certificate before making headway to gain his secondary education.
Although it is unknown the exact schools he attended for his foremost education, sources claim that he may have attended public schools in Lagos. For his higher education, he went to the Lagos State Polytechnic, where he obtained a Higher National Diploma in Arts and Design.
His Father Was a Permanent Secretary of Education in Lagos State
The singer's father, Prince Hakeem Adeyemi Kosoko, was a teacher who toiled to provide for his family with the help of his wife, Adekunle's mother. He obtained his first degree from the University of Benin, where he graduated the best in his class with a distinction in Fine Arts, Painting, and Graphics Major. For years in his career, the older Kosoko had many experiences that included co-writing the module for teachers, vice-principal, and principal.
Although he had many awards for his contributions to humanity through education, the income was not high, and the dream was not fulfilled. However, in 2018, Prince Adeyemi Kosoko was sworn in as a Tutor General/Permanent Secretary for Education in Lagos State. Adekunle, in support of his father, attended the ceremony and recounted how his father's hard work, diligence, and integrity had won him a name that might not be forgotten in a long time.
In 2019, a year after his appointment, Adekunle's father reportedly died of an undisclosed ailment. He was buried at Iko Cemetry in Lagos on May 30, 2019. Adekunle Gold's mother, on the other hand, lives a private life. However, she came to be known as a woman who supported her son's dream in music. She was the subject of his 2018 song Mama from his About 30 album.
His Sister, Adekunbi Kosoko, is An Artiste and Folklore Singer
One of the three sisters of Adekunle Gold, Adekunbi Kosoko, is also popular as Adekunbee and Queen of Ewi. She is an artist, performer, chanter, and folklore singer. Even though she is not as famous as Adekunle, she is popular in her own right and has performed in different places. She also presented music on stage as a backup vocalist for Adekunle Gold. In addition, she is also a member of The 79th Element band, where she performs the duties of a backing vocalist.
Adekunle Was Nicknamed 'King of Photoshop' Before His Fame in Music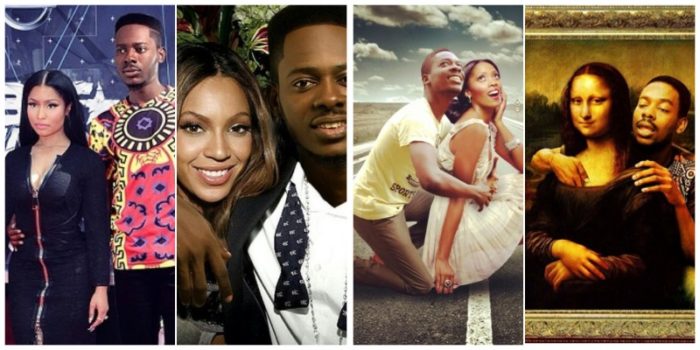 Before his fame in music, Adekunle scouted other options of artistry and photography. At that time, he started to photoshop using his pictures alongside many other notable celebrities in Nigeria and beyond. One of his most popular and remarkable works is photoshopping himself into the popular Leonardo Da Vinci Mona Lisa painting. He photoshopped into the pictures of other celebrities such as:
Kim Kardashian
Tiwa Savage
Tonto Dikeh
Nicki Minaj
Apart from photoshopping, he also added to his fame that of designing the logo of YBNL, Olamide owned record label. Also, when Lil Kesh left YBNL to start his label, it was Adekunle who designed the YAGI Record Label logo.
He Started Singing In Church Before Writing His First Song at 15 and Forming a Band
Gold was exposed to music as a child listening to the likes of King Sunny Ade and Ebenezer Obey. As a teenager, he joined his church's junior music choir, where he further rooted himself in the art. His exploration in music landed him space as a musician and member of a band. With the band, he released his first song where it featured Skales and G.T Da Guitarman. However, he felt that things weren't falling into place as he wanted, so he went solo in 2014.
His Song 'Sade' Was The Hit Song That Syrocketed Him To Fame
Adekunle undoubtedly gained relative fame with his photoshopping, but he continued to pursue his music dream. He made several covers of different songs, and in 2014, he made a highlife version of One Direction's song Story of My Life called Sade. The song gained attention playing in several radio stations over and time again. Its most notable accolade is getting nominated at the 2015 Headies Awards for Best Alternative Song.
He Released His First Official Single, "Orente," at the Age of 28
After Sade was Orente, a song he wrote and sang about Simi, his then-girlfriend. The song was released through Olamide's record label, YBNL, where he was signed in March 2015. Other works came through and a City People Entertainment Awards nomination in the same year. In July 2016, he released his first studio album, Gold, which featured 16 songs. The album was critically acclaimed, and after its release, it peaked at No. 7 on Billboard World Album Chart.
His stay at YBNL was over in 2016, but Gold's career only got started. In the years to come, he has sampled different styles and has become one of the most versatile musicians in Nigeria. He started his career with highlife before incorporating Afrobeats and world genres. There is still a transition in his most recent works where he has adopted the use of the pop genre as well.
Putting his music eggs in the different baskets of genres has paid off quite well for AG Baby. However, his most acclaimed work at present is his pop album Afro Pop Vol. 1, which features songs like AG Baby and Something Different as hits. The album has enjoyed over 300 million streams on different platforms.
He Currently Has 3 Albums and More Than 30 Songs to His Name
Albums
Afro Pop Vol. 1 (2020) (16 songs)
About 30 (2018) (16 songs)
Gold (2016) (10 songs)
Selected Songs
Sinner (2021)
High ft, Davido (2021)
It is what it is (2021)
Pretty Girl (2021)
Happy Birthday (Simi ft. Adekunle Gold & Deja, 2021)
Okay (2020)
Jore Ft. Kizz Daniel (2020)
Sabina (2020)
Something Different (2020)
AG Baby (2020)
Promise (with Simi, 2019)
Before You Wake Up (2019)
Young Love (2019)
Damn Delilah (2018)
Ire (2018)
Only Girl Ft. Moelogo (2017)
Call on Me (2017)
Friend Zone (2016)
No Forget (2016)
Ready (2016)
Pick Up (2015)
Orente (2015)
Temptation (2014)
Sade (2014)
He Formed A Music Band After Leaving YBNL 
Following his departure from YBNL, AG Baby formed a music band called 79th Element. He got the name from his stage name, Gold, which has the atomic number 79. The band consists of 9 members, with Adekunle as its leader. Other members include the following:
Micheal Bakare – producer and music director
Oladele Afolabi – drummer
Babatunde Alaba – percussionist
Ojekunle Ayodeji  – keyboardist
Owa Ayo  – Base guitarist
Femi Leye  – lead guitarist
Kosoko Adekunbi – backing vocalist
Aigbokhan Martins – backing vocalist
How Many Awards Does Adekunle Gold Have?
The music star has been nominated and awarded a great number of times. His notable nominations and awards include:
2x Net Honours nominations for Most Played RnB Song (for Pami (DJ Tunez ft. Wizkid, Adekunle Gold & Omah Lay)) and Most Popular Musician (2021)
IARA for Best African Music Artist (2017)
2x City People Entertainment Awards for Collabo of the Year with Simi and Album of the Year (2017)
The Headies for Best Alternative Song (2016)
2x Nigeria Entertainment Awards for Best New Act to Watch and Best Song (2016)
Nigeria Entertainment Awards for Best New Act (2015)
Adekunle Gold Married Nigerian Singer Simi A Few Days Before He Turned 32
Adekunle first met his wife on Facebook before attending a show where she performed. On January 9, 2019, Adekunle Gold, who was clocking to 32 years old, married a Nigerian multi-award-winning singer, Simisola Bolatito Ogunleye, who is better known by her stage name Simi. The ceremony was a closely-knitted one and only came to the knowledge of the public afterward with only a few images and amateur videos. At the time of the wedding, Simi was 30 years old and was only a few months to clock 31.
A year after the wedding, precisely on May 30, 2020, the couple welcomed their first and only child, a daughter named Adejare Kosoko. The daughter is the theme of the song Happy Birthday, in which his wife featured him. Also, Adejare was the center of the award-winning song Duduke by Simi.
Simi is not only a singer but one of the best female musicians in Nigeria. She has added positively to the music of Adekunle Gold, where she sometimes makes backup vocals and other times features in his music videos such as Sinner and Ire. The couple has created songs together that include Promise, No Forget, and By You.