D'banj (born 9 June 1980) is a Nigerian songwriter, singer, record producer, and businessman who has a net worth of $13.5 million. He is one of Africa's highly celebrated musicians who, by his songs, has taken the music industry to the next level.
D'banj has won several national and international awards through his talent as a singer and songwriter. When it comes to his private life, D'banj likes to keep it away from the camera; therefore, little is known about his wife and children. Over the years, his contributions to the music and entertainment industry garnered him an estimated net worth of $13.5 million.
In this article, we will look at how he started, how he made it to the top, how he remained relevant in the music scene, and other things that have contributed to his interesting net worth.
D'banj's Profile Summary
Full name: Oladapo Daniel Oyebanjo
Nickname: D'banj, Kokomaster, Bangalee, Banga
Gender: Male
Date of birth: 9th June 1980
D'banj's Age: 42 years old
Ethnicity: Yoruba
Nationality: Nigerian
Zodiac Sign: Gemini
Sexual Orientation: Heterosexual
Religion: Christian
Education: Nigerian Navy Secondary School, Ibara Abeokuta
Occupation: Singer, Record Producer, Actor
Marital Status: Married
D'banj's Wife: Lineo Didi Kilgrow
D'banj's Children: 2
D'banj's Parents: Mr. Daniel Duro Oyebanjo and Mrs. Faith Olubukola Oyebanjo
Siblings: Taiwo and Kehinde Oyebanjo
D'banj's Height in Inches:  5 feet 9 inches
D'banj's Height in Centimetres: 176cm
D'banj's Weight: 70kg
D'banj's Net worth: $13.5 million
Famous for: Oliver Twist, Why Me, Tongolo, Suddenly, Scapegoat
D'banj's Instagram: iambangalee
Twitter: D'banj D Kokomaster
Facebook: DBanjOfficial
D'banj Is From Ogun State, Nigeria
D'banj, whose real name is Oladapo Daniel Oyebanjo, was born on 9th June 1980 in Zaria, Northern Nigeria. His stage, D'banj, is a combination of his first name and last name, Dapo and Oyebanjo. His father is a military officer that commanded an artillery unit, while his mother is a God-fearing church dignitary who is also a businesswoman.
He Left School Because of His Music Career
Being born of a military father, the onus fell on him to follow in the footsteps of his father. With this in mind, D'banj attended a military school at the age of 11. He also became a member of the drum corps of the Nigerian Army while still in secondary school. He became tired of the environment and left the school three years later. D'banj enrolled at another military school, the Nigerian Navy Secondary School, Ibara, Abeokuta, Ogun State, where he completed his secondary school education.
After completing secondary education, his father wished for him to join the military, just like him. However, because he has set his eyes on becoming a singer, D'banj paid deaf ears to his dad, he persisted and eventually succeeded in pursuing his childhood dream. Like most celebrities, D'banj struggled to start his music career. It was also difficult to convince his father to accept his career choice and win his support.
The music star enrolled in Lagos State University to continue his education. He wanted to study Mechanical Engineering but could not continue due to incessant strike actions. He later got the opportunity to further his education abroad, but he used it instead for his musical dreams. His dreams of becoming a musician were nurtured during his stay abroad, and on his return to Nigeria, he ventured into singing fully.
D'banj's Net Worth is Estimated at $13.5 Million
As we already mentioned, D'banj is more than a musician. He has invested in many other sectors apart from singing. He is an actor, producer, and businessman. For a Nigerian artist who wants to remain relevant in the industry, he has made several investments that could last him a lifetime.
The singer does not depend solely on singing, which explains why he went on a break from singing for a while now and is still felt in the industry. His music career and all these other ventures discussed in the subsequent subheadings are the main sources of his net worth.
His Music Career is the Major Source of his Net Worth
Having an older brother who loved music, the celebrity singer developed a love for music. After his brother died in a plane crash at age 17, and as a tribute to him, D'banj resorted to playing the harmonica. His motive at first was to remember his late brother, but this motive changed while he was at the University. He would sing in the girls' hostel, and many girls were attracted to him for his skills.
This inspired him to play it more often for them and think of a future in the music industry. He was in school because he wanted to study Mechanical Engineering; however, he dropped his dream of becoming a Mechanical Engineer because of the incessant strike actions and other irregularities at the Lagos State University.
D'banj moved to the UK in 2001, at precisely 21 years of age, to further his education. However, he changed his mission from studying to his dreams of becoming a musician after he met Don Jazzy, who was an aspiring songwriter then. Their meeting caused D'banj to huggle between going to the studio and working as a security man in London. However, he decided alongside Don Jazzy to come back to Nigeria, whose music scene was beginning to blossom at that time. Following this decision, they arrived in Lagos in 2005 and ventured into music immediately.
No sooner did they arrive in Nigeria than D'banj dropped his first hit single titled "Tonglo," with his mother as the sponsor of the music video. His talent and performance bought him a deal with an energy drink company known as Power Fist. That same year, he released his first music album titled No Long Thing with "Tongolo" as the album's lead single. Like his style, D'banj uses a combination of Afrobeat and Afropop because of his love for his mentor, who was a top Nigerian singer, Fela Kuti.
Initially, he was signed to Mo'Hits, before joining Kanye West's G.O.O.D Music record label through Mo'Hits in 2011. However, Mo'Hits split up months later. Luckily for him, he got signed with Sony Entertainment the following year. In 2016, he left G.O.O.D Music. With the disbandment of Mo'Hits, he formed a record label, DB Records, which is also doing great.
A Look at the Songs that Made Him Famous
Great talent and fame go hand-in-hand, and with talent, fame comes gradually. Dbanj became famous with his first hit single, Tongolo. His appearance in the music scene with such a great song bought him many fans.
This fame was further enhanced with the songs "Why Me" released in 2006 with the album Rundown Funk U Up; "Gbono Feli Feli" and "Entertainer" of the album The Entertainer; "Move Your Body" from the 2008 album Curriculum Vitae; and the 2012 mega-hit song "Oliver Twist." In 2017, he released his single "King Don Come," with guest features like Gucci Mane, Wande Coal, and others.
With "Oliver Twist," his presence was felt internationally. The song was the top of African Charts that year and the top 10 hits in the UK singles chart of 2012. It also reached No. 2 on the UK R&B chart. It brought him a lot of national and international collaborations. In summary, the song sold him nationally and internationally and brought him good fortune.
List of D'banj's Songs and Albums
Since his entrance into the Nigerian music industry to date, D'banj has released many songs and albums. He can boast of over five albums. Here is a list of his albums and some of his popular songs.
Albums
No Long Thing (his debut album released in 2005)
Rundown Fuck U Up (2006)
Curriculum Vitae (2007)
The Entertainer (2007-2008)
D'Kings Men (2013)
King Don Come (2017)
Songs
Stress Free – 2021
Socor – 2005
Tongolo – 2005
Gbono Feli Feli – 2008
Suddenly – 2008
Fall In Love – 2008
Igwe – 2008
Scapegoat – 2009
Mr. Endowed remix featuring Snoop Dog – 2010
Top of the World – 2013
El Chapo – 2017
Emergency – 2016
Focus – 2016
Action – 2018
Agidi – 2018
Ikebe – 2021
He Has Received Several Awards and Recognitions
D'banj is undoubtedly one of the most celebrated pop stars to ever come out of Nigeria. Due to his well-built physique, continuing relevance in the music industry, and several awards, D'banj became the first Nigerian to become the United Nations Youth Ambassador For Peace. He has also bagged more than 13 international awards and many more national awards, which include, but are not restricted to, the following.
Most Promising Male Artist in the 2005 Kora All Africa Music Awards
Artist of the Year award in the 2008 and 2009 MTV Africa Music Awards
Best International Act: Africa in the 2011 BET Awards
Best African Act in the 2007 and 2012 MTV Europe Music Award
MAMA Evolution in the 2015 MTV Africa Music Award
Music Video of the Year (director) in the 2016 Nigeria Entertainment Award
Best Newcomer in the 2006 Channel O Music Video Awards
African Artiste of the Year in the 2007 and 2009 Ghana Music Awards
The revelation of the Year in 2006 The Headies
Artist of the Year in 2008 The Headies
His Height of Fame and How Much He Charges Per Show
The ace musician has managed to make a name, fame, and money for himself in the music industry. He, first of all, won the hearts of Nigerians with his songs and then moved to the international level. D'banj has collaborated with some of the best-known and top-selling artists globally, like Jay-Z, Snoop Dogg, and Kanye West. These collaborations have benefited his music career in a great way and helped him gain more international recognition and acceptance. He is ranked among the famous and richest Nigerian singers.
In addition to this, his talent has earned him an international appearance, international fans, and more collaborations from the international music scene. Thanks to his music that sells internationally and many other production deals, D'banj is one of the richest musicians on the African continent. He remains one of the Nigerian artists who receive the highest amounts of money for both local and international performances.
The musician gets somewhere between N2 to N4 million as a performance fee for local appearances. The figures are even higher when he performs internationally. So, you can figure out how much D'banj bags any day he has a performance. It clearly shows why he makes it to the list of the richest musicians in Africa.
Other Endeavors that Contribute to D'Banj's Net Worth
Apart from singing, D'banj is also a gifted actor and has featured in several short films, including Kanye West's film "Cruel Summers." He made his debut in the Nollywood movie industry with Sugar Rush, released in 2019. With this, he has featured in many other Nollywood productions. In addition to these, the celebrity owns several other businesses and investments. Here is a list of the other sources of his net worth.
Endorsement Deals
In addition, to live performance fees, as seen above, D'banj also earns greatly from his endorsement deals with some of the leading national and international companies. There is no denying that D'banj has made a name in the musical scene. In addition to the money he earns as a musician, all these endorsement deals add more money to his already fat pocket. Some of the endorsement deals and the brands he endorses are;
Nexim Bank brand ambassador
He signed an endorsement deal with Globacom Telecommunications valued at $442,000.
A multi-million endorsement deal with energy drink giant Power Fist
Soft drink company Virgin colors
He became the Bank of Industry ambassador in 2013
He signed another deal with Heritage Bank in 2014
Official African ambassador of Beats by Dre in 2014
SLOT ambassador in 2015
He became the official African ambassador for Ciroc Nigeria in 2015
D'banj also has an endorsement deal with a leading Jewellery company, among other companies.
Record Label
When he separated from Mo'Hits record label, D'banj founded his record label called DB Records. With this, he earns more money which contributes to his impressive net worth. This record label had seen the production of many songs and albums for many artists, including those that are signed to the record label.
Among the artists signed to the label are Tonto Dikeh, Kay Switch, his brother, producers Jaysleek and Deevee, MossKriss and Ralph Kriss, and more recently, a new female signee whose identity is yet to be revealed.
Other Businesses
D'banj owns other business ventures that bring money to his pocket. These ventures include the following.
Median Mobile Communications Limited (MCOMM)
D'Kings Men Media Limited, a 360 media company
The C.R.E.A.M. platform for creative talent
His Disappearance from the Music Scene
In June 2018, D'banj lost his son, his first child. It happened not long after the one-year birthday celebration. The baby drowned in a swimming pool in the singer's house. At the time of the incident, D'banj was in Los Angeles attending BET Awards.
This unexpected incident deeply affected the singer and his wife and contributed to his long break from the music scene. However, D'banj has welcomed two more children and, in May 2021, declared that he is now a born-again Christian. The loss drew him closer to God, and God wiped away his tears and sorrows with the blessing of more children.
Where Is He Now?
Currently, D'banj is in Abuja, and he revealed in an interview that he is into real estate over there. He is currently building an entertainment village in Abuja. In addition, the star is still in his record label business. He signed a Tanzanian artist Feza Kessy. He is still singing as he released a single "Banga" produced by his music label.
Besides His Career, D'banj Is Happily Married with Kids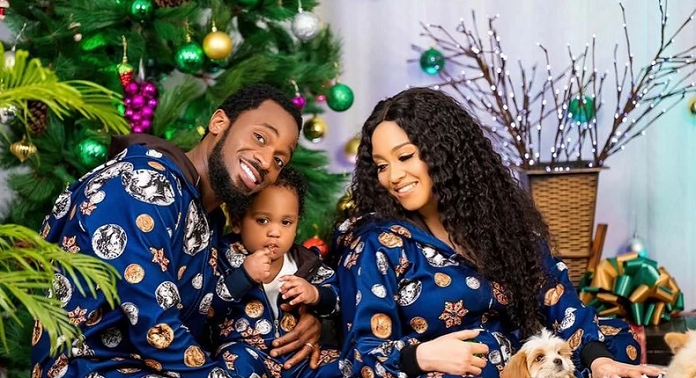 In an interview, the Kokomaster revealed his love for the celebrated Nigerian Nollywood superstar Genevieve Nnaji. He heaped many praises on the star and said she was his dream wife. He went ahead to say that the one who marries her acquires for himself a treasure. To back up what he felt, D'banj quoted a phrase from the Holy Bible to that effect. Despite the nice talks, the Kokomaster revealed his son, Daniel Oyebanjo III.
To the surprise of his fans, he had secretly gotten married to Lineo Didi Kilgrow in 2016. This came a few years after he spoke nicely about Genevieve. On 2nd June 2016, D'banj tied the Knot with the love of his life Lineo Didi Kilgrow. They got married secretly because they did not want to entertain the complications of celebrity relationships and marriage. Hence, they tried to keep their relationship away from the public and media.
In 2017, the couple welcomed their first child, Daniel Oyebanjo III. Unfortunately, the boy died in his 13th month. A year after his death, they welcomed another male child and later a daughter. The couple now has two living children and is living happily together.
D'banj's Net Worth Affords Him Luxurious Cars, Houses, and Decent Lifestyle
The singer once owned a mansion in the Lekki area worth an estimated $25 million. However, the house was sealed sometime in the past, and rumors had it that he was in debt. Some said that he owed up to $300,000 in debt he borrowed from Ojogbo Henry in 2013. Some others had it that he was yet to pay his housekeepers.
However, the real reason behind the sealing of the house by the Nigerian authorities is unknown. The house was later sold, and luckily, he had other houses to support him. Included among the houses is the one located in London and a large luxurious house in the US.
When it comes to automobiles, D'banj sure knows how to give himself the best. He has many cars in his garage, including an Aston Vintage worth $200 million, two luxurious Toyota cars, and a 2015 Porsche Carrera. Besides cars, D'banj also owns a custom-bulletproof car that looks like a limousine which he calls Jet on the Road.