As the famous saying goes, behind every successful man, there is a strong woman who has made his path to success smooth. This famous saying cannot be disapproved when it comes to some Nigerian billionaires who have some women of steel as their wives, who you may never have heard of that has made a significant impact in their success stories.
While trying to discover the success secrets of some of Nigeria's richest men, it is also pertinent to explore the pillars behind their success stories. Just like their status implies, the wives of Nigerian billionaires are classy women. Their attires and lifestyle say a lot about them. Some of them are too flashy and live luxurious lifestyles. At the same time, other wives are simple women like any other Nigerian wife, with nothing to show that they are married to billionaires.
In Nigeria, there are various billionaires, both known and lesser-known. Some are married to one woman and have kept the marriage sacred, while others have married several women and divorced them. For instance, Dangote has been married twice and divorced twice, too. He is currently not married. Some other Nigerian billionaires like Emeka Offor is married to many wives at the same time. They continue adding more women to the list. That being said, let's look at some of these Nigerian billionaires and see the category of wives they currently have.
6 Nigerian Billionaires Wives To Note
1. Titi Joyce Adenuga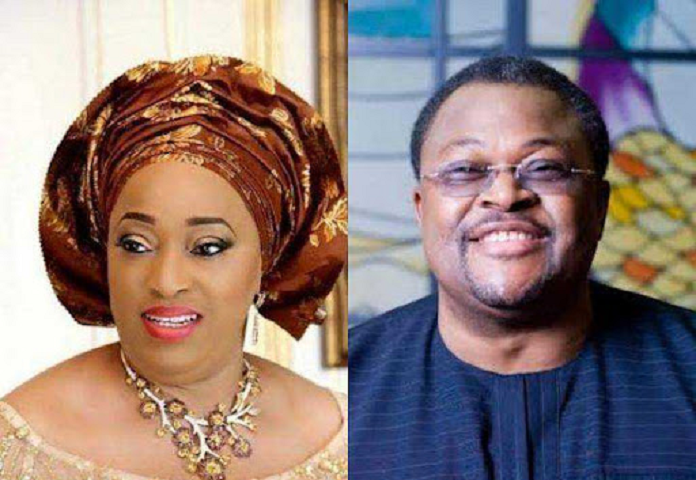 Age: 56 years old
Husband (Age): Mike Adenuga (70 years old)
Husband's Net Worth/Industry: $7.7 Billion/Communication, Oil and Gas
Married Since: N/A
Number of Children: 2
Occupation: N/A
Others: Alumnus of Obafemi Awolowo University, Ile-Ife, Osun State, Nigeria
Titi Joyce Adenuga is one of the wives of Nigerian billionaires. She is the wife of Otunba Michael Adeniyi Ishola Adenuga, billionaire business mogul and the second richest man in Nigeria. Adenuga, who is majorly into oil & gas and Telecom, is the owner of Globacom. He also has some stakes in Sterling Bank (formerly called Equitorial Trust Bank) and Conoil.
The delectable 56-year-old Titi, fondly called 'Tizzle Girl,' is Adenuga's second wife. His first marriage to Folake turned awry, and he married Titi. The couple met at the defunct Devcom Merchant Bank while Titi was searching for a job. They are today happily married with two children- Sade and Niyi. The difference between their age is 13 years, and they haven't received any criticism on that. Also, their marriage date and how long they have been together remain unknown.
Titi is the daughter of Pa. Elijah and Madam Susan Okome of the Itsekiri tribe of Delta State. She is also a graduate of the famous Obafemi Awolowo University in Ile-Ife, Osun State. Her Late mum, Madam Susannah Mebulaghanje Okome, was a stylish icon in her time. That explains where Titi got her stylish nature from. Titi has an eye for expensive and luxury items from the best designers. Her taste for fashion and style has not changed at all.
Joyce Adenuga, who is hardly seen at public functions, exudes a notion that she takes herself very lightly despite her social standing. She avails herself of important occasions and graces them in stylish attires.
Their Marriage Suffered a Cheating Scandal 
Like many celebrity marriages, Adenuga's marriage has suffered some cheating scandals. Mike Adenuga has seven children from his two marriages and has been accused of some kind of extramarital affair with his secretary. It was gathered that Mike and his secretary had been in a relationship for 27 years. On quitting the relationship, Nora Olamide Johnson said that her former billionaire boss wants to get back at her for leaving the secret relationship by accusing her of theft and forgery.
The lady worked for the billionaire for 30 years and was accused of stealing $300,000 from him. Following court cases on this issue, on 15th July 2021, the court ordered the Economic and Financial Crimes Commission (EFCC) to evict her from her house and recover the stolen money. Mike Adenuga's former secretary, Nora Olamide Johnson, cried for Mike Adenuga to leave her alone in a video. However, the issue of the secret affair has not been given more voice yet. We are not certain what the outcome of this accusation will be for Adenuga and his wife.
2. Nana Otedola
Age: 56 years old
Husband (Age): Femi Otedola (60 years old)
Husband's Net Worth/Industry: $5.9 Billion/Oil and Gas, Business, and Power sector
Married Since: N/A
Occupation: Businesswoman
Others: Studied in London
Nana is the beautiful wife of billionaire businessman Femi Otedola, the former owner of Forte Oil Plc and currently the owner of Geregu Power Plant. At first, Femi was majorly into oil and gas, but now he has switched into the power sector. He also has other businesses in the finance, real estate, and shipping sectors.
The 56-year-old is a pretty and classy mum of three children – DJ Cuppy, Temi, and Fewa. How the couple met and how long they have been married is unknown. However, it is safe to say that they have been married for over twenty years since their first child, DJ Cuppy, was born in 1992. Their age difference is just four years and is not alarming.
Like her husband, Nana is a businesswoman and the brain behind Garment Care, a dry cleaning business set up by her husband, and she is also the company's CEO. She manages some of her husband's businesses with him and their children. Nana is not often seen in social circles, but when she appears in public, she does so with panache and elegance, making her husband's billions look good. She has an eye for a classy and luxurious lifestyle, always wearing clothes from the best designers the world has got. More so, Nana wears, loves, and values precious stones and jewelry. Above all, she loves spending quality time and money on her children.
Scandals that Struck Nana Otedola's Marriage
Femi and Nana Otedola's marriage has had some ups and downs. Although they have tried their best to keep their family and private lives private, they have been involved in a few scandals. Some scandals threaten to break their home, but they are still bound firmly together. Nana has been rumored to be at the crux of their intended break up in 2018 when she was rumored to be in a relationship with the owner of HiTV, Toyin Subair. However, this rumor was false. Before then, Femi was accused of being in a relationship with two Canadian sisters, which turned out to be false. The two sisters, Jyoti and Kiran Matharoo, have been involved in blackmailing some wealthy men and collecting huge sums of money from them.
3. Ifeoma Orji Uzor Kalu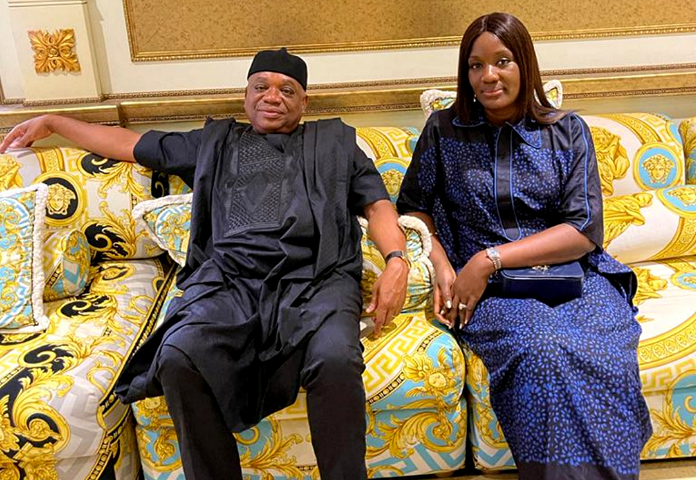 Age: N/A
Husband (Age): Orji Uzor Kalu (53 years old)
Husband's Net Worth/Industry: $3.2 Billion/Politics
Married Since: December 1989
Number of Children: 4
Occupation: Banker
Others: N/A
Ifeoma Ada Orji Uzor Kalu is the wife to the Nigeiran politician Orji Uzor Kalu. Her husband is the former governor of Abia State, Nigeria. He is also the chairman of the Telegraph newspaper, the Daily Sun newspaper, and SLOK Holding in Nigeria. Ifeoma is a banker. The couple has been married for a long time, and they got married in December 1989 in Igbere, Abia State. The marriage is blessed with four children, namely Nicole Uzor Kalu, Olivia Uzor Kalu, Michael Uzor Kalu, and Neya Lawrence Iyere nee Orji Uzor Kalu.
Ifeoma Kalu is a private person as she keeps her private life away from the public. While her husband was in power as the governor of Abia State, she rarely showed up as the First Lady. Years after he left office, Ify started showing up in public, and her husband publicly celebrated her on one of her birthdays. She is not a social media type, and she doesn't dress all fancy always. Ifeoma is a simple woman, seen in simple but classy attires. There is no record of any cheating scandal between Ifeoma and her husband.
4. Regina Daniels
Age: 22 years old
Husband (Age): Ned Nwoko (62 years old)
Husband's Net Worth/Industry: $1.2 Billion/Politics, Law
Married Since: 2019
Number of Children: 1
Occupation: Actress and Movie Producer
Others: Alumnus of Igbinedion University, Okada
Regina Daniels is Ned Nwoko's sixth wife. Ned Nwoko is a Nigerian billionaire lawyer, politician, and businessman. He is popular for his marriage to Regina Daniels. The couple met in Delta State on a family visit to Ned's house and got married just three weeks after their meeting. Regina was 19 years old when they got married, while Ned was 59 years old. The union is purely based on understanding as the age difference between the couple is 40 years. Regina has received lots of criticisms concerning her marriage to the billionaire.
Some said she married a man old enough to be her father because of his money. Others criticize her, saying that she has loose morals and that her mother did not train her well. In her defense, Regina says that she can't marry her mate because she is very stubborn. Ned Nwoko copes with her stubbornness pretty well, and she respects him for that. In a recent interview with BBC Igbo, Regina exclaims that she still does not understand why some criticize her so much. She also affirmed that she does not read or listen to those criticisms anymore because they don't bother her.
The couple welcomed their first child in 2020. Together with her son, Regina Daniels lives a luxurious lifestyle. She dresses in classy and expensive items from the best designers in the world. She has been spotted severally with her son in luxurious places and items.
Some Cheating Scandals in their Marriage
Regina and Ned Nwoko's marriage has suffered some cheating scandals. Ned has been rumored to be in a relationship with other Nollywood actresses. In 2020, rumors had it that Chika Ike was dating Ned. However, Chika posted on her Instagram page denying the accusation saying that she is not ready to become anyone's seventh wife. Also, in 2020, Dutchess Emmy said that Ned cheated on her with Regina Daniels. This was in the comment section of a post made by Ned Nwoko when he was expecting a baby with Regina. This died down as it came. Currently, the couple is still married and is not planning on separating any time soon.
5. Ifeyinwa Ibeto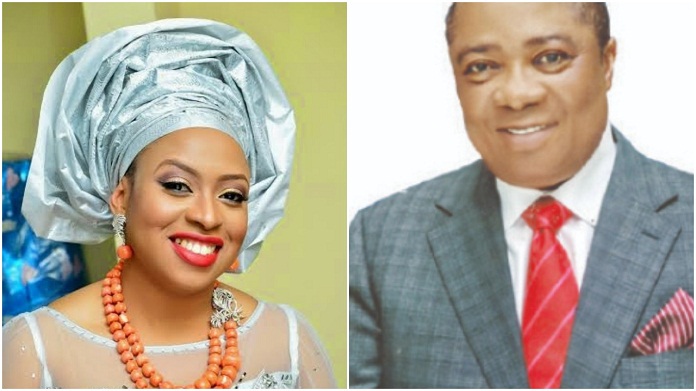 Age: N/A
Husband (Age): Dr Cletus Ibeto (70 years old)
Husband's Net Worth/Industry: $3.8 Billion/Business
Married Since: December 2012
Number of Children: N/A
Occupation: N/A
Others: Alumnus of the University of Calabar
Ifeyinwa Ibeto, nee Okpala, is the second wife to the billionaire businessman Cletus Ibeto. Cletus Ibeto is the CEO of the Ibeto Group, the Ibeto Petrochemical Industries limited, and many other companies. Some of his companies are in charge of motor parts and cement. Ibeto was previously married with kids, but his first marriage hit the rocks, and they divorced.
Augustina Ifeyinwa Ibeto, born in Obudu, Cross River State, Nigeria, hails from Umunze in Anambra State, Nigeria. She met her husband, Cletus Ibeto, at the Holy Trinity Church Enugu, where she was a chorister. They became friends and later lovers until they tied the knot four years after their meeting in 2016. At the time of their wedding, Ibeto was in his early 60s. His wife's age is unknown, but she is much younger than him. Ifeyinwa is stylish, judging from her choice of wedding gown and her attire during her traditional marriage. There is no information on how many children they have together and any cheating scandal they have been through.
6. Uchenna Ubah
Age: N/A
Husband (Age): Ifeanyi Ubah (53 years old)
Husband's Net Worth/Industry: $1.7 Billion/Politics, Oil and Gas
Married Since: N/A
Number of Children: 5
Occupation: Executive Director at Capital Oil and Gas Industries Limited
Others: Alumnus of Ahmadu Bello University, Zaria
Uchenna is the wife of Ifeanyi Patrick Ubah, the Managing Director and Chief Executive Officer of Capital Oil and Gas Industries Limited. Details about how they met and their marriage are not open to the public. In an interview, Ifeanyi revealed that he met his wife at the age of 21 and proposed to her the same day. From calculations, they got married in the '90s, and the marriage is blessed with five children- four boys and a girl.
Mrs. Ubah has a Bachelor of Science B.sc (Hons) degree in business administration and an MBA from Ahmadu Bello University, Zaria. She married her husband at the young age of 22. In her marriage of over 20 years to the billionaire businessman, Uchenna has stood by him through thick and thin. She also serves as Executive Director at Capital Oil and Gas Industries Ltd. Before that, she worked as the Executive Director of Capital Group, Congo s.p.r.l., between 1995 and 2001. Uchenna dresses in not too fancy wear and jewelry. She is a simple but classy dresser. Their marriage is still waxing strong as there are no reports of any scandal between the couple.